The highlight of my life was when my hand was embraced by this Saint and I looked into those eyes
Like all great Saints, John Paul was so configured to the Lord Jesus Christ that his life revealed Him to others. He had "put on Christ", (Rom. 13:14) as the Apostle Paul proclaimed and could claim those words written by the same apostle to the Galatians as his own "I have been crucified with Christ; yet I live, no longer I, but Christ lives in me; insofar as I now live in the flesh, I live by faith in the Son of God who has loved me and given himself up for me." (Galatians 2:20)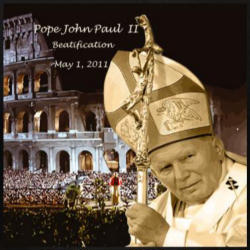 VATICAN CITY (Catholic Online) - All eyes look to Rome today as millions of pilgrims, some on foot, many more in heart, gather for the Liturgy wherein their Champion, the Beloved and Venerable Pope John Paul II, will be raised to the altar by his friend and successor, Pope Benedict  XVI. He will henceforth be known as "Blessed John Paul II. From the day when he passed to the Father and the crowds in Rome spontaneously shouted the prayer which has been raised to heaven ever since, Santo Subito, we have all longed for this day. We long for the one which is sure to follow, when the Church acknowledges that to which our faith already attests, John Paul II is a saint.
On April 2, 2005 at 9:37 p.m. Pope John Paul II died. In April of 2009 his successor, Pope Benedict XVI, told Pilgrims gathered in Rome "With you, I pray for the gift of beatification". That prayer has been answered. Friday, January 14, 2011 the Holy See released the "Decree for the Beatification of the Servant of God John Paul II". Sunday, January 16, 2011, Pope Benedict XVI, after praying the Angelus, announced "On 1 May I will have the joy of proclaiming the Venerable Pope John Paul II, my predecessor, as a blessed. The date chosen is very significant because it will, in fact, be the second Sunday of Easter which he himself dedicated to Divine Mercy and on the eve of which his earthly life came to an end. Those who knew him, those who respected and loved him cannot but share in the Church's joy at this event."
In the last ten centuries of Church history no Pope has beatified his predecessor. From the beginning of Pope Benedict's pontificate it has been clear that he has longed for this day. On April 3, 2011 at another Angelus, he told the faithful who had gathered "I remember him in prayer with affection as I think of you all. While we journey through Lent and prepare for the feast of Easter, we come with joy to the day when we will also venerate as a saint this great pope and witness of Christ, and rely even more on his intercession."
On April 9, 2011 Pope Benedict XVI attended a documentary film entitled "The Great Pope: Pilgrim in White", directed by the Polish director Jaropslaw Szmidt on the pontificate of Pope John Paul II. he noted, "This film ... sets out to faithfully render both the personality of the Pope and his tireless work throughout his long pontificate" and spoke of the "two pillars" of the life and ministry of his predecessor in office, "prayer and missionary zeal. John Paul II was a great scholar and great apostle of Christ. God chose him for the Chair of Peter and granted him long life in order that he might accompany the Church into the third millennium. By his example, he guided us all in this pilgrimage and continues to do so from above".
The choice of the Feast of Divine Mercy, May 1, 2011 for this beautification was intentionally chosen. Pope John Paul II had a deep devotion to his fellow Pole Sr. Faustina Kowalska and to the Divine Mercy devotion identified with her. In August 2002, in Lagiewniki, Poland where Sr. Faustina lived and died, John Paul II entrusted the entire world "to Divine Mercy, to the unlimited trust in God the Merciful." The Decree of Beatification notes, "Since the beginning of his pontificate, in 1978, John Paul II often spoke in his homilies of the mercy of God. This became the theme of his second encyclical, Dives in Misericordia, in 1980. He was aware that modern culture and its language do not have a place for mercy, treating it as something strange; they try to inscribe everything in the categories of justice and law. But this does not suffice, for it is not what the reality of God is about."
There is no doubt that we had a saint in our midst. A man so filled with Jesus Christ that, like the Apostle Paul, he no longer lived but "Christ lived in him." (Galatians 2) The sentiment of the faithful expressed on the day on which his body was processed through the streets of Rome, "Santo Subito" has echoed as the Church has discerned the cause of his canonization. Now, he will is raised to the Altar on the Feast of Divine Mercy. We now call him "Blessed John Paul II."  The final step to his canonization is an attested second miracle. Reports are that there many and I have no doubt. We will soon affirm what the multiplying miracles effected by his continued intercession confirm, John Paul II is a Saint.
Like millions, my life was forever changed by Blessed John Paul II. As a young man, it was his extraordinary writings which informed and re-formed my Catholic faith, life and mission. My sense of identification with him was much more than admiration for a Pope whose wisdom, wit, warmth and character won the heart of the world. It became - and remains - vocational. It led to my ordination to the Diaconate in Christ, graduate studies at the Institute which bears his name and my current work at the Doctoral level in his writings and their significant contribution to moral theology and theological anthropology.
His magisterium shapes the Third Millennium of the Church into which he led us - by the grace of God and through the intercession of Mary, to whom he devoted his service to the Lord and His Church. He openly attested in his prayer of consecration "totus tuus ego sum et omnia mea tua sunt, accipio te in mea omnia" that he relied on her motherly care and he reminded us all continually that we can as well. I made that prayer my own many years ago. John Paul II claimed it was her motherly intercession which obtained for him the grace - on that day of her feast as the Lady of Fatima - to survive an assassin's bullet. I have no doubt.
Yet, his Marian piety revealed something even more profoundly important about him. Like all great Saints, John Paul was so configured to the Lord Jesus Christ that his life revealed Him to others. He had "put on Christ", (Rom. 13:14) as the Apostle Paul proclaimed and could claim those words written by the same apostle to the Galatians as his own "I have been crucified with Christ; yet I live, no longer I, but Christ lives in me; insofar as I now live in the flesh, I live by faith in the Son of God who has loved me and given himself up for me." (Galatians 2:20)
The highlight of my life was when my hand was embraced by this Saint on that crystal clear sunny day in Rome, and I encountered in those loving blue eyes the Jesus whom Pope John Paul II served. I would never be the same. In that encounter, a man who up till then had probably never been at a loss for words could not speak. I could only weep and fall to my knees. I knew then what the crowds will declare on May 1, 2011, this man was - and is - a Saint. He now calls us, through his life and death, to follow the same Way, the Way of the Redeemer whom he served with such beauty and devotion. Blessed John Paul II, Pray for Us.
---
Copyright 2016 - Distributed by THE CALIFORNIA NETWORK
Pope Francis Prayer Intentions for May 2016
Universal:
Respect for Women: That in every country of the world, women may be honored and respected and that their essential contribution to society may be highly esteemed.
Evangelization:
Holy Rosary: That families, communities, and groups may pray the Holy Rosary for evangelization and peace.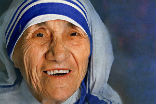 By Marshall Connolly (CALIFORNIA NETWORK)
On September 4, 2016, Pope Francis will canonize Mother Teresa as a saint of the Roman Catholic Church. Her canonization is an important event for Catholics and all people around the world. Here's 3 reasons why. LOS ANGELES, CA (Catholic Online) - When Mother Teresa is ... continue reading
---

By Catholic Online (NEWS CONSORTIUM)
The most kids know of St. Patrick 's Day is that you must wear green or you'll get a pinch from your friends. Adults see the day as an occasion to celebrate, sometimes with green beer and other assorted alcoholic beverages. However, few really know what they are ... continue reading
---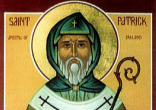 By Deacon Keith Fournier
We need to learn a lesson from this great missionary. He saw what was good in the culture and "baptized" what could be redeemed. He respected the civil order, but never compromised the faith. Then, he went for the next generation with all his efforts, preaching the ... continue reading
---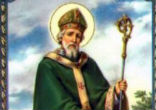 By Catholic Online
Saint Patrick - remembered with parades, the wearing of green and feasts throughout the world wherever there are people of Irish descent, or wish to be -- was the patron saint and national apostle of Ireland who is credited with bringing Christianity to the country. ... continue reading
---

By Kenya Sinclair (CALIFORNIA NETWORK)
On Thursday Pope Francis celebrated St. Agnes' feast day in the Vatican by continuing the centuries-old tradition of blessing two lambs in her honor. LOS ANGELES, CA (Catholic Online) - Traditionally, the lambs blessed on January 21 are under a year old and their first ... continue reading
---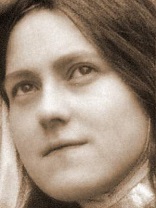 By Jennifer Hartline
St. Therese helps me understand: "the splendor of the rose and the whiteness of the lily do not take away the perfume of the little violet or the delightful simplicity of the daisy.if all flowers wanted to be roses, nature would lose her springtime beauty, and the ... continue reading
---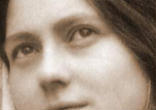 By Fr. Dwight Longenecker
I was an Anglican priest the summer I met St Therese of Lisieux. I was living in England and had three months free between jobs, so I decided to make a pilgrimage to Jerusalem. I was going to hitch hike and stay in monasteries and religious houses on the way. ... continue reading
---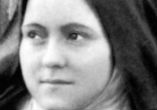 By F. K. Bartels
The Little Flower of Jesus sacrificed her life for love of souls. She saw the magnitude of her Beloved's love for them. She offered herself for the building up of the Church, the People of God and the Mystical Body of Christ. That is truly a ... continue reading
---

By Youngsun Jun
Though I am not strong enough to hold the suffering souls in my arms and carry them home, I can do one thing: I can pray for the deliverance of the souls who are in the darkness. I can request help from the angels for them. I can make a 911 call for them. So again, I ... continue reading
---

By Catholic Online (NEWS CONSORTIUM)
Saint Junipero Serra, pray for us! Saint Junipero Serra, your missionary zeal brought the light of Christ to millions. You endured so many hardships, and labored so much that your work resonates today in the hearts of hundreds of millions of Catholics. Saint Serra, I ... continue reading
---
All Christian Saints & Heroes News