By Catholic Online (NEWS CONSORTIUM)
8/11/2014 (1 year ago)
Catholic Online (www.catholic.org)
U.S. military intervention will not solve problem, Obama warns
While the United States sent military aid to Iraq over the past weekend in the form of fighter jets pounding strategic points, President Barack Obama is adamant that Iraq must address its very real problems. The president insists that a stable government in Iraq will solve the problem, something that the Iraqi people must engage in without outside help.
LOS ANGELES, CA (Catholic Online) - "I don't think we're going to solve this problem in weeks," Obama said this past weekend. "I think this is going to take some time."

The president reiterated that there was "not going to be an American military solution" to the problem. Baghdad, he insists, will not be able to effectively combat the Islamic State without a "legitimate Iraqi government."

SAVE Iraqi Christians from Genocide --


U.S. warplanes dropped a series of 500-pound, laser-guided bombs onto assets of the Islamic State in northern Iraq over the past several days. Questions have since been raised over the goals and consequences of renewed U.S. military action in Iraq.
Prior to the U.S. airstrikes on Friday, President Obama announced that he authorized the attacks to protect American personnel, such as diplomats and civilians in Erbil, the capital of the autonomous Iraqi region of Kurdistan.
The scale of the air raids suggests a wider mission.
"Our military is so effective that we can keep a lid on problems wherever we are if we put enough personnel and resources into it. But it can only last if the people in these countries themselves are able to arrive at the kinds of political accommodations and compromise that any civilized society requires," Obama said.
In Iraq, the formation of a new government has been hampered by political deadlock in Iraq after an inconclusive election in April. This hampered efforts to deal with the Islamic State, an armed Sunni group that has inflicted damage in neighboring Syria.
The Islamic State, or IS, has seized large areas along the Iraq-Syria border over the past two months. The group's ultimate goal is establishing a caliphate worldwide. Fighters from the group have beheaded and even crucified their captives in an effort to wipe out those it considers apostates. 
White House press secretary Josh Earnest says that the U.S. mission includes "supporting integrated Iraqi security forces and Kurdish security forces as they unite the country to repel the threat that is posed by the [Islamic State] advance."
Many write off the idea that Iraq can unite to repel the Islamic State as wishful thinking. Even if the Iraqi army and the peshmerga forces of the Kurdish regional government could fight a common enemy, they remain sharply at odds over Kurdish moves to secede from Iraq and over possession of such key prizes as the oil-rich city of Kirkuk.
---
Copywriter 2015 - Distributed by THE NEWS CONSORTIUM
Pope Francis Prayer Intentions for July 2015
Universal:
That political responsibility may be lived at all levels as a high form of charity.
Evangelization:
That, amid social inequalities, Latin American Christians may bear witness to love for the poor and contribute to a more fraternal society.
---
---
---

By Kenya Sinclair (NEWS CONSORTIUM)
Donald Trump has signed a loyalty pledge that says he will support the Republican nominee -whoever that may be- and he will not be running as a third-party candidate. LOS ANGELES, CALIFORNIA (Catholic Online) - Following the announcement of signing the loyalty pledge, ... continue reading
---

By Kenya Sinclair (NEWS CONSORTIUM)
Kentucky Clerk Kim Davis has been sent to jail following her refusal to marry same-sex couples. LOS ANGELES, CALIFORNIA (Catholic Online) - As reported by NBC, Davis was found in contempt of court Thursday morning because she claimed marriage licenses for gay and ... continue reading
---

By Nikky Andres (NEWS CONSORTIUM)
Nearly 30 million Hispanic Catholics in the country are hoping that Pope Francis' visit this month will change the tone of the United States' debatable immigration policies and discourse. MUNTINLUPA, PHILIPPINES (Catholic Online) - The Pope will have high-profile ... continue reading
---

By David Drudge, Catholic Online (NEWS CONSORTIUM)
The State Department released a large batch of Clinton emails on Monday, with another 7,000 pages released to the media. Classified information has been redacted. LOS ANGELES, CA (Catholic Online) - The State Department released 7,000 new Hillary Clinton emails to the ... continue reading
---

By David Drudge, Catholic Online (NEWS CONSORTIUM)
The Clinton death toll is simply astounding. Approximately 100 people, directly associated with the Clinton family, have died under unnatural and mysterious circumstances since the early 1990s. It is considered possible that the Clinton family chooses to deal with ... continue reading
---

By Linky C. (NEWS CONSORTIUM)
A North Dakota federal judge blocked the Obama Administration's controversial water pollution rule just hours before taking effect. MUNTINLUPA CITY, PHILIPPINES (Catholic Online) - Judge Ralph Erickson of the District Court for the District of North Dakota discovered ... continue reading
---

By Kenya Sinclair (NEWS CONSORTIUM)
Hillary Clinton compares conservative views on abortion and reproductive rights to terrorist groups. Republicans demand an apology while Republican and Democrat candidates agree Clinton's campaign is failing. LOS ANGELES, CA (Catholic online) - Hillary Clinton gave a ... continue reading
---

By Kenya Sinclair (NEWS CONSORTIUM)
During an interview with Bloomberg's Mark Halerin and John Heilemann, presidential candidate, Donald Trump was asked to name his favorite Bible verse but refused to name one. LOS ANGELES, CA (Catholic Online) - Seven minutes into the interview, Halerin told Trump, "You ... continue reading
---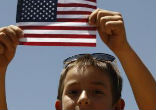 By Catholic Online (NEWS CONSORTIUM)
Children of immigrants born on United States soil appear to be wearing out their welcome, according to recent polls. It is estimated that a child of illegal immigrants is born every 93 seconds in the U.S. According to a 2011 Rasmussen Poll, only 28 percent of likely ... continue reading
---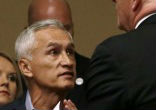 By Catholic Online (NEWS CONSORTIUM)
"Go back to Univision," GOP presidential nominee Donald Trump told Univision news anchor Jorge Ramos at an Iowa press conference. Well regarded by his peers, there was no gravitas afforded Ramos at the event, as a security guard escorted him away. The occasion ... continue reading
---
All Politics & Policy News