Ruling lets states decide whether to uphold the policy
The Supreme Court struck a blow against those seeking to trample on the rights of states, upholding a Michigan voter initiative which banned racial preferences when considering admission into one of the states' public universities, on April 22.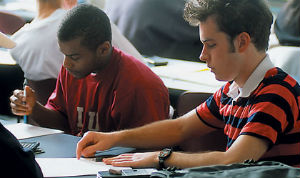 A ruling by the Supreme Court allows states to decide on whether they use a race-conscious policy in admitting students to advanced public education.
LOS ANGELES, CA (Catholic Online) - "This case is not about how the debate about racial preferences should be resolved," wrote Justice Anthony M. Kennedy in his controlling opinion. "It is about who may resolve it. There is no authority in the Constitution of the United States or in this court's precedents for the judiciary to set aside Michigan laws that commit this policy determination to the voters."

Kennedy was joined by Chief Justice John G. Roberts Jr. and Justice Samuel A. Alito Jr.

Justice Sonia Sotomayor wrote the dissent, joined by Justice Ruth Bader Ginsburg. "The Constitution does not protect racial minorities from political defeat," she wrote. "But neither does it give the majority free rein to erect selective barriers against racial minorities."

This isn't the first time that affirmative action has been the focus of the highest judiciary level in regards to academia, and race-conscious admission policies.

In June of 2013, the Supreme Court ruled that a state can elect to use Affirmative Action policies, which defined when and how a state may prohibit these policies.

The Schuette v. Coalition to Defend Affirmative Action case was decided by a 6-2 vote. Justice Elena Kagan recused herself, presumably due to prior involvement with the case.

The case was brought up by the Michigan initiative Proposal 2, a response to a 2003 Supreme Court decision that upheld the use of race as a factor amongst law school admissions.

Proposal 2 was approved in 2006 by 58 percent of Michigan's voters, and amended the states' Constitution to prohibit discrimination or preferential treatment in public education and employment. Pro-affirmative action groups sued to block the part of the law concerning higher education.

A similar affirmative action ban occurred in California in 1996, and was re-upheld in 2010.
---
Copywriter 2015 - Distributed by THE NEWS CONSORTIUM
Pope Francis Prayer Intentions for March 2015
Universal:
Scientists: That those involved in scientific research may serve the well-being of the whole human person.
Evangelization:
Contribution of women: That the unique contribution of women to the life of the Church may be recognized always.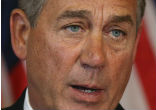 By Catholic Online (NEWS CONSORTIUM)
The House of Representatives may subpoena Hillary Clinton's personal e-mail server if she does not voluntarily surrender it for examination by an independent party, John Boehner revealed this week. LOS ANGELES, CA (Catholic Online) - "I've not made any decisions ... continue reading
---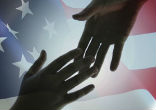 By Catholic Online (NEWS CONSORTIUM)
They come from faraway lands to the United States in search of a better life - all on the taxpayer's dime. It has been learned that at least 350,000 refugees in the U.S. are on food stamps, according the Congressional Research Service, or CRS. LOS ANGELES, CA ... continue reading
---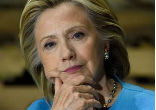 By Catholic Online (NEWS CONSORTIUM)
Former U.S. President Bill Clinton, along with his wife Hillary - who has her eyes on the presidential seat come 2016, reportedly have a "web of connections between Bill's private work, Hillary Clinton's public role as secretary of State, the Clintons' ... continue reading
---

By Talia Ramos (NEWS CONSORTIUM)
Loretta Lynch has been confirmed as the new U.S. attorney general last Thursday. History is made as she became the first African-American woman to occupy such a crucial and distinct government position. Lynch was not present during the Senate confirmation, however, her ... continue reading
---

By Matt Waterson (NEWS CONSORTIUM)
The Koch brothers, Charles and David, the wealthy political donors who have dipped their hands and massive fortunes into U.S. politics for years, may have upped their involvement, considering for the first time whether to lend their wealth and organizational ... continue reading
---

By Abigail James (NEWS CONSORTIUM)
A controversial "tell all" book about the Clinton Foundation's funding habits, titled "Clinton Cash: The Untold Story of How and Why Foreign Governments and Businesses Helped Make Bill and Hillary Rich," is set to enter stores and rock Hillary's campaign next month. ... continue reading
---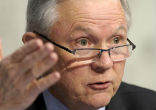 By Catholic Online (NEWS CONSORTIUM)
The cornerstone to lawful employment to labor in the United States, it has been recently revealed that more than half a million illegal immigrants - or 541,000 illegal aliens. This disheartening statistic has been revealed by Carolyn Colvin, acting commissioner ... continue reading
---

By Abigail James (NEWS CONSORTIUM)
As Hillary Clinton continues to shape her platform for presidency, she is reported as boasting her family's immigration history. During one of her first speeches as an official candidate, Clinton said that "all her grandparents had immigrated to the United States," ... continue reading
---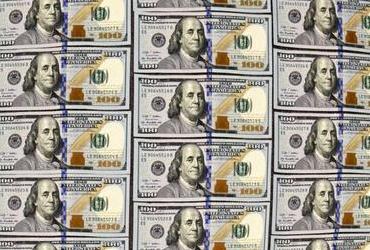 By Catholic Online (NEWS CONSORTIUM)
Tax day has arrived - and with the close of business on April 14, the Treasury brought in a record $1,477,901,000,000 since fiscal 2015. Began on October 1, 2014, these figures are courtesy of the Daily Treasury Statement. Despite this record tax revenue, the ... continue reading
---
By Catholic Online (NEWS CONSORTIUM)
If you had your taxes professionally prepared this year, you may now fully appreciate what your accountant or cleric did for you this year. The U.S. federal tax code is a whopping 74,608 pages long! Try to imagine trying to digest all the nuances that go along ... continue reading
---
All Politics & Policy News