Federal workers have health care subsidized by taxpayers
Since the rest of the United States will be beholden to Obamacare - Rand Paul says that all federal employees should, too. Paul says he does not want taxpayers subsidizing the personal health-care plans of any federal employee, including Obamacare proponent Chief Justice John Roberts.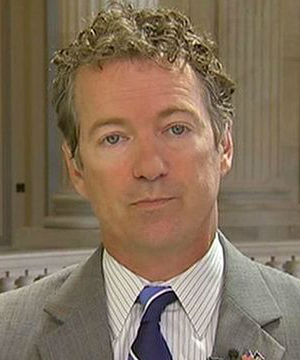 What's good for the goose is good for the gander -- Kentucky Senator Rand Paul says federal employees should have to sign up for Obamacare, too.
LOS ANGELES, CA (Catholic Online) - With some in Congress arguing lawmakers and their staff should not get subsidies to cover their health insurance as health-care reform goes into effect, the Republican senator from Kentucky told reporters that he's going to start pushing a constitutional amendment that goes even further.

The proposal will outlaw any special exemptions for government employees. This means all federal workers would have to purchase health insurance on the new Obamacare exchanges instead of getting taxpayer-funded subsidies. Critics have long maintained that those subsidies amount to special treatment. The Obamacare health insurance exchange opens October 1.

"My amendment says basically that everybody including Justice Roberts - who seems to be such a fan of Obamacare - gets it too," Paul said in a telephone interview.

"See, right now, Justice Roberts is still continuing to have federal employee health insurance subsidized by the taxpayer," Paul said. "And if he likes Obamacare so much, I'm going to give him an amendment that gives Obamacare to Justice Roberts."

Roberts had voted to uphold the constitutionality of Obama's health-care reform law when it went before the Supreme Court last year.

The senator also plans to support a proposal requiring that Congress and all federal employees rely on Obamacare for their insurance. Paul's proposal comes after outrage from conservatives about a so-called "exemption" for members of Congress and their staff from Obamacare.

It's being called as the "Obamacare fix" for lawmakers and staff. The Affordable Care Act includes an amendment from a Republican senator that changes how the government currently covers most of the cost of health-care premiums for members of Congress and their staffers. The new law mandates that members and staff must enter into exchanges or be covered by insurance "created" by law.

Paul revealed his new amendment push this past weekend after reporters inquired about a proposal from Louisiana Senator David Vitter, who has proposed killing those federal Obamacare subsidies for lawmakers and their staff. "I support any effort to make all laws applicable to Congress that we pass," Paul said.

Click here to learn about our Saint Michael the Archangel conference this Nov 1-3!


---
Copyright 2015 - Distributed by THE CALIFORNIA NETWORK
Pope Francis Prayer Intentions for April 2016
Universal:
Small Farmers: That small farmers may receive a just reward for their precious labor.
Evangelization:
African Christians: That Christians in Africa may give witness to love and faith in Jesus Christ amid political-religious conflicts.

By Kenya Sinclair (CALIFORNIA NETWORK)
New York Mayor Bill de Blasio's closest aides have been issued subpoenas to aid the investigation into his shady fundraising strategies. LOS ANGELES, CA (Catholic Online) - The scandal surrounding de Blasio's fundraising has made headlines since 2014, when a leaked ... continue reading
---
By David Drudge (CALIFORNIA NETWORK)
Donald Trump delivered his first full speech on foreign policy and he sounded fairly presidential while doing so. Trump is not a politician by trade, but he may make an excellent president thanks to his extensive business acumen. Trump is on the path to the Republican ... continue reading
---
By Kenya Sinclair (CALIFORNIA NETWORK)
The race for the presidential nominee has been full of surprises as history-making events, claims of foul play, dirty dealings and controversial statements have cropped up in abundance. Candidates have, at times, been caught up in a tight race, but Tuesday's primary ... continue reading
---

By David Drudge (CALIFORNIA NETWORK)
Donald Trump is on track to win both the primary and the election, according to the numbers. He is on a better trajectory than Mitt Romney was in 2008. Meanwhile, Hillary Clinton, while winning her primary, is losing support. LOS ANGELES, CA (California Network) - ... continue reading
---
By David Drudge (CALIFORNIA NETWORK)
Ted Cruz and John Kasich have teamed up to block Donald Trump from winning the Republican nomination. The rivals have agreed to divide upcoming primary states, so they can efficiently spend resources attacking Trump instead of each other. LOS ANGELES, CA (California ... continue reading
---

By Thomas Heed (CALIFORNIA NETWORK)
Men with bad motives or who live dissolute lifestyles have always been potential sexual threats to women - and now women have been pushed further into their corners as "transgender rights" rise to prominence as the newest notion of the sexual revolution. These rights ... continue reading
---

By Kenya Sinclair (CALIFORNIA NETWORK)
World leaders have finally realized the destruction they have been allowing the planet to endure - and the ensuing consequences. LOS ANGELES, CA (Catholic Online) - A shocking number of 175 global leaders gathered at the United Nations headquarters to sign the Paris ... continue reading
---

By David Drudge (CALIFORNIA NETWORK)
It's time to imprison America's favorite felon-in-chief, Hillary Clinton. It has now emerged that she broke the law by marking subpoenaed files for archiving and keeping them out of the hands of Congressional investigators for a full year. The deed appears to be a ... continue reading
---

By Kenya Sinclair (CALIFORNIA NETWORK)
Hillary Clinton's campaign chairman, John Podesta, admitted the campaign is considering a woman to take the role of Vice President, should Clinton win the Presidency. LOS ANGELES, CA (Catholic Online) - Clinton wants "the best person to make the case to the American ... continue reading
---

By Kenya Sinclair (CALIFORNIA NETWORK)
Republican presidential nominee Donald Trump and Democrat nominee Hillary Clinton came up on top in Tuesday's New York primary, much to the chagrin of Catholics across the United States. LOS ANGELES, CA (Catholic Online) - Clinton, who recently made the mistake of ... continue reading
---
All Politics & Policy News