By Catholic Online (NEWS CONSORTIUM)
6/18/2013 (2 years ago)
Catholic Online (www.catholic.org)
Obama insists program isn't spying on Americans.
According to President Obama, Americans are "not getting the complete story" on PRISM, the comprehensive spying program conducted by the National Security Administration. So, why doesn't Obama provide the complete story?
LOS ANGELES, CA (Catholic Online) - In an interview with Charlie Rose of CBS, Obama said that Americans are "not getting the complete story" on the NSA surveillance programs. Obama acknowledged why Americans may be nervous about the programs and their operation.

"The public may not fully" understand them, Obama told Rose. "That can make the public kind of nervous, right?"

Naturally.

Obama insisted that American citizens are not being spied upon on an individual basis and that phone calls of American citizens are not being recorded. However, according to Snowden, the whistleblower who leaked the existence of the program to the world, any phone call can be tapped, even the president's. The level of permission needed to conduct such surveillance is also quite low.

Obama insists the permission level is high.

Obama explained, "if you're a U.S. person, then NSA is not listening to your phone calls, and it's not targeting your emails, unless it's getting an individualized court order."

Officials have confirmed that the court doesn't turn down many orders.  Obama credited this to professional scrutiny beforehand, "folks don't go with a query unless they've got a pretty good suspicion."

Somebody is lying.

"So on this telephone program," Obama said, "you've got a federal court with independent federal judges overseeing the entire program. And you've got Congress overseeing the program - not just the intelligence committee and not just the judiciary committee - but all of Congress had available to it before the last reauthorization exactly how this program works."

Obama professed that he has directed the NSA to determine what aspects of the program can now be revealed to the public without compromising the effectiveness of the program. At some future point then, we can expect Obama to share more information about PRISM and how it works.

However, Congressional officials also appear surprised by the program and they're most keen on how it appears to operate with little oversight. Congressional hearings have also revealed that NSA officials have been lying about the true nature of the program.

Americans are being caught up in the broad strokes of surveillance and this could violate the 4th Amendment rights of millions.

Of course, defenders of the program point to the 50 or more terror attacks they claim the program has foiled. We have no proof that any attacks have been prevented, only the word of program officials.

We have to make decisions about how much classified information and how much covert activity we are willing to tolerate as a society," Obama said.

Yes we do. And to help make that decision, we need the truth, which we're unlikely to get from the current administration, given its track record.


---
Copywriter 2015 - Distributed by THE NEWS CONSORTIUM
Pope Francis Prayer Intentions for July 2015
Universal:
That political responsibility may be lived at all levels as a high form of charity.
Evangelization:
That, amid social inequalities, Latin American Christians may bear witness to love for the poor and contribute to a more fraternal society.
---
---
---

By David Drudge, Catholic Online (NEWS CONSORTIUM)
The State Department released a large batch of Clinton emails on Monday, with another 7,000 pages released to the media. Classified information has been redacted. LOS ANGELES, CA (Catholic Online) - The State Department released 7,000 new Hillary Clinton emails to the ... continue reading
---

By David Drudge, Catholic Online (NEWS CONSORTIUM)
The Clinton death toll is simply astounding. Approximately 100 people, directly associated with the Clinton family, have died under unnatural and mysterious circumstances since the early 1990s. It is considered possible that the Clinton family chooses to deal with ... continue reading
---

By Linky C. (NEWS CONSORTIUM)
A North Dakota federal judge blocked the Obama Administration's controversial water pollution rule just hours before taking effect. MUNTINLUPA CITY, PHILIPPINES (Catholic Online) - Judge Ralph Erickson of the District Court for the District of North Dakota discovered ... continue reading
---

By Kenya Sinclair (NEWS CONSORTIUM)
Hillary Clinton compares conservative views on abortion and reproductive rights to terrorist groups. Republicans demand an apology while Republican and Democrat candidates agree Clinton's campaign is failing. LOS ANGELES, CA (Catholic online) - Hillary Clinton gave a ... continue reading
---

By Kenya Sinclair (NEWS CONSORTIUM)
During an interview with Bloomberg's Mark Halerin and John Heilemann, presidential candidate, Donald Trump was asked to name his favorite Bible verse but refused to name one. LOS ANGELES, CA (Catholic Online) - Seven minutes into the interview, Halerin told Trump, "You ... continue reading
---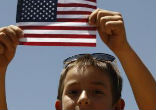 By Catholic Online (NEWS CONSORTIUM)
Children of immigrants born on United States soil appear to be wearing out their welcome, according to recent polls. It is estimated that a child of illegal immigrants is born every 93 seconds in the U.S. According to a 2011 Rasmussen Poll, only 28 percent of likely ... continue reading
---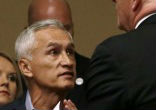 By Catholic Online (NEWS CONSORTIUM)
"Go back to Univision," GOP presidential nominee Donald Trump told Univision news anchor Jorge Ramos at an Iowa press conference. Well regarded by his peers, there was no gravitas afforded Ramos at the event, as a security guard escorted him away. The occasion ... continue reading
---

By Catholic Online (NEWS CONSORTIUM)
Charlotte Ivancic, Health Policy Advisor to Speaker John Boehner (R-Ohio), is leaving his office to work for a lobbying firm. Ivancic is the older sister of Cate Dyer, the CEO of StemExpress. Dyer was caught discussing the sale of aborted children on video by the ... continue reading
---

By David Drudge, Catholic Online (NEWS CONSORTIUM)
Americans tend to agree we need some kind of immigration reform, but they can't agree on how bad the problem is, or even what that reform should look like. Here is a story that will shock you into thinking harder about the problem. LOS ANGELES, CA (Catholic Online) - ... continue reading
---
By Catholic Online (NEWS CONSORTIUM)
In truth, Hillary Clinton's current controversy over keeping sensitive, classified information on home computers had its basis in which her husband, former president Bill Clinton pardoned former CIA director John Deutch who likewise kept classified material on ... continue reading
---
All Politics & Policy News