By Catholic Online (NEWS CONSORTIUM)
2/4/2013 (2 years ago)
Catholic Online (www.catholic.org)
Second office could be open as soon as August
A second Oval Offices in the White House could be up and running by this August if Obama is ready to move and if numerous design challenges are resolved. It's part of the expansion of the new "West Wing quarters" inside the Eisenhower building.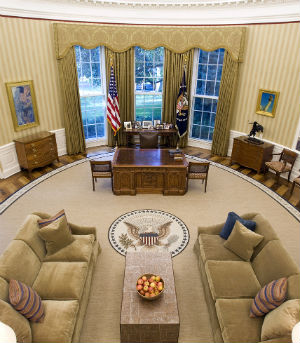 Created as a nearly identical replica of the most famous ovoid room in the world, the office is slated to be ready for occupancy by August.
LOS ANGELES, CA (Catholic Online) - The U.S. government is undertaking extensive work to complete a new executive office for President Obama at the south end of the adjacent Eisenhower Executive Office Building, RCP has learned.

Created as a nearly identical replica of the most famous ovoid room in the world, the office is slated to be ready for occupancy by August. It's all part of the West Wing phase of a larger, $376 million project begun in September 2010 that went on the back burner during last year's election. If Mitt Romney had won in November, Obama would have handed decisions about whether and how to proceed with the rehab project to his successor.

Since the Oval Office was added to the White House in 1909 under the Taft administration, decades of repairs, redecoration and technological add-ons have been layered atop an antique foundation.

President Herbert Hoover had to make significant repairs after an electrical fire in 1929. The office was relocated for a brief time across the street to the secretary of the Navy's office.

Obama's West Wing rehab addresses an overhaul of America's iconic seat of power. Obama won't be the first modern president to work in an executive suite nearby; he has described the Oval Office as a "surprisingly comfortable" place in which to get real work done. He lauds his 70-yard walk from home to office as one of the perks of his position.

In a somewhat more scandalous note -- President Nixon treated the Oval Office as a ceremonial suite, choosing to do most of his writing, thinking and phone-calling -- and some most notorious tape-recording in Room 180 of what was then called the Old Executive Office Building.

Nixon's office was located at the top of building's steps, closest to the West Wing. President Johnson, out of respect for his assassinated predecessor, John F. Kennedy, also used the Oval Office only as a formal setting with visitors and continued to do most of his work in his vice presidential suite located in Room 274 of the OEOB.

Workers are now building what will become a temporary blast-proof, secure VIP visitors' entrance to the granite EEOB behemoth, which already houses most of what is known as the Executive Office of the President. The new gate is intended to become an entryway for VIP guests, akin to the existing West Wing lobby, sources say.

Since the Oval Office is an internationally renowned symbol of American power, the precise timing of the relocation and West Wing interior demolition is somewhat up in the air. "We have eight to 10 months to get ready," one source said.


---
Copywriter 2015 - Distributed by THE NEWS CONSORTIUM
Pope Francis Prayer Intentions for July 2015
Universal:
That political responsibility may be lived at all levels as a high form of charity.
Evangelization:
That, amid social inequalities, Latin American Christians may bear witness to love for the poor and contribute to a more fraternal society.
---
---
---

By Kenya Sinclair (NEWS CONSORTIUM)
During an interview with Bloomberg's Mark Halerin and John Heilemann, presidential candidate, Donald Trump was asked to name his favorite Bible verse but refused to name one. LOS ANGELES, CA (Catholic Online) - Seven minutes into the interview, Halerin told Trump, "You ... continue reading
---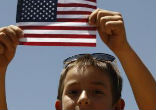 By Catholic Online (NEWS CONSORTIUM)
Children of immigrants born on United States soil appear to be wearing out their welcome, according to recent polls. It is estimated that a child of illegal immigrants is born every 93 seconds in the U.S. According to a 2011 Rasmussen Poll, only 28 percent of likely ... continue reading
---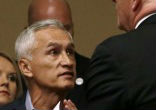 By Catholic Online (NEWS CONSORTIUM)
"Go back to Univision," GOP presidential nominee Donald Trump told Univision news anchor Jorge Ramos at an Iowa press conference. Well regarded by his peers, there was no gravitas afforded Ramos at the event, as a security guard escorted him away. The occasion ... continue reading
---

By Catholic Online (NEWS CONSORTIUM)
Charlotte Ivancic, Health Policy Advisor to Speaker John Boehner (R-Ohio), is leaving his office to work for a lobbying firm. Ivancic is the older sister of Cate Dyer, the CEO of StemExpress. Dyer was caught discussing the sale of aborted children on video by the ... continue reading
---

By David Drudge, Catholic Online (NEWS CONSORTIUM)
Americans tend to agree we need some kind of immigration reform, but they can't agree on how bad the problem is, or even what that reform should look like. Here is a story that will shock you into thinking harder about the problem. LOS ANGELES, CA (Catholic Online) - ... continue reading
---
By Catholic Online (NEWS CONSORTIUM)
In truth, Hillary Clinton's current controversy over keeping sensitive, classified information on home computers had its basis in which her husband, former president Bill Clinton pardoned former CIA director John Deutch who likewise kept classified material on ... continue reading
---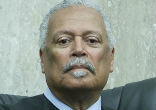 By Catholic Online (NEWS CONSORTIUM)
"We wouldn't be here today if this employee had followed government policy," U.S. District Judge Emmet Sullivan, in reference to Hillary Clinton's recent email fracas, said. Controversy continues to swell over Clinton's email. Some argue that she violated government ... continue reading
---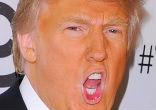 By Catholic Online (NEWS CONSORTIUM)
Republican presidential candidate Donald Trump has said many outrageous things that have deftly expressed the American public's dissatisfaction with domestic policy. There are still many people who think it is all grandstanding on Trump's part, but according to a ... continue reading
---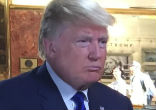 By Catholic Online (NEWS CONSORTIUM)
Republican presidential candidate Donald Trump in his typical style made quite a few jaws drop in an interview on CNN this week. Reporter Chris Cuomo asked the billionaire what he would say to Pope Francis come his visit to the U.S. in September. In a roundabout way, ... continue reading
---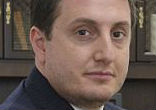 By Catholic Online (NEWS CONSORTIUM)
Democratic presidential candidate Hillary Clinton has yet another email scandal in the wings. Gossip Web site Gawker requested emails from Clinton's previous media handler Philippe Reines under the Freedom of Information Act in 2013. The State Department said that they ... continue reading
---
All Politics & Policy News