Parental choice in education is right for our children, right for our parents and right for our Nation
Parental (School) Choice is an idea whose time has come. It is a matter of true social justice, not what is masquerading as social justice in some circles these days. It is a civil rights issue, a matter of educational freedom and the means to true educational reform.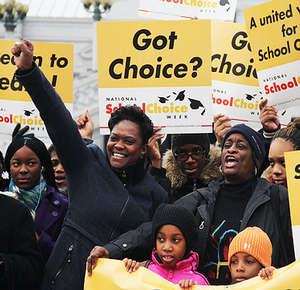 National School Choice Week
CHESAPEAKE, VA (Catholic Online) - January 27- February 3, 2013 is National School Choice Week in the United States of America. Around the Nation events are being held to call attention to this rapidly growing movement for true educational reform. This movement crosses political party, social and economic lines. 
Some who oppose school choice are entrenched in the current federalized educational bureaucracy and the culture which fuels it. However, increasingly people of every walk of life admit the obvious, our educational system is broken.  A growing number are supporting the school choice movement.
In loco parentis - a Latin phrase meaning in the place of, or on behalf of the parents - was the polestar of educational law for years. Now, it is replaced with a top down one size fits all federalized system which has substituted bureaucrats for parents.
The origins of what became the public school system began with families pooling resources in small community schools.  Now, parents and local communities have an increasingly smaller role in the educational process.
We need to reconsider our history to chart a path to true educational reform and educational freedom in the future.   
The current overly federalized approach to education in the United States is failing. Statistics and experience confirm the obvious. It is time for a change and parental (school) choice is the change needed. It means affirming again that Parents are the ones who should be able to make the choice of how to best extend their own teaching mission outside of the home.
The proper role of Federal, State or Local Government is to support the first government in the home. I believe we should use the phrase Parental Choice.  Schools do not make the decision, parents do - or at least they should be able to, no matter what their income.
I am not against government. I simply insist that we remember that government begins in the family. Any good governance must recognize the first government of the family and then follow the social principle called subsidiarity.  That principle reminds us that good government is bottom up, not top down, deferring first to the smallest governing unit; not usurping but empowering and helping families.
The teaching of the Catholic Church on the primacy of parents in the educational mission is clear and helpful. In his apostolic exhortation on the family entitled "The Role of the Christian family in the Modern World" (Familiaris Consortio) Blessed Pope John Paul II affirmed the social and political role of the family and called for the development of a "family politics". Here is an insight:
"The right and duty of parents to give education is essential, since it is connected with the transmission of human life; it is original and primary with regard to the educational role of others, on account of the uniqueness of the loving relationship between parents and children; it is irreplaceable and inalienable, and therefore incapable of being entirely delegated to others or usurped by others."
In his "Letter to Families" the late Pope wrote "Parents are the first and most important educators of their own children, and they also possess a fundamental competence in this area; they are educators because they are parents. They share their educational mission with other individuals or institutions, such as the Church and the State. But the mission of education must always be carried out in accordance with a proper application of the Principle of Subsidiarity."
"This implies the legitimacy and indeed the need of giving assistance to the parents, but finds its intrinsic and absolute limit in their prevailing right and actual capabilities. The principle of subsidiarity is thus at the service of parental love, meeting the good of the family unit. For parents by themselves are not capable of satisfying every requirement of the whole process of raising children; especially in matters concerning their schooling and the entire gamut of socialization."
"Subsidiarity thus complements paternal and maternal love and confirms its fundamental nature, inasmuch as all other participants in the process of education are only able to carry out their responsibilities in the name of the parents, with their consent and, to a certain degree, with their authorization."
Parental (School) Choice is an idea whose time has come. It is a matter of true social justice, not what is masquerading as social justice in some circles these days. It is a civil rights issue, a matter of educational freedom and the means to true educational reform.
The opposition of some who often control of the teachers unions to such educational reform shows how far some of these mediating associations have strayed from their primary role. They fail to defer to the first mediating institution of the family. 
Parental choice in education is right for our children, right for our parents and right for our Nation.
Men and women of vision are emerging at the State Level to lead this growing movement. I am honored to stand with and support one of these emerging leaders, E.W. Jackson. He is seeking the nomination of the Republican Party as Lieutenant Governor of my home State, the Commonwealth of Virginia.
I just received this Press Release from the Jackson campaign.

*****
Statement of E.W. Jackson on National School Choice Week

E.W. Jackson, Candidate for Lieutenant Governor of Virginia released the following statement to join millions of Americans commemorating National School Choice Week on January 27 - Feb 3, 2013:

"The theme of my campaign for Lieutenant Governor of Virginia is 'Let liberty Light the Way'. Parental Choice in education is a liberty issue and should be a fundamental civil right.
"Parents are the first and best teachers of their children. When they delegate to teachers the role of educating their children, they should not be forced to relinquish safety and educational quality.
"Statistics confirm what we already know: our educational system is broken. The current federal one-size-fits-all approach to education has failed miserably. It is time for parents to reclaim their rightful place in determining where and how their children will be educated. Public policy must affirm and support this parental right."
"As Lieutenant Governor of Virginia I will propose an amendment to the State Constitution to implement parental choice in the Commonwealth."
"The family is the first government and the first school house. We must allow liberty to light the way in Virginia by ensuring the freedom of parents to make educational choices for their children."
---
Copyright 2015 - Distributed by THE CALIFORNIA NETWORK
Pope Francis Prayer Intentions for April 2016
Universal:
Small Farmers: That small farmers may receive a just reward for their precious labor.
Evangelization:
African Christians: That Christians in Africa may give witness to love and faith in Jesus Christ amid political-religious conflicts.

By David Drudge (CALIFORNIA NETWORK)
Have we won the ground war in Afghanistan? According to the government reports and the media, we sure have. However, this is not what one whistleblower has said, warning as early as 2012 that the American people are being deceived by the government. LOS ANGELES, CA ... continue reading
---

By Kenya Sinclair (CALIFORNIA NETWORK)
Thousands attended Donald Trump's Orange County rally - then broke out in violent protest. LOS ANGELES, CA (Catholic Online) - The Trump rally in Costa Mesa's Orange County Amphitheater was overflowing with supporters. There were several supporters who couldn't fit ... continue reading
---

By Kevin J. Jones (CNA/EWTN News)
The Obama administration's new rule for faith-based partnerships has drawn various reactions: one observer warned they could cause problems for partnering religious groups, while another said the action also strengthens these groups' protections against government ... continue reading
---

By Kenya Sinclair (CALIFORNIA NETWORK)
New York Mayor Bill de Blasio's closest aides have been issued subpoenas to aid the investigation into his shady fundraising strategies. LOS ANGELES, CA (Catholic Online) - The scandal surrounding de Blasio's fundraising has made headlines since 2014, when a leaked ... continue reading
---
By David Drudge (CALIFORNIA NETWORK)
Donald Trump delivered his first full speech on foreign policy and he sounded fairly presidential while doing so. Trump is not a politician by trade, but he may make an excellent president thanks to his extensive business acumen. Trump is on the path to the Republican ... continue reading
---
By Kenya Sinclair (CALIFORNIA NETWORK)
The race for the presidential nominee has been full of surprises as history-making events, claims of foul play, dirty dealings and controversial statements have cropped up in abundance. Candidates have, at times, been caught up in a tight race, but Tuesday's primary ... continue reading
---

By David Drudge (CALIFORNIA NETWORK)
Donald Trump is on track to win both the primary and the election, according to the numbers. He is on a better trajectory than Mitt Romney was in 2008. Meanwhile, Hillary Clinton, while winning her primary, is losing support. LOS ANGELES, CA (California Network) - ... continue reading
---
By David Drudge (CALIFORNIA NETWORK)
Ted Cruz and John Kasich have teamed up to block Donald Trump from winning the Republican nomination. The rivals have agreed to divide upcoming primary states, so they can efficiently spend resources attacking Trump instead of each other. LOS ANGELES, CA (California ... continue reading
---

By Thomas Heed (CALIFORNIA NETWORK)
Men with bad motives or who live dissolute lifestyles have always been potential sexual threats to women - and now women have been pushed further into their corners as "transgender rights" rise to prominence as the newest notion of the sexual revolution. These rights ... continue reading
---

By Kenya Sinclair (CALIFORNIA NETWORK)
World leaders have finally realized the destruction they have been allowing the planet to endure - and the ensuing consequences. LOS ANGELES, CA (Catholic Online) - A shocking number of 175 global leaders gathered at the United Nations headquarters to sign the Paris ... continue reading
---
All Politics & Policy News