---
By Catholic Online (NEWS CONSORTIUM)
11/27/2012 (3 years ago)
Catholic Online (www.catholic.org)
Tea-party favorite Rand Paul still speaks for fiscal conservitives.
One Republican is honoring his word. Breaking ranks with defecting Republicans on the no-tax-hike pledge, Rand Paul is holding his ground. For Paul, a promise is a promise.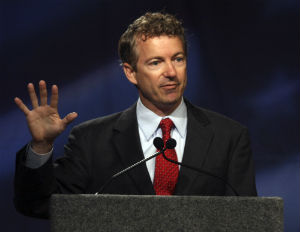 Rand Paul remains committed to his oath to oppose tax increases.
WASHINGTON, DC (Catholic Online) - Paul said in an interview with Fox News' Greta Van Sustren, "I made a pledge to the people of Kentucky that I'm not raising taxes. I took a pledge. I signed a statement, an oath that I wouldn't raise taxes, and I'm going to adhere to it."

A number of Republicans have said they are willing to negotiate with Obama and possibly raise taxes in order to avoid the fiscal cliff, which looms on January 1.

Paul went further. "I think you should balance budgets, not spend more than comes in, and I think you should lower taxes, not raise taxes. In fact, if you want to stimulate the economy, I'm for cutting tax revenues. All these Republicans who want to give up their taxpayer pledge and raise taxes, I'm the opposite. I want to lower taxes because that's how we'd get actually more economic growth and maybe more revenue, if you cut tax rates."

When asked how he would raise government revenues, Paul suggested economic growth as the only sustainable way to do so. "You don't have to raise rates or even close loopholes. If your economy was growing -- you know, when the economy was growing for four years after the Bush tax cuts, we had plenty of revenue. Revenue went down when the recession came."

Paul added, "The reason we have a lack of revenue in Washington is too much spending and no economic growth. So we don't have economic growth. If the economy were growing at 4 percent right now, we'd have plenty of revenue. But you don't get the economy to grow by raising taxes. That's what they want to do now, and I think it's absolutely the wrong thing to do."

While Paul made clear he supports avoiding the fiscal cliff, he does not like the way it is bound to happen. "I think there'll be something really big -- some enormous, ugly bill with a lot of stuff in it, including raising the debt ceiling by a couple trillion dollars. They'll squish it into one bill. And sometime before Christmas, they'll pass it."

If so, then a great number of Republicans who broke their pledge to the American people will have much to answer for in their next election. As for Paul, his star is likely to continue rising.


---
Copyright 2015 - Distributed by THE CALIFORNIA NETWORK
Pope Francis Prayer Intentions for April 2016
Universal:
Small Farmers: That small farmers may receive a just reward for their precious labor.
Evangelization:
African Christians: That Christians in Africa may give witness to love and faith in Jesus Christ amid political-religious conflicts.
---
---
---

By David Drudge (CALIFORNIA NETWORK)
Have we won the ground war in Afghanistan? According to the government reports and the media, we sure have. However, this is not what one whistleblower has said, warning as early as 2012 that the American people are being deceived by the government. LOS ANGELES, CA ... continue reading
---

By Kenya Sinclair (CALIFORNIA NETWORK)
Thousands attended Donald Trump's Orange County rally - then broke out in violent protest. LOS ANGELES, CA (Catholic Online) - The Trump rally in Costa Mesa's Orange County Amphitheater was overflowing with supporters. There were several supporters who couldn't fit ... continue reading
---

By Kevin J. Jones (CNA/EWTN News)
The Obama administration's new rule for faith-based partnerships has drawn various reactions: one observer warned they could cause problems for partnering religious groups, while another said the action also strengthens these groups' protections against government ... continue reading
---

By Kenya Sinclair (CALIFORNIA NETWORK)
New York Mayor Bill de Blasio's closest aides have been issued subpoenas to aid the investigation into his shady fundraising strategies. LOS ANGELES, CA (Catholic Online) - The scandal surrounding de Blasio's fundraising has made headlines since 2014, when a leaked ... continue reading
---
By David Drudge (CALIFORNIA NETWORK)
Donald Trump delivered his first full speech on foreign policy and he sounded fairly presidential while doing so. Trump is not a politician by trade, but he may make an excellent president thanks to his extensive business acumen. Trump is on the path to the Republican ... continue reading
---
By Kenya Sinclair (CALIFORNIA NETWORK)
The race for the presidential nominee has been full of surprises as history-making events, claims of foul play, dirty dealings and controversial statements have cropped up in abundance. Candidates have, at times, been caught up in a tight race, but Tuesday's primary ... continue reading
---

By David Drudge (CALIFORNIA NETWORK)
Donald Trump is on track to win both the primary and the election, according to the numbers. He is on a better trajectory than Mitt Romney was in 2008. Meanwhile, Hillary Clinton, while winning her primary, is losing support. LOS ANGELES, CA (California Network) - ... continue reading
---
By David Drudge (CALIFORNIA NETWORK)
Ted Cruz and John Kasich have teamed up to block Donald Trump from winning the Republican nomination. The rivals have agreed to divide upcoming primary states, so they can efficiently spend resources attacking Trump instead of each other. LOS ANGELES, CA (California ... continue reading
---

By Thomas Heed (CALIFORNIA NETWORK)
Men with bad motives or who live dissolute lifestyles have always been potential sexual threats to women - and now women have been pushed further into their corners as "transgender rights" rise to prominence as the newest notion of the sexual revolution. These rights ... continue reading
---

By Kenya Sinclair (CALIFORNIA NETWORK)
World leaders have finally realized the destruction they have been allowing the planet to endure - and the ensuing consequences. LOS ANGELES, CA (Catholic Online) - A shocking number of 175 global leaders gathered at the United Nations headquarters to sign the Paris ... continue reading
---
All Politics & Policy News