As Catholics, we best contribute to our democratic process by voting as faith filled and faithful citizens
The Church -clergy and laity- while agreeing to disagree on other matters of prudential judgment cannot but oppose the evils of abortion, euthanasia, fetal stem cell research, human cloning and so called same sex "marriage." In these areas, there can be no other legitimate Catholic position.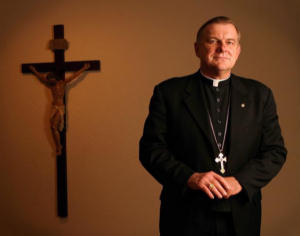 Most Reverend Thomas Wenski Archbishop of Miami
Highlights
Catholic Online (www.catholic.org)
10/20/2012 (3 years ago)
Published in Politics & Policy
Keywords: Life, Right to life, Marriage, family, defense of marriage, religious liberty, Archbishop Thomas Wenski, Archdiocese of Miami, Pro-Liofe, Pro-Marriage, Religious Freedom, faithful citizens, voting, campaign 2012, Deacon Keith Fournier
---
MIAMI, FL (Catholic Online) - I have written about Archbishop Thomas Wenski of Miami, Florida before. He is one of my heroes. In 2010 an Archdiocese which is home to 900,000 Catholics and one of the most beautiful Cities in the Nation, Miami, Florida welcomed home a native born son to serve as its Fourth Archbishop. They received a great gift.
This American of Polish stock looks like he could have come from the same home town as the Blessed John Paul II. His first assignment was to a Hispanic parish. He spent a substantial amount of his ministry in the early years building and leading a dynamic Haitian apostolate, the Pierre Toussaint Haitian Catholic Center in Miami.
A vibrant witness to the true meaning of Catholic Social Teaching's call to a love of preference for the poor, the Center Fr. Wenski helped to build embodied it. The center provided social, educational, legal and life assistance to Haitian immigrants. In fact, his love for the people of Haiti led him to that suffering Nation right after January's quake. He is an ardent champion of immigrants and a supporter of true immigration reform.
In 1997 he was consecrated as a successor to the Apostles and served as an auxiliary Bishop of Miami. Then, in 2004 he was called to serve the Diocese of Orlando. There he led the Diocese in an extensive period of strengthening its mission and identity. He did an extraordinary job.
In 2009 I had the privilege of meeting Bishop Wenski and serving as his Deacon at Holy Mass. I will never forget meeting him. It took place at that beautiful Church dedicated to Our Lady, planted, by design, smack dab in the middle of the tourist sites to serve as a missionary outpost and spiritual pilgrimage site.
When Bishop Wenski came to greet us, I immediately liked him. He has smiling eyes and a down to earth, humble, inviting demeanor. Of course, as many of my readers know, my champion in life is the soon to be Blessed John Paul II. When I met Bishop Wenski I immediately thought of the late Pope.
He invited me to serve as his deacon at the Sacred Liturgy. It was one of the many honors of the years I have been ordained. His presence at the altar, love of the Lord and living faith had a deep impact upon me and all who were present at Mass.
This is a Bishop truly in love with Jesus and clearly comfortable in his apostolic office. Throughout the weekend, he stayed with the participants at the conference and made everyone feel comfortable, exuding the demeanor of a spiritual father. This is a strong leader in an age desperately in need of true strength.
His courageous policy positions are well known. He embraces Catholic Social Doctrine in its fullness, as it is rightly understood.  A friend of the immigrant and the poor he is also of necessity a strong defender of every human person from conception to natural death and at every age and stage.
That includes children in the first home of the whole human race, those whom Mother Teresa rightly called the "poorest of the poor".  He does not back down from controversy as evidenced when he offered a Mass of Reparation after the University of Notre Dame conferred an honorary Doctor of Law degree on President Obama.
He helped lead important efforts such as the delivery of 75 tons of food to Cuba after a devastating hurricane. He is still affirmed for his personal visit to Haiti after the devastating earthquake. He is well known for his love for the people of Haiti. He is not liberal, or conservative, he is Catholic - to the bone.
Last year, on Saturday March 26, 2011, he penned an editorial as  "Thomas Wenski"  in the Sun Sentinel newspaper entitled "Traditional marriage predates all of us" His defense of the truth about marriage were crystal clear. He did not rely on his clerical title to commend his clear defense of authentic marriage.

He knows that the truth about marriage - and the family and society founded upon it - is strong enough for its own defense. It is written in the Natural law and knowable by all men and women through the exercise of right reason. It simply takes men and women of courage to articulate it.
In an age when too many are eager to denigrate our Bishops, I regularly try to call attention to the many courageous men like Archbishop Thomas Wenski whoserve the Church. They need our prayer, and deserve our respect.
Now, weeks before one of the most important elections in US history, this wonderful Archbishop has again shown courage - and proper pastoral concern for the faithful and for the Nation. He issued a letter which was published in every parish bulletin in the Archdiocese of Miami. He also directed that it be read this past Sunday in every parish.

The Archbishop of Miami knows that it is his duty to instruct the faithful on the major moral issues of our age. The letter, entitled "Vote as faith-filled, faithful citizens" is a model for how such letters should be drafted. Its placement in every bulletin and mandatory reading at every Mass was exactly what is needed in every Diocese and every parish in the nation.

This letter should be downloaded by everyone reading this article and circulated widely. Here is a link to the downloadable and printable PDF version.  The letter is presented below:
*****
Dear faithful in Christ:

As we approach a very important general election, I remind those of you who are citizens of this great nation and eligible to vote that voting is not only your right; it is your duty, As scriptures teach us, we are our brother's keeper, and voting responsibly is one way to promote the common good of our brethren in society.
The welfare and future of our nation's communities depend on the people we entrust with public responsibilities. No bishop or priest will tell you for whom to vote - however, as your pastors we do legitimately try to guide our people through the maze of complex moral issues that underline the public policy positions espoused by the different candidates and their party platforms.
For this reason, we make available to you the Florida Conference of Catholic Bishops Questionnaire which details where candidates stand on important issues that may come before them. At the same time, while we are not taking a position on the other amendment initiatives, we strongly urge you to support both amendment 6 (Yes) which will enable the legislature to restore rights of parents and prohibit public funding of abortion, and amendment 8 (yes) on Religious Liberty that would protect faith-based groups' freedom to serve in our State. Besides what is available through your parish bulletin, additional information can be accessed on both the Archdiocese of Miami's website, and the Forida Catholic Conference website. 

While some may resent this particular exercise of our teaching ministry, I would hope that most Catholics of good will welcome these interventions. All of us need help in making difficult decisions. As Catholics we have good counsel in our Church teachings on our civic responsibility to pursue the common good, as well as in prayer. These are important elements that help one arrive at the best prudential decision.

Our system of checks and balances built into our governing structures by our founding fathers reflected an understanding of the human person founded in our Judeo-Christian tradition.
And whether as citizens or as elected officials, if we are to be faithful to the truth about the human person, we must oppose uncompromisingly policies and laws that undermine the common good precisely because they originate in a defective understanding of the human person.
For this reason, the Church -clergy and laity- while agreeing to disagree on other matters of prudential judgment cannot but oppose the evils of abortion, euthanasia, fetal stem cell research, human cloning and so called same sex "marriage." In these areas, there can be no other legitimate Catholic position.
Beyond these fundamental issues, and closely related to them, is the issue of religious liberty which must be defended from current attempts to undermine it by limiting people of faith's freedom to serve in ways congruent to their faith and morals.
As Catholics, we best contribute to our democratic process by voting as faith filled and faithful citizens; that is, in a way coherent to our Catholic beliefs and teachings. Whether you can vote or not, I ask you to pray; and if you are eligible to vote, then I ask you to do so with an informed conscience.
Sincerely yours in Christ,
Most Reverend Thomas Wenski
Archbishop of Miami


---
Copyright 2016 - Distributed by THE CALIFORNIA NETWORK
Pope Francis Prayer Intentions for May 2016
Universal:
Respect for Women: That in every country of the world, women may be honored and respected and that their essential contribution to society may be highly esteemed.
Evangelization:
Holy Rosary: That families, communities, and groups may pray the Holy Rosary for evangelization and peace.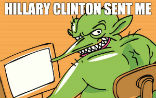 By Marshall Connolly (CALIFORNIA NETWORK)
The next time you encounter an internet troll, be warned, he could be getting paid to fan the flames, or to douse your conversation. A new study our of Harvard reveals that China is using an army of 448 million fake troll accounts to influence public opinion. And China ... continue reading
---

By David Drudge (CALIFORNIA NETWORK)
The State Department Inspector General has ruled that Hillary Clinton broke department rules for using a private email server and for deleting emails she sent and received during her tenure. The report was released on Capitol Hill today. LOS ANGELES, CA (California ... continue reading
---

By Kenya Sinclair (CALIFORNIA NETWORK)
The United States provides 33 percent of the world's arms such as fighter jet aircraft, tanks and more - so which countries are buying? LOS ANGELES, CA (Catholic Online) - According to the Defense Security Cooperation Agency, the number one country purchasing ... continue reading
---

By Kenya Sinclair (CALIFORNIA NETWORK)
With many Senate Democrats calling for a faster processing, the Obama Administration and U.S. Citizenship and Immigration Services (CIS) have drastically increased the number of Syrian refugees admitted into the United States. LOS ANGELES, CA (Catholic Online) - ... continue reading
---

By David Drudge (CALIFORNIA NETWORK)
The FBI is investigating Virginia Gov. Terry McAuliffe on the grounds that he accepted illegal campaign contributions. There is overlap between his donors and donors to the Clinton campaign. Investigators have discovered that a Chinese politician made a particularly ... continue reading
---

By Kenya Sinclair (CALIFORNIA NETWORK)
As American steel production falters, China has begun efforts to dump its excess steel at slashed prices. LOS ANGELES, CA (Catholic Online) - According to Thomas J. Gibson, president and CEO of the American Iron and Steel Institute, and Chuck Schmitt, president of SSAB ... continue reading
---

By Catholic Online (NEWS CONSORTIUM)
Chaos erupted as the US House of Representatives refused to pass an amendment meant to strip away religious freedom and protections for religious contractors and those who work with the federal government. LOS ANGELES, CA (Catholic Online) - When House Democrats ... continue reading
---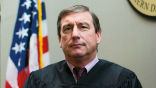 By David Drudge (CALIFORNIA NETWORK)
An angry federal judge has ordered Justice Department attorneys to take annual ethics classes for lying. The lies told by Justice Department attorneys tricked 26 states into filing a lawsuit against the administration. LOS ANGELES, CA (California Network) - U.S. ... continue reading
---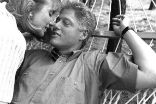 By David Drudge (CALIFORNIA NETWORK)
As Hillary Clinton declares herself the presumptive nominee of the Democratic party amid the cheers of millions of millennial supporters, few people seem to remember that her husband, Bill Clinton, is an accused serial rapist. And far from being a supporter of women' ... continue reading
---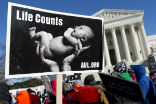 By Marshall Connolly (CALIFORNIA NETWORK)
Oklahoma has outlawed abortion! The state legislature has passed a bill that would criminalize the procedure, except to save the life of the mother. The bill will now go to the governor for signing. LOS ANGELES, CA (Catholic Online) - The final decision will be up to ... continue reading
---
All Politics & Policy News