Clarifying the Facts: NFP Teacher Responds to Congressman Todd Akin
---
The incidence of pregnancy conceived in rape is low, but irregardless of that statistical number, a child has the right to life
While I do not wish to jump into the political fray over whether or not Senator Akin should stay or go, I think it is important to clarify the point he was trying to make.  Rape is rape, there is nothing to debate there, but the female body does indeed have the ability, when under duress, to delay ovulation.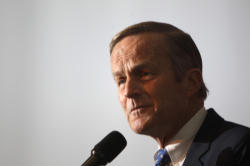 Rep. Todd Akin
ZEBULON, NC (Catholic Online) - Much ado has been made over the recent comments of Senator Todd Akin from Missouri, but it isn't about nothing.  The Senator, when discussing the incidence of pregnancies conceived from rape, is quoted as saying, "If it's a legitimate rape, the female body has ways to try to shut that whole thing down."
Certainly, the Senator's comments were insensitive and caused real injury to some women.  I make no attempt to excuse his lack of forethought and empathy.  He has come out in the public square to beg forgiveness and to take full responsibility for his lack of tact.
Rape is rape.  The words legitimate or illegitimate serve only to promote the false idea that such an act of disrespect and violence against women is in some cases permissible or at least understandable.  That is wrong.  And rape survivors deserve better than to have their integrity further violated or their honesty called into question.  There is no legitimate circumstance in which a man may rightly engage in an intimate act with a woman without her complete, conscious, informed and continuing consent.
So while I take no issue with the public outcry against the Senator for his callous vocabulary choice with regards to the crime of rape, I understand the point he was trying, but not succeeding, to express when he stated the female body attempts to "shut down."
The talking heads in the news media world, conservative and liberal alike, have been spewing all manner of questionable facts and opinions with regards to the female body's ability/inability to thwart a conception.  It is no surprise that in this age of contraception, when the majority of females' fertility cycles are influenced by artificial hormones, hardly an informed voice can be heard crying out in this anti-life wilderness.
As any teacher of Natural Family Planning can tell you, the female body exhibits an awesome power each cycle.  Women can easily learn to read their signs of fertility and infertility, which is how we are clearly able to discern that stress and trauma indeed have the potential to inhibit ovulation in a given cycle. 
A short biology lesson:
The pituitary gland initiates the secretion of the follicle stimulating hormone (FSH) shortly after menstruation which stimulates an ovarian follicle, then leading to the release of estrogen.  Estrogen cause the endometrium to build up, the cervical crypts to secrete mucus and the cervix position to change.  The latter two results can be detected by the woman. 
As the estrogen increases in anticipation of ovulation, the cervical mucus will change in quality and perhaps quantity.  It is this fertile type mucus that extends the parameters of a woman's fertile phase since the egg, itself, is only viable for about 24 hours.  This type of mucus provides not only a swimming medium for the sperm, but it allows the sperm to remain viable inside of the female for up to five days after intercourse. 
The woman, who is taking her basal body temperature every morning will record a generally steady lower range of temperatures under the influence of estrogen.
The pituitary gland now secretes the luteinizing hormone (LH) which stimulates the release of the egg from the ovarian follicle.  Estrogen levels fall and the corpus luteum, or follicle that was responsible for releasing the egg, secretes the hormone progesterone. Progesterone's job is to maintain the lining of the uterus, suppress further ovulations, increase the basal temperature, dry-up the cervical mucus and change the position of the cervix again.
The woman practicing NFP can detect the mucus dry-up, see a noticeable temperature shift and feel the cervical changes.
With the help of a microscope, doctors have been able to witness the incredible characteristics of fertile/non-fertile type mucus.  The former type can be seen to have open channels running through the mucus.  Those channels serve to allow sperm to pass through while also sifting out defective sperm that are misshapen.  The latter type have closed channels.
Stress and the hormones it triggers, like cortisol, can disturb this delicate hormonal interplay and delay ovulation.  Stress can be bodily or psychological in nature.  Rape, indeed, would induce an extreme form of stress on a woman to which her body may potentially react by delaying ovulation; thereby, reducing the chance of pregnancy.  Additionally, stress increases the incidence of miscarriage should a conception take place.
When we teach NFP to the newly engaged we remind them that it is not uncommon to experience extended cycles due to delayed ovulation during the time of wedding preparation.  If preparing for a wedding can cause enough stress to delay ovulation, then it is easy to see how severe stress, like that suffered after rape, can do the same. 
NFP practicing, women have concurred this to be a fact by recording the changes in their mucus, temperature and cervix.  They have verified seeing prolonged periods of mucus which did at times shift back and forth between more, less, and then more fertile.  There are documented charts that exhibit extended days of lower range temperatures, which the individual women noted as uncharacteristic for their cycles and as occurring during cycles in which they experienced unusual stress.
So, while I do not wish to jump into the political fray over whether or not Senator Akin should stay or go, I think it is important to clarify the point he was trying to make.  Rape is rape, there is nothing to debate there, but the female body does indeed have the ability, when under duress, to delay ovulation.
Of course, no one can know ahead of time how the body will react.  There are indeed circumstances when a woman has been raped and still her body ovulated and conceived a child.  Perhaps, she was already at the day of ovulation when the attack occurred.  The how and the why are unknowns, suffice it to say, that a woman's body can indeed delay ovulation when under stress/trauma, but sometimes it does not.
The incidence of pregnancy conceived in rape is low, but regardless of that statistical number, a child has the right to life.  Truly, that is the fact which we should not lose sight of in the midst of this debate.
-----
Tara K. E. Brelinsky is a home schooling mother of seven living children with six more heavenly ones who intercede.  Married to her childhood sweetheart, they make their home in North Carolina where they teach Natural Family Planning, grow a garden, raise two dogs, a cat and a bunch of chickens.  Tara studied journalism a lifetime ago in college, but now she writes for the the glory of God.
---
Copyright 2017 - Distributed by THE CALIFORNIA NETWORK
Pope Francis Prayer Intentions for OCTOBER 2017
Workers and the Unemployed.
That all workers may receive respect and protection of their rights, and that the unemployed may receive the opportunity to contribute to the common good.
---
---
Texas has joined the Convention of States, adding one more to the total of 34 states needed to change the Constitution without interference ... continue reading
---
The chair of the U.S. bishops' Committee on Religious Liberty says that expanded religious liberty protections in the federal contraception ... continue reading
---
California is defying the federal government by declaring itself a sanctuary state. The move sets up a conflict between the liberal state ... continue reading
---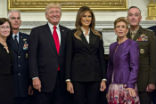 President Trump has dropped a hint that a major military operation is coming. While posing for photos with military staff and their wives ... continue reading
---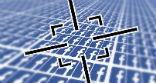 The Russians purchased $100,000 worth of ads on Facebook to spread misinformation during the 2016 presidential election, and Facebook knew ... continue reading
---