By Catholic Online (NEWS CONSORTIUM)
3/22/2012 (3 years ago)
Catholic Online (www.catholic.org)
Investigation focusing on what may be best evidence yet of forgery.
America's sheriff is hot on the case of Obama's possibly forged credentials. On  a March 16 radio show hosted by Roger Hedgecock, Maricopa County, Arizona sheriff Joe Arpaio discussed his recent investigation into Obama's documents and the possibility they could be forged.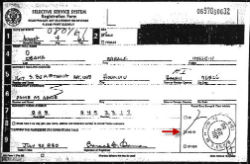 The Cold case Posse is zeroing in on Obama's Selective Service registration card, which may show clear evidence of forgery.
LOS ANGELES, CA (Catholic Online) - Sheriff Joe told Hedgecock there is "tons" more information on Obama than what is currently known and that he feels this is "probably the biggest censorship blackout in the history of the United States."  

On March 1, WND reported that Sheriff Joe and his Cold Case Posse was announcing probable cause that President Obama's documents which made him eligible to run in 2008 could be forged. At the crux of the investigation are Obama's long-form birth certificate and Selective Service registration card. 

Sheriff Joe said, "I'm not going after the president to keep him off a ballot or anything else, but that could happen. I'm going at it strictly as a law-enforcement guy investigating a possible forgery and fraud. I'm sticking with that, but I'll tell you one thing. We got tons of other information that could be very shocking, too, but I'm sticking now with just the investigation and possible criminal violations."

Sheriff Joe was asked if he would try to make an arrest, but he cautioned against that conclusion. "We're trying to identify any alleged forger. We haven't done that yet. . I'm not blaming the president, but if they're forged, someone has to be responsible for doing that."

Despite the results of his investigation, Sheriff Joe believes that media coverage of Obama's forgeries is being suppressed. He told Hedgecock, "My problem is, there's a lot of conflicts out here to get somebody to look into this. .This is probably the biggest censorship blackout in the history of the United States. When I go to the toilet, I make it in national news. .I just can't believe the media, including the cable media blocking this thing out."

Currently, Sheriff Joe is focusing attention on Obama's Selective Service registration card, which contains a bizarre mistake. The date stamp, which should read "1980" only reads, "08." This is inconsistent with every other stamp the office investigated. 

Sheriff Joe has asked for the original document and is still waiting for a response from the Selective Service. Unfortunately, the Selective Service is ultimately under the control of the President, so the Sheriff does not expect cooperation.

There are other items in the media that apparently remain unreported. According to WND, a retired US postal worker has signed a sworn affidavit saying that Obama was a foreign-born student who was given financial assistance from the parents of Bill Ayers. Ayers is infamous for founding the domestic terror group, Weather Underground. Obama has previously been connected to Bill Ayers. 

Despite this, the media is not reporting the story, lending credibility to Sheriff Joe's claim that a full-scale media blackout is occurring. 

In the meantime, Sheriff Joe faces what could be described as backlash from the Obama administration. 

Last December the Justice Department accused Sheriff Joe of racial profiling and of violating the civil-rights of Hispanics, including illegal immigrants. He has also been criticized for his treatment of jail inmates who are housed in the famous tent-city facility and put to work during their incarceration. 

Sheriff Joe says the Justice Department is making accusations, but will not share any information with his department. "They won't give us anything," he says. Sheriff Joe is looking forward to a possible court hearing over the issues.

Meanwhile, the investigation continues into Obama's forgeries. If true, they could expose one of the single greatest scandals in Presidential history, ever. 

. 

---
Copywriter 2015 - Distributed by THE NEWS CONSORTIUM
Pope Francis Prayer Intentions for October 2015
Universal:
That human trafficking, the modern form of slavery, may be eradicated.
Evangelization:
That with a missionary spirit the Christian communities of Asia may announce the Gospel to those who are still awaiting it.
---
---
---
By Kenya Sinclair (CALIFORNIA NETWORK)
Following a meeting with French President François Hollande, United States President Barack Obama has proclaimed "total solidarity" with France. LOS ANGELES, CA (Catholic Online) - President Obama believes the declaration of solidarity, alongside his trip to Paris for ... continue reading
---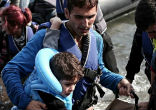 By Catholic Online (CALIFORNIA NETWORK)
Even after it was learned that a key terrorist in the recent attacks in Paris, 25-year-old Ahmed Almuhamed, snuck into France after he was rescued from a sinking shop off the coast of Greece posing as a Syrian refugee, the Obama administration continues to ... continue reading
---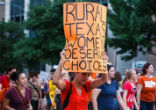 By Catholic Online (CALIFORNIA NETWORK)
A measure passed in the State of Texas, HB2 in 2013 has led to the closure of half of that state's abortion clinics. Now, the Supreme Court will hear arguments over the Texas law that has been among the most crucial in the ongoing national dialogue regarding ... continue reading
---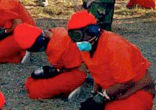 By Catholic Online (CALIFORNIA NETWORK)
United States President Barack Obama has long promised to close Guantanamo Bay, a holding facility for suspected terrorists at a U.S. naval facility in Cuba. The question, as posed by dozens of law enforcement officials in a letter to the president . where do ... continue reading
---

By Kenya Sinclair (CALIFORNIA NETWORK)
Each year Americans complain about paying taxes, much of which is distributed to foreign military aid. So where have all the funds gone? LOS ANGELES, CA (Catholic Online) - According to the United States government's Foreign Assistance report, $5.9 billion was directed ... continue reading
---

By Kenya Sinclair (CALIFORNIA NETWORK)
Republican presidential hopefuls Ben Carson and Donald Trump have disrupted Republican politicians and have many questioning where the United States is headed should either become the next American President. LOS ANGELES, CA (Catholic Online) - Members of the ... continue reading
---

By Kenya Sinclair (California Network)
The fourth Republican presidential debate took place at the Milwaukee Theater Tuesday night. Candidates were asked the big questions ranging from how they felt about protester demands for a $15 minimum wage to the deportation of 11 million illegal immigrants in the ... continue reading
---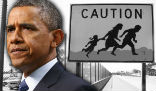 By David Drudge (California Network)
A federal appeals court has used Obama's own words to halt his growing use of executive orders that allow him to rule by edict. Their decision specifically halts his edict that shields 5 million illegal immigrants from imminent deportation and that he does not have the ... continue reading
---
By Catholic Online (CALIFORNIA NETWORK)
Hitting a record $944,143,000,000 in fiscal 2015, the Social Security Administration reached an all-time in spending. The inclusive payments for this bureau include payments for Social Security and disability benefits in addition to Supplemental Security Income ... continue reading
---

By Kenya Sinclair (CALIFORNIA NETWORK)
On Monday night, the 5th Circuit Court of Appeals found that a lower court did not "abuse its discretion" when it claimed President Barack Obama's controversial executive actions on immigration were unlawful. LOS ANGELES, CA (Catholic Online) - Obama's executive ... continue reading
---
All Politics & Policy News