This President is leading a rapidly expanding Secularist State which fails to respect fundamental human rights including the Right to life and the Right to Religious Freedom
During the last Presidential campaign many Catholics were deluded by then Senator Barack Obama. His rhetoric uses language which sounds as though he agrees with Catholics on issues such as our obligation to the poor and the needy. His administration has acted in a manner which proves the opposite. The most egregious example is his failure to hear the cry of the children in the womb.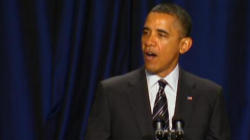 President Obama at the National Prayer breakfast
Highlights
Catholic Online (www.catholic.org)
2/8/2012 (4 years ago)
Published in Politics & Policy
Keywords: President Obama, National Prayer Breakfast, poor, preferential option, social justice, solidarity, HHS Edict, Kathleen Sebelius, campaign 2012, Pro-Life, Right to Life, Deacon Keith Fournier
---
WASHINGTON, DC (Catholic Online) - President Barack Obama spoke to the National Prayer Breakfast  at the Washington Hilton on Thursday, February 2, 2012. His words were well delivered. As a Christian, a Roman Catholic, I want to give him the respect due his office. I also try to give him the benefit of the doubt because he professes to believe in the same Savior whom I also profess - but it is getting harder and harder.
I will not refrain from pointing out the blatant and dangerous contradictions between his words and his actions as the President of the United States. You can read the full text of his address on several sources. Here is one with no discernible partisan leaning.

I am sure these words will soon be on the White House web site. I am also sure they will be utilized repeatedly as his campaign for reelection moves into high gear. He will attempt once again to persuade Catholics and other Christians to support his candidacy. The campaign has a "catholic strategy". It is precisely because of my deep concerns over that effort that I write.
President Obama has opened the flood gates to the unchecked killing of our youngest neighbors through legalized abortion. He has made it clear that Catholic and other Christian institutions will soon be forced to violate their conscience or face punitive consequences. Clearly, this administration intends to violate the constitutional rights of the Church under this unjust edict.
His Secretary of Health and Human Services, Kathleen Sebelius issued an Edict which demanded that  Catholic hospitals and institutions dispense contraceptives (some of which are abortifacients) and offer sterilization under the so called "Affordable care Act". This government seeks to force the Catholic Church to violate conscience. Failure to do so will bring punitive measures from the new Caesar.
The unjust Edict came one day after Pope Benedict XVI addressed a group of US Bishops during their ad limina visit. He warned them of the growth of radical secularism in the United States and the accompanying threats to the fundamental Right to Religious Freedom. He was right!
Congresswomen Nancy Pelosi has stepped forward as the chief advocate for this unjust edict. Her choice and the actions of Kathleen Sebelius, the Secretary of Health and Human Services - in failing to offer conscience exemptions - sent the signal of the upcoming campaign strategy of the committee to reelect the President. He will use dissident Catholics to do his bidding.
Both of these public servants are unfaithful to the teaching of their Church. They have been repeatedly corrected by their Bishops. Their choice as the Administrations "catholic spokespersons" reveals this plan. This administration intends to foment rebellion among Catholics in America in order to further its violation of the Fundamental Human Right to Life and its blatant disrespect for the constitutional rights of the Catholic Church in America.   
President Obama spoke of his Christian faith at the Prayer Breakfast. He claimed he was trying to integrate his faith into his decisions saying, "We can't leave our values at the door. If we leave our values at the door, we abandon much of the moral glue that has held our nation together for centuries, and allowed us to become somewhat more perfect a union."
He referred to the Golden Rule, "I know that far too many neighbors in our country have been hurt and treated unfairly over the last few years, and I believe in God's command to "love thy neighbor as thyself." He spoke of solidarity, the teaching of the Old and New Testaments that we are our brother and sisters keeper,  "To answer the responsibility we're given in Proverbs to "Speak up for those who cannot speak for themselves, for the rights of all who are destitute..Treating others as you want to be treated."
Like a preacher in chief he spoke of "Requiring much from those who have been given so much; living by the principle that we are our brother's keeper; caring for the poor and those in need. These values are old. They can be found in many denominations and many faiths, among many believers and among many non-believers."
"And they are values that have always made this country great -- when we live up to them; when we don't just give lip service to them; when we don't just talk about them one day a year. And they're the ones that have defined my own faith journey."
The utter hypocrisy of these smooth words reeked from that podium. I wanted to cry out, "Mr. President, what about our youngest neighbors? What about the ones who have no voice but our own? Those in the first home of the whole human race, children in the womb."
Just weeks ago hundreds of thousands of Americans gathered in Washington DC to mourn the 39th anniversary of the decisions of the US Supreme Court in Roe and Doe. With the stroke of a judicial pen, seven Justices of the United States Supreme Court consigned an entire class of persons, children in the first home of the whole human race (their mother's womb), to the status of property.
President Barack Obama issued this statement: "As we mark the 39th anniversary of Roe v. Wade, we must remember that this Supreme Court decision not only protects a woman's health and reproductive freedom, but also affirms a broader principle: that government should not intrude on private family matters."
"I remain committed to protecting a woman's right to choose and this fundamental constitutional right."While this is a sensitive and often divisive issue -- no matter what our views, we must stay united in our determination to prevent unintended pregnancies, support pregnant women and mothers, reduce the need for abortion, encourage healthy relationships, and promote adoption."
"And as we remember this historic anniversary, we must also continue our efforts to ensure that our daughters have the same rights, freedoms, and opportunities as our sons to fulfill their dreams."
Our Nation allows the intentional killing of its young in the first home of the womb and calls that intrinsically evil action a "right". With the millions of neighbors killed we have lost our national soul. Medical science confirms what our conscience has long confirmed, the child in the womb is one of us, our neighbor, and it is always wrong to kill our neighbor.
Yes, we are our brother and sisters keeper Mr. President! We do have an obligation to one another. That is what is meant by solidarity. How that truth works its way into public policy requires the recognition of the rights of our first neighbors in the first home of the womb. You fail to hear their cry and you have no moral authority to address this or many other issues! They are the poorest of the poor.
Over 50 million of our neighbors have been killed by legal abortion since Roe and Doe. Yet, President Obama released that horrid statement! What about our daughters and sons killed by legal abortion Mr. President? They did not get to fulfill their dreams! What about their rights?
This President and his administration oppose the fundamental Human Right to Life. The champions of abortion on demand as "health care" clearly have a President who is using their language and leading their effort.  The President and his administration also fails to respect Religious Freedom as a fundamental human right.
After hearing this Prayer breakfast speech, I hearkened back to another speech at a National Prayer Breakfast in 1994. This was a sincere one which reflected a Christian who had truly considered what it meant to integrate faith and life and walk in the way of moral coherence. It was  given by a little nun from Calcutta, India named Teresa. The full text of that address can be read here.
She had the moral authority to speak about our obligation to the poor, unlike President Obama. Here are a few excerpts: "I feel that the greatest destroyer of peace today is abortion, because it is a war against the child, a direct killing of the innocent child, murder by the mother herself.
"And if we accept that a mother can kill even her own child, how can we tell other people not to kill one another? How do we persuade a woman not to have an abortion? As always, we must persuade her with love and we remind ourselves that love means to be willing to give until it hurts."
"Jesus gave even His life to love us. So, the mother who is thinking of abortion, should be helped to love, that is, to give until it hurts her plans, or her free time, to respect the life of her child. The father of that child, whoever he is, must also give until it hurts."
"By abortion, the mother does not learn to love, but kills even her own child to solve her problems. And, by abortion, the father is told that he does not have to take any responsibility at all for the child he has brought into the world. That father is likely to put other women into the same trouble. So, abortion just leads to more abortion."
"Any country that accepts abortion is not teaching its people to love, but to use any violence to get what they want. This is why the greatest destroyer of love and peace is abortion. I know that couples have to plan their family and for that there is natural family planning.The way to plan the family is natural family planning, not contraception."
"In destroying the power of giving life, through contraception, a husband or wife is doing something to self. This turns the attention to self and so it destroys the gift of love in him or her. In loving, the husband and wife must turn the attention to each other as happens in natural family planning, and not to self, as happens in contraception. Once that living love is destroyed by contraception, abortion follows very easily."
During the last Presidential campaign many Catholics were deluded by Barack Obama. His rhetoric uses language which sounds as though he agrees with Catholics on issues such as our obligation to the poor and the needy. His administration has acted in a manner which proves the opposite. The most egregious example is his failure to hear the cry of the children in the womb. However, there are many more, including his denial of religious freedom and his failure to defend marriage and the family and society founded upon it.
His words at the National Prayer Breakfast call us to pray for him: "I have fallen on my knees with great regularity. asking God for guidance not just in my personal life and my Christian walk, but in the life of this nation and in the values that hold us together and keep us strong. I know that He will guide us. He always has, and He always will." That is true. Let Him guide you Mr. President.
This President is leading a rapidly expanding Secularist State which fails to respect fundamental human rights including the Right to life and the Right to Religious Freedom. A rising Catholic tide of resistance must not allow this infamy to continue. We can determine the outcome of the upcoming U.S. Presidential Election.
That is if we do not get fooled again. We cannot - we must not. I date myself with my closing reference. I offer the refrain from the old song by the Who entitled "Won't Get Fooled Again."
"I'll tip my hat to the new constitution; Take a bow for the new revolution Smile and grin at the change all around; Pick up my guitar and play Just like yesterday; Then I'll get on my knees and pray We don't get fooled again- No, no!"

---
Copyright 2016 - Distributed by THE CALIFORNIA NETWORK
Pope Francis Prayer Intentions for May 2016
Universal:
Respect for Women: That in every country of the world, women may be honored and respected and that their essential contribution to society may be highly esteemed.
Evangelization:
Holy Rosary: That families, communities, and groups may pray the Holy Rosary for evangelization and peace.

By Kenya Sinclair (CALIFORNIA NETWORK)
Personal privacy is one of the greatest rights any citizen of the free world enjoys but soon the Federal Bureau of Investigation may have legal access to everything from passwords and personal emails to banking information and search history - all without your ... continue reading
---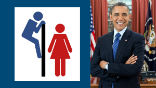 By David Drudge (CALIFORNIA NETWORK)
Eleven states are challenging the Obama edict that schools should allow kids to use whatever bathroom they choose, regardless of their gender. Obama issued the edict last week as a means of joining the "transgender" bandwagon that is sweeping the nation. Unfortunately, ... continue reading
---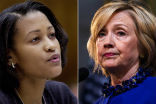 By David Drudge (CALIFORNIA NETWORK)
Hillary Clinton's former chief of staff from the State Department, Cheryl Mills, has asked a court to shield her from conservatives who are seeking the transcripts and recordings of her deposition scheduled for Friday. Mills is worried she will be taken out of context ... continue reading
---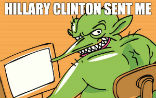 By Marshall Connolly (CALIFORNIA NETWORK)
The next time you encounter an internet troll, be warned, he could be getting paid to fan the flames, or to douse your conversation. A new study our of Harvard reveals that China is using an army of 448 million fake troll accounts to influence public opinion. And China ... continue reading
---

By David Drudge (CALIFORNIA NETWORK)
The State Department Inspector General has ruled that Hillary Clinton broke department rules for using a private email server and for deleting emails she sent and received during her tenure. The report was released on Capitol Hill today. LOS ANGELES, CA (California ... continue reading
---

By Kenya Sinclair (CALIFORNIA NETWORK)
The United States provides 33 percent of the world's arms such as fighter jet aircraft, tanks and more - so which countries are buying? LOS ANGELES, CA (Catholic Online) - According to the Defense Security Cooperation Agency, the number one country purchasing ... continue reading
---

By Kenya Sinclair (CALIFORNIA NETWORK)
With many Senate Democrats calling for a faster processing, the Obama Administration and U.S. Citizenship and Immigration Services (CIS) have drastically increased the number of Syrian refugees admitted into the United States. LOS ANGELES, CA (Catholic Online) - ... continue reading
---

By David Drudge (CALIFORNIA NETWORK)
The FBI is investigating Virginia Gov. Terry McAuliffe on the grounds that he accepted illegal campaign contributions. There is overlap between his donors and donors to the Clinton campaign. Investigators have discovered that a Chinese politician made a particularly ... continue reading
---

By Kenya Sinclair (CALIFORNIA NETWORK)
As American steel production falters, China has begun efforts to dump its excess steel at slashed prices. LOS ANGELES, CA (Catholic Online) - According to Thomas J. Gibson, president and CEO of the American Iron and Steel Institute, and Chuck Schmitt, president of SSAB ... continue reading
---

By Catholic Online (NEWS CONSORTIUM)
Chaos erupted as the US House of Representatives refused to pass an amendment meant to strip away religious freedom and protections for religious contractors and those who work with the federal government. LOS ANGELES, CA (Catholic Online) - When House Democrats ... continue reading
---
All Politics & Policy News