---
Telephone calls, Internet activity for Americans being closely watched
Former President George W. Bush's illegal warrantless surveillance program was never halted by Congress or by the Obama administration and was legalized in a 2008 law called the FISA Amendments Act. The surveillance of Americans' international phone calls and internet use - complete with secret rooms in AT&T data centers around the country is likely still ongoing.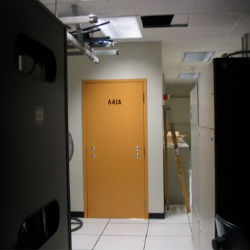 The "secret room" in AT&T's Folsom Street office in San Francisco is believed to be one of several internet wiretapping facilities at AT&T offices around the country feeding data
LOS ANGELES, CA  (Catholic Online) - A federal appeals court reinstated a key legal challenge to that surveillance: a lawsuit filed by the ACLU and others within hours of the FISA Amendments Act being signed into law. The lawsuit attacks the constitutionality of the legislation, which allows the government to electronically eavesdrop on Americans without a probable-cause warrant, so long as one of the parties to the communication resides outside the United States, and is suspected of a link to terrorism.
The decision has raised the ire of the ACLU, and other rights groups involved in the suit. "This is a really big victory," said ACLU spokeswoman Rachel Myers. "The ruling is that you don't have to prove you've been spied on to challenge an unlawful spy act."
A lower court had ruled the ACLU, Amnesty International, Global Fund for Women, Global Rights, Human Rights Watch, International Criminal Defense Attorneys Association, The Nation magazine; PEN American Center, Service Employees International Union and other plaintiffs did not have standing to bring the case, because they could not demonstrate that they were subject to the eavesdropping.
The groups appealed. They argued that that they often work with overseas dissidents who might be targets of the National Security Agency program. Instead of speaking with those people on the phone or through e-mails, the groups asserted that they have had to make expensive overseas trips in a bid to maintain attorney-client confidentiality.
The case will now return to the courtroom of U.S. District Court Judge John G. Koeltl in New York, where the Obama administration will play its "trump card:" an assertion of the powerful State Secrets Privilege that lets the executive branch effectively kill lawsuits by claiming they threaten to expose national security secrets.
In a rare exception in 2008, a San Francisco federal judge refused to throw out a wiretapping lawsuit against AT&T under the State Secrets Privilege. The AT&T lawsuit was later dismissed, because the same FISA Amendments Act also granted the phone companies retroactive legal immunity for their participation in the NSA program. That immunity does not apply to the government.

---
Copyright 2015 - Distributed by THE CALIFORNIA NETWORK
Pope Francis Prayer Intentions for April 2016
Universal:
Small Farmers: That small farmers may receive a just reward for their precious labor.
Evangelization:
African Christians: That Christians in Africa may give witness to love and faith in Jesus Christ amid political-religious conflicts.
---
---
---

By David Drudge (CALIFORNIA NETWORK)
Have we won the ground war in Afghanistan? According to the government reports and the media, we sure have. However, this is not what one whistleblower has said, warning as early as 2012 that the American people are being deceived by the government. LOS ANGELES, CA ... continue reading
---

By Kenya Sinclair (CALIFORNIA NETWORK)
Thousands attended Donald Trump's Orange County rally - then broke out in violent protest. LOS ANGELES, CA (Catholic Online) - The Trump rally in Costa Mesa's Orange County Amphitheater was overflowing with supporters. There were several supporters who couldn't fit ... continue reading
---

By Kevin J. Jones (CNA/EWTN News)
The Obama administration's new rule for faith-based partnerships has drawn various reactions: one observer warned they could cause problems for partnering religious groups, while another said the action also strengthens these groups' protections against government ... continue reading
---

By Kenya Sinclair (CALIFORNIA NETWORK)
New York Mayor Bill de Blasio's closest aides have been issued subpoenas to aid the investigation into his shady fundraising strategies. LOS ANGELES, CA (Catholic Online) - The scandal surrounding de Blasio's fundraising has made headlines since 2014, when a leaked ... continue reading
---
By David Drudge (CALIFORNIA NETWORK)
Donald Trump delivered his first full speech on foreign policy and he sounded fairly presidential while doing so. Trump is not a politician by trade, but he may make an excellent president thanks to his extensive business acumen. Trump is on the path to the Republican ... continue reading
---
By Kenya Sinclair (CALIFORNIA NETWORK)
The race for the presidential nominee has been full of surprises as history-making events, claims of foul play, dirty dealings and controversial statements have cropped up in abundance. Candidates have, at times, been caught up in a tight race, but Tuesday's primary ... continue reading
---

By David Drudge (CALIFORNIA NETWORK)
Donald Trump is on track to win both the primary and the election, according to the numbers. He is on a better trajectory than Mitt Romney was in 2008. Meanwhile, Hillary Clinton, while winning her primary, is losing support. LOS ANGELES, CA (California Network) - ... continue reading
---
By David Drudge (CALIFORNIA NETWORK)
Ted Cruz and John Kasich have teamed up to block Donald Trump from winning the Republican nomination. The rivals have agreed to divide upcoming primary states, so they can efficiently spend resources attacking Trump instead of each other. LOS ANGELES, CA (California ... continue reading
---

By Thomas Heed (CALIFORNIA NETWORK)
Men with bad motives or who live dissolute lifestyles have always been potential sexual threats to women - and now women have been pushed further into their corners as "transgender rights" rise to prominence as the newest notion of the sexual revolution. These rights ... continue reading
---

By Kenya Sinclair (CALIFORNIA NETWORK)
World leaders have finally realized the destruction they have been allowing the planet to endure - and the ensuing consequences. LOS ANGELES, CA (Catholic Online) - A shocking number of 175 global leaders gathered at the United Nations headquarters to sign the Paris ... continue reading
---
All Politics & Policy News