Should Disordered Appetites be Civil Rights?
---
The Catholic Church will not change its position on the nature of marriage because it cannot. Truth is not up for grabs.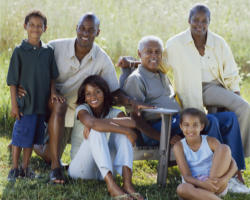 The reason that marriage and the family founded upon it has become the foundation of civil societies across ethnic, geographical, religious and racial communities is because it is an institution revealed by the Natural Law. It is not some social construct which can be discarded, redefined or ever replaced.
CHESAPEAKE, Va. (Catholic Online) - The news is filled with efforts through legislation or the use of the courts to undermine marriage by expanding its definition to somehow include homosexual partnerships. Anyone who questions whether such efforts serve the common good are increasingly dismissed as "homophobic" and intolerant.
However, namecalling will not change our position on this matter nor will it make us go away. At the forefront of the movement to protect marriage are Catholics who believe what the Church teaches. Our insisting that marriage remain what it has always been is adding to our precarious place in the culture these days. However, make no mistake; the Catholic Church will not change its position on the nature of marriage because it cannot. Truth is not up for grabs, no matter what the growing "dictatorship of relativism" throws our way.
Among the clearest summaries of the teaching of our Church on this matter was set forth by then Cardinal Joseph Ratzinger (now Pope Benedict XVI) in the "Letter to the Bishops of the Catholic Church on the Pastoral Care of Homosexual Persons" promulgated in 1986. Here are just a few of the clearly stated insights: "The Church, obedient to the Lord who founded her and gave to her the sacramental life, celebrates the divine plan of the loving and live-giving union of men and women in the sacrament of marriage. It is only in the marital relationship that the use of the sexual faculty can be morally good. A person engaging in homosexual behavior therefore acts immorally."
"To choose someone of the same sex for one's sexual activity is to annul the rich symbolism and meaning, not to mention the goals, of the Creator's sexual design. Homosexual activity is not a complementary union, able to transmit life; and so it thwarts the call to a life of that form of self-giving which the Gospel says is the essence of Christian living. This does not mean that homosexual persons are not often generous and giving of themselves; but when they engage in homosexual activity they confirm within themselves a disordered sexual inclination which is essentially self-indulgent".
"As in every moral disorder, homosexual activity prevents one's own fulfillment and happiness by acting contrary to the creative wisdom of God. The Church, in rejecting erroneous opinions regarding homosexuality, does not limit but rather defends personal freedom and dignity realistically and authentically understood."
What is clear upon reading this letter, the Sacred Scripture, the Catholic Catechism and the clear, unbroken teaching of the Church is that Catholics who are faithful cannot and will not accept the effort to undermine authentic marriage. Thus, those who follow the teaching of the Church may be on a collision course with the current approach to this matter being embraced by the US Administration.
President Barack Obama has declared June "Lesbian, Gay, Bisexual, and Transgender Pride Month" and issued a Presidential proclamation which all but elevates practicing homosexuals to being given a suspect class classification under Civil Rights law. Among the Presidents comments he noted: "The LGBT rights movement has achieved great progress, but there is more work to be done. LGBT youth should feel safe to learn without the fear of harassment, and LGBT families and seniors should be allowed to live their lives with dignity and respect. My Administration has partnered with the LGBT community to advance a wide range of initiatives. At the international level, I have joined efforts at the United Nations to decriminalize homosexuality around the world. Here at home, I continue to support measures to bring the full spectrum of equal rights to LGBT Americans." His appointments of openly activist homosexual leaders to significant positions in his administration only further signals where this administration may be headed.
This does not change the truth. Homosexual sexual acts, even if engaged in with one partner for a long time, can never be the equivalent of a marriage, no matter what any court or legislature says. The reason that marriage and the family founded upon it has become the foundation of civil societies across ethnic, geographical, religious and racial communities is because it is an institution revealed by the Natural Law. It is not some social construct which can be discarded, redefined or ever replaced. Efforts of some within the homosexual movement to equate how one engages in non-marital sexual acts with a member of the same sex with being a member of a particular race, or gender and thereby a "protected class" for civil rights purposes is legally and socially dangerous. One is a status; the other involves behavior, a chosen behavior and a lifestyle.
Some maintain that same sex attraction is a genetic predisposition. This is disputed. Even if it were the case, that does not give homosexual activity any more of a claim to being given a special civil rights status. Should we really give disordered appetites civil rights status under the law? Let's consider an absurd example. I have struggled most of my life with fighting obesity. I am on the "winning end" lately, but just give me another Holiday! A very good argument can be made that obesity also has a genetic predisposition. However, I will fight it my whole life because it is unhealthy. It is a disordered appetite. Should we as a Nation decide that fat people have a civil right to be fat? Should those who insist that they resist that "genetic predisposition" to overeat be called Fata-phobic?
Disordered appetites - and the actions engaged in by those who give into them - simply should not be called civil rights. Certainly, those who succumb to them should be treated with the human dignity that they deserve and not be discriminated against. However, that is because they are human not because of their behavior! Homosexual sexual acts are simply homosexual sexual acts. Our bodies do not lie, they speak the language written within their constitution and confirmed in the Natural Law which binds us all.
Marriage between a man and a woman, intended for life, open to children, and the family founded upon it, is not up for grabs. Nor is it an antiquated institution. It is the first society, first government, first school, first economy and first church. Strong marriages and the families founded upon them pave the path to the future. Continuing efforts to use the Police Power of the State to give the same legal status as a marriage to homosexual paramours and force the entire society to recognize their relationships as equivalent to a marriage do not serve the common good.
I made similar comments in a past article. In response, one homosexual activist responded, "Deacon Keith Fournier you are an under-evolved societal retard. But don't worry. Progressive thinking will sweep you, and all those like you, away." It is interesting that he did not engage the claims I made or my positions. Rather, he resorted to personal attacks. I do not share his assessment of my place on his evolutionary cycle. I find his use of derogatory language used to insult our neighbors who are learning disabled to be offensive. But most importantly I absolutely reject the claim that people who want to eliminate true marriage by attempting to change its definition are the "progressives' of the current age.
Homosexual activists who oppose marriage - and that is precisely what the so called "Marriage Equality" or "Freedom to Marry" movement actually does - are the ones who want to turn the clock back and impede progress. They are "Regressives" not "Progressives." The foundation for the real progress made in Western civilization is partly because of the special recognition and place given to the first society of the family. That family is founded upon authentic marriage between one man and one woman. It is the first mediating institution of civil society. Marriage and family ground our organizing vision of the broader society and informs our philosophy of governance, including the proper place of the principle of subsidiarity, deferring to the family first.
Marriage has been given this privileged and protected legal and social status for a good reason, it serves the common good. It is the primary civilizing institution, constituted for the bearing and caring of children in an environment wherein they can best be nurtured, loved, socialized, schooled in the virtues and prepared for life in broader communities. Marriage has long been accepted as having been revealed in the Natural Law. Yes, religious traditions, including my own, build upon that Natural Law through revelation. However, the effort to call the Catholic insistence upon protecting marriage as between a man and a woman a "religious" position in order to marginalize and dismiss the argument is at best disingenuous and at worst anti-religious bigotry.
Should Disordered Appetites be Civil Rights? The answer is a resounding "No!"

---
Copyright 2017 - Distributed by THE CALIFORNIA NETWORK
Pope Francis Prayer Intentions for OCTOBER 2017
Workers and the Unemployed.
That all workers may receive respect and protection of their rights, and that the unemployed may receive the opportunity to contribute to the common good.
---
---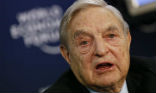 Billionaire George Soros has transferred $18 billion of his personal wealth to his Open Society Foundations, which grant money to liberal ... continue reading
---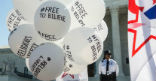 A network of wealthy donors is funding a series of well-organized lobbying campaigns to restrict legal protections for religious freedom, ... continue reading
---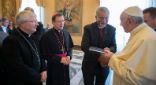 The Clintons took money from the Russians, and then sold twenty percent of the American uranium supply to Vladimir Putin, in 2010. The deal ... continue reading
---
Texas has joined the Convention of States, adding one more to the total of 34 states needed to change the Constitution without interference ... continue reading
---
The chair of the U.S. bishops' Committee on Religious Liberty says that expanded religious liberty protections in the federal contraception ... continue reading
---