All who know the objective truth about the dignity and value of every human life should decry this horrible act of violence.
WICHITA, KS (Catholic Online) - Reports indicate that an arrest has been made in the fatal shooting of George Tiller. The suspect was apprehended without incident. His name has now been released, Scott Roeder. He is 51 years old and was arrested 170 miles away from the scene of the murder. He has not yet been charged but will be as early as today. We have all heard the news by now. Just after 10 A.M. on Sunday morning, while he was attending church services at Reformation Lutheran Church in Wichita, Kansas, Dr. George Tiller, the controversial provider of late term abortions, was shot and killed. Tiller was 67 years old.

I heard it while returning from Pentecost Sunday Mass. I was stunned! George Tiller was killed while attending a Lutheran Church Service on the day when Catholics and all who follow the Liturgical Calendar of the West celebrated the outpouring of the Holy Spirit, the Birthday of the Church! On reflection, might I suggest that the coincidence of the timing of this wrongful act and the liturgical calendar presents an invitation to the Nation to reflect? We would be assisted by the counsel of Malchus, an obscure character found in all four Gospel accounts who, at the arrest of Jesus, had his ear severed by the Apostle Peter. The incident brought a strong reprimand from the Lord and has been the source of some very important reflections (as well as art) throughout Christian history concerning the necessity of rejecting violence. The name is a Greek form of Malluch, a common name at the time which actually means "counselor." I suggest there is some counsel for all of us in this horrible act.

It is recounted in all four Gospel accounts (Matthew 26:51; Mark 14:47; Luke 22:50; John 18:10), a fact which makes it of particular importance to the writers and thus of great importance for serious readers. After all, the Evangelists were writing to different communities of early Christians. Their focus was often on different accounts from the earthly ministry of Jesus. John's was the last Gospel to be written, reflecting a more mature reflection on the deeper purpose of the great events of the earthly life and ministry of Jesus Christ. The last words of his account give us some more insight into the importance of the fact that we find this story in all four Gospels: "It is this disciple who testifies to these things and has written them, and we know that his testimony is true. There are also many other things that Jesus did, but if these were to be described individually, I do not think the whole world would contain the books that would be written". This account of Malchus is not simply an odd fact, but rather, an instruction and admonition.

John is the one who gives us the name of the servant. Luke the physician tells us that Jesus not only used the moment to teach, but healed the wound, reattaching the severed ear. Luke writes: "Jesus said to him, "Judas, are you betraying the Son of Man with a kiss?" His disciples realized what was about to happen, and they asked, "Lord, shall we strike with a sword?" And one of them struck the high priest's servant and cut off his right ear. But Jesus said in reply, "Stop, no more of this!" Then he touched the servant's ear and healed him."(Luke 22:48-51)

According to John's account Judas came with a band of soldiers and servants sent by the high-priests and Pharisees to arrest the Lord. During that encounter, Peter drew his sword and cut off the right ear of this Malchus. He was strongly corrected by the Lord and told that the sword belongs in its sheath. In this Jesus taught them, and all who have followed Him since, a lesson about peace; the real Peace which he gave and which is to be practiced by all who bear His name. John records these words of Jesus given at another time to the disciples: "I have told you this while I am with you. The Advocate, the Holy Spirit that the Father will send in my name--he will teach you everything and remind you of all that (I) told you. Peace I leave with you; my peace I give to you. Not as the world gives do I give it to you. Do not let your hearts be troubled or afraid". (John 14: 25 - 27)

All who know the objective truth about the dignity and value of every human life, from conception to natural death and at every moment in between, should decry this horrible act of violence. It must be unqualifiedly rejected and condemned within the Pro-Life community because of our unwavering conviction that every life, at every age and stage, has dignity and must be respected, protected and honored. This bedrock conviction should inform a "whole life/pro-life" ethic in those who gather under the banner of being Pro-Life. A moral analysis tells us that the killing of a defenseless George Tiller is similar to the killing of every defenseless child in the womb who dies due to procured abortion. Of course, the actions of Dr. Tiller in engaging in and promoting late term abortions during life were despicable. However, the action of the perpetrator in killing him was wrong. Both acts of killing are evil. Both must be completely rejected. Both should be decried by every person who is Pro-life.

The sword belongs in its' sheath!

We reject intentional abortion because every procured abortion is the killing of a member of our human family. The dignity of that little human person in the first home of the whole human race cries out for changing the unjust approach to giving protected status to intentional abortion in America. However, this dignity is present in all human persons, even those with whom we disagree and those whose actions we decry. The counsel of Malchus the servant speaks to all who have ears to hear! All human life has dignity! The reason Catholics and other Christians insist on a love of preference for the poor is because they have human dignity. The reason many of us reject capital punishment is because of the human dignity of even those who have committed crimes. The reason we insist that any act of war must fit a criteria of what is called a "just war analysis" is because we recognize the dignity, even of our enemies.

The wrongful killing of George Tiller presents a 'Malchus Moment' for the Entire Nation.


---
Copywriter 2015 - Distributed by THE NEWS CONSORTIUM
Pope Francis Prayer Intentions for July 2015
Universal:
That political responsibility may be lived at all levels as a high form of charity.
Evangelization:
That, amid social inequalities, Latin American Christians may bear witness to love for the poor and contribute to a more fraternal society.
---
---
---

By David Drudge, Catholic Online (NEWS CONSORTIUM)
The State Department released a large batch of Clinton emails on Monday, with another 7,000 pages released to the media. Classified information has been redacted. LOS ANGELES, CA (Catholic Online) - The State Department released 7,000 new Hillary Clinton emails to the ... continue reading
---

By David Drudge, Catholic Online (NEWS CONSORTIUM)
The Clinton death toll is simply astounding. Approximately 100 people, directly associated with the Clinton family, have died under unnatural and mysterious circumstances since the early 1990s. It is considered possible that the Clinton family chooses to deal with ... continue reading
---

By Linky C. (NEWS CONSORTIUM)
A North Dakota federal judge blocked the Obama Administration's controversial water pollution rule just hours before taking effect. MUNTINLUPA CITY, PHILIPPINES (Catholic Online) - Judge Ralph Erickson of the District Court for the District of North Dakota discovered ... continue reading
---

By Kenya Sinclair (NEWS CONSORTIUM)
Hillary Clinton compares conservative views on abortion and reproductive rights to terrorist groups. Republicans demand an apology while Republican and Democrat candidates agree Clinton's campaign is failing. LOS ANGELES, CA (Catholic online) - Hillary Clinton gave a ... continue reading
---

By Kenya Sinclair (NEWS CONSORTIUM)
During an interview with Bloomberg's Mark Halerin and John Heilemann, presidential candidate, Donald Trump was asked to name his favorite Bible verse but refused to name one. LOS ANGELES, CA (Catholic Online) - Seven minutes into the interview, Halerin told Trump, "You ... continue reading
---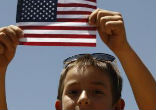 By Catholic Online (NEWS CONSORTIUM)
Children of immigrants born on United States soil appear to be wearing out their welcome, according to recent polls. It is estimated that a child of illegal immigrants is born every 93 seconds in the U.S. According to a 2011 Rasmussen Poll, only 28 percent of likely ... continue reading
---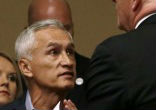 By Catholic Online (NEWS CONSORTIUM)
"Go back to Univision," GOP presidential nominee Donald Trump told Univision news anchor Jorge Ramos at an Iowa press conference. Well regarded by his peers, there was no gravitas afforded Ramos at the event, as a security guard escorted him away. The occasion ... continue reading
---

By Catholic Online (NEWS CONSORTIUM)
Charlotte Ivancic, Health Policy Advisor to Speaker John Boehner (R-Ohio), is leaving his office to work for a lobbying firm. Ivancic is the older sister of Cate Dyer, the CEO of StemExpress. Dyer was caught discussing the sale of aborted children on video by the ... continue reading
---

By David Drudge, Catholic Online (NEWS CONSORTIUM)
Americans tend to agree we need some kind of immigration reform, but they can't agree on how bad the problem is, or even what that reform should look like. Here is a story that will shock you into thinking harder about the problem. LOS ANGELES, CA (Catholic Online) - ... continue reading
---
By Catholic Online (NEWS CONSORTIUM)
In truth, Hillary Clinton's current controversy over keeping sensitive, classified information on home computers had its basis in which her husband, former president Bill Clinton pardoned former CIA director John Deutch who likewise kept classified material on ... continue reading
---
All Politics & Policy News