As the verbal assault against Carrie Prejean has continued, her integrity and character have continued to shine.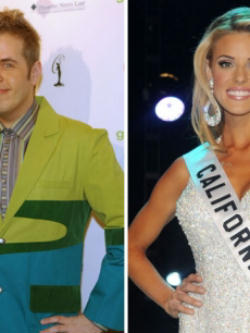 "Perez Hilton" and Carrie Prejean.
CHESAPEAKE, Va. (Catholic Online)- On Sunday evening, April 19, 2009 the Miss USA Pageant was broadcast as it has been for many years. However, this year was quite different. The Pageant, long in decline, actually generated a phenomenal amount of interest. However, it all came after the event had concluded. The reason, the exchange between one contestant, Carrie Prejean (Miss California) and one of the Judges, Mario Armando Lavandeira, Jr. (a.k.a. "Perez Hilton"). Here is the exchange:

Perez Hilton: "Vermont recently became the 4th state to legalize same-sex marriage. Do you think every state should follow suit. Why or why not?"

Carrie Prejean: "Well I think its great that Americans are able to choose one or the other. We live in a land where you can choose same-sex marriage or opposite marriage. And you know what, in my country, in my family, I think that I believe that a marriage should be between a man and a woman. No offense to anybody out there, but that's how I was raised and that's how I think it should be between a man and a woman. Thank you very much."

Donald Trump, the co-owner of the Miss Universe Organization who some reports indicate recruited controversial gay activist and celebrity blogger Mario Armando Lavandeira, Jr. as a judge, told the Today Show that the honest answer given by the contestant "probably did cost her the crown." The incident has generated an extraordinary response and the parties involved have been ever present in the Media, exhibiting very different characters and agendas.

In an interview with Fox News, Carrie Prejean said "Out of all the topics I studied up on, I dreaded that one; I prayed I would not be asked about gay marriage... If I had any other question, I know I would have won."

Miss California is a Christian. She is a student at San Diego Christian College, an evangelical Protestant school. The College is very proud of her, covering her appearance and 1st runner up victory on their website. They should be proud. She answered with the kind of integrity and honesty which speaks of what Pope Benedict XVI has called a "moral coherence". She was unafraid of defending true marriage in the face of an obviously loaded question from a self avowed homosexual activist with an agenda beyond the beauty contest, knowing that it may cost her a victory.

She later said in an interview "This happened for a reason. By having to answer that question in front of a national audience, God was testing my character and faith... I'm glad I stayed true to myself." On NBC's "Today" she was asked if on reflection she would have answered differently, she explained "I knew at that moment after I answered the question, I knew, I was not going to win because of my answer, because I had spoken from my heart, from my beliefs and for my God... I wouldn't have answered it differently. The way I answered may have been offensive. With that question specifically, it's not about being politically correct. For me it was being biblically correct." In her interview with Fox she elaborated "I have no regrets about answering honestly. [Perez Hilton] asked me for my opinion and I gave it to him. I have nothing against gay people, and I didn't mean to offend anyone in my answer."

However, her verbal assailant and philosophical adversary, "Perez Hilton" has also been all over the news. Let's remember that he is the one who asked the question which was intended to cause the controversy. Let us also put the entire affair in perspective. This is a man who has turned his weblog into a cash cow by writing about celebrities in a way which does not, shall we say, demonstrate charity. In short, he is a controversialist and self promoter. His work has been described by Rolling Stone (certainly not a bastion of conservatism) in this way: "What he does with his blog mainly is scrawl nasty, snarky comments on pictures of young Hollywood-type celebrities."

Finally, he has had "scrapes" with angry celebrities in the past. He has been taken to Court. However, he has used the First Amendment to defend his rights to Free Speech. In a defamation suit filed against him by a friend of Lindsey Lohan, Samantha Ronson, his lawyer successfully used the Free Speech Clause of the First Amendment to not only get his client dismissed from the case but to convince the Court to award his legal costs of $85,000.00.

So how did "Perez Hilton" respond to Carrie Prejeans' use of her rights to Free Speech? After verbally assaulting the contestant with this question and probably costing her the contest, he made a YouTube video where he called her a "dumb bitch" and accused her of giving "the worst answer in pageant history." In an interview on MSNBC, he refused to apologize insisting "I don't apologize... Over the course of the past 24 hours, the more I've thought about it, the more - you know what? - No, I'm going to stand by what I said just like she's standing by what she said. And I called her the 'b' word, and hey, I was thinking the 'c' word."

Finally, Mario Armando Lavandeira, Jr. told NBC's "Today," that Miss USA contestants need to be "politically savvy." Questioned about the Christian faith of Carrie Prejean he showed how little tolerance he has for people with differing worldviews saying he did not want her "talking about Jesus, Jesus, Jesus, because that's offensive." There was a word used when I was young which in most dictionaries refers to a cruel "ruffian". The word was "thug". In my opinion, Mario Armando Lavandeira, Jr. is a gay thug.

As the verbal assault against Carrie has continued, her integrity and character have continued to shine. During that MSNBC interview she was asked how she would respond to the continuing invective from her adversary and said "I can only say that I will be praying for him... I maybe would have given a little bit more detail on what I feel about it and given a bit more explanation, but bottom line, I believe marriage should be between a man and a woman. And he asked me my opinion, and I gave it to him."

This entire sad affair brought me back, as odd as it may seem, to my childhood obsession with Superman comics. I date myself by mentioning the Bizarro world. However, many of my readers will remember. The Bizarro's inhabited "Htrae" ("Earth" spelled backwards). Their code was "Us do opposite of all Earthly things! Us hate beauty! Us love ugliness! Is big crime to make anything perfect on Bizarro World!" We seem to be living in Bizarro World where defending marriage is considered to be such a problem that those who do so are increasingly censored, pilloried and verbally assaulted.

Mario Armando Lavandeira, Jr.'s question was intended to single out this evangelical Christian in order to promote his own "Bizarro world" agenda of forcing America to call something which can never be a marriage, a marriage. He knew what would result. He intended to create controversy. He succeeded. However, in doing so he also showed the intolerance of a small segment of the activist homosexual movement. This gay thug celebrity columnist is numbered among those who have adopted a new constitutional theory as it relates to the application of the first amendment to the United States Constitution to those with whom they disagre. He believes in "Free Speech for me, but not for Thee".

Especially, if the speaker is a Christian.


---
Copyright 2016 - Distributed by THE CALIFORNIA NETWORK
Pope Francis Prayer Intentions for May 2016
Universal:
Respect for Women: That in every country of the world, women may be honored and respected and that their essential contribution to society may be highly esteemed.
Evangelization:
Holy Rosary: That families, communities, and groups may pray the Holy Rosary for evangelization and peace.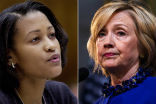 By David Drudge (CALIFORNIA NETWORK)
Hillary Clinton's former chief of staff from the State Department, Cheryl Mills, has asked a court to shield her from conservatives who are seeking the transcripts and recordings of her deposition scheduled for Friday. Mills is worried she will be taken out of context ... continue reading
---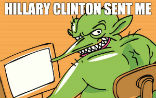 By Marshall Connolly (CALIFORNIA NETWORK)
The next time you encounter an internet troll, be warned, he could be getting paid to fan the flames, or to douse your conversation. A new study our of Harvard reveals that China is using an army of 448 million fake troll accounts to influence public opinion. And China ... continue reading
---

By David Drudge (CALIFORNIA NETWORK)
The State Department Inspector General has ruled that Hillary Clinton broke department rules for using a private email server and for deleting emails she sent and received during her tenure. The report was released on Capitol Hill today. LOS ANGELES, CA (California ... continue reading
---

By Kenya Sinclair (CALIFORNIA NETWORK)
The United States provides 33 percent of the world's arms such as fighter jet aircraft, tanks and more - so which countries are buying? LOS ANGELES, CA (Catholic Online) - According to the Defense Security Cooperation Agency, the number one country purchasing ... continue reading
---

By Kenya Sinclair (CALIFORNIA NETWORK)
With many Senate Democrats calling for a faster processing, the Obama Administration and U.S. Citizenship and Immigration Services (CIS) have drastically increased the number of Syrian refugees admitted into the United States. LOS ANGELES, CA (Catholic Online) - ... continue reading
---

By David Drudge (CALIFORNIA NETWORK)
The FBI is investigating Virginia Gov. Terry McAuliffe on the grounds that he accepted illegal campaign contributions. There is overlap between his donors and donors to the Clinton campaign. Investigators have discovered that a Chinese politician made a particularly ... continue reading
---

By Kenya Sinclair (CALIFORNIA NETWORK)
As American steel production falters, China has begun efforts to dump its excess steel at slashed prices. LOS ANGELES, CA (Catholic Online) - According to Thomas J. Gibson, president and CEO of the American Iron and Steel Institute, and Chuck Schmitt, president of SSAB ... continue reading
---

By Catholic Online (NEWS CONSORTIUM)
Chaos erupted as the US House of Representatives refused to pass an amendment meant to strip away religious freedom and protections for religious contractors and those who work with the federal government. LOS ANGELES, CA (Catholic Online) - When House Democrats ... continue reading
---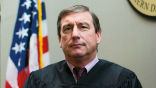 By David Drudge (CALIFORNIA NETWORK)
An angry federal judge has ordered Justice Department attorneys to take annual ethics classes for lying. The lies told by Justice Department attorneys tricked 26 states into filing a lawsuit against the administration. LOS ANGELES, CA (California Network) - U.S. ... continue reading
---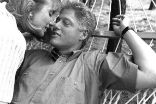 By David Drudge (CALIFORNIA NETWORK)
As Hillary Clinton declares herself the presumptive nominee of the Democratic party amid the cheers of millions of millennial supporters, few people seem to remember that her husband, Bill Clinton, is an accused serial rapist. And far from being a supporter of women' ... continue reading
---
All Politics & Policy News