---
Doug Kmiec has written a book which misstates the process of how one should make a moral analysis as a faithful Catholic. He needs to be engaged with more than shouting.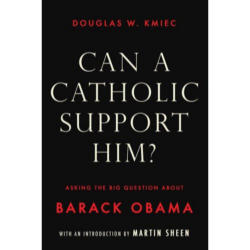 Doug Kmiec's Book seeks to persuade other Catholics to endorse the candidacy of Senator Barack Obama by purporting to set forth a questionable moral defense of his own endorsement.
CHESAPEAKE, Va. (Catholic Online) - I just finished a radio program on 89.3, KPCC-FM, a National Public Radio Station. The program was entitled "Air Talk" and hosted by Larry Mantle. I was invited to discuss Doug Kmiec's Book entitled "Can a Catholic Support Him". Doug argues that a Catholic can and should support Obama's candidacy. It was Doug who suggested to the producer that I appear with him.

The program began with the host dramatically bringing up Doug having once been denied communion after speaking to a group of Catholic Businessmen. Even Doug acknowledges that the priest apologized in his book. The issue is a shibboleth, intended to stir emotion. My reading of Canon 915 has led me to the conclusion taken by canonists like Edward Peters and others that the young priest acted rashly. However, I also agree with those Bishops who have rightly taken on prominent Catholic politicians who "persevere in manifest, grave sin" (Canon 915), such as publicly rejecting the infallible teaching of the Church concerning the fundamental right to life, promoting anti-life laws and causing scandal among the faithful. I am also grateful for the strong positions taken by an ever increasing number of Bishops who have called people like Senator Joe Biden and Speaker Nancy Pelosi to task recently for misrepresenting the unbroken and clear teaching of the Catholic Church that every procured abortion is intrinsically evil and that life begins at conception.

However, Doug does not fall into those categories. He has made what I believe is a truly incorrect moral analysis. It has all now been compounded by his having written a book which misstates the process of how one makes a moral analysis as a faithful Catholic.He seeks to lead Catholics to follow his own path.He needs to be engaged with more than shouting.My articles on Catholic Online have addressed my disagreements with Doug on many of the issues he raises. In this article I simply want to shed some light on the tactical approach now being taken by Doug in his public appearances so that we can expose and oppose them before it is too late. I truly hope that by taking a strong and public opposition to Doug in this manner I can also help him to see that he is erring in some of what he is saying and confusing many people in the process.

In this interview, Doug had hoped to discuss his position that overruling Roe v Wade will not end abortion. It goes like this: Senator John McCain is not really Pro-Life, he is Pro-Federalist. In promising to appoint Justices who will overturn Roe as bad law, he has simply ensured that the issue will return to the States. Well, I have addressed that argument before. Senator McCain's responses on when life begins at the Saddleback Forum and his record on defending life demonstrated that this is really an issue of application over position. I personally support a Constitutional Amendment which recognizes the truth that life begins at conception and is a fundamental human right which applies to our smallest neighbors. However, I told Doug that I will welcome the overturning of Roe as a step in at least slowing the bloodshed and pointed out that his candidate Senator Obama has made it clear that he supports that horrid decision and wants to secure it.

Senator Obama has pledged that as one of his first acts upon assuming office he will sign FOCA (The Freedom of Choice Act)into Law. How can anybody with a straight face claim that he believes that abortion concerns a "moral issue" and then promise to expand it like this horrid Legislation would do? Senator McCain has absolutely opposed FOCA. This is where I discovered a key to clearing away the smoke of Doug Kmiec's "Federalism v Pro-life" argument.This fact concerning Obama's support of FOCA cannot be refuted.FOCA is lethal for our first neighbors and will actually increase abortions! It will not only have the effect of codifying Roe but will do much more.

Since the Webster and Casey opinions, the Supreme Court has upheld State limitations on abortion, such as requiring parental involvement, informed consent and prohibiting government funding of most abortion. The Court also recently outlawed most so called "partial birth abortions". FOCA would undo all of this, essentially nullifying any limitations on abortion on demand through all nine months.

Doug was aware of the implications of the Act and seemed befuddled when I raised it. After all, he is endorsing a candidate who promises to sign it if elected. I then quoted a portion of the well written letter from Cardinal Rigali delivered to Congress this week where his Eminence addressed this kind of contradictory approach writing: "...there is one thing absolutely everyone should be able to agree on: We can't reduce abortions by promoting abortion.... No one who sponsors or supports legislation like FOCA can credibly claim to be part of a good-faith discussion on how to reduce abortions." This was an effective way of exposing the facts in a new way. Doug tried to return to his script, engaging in a tired effort to address those he calls "Religious Faith Partisans" and their "singular focus" on reversing Roe v Wade. It did not work. Doug knows I am not what he now calls a "Religious Faith Partisan". I support the full gamut of life issues and embrace the whole life/pro-life position set forth in Catholic Social teaching.

The next place we can clear away the smoke is by contesting Doug's argument that the Democratic Party, by emphasizing economic support for women who "choose" not to abort and "sex education" for young people (whatever that term means),is somehow acting more "morally" than the Republican Party. I simply pointed out that both major Party Platforms now make almost the same promises and it is a non-issue. All he could manage was to try to reach into the past and point out the failures of Republicans. I do not disagree. I insisted that the concern I had for the recognition of the fundamental right to life was not a partisan issue. I made an effort to return the discussion to his support of a candidate who openly fails to recognize the right to life of an entire category of persons, our first neighbors in the womb, and supports the "right" to reach into that home and kill them. Finally,he spoke of Catholic Social Teaching.I know it and embrace it.I insisted that I am a "reluctant Republican", a former Democrat who left the Party when they failed to hear the cry of the poorest of the poor, children in the womb,and that I was working to ensure that both Parties embrace it.I ended by returning to his misguided effort to persuade Catholics that,when there is a real difference in the candidates concerning the Fundamental Human Right to Life,that one could "morally" choose to support a candidate who favored abortion.

Before I knew it, the program was over. I was just getting started.


---
Copyright 2016 - Distributed by THE CALIFORNIA NETWORK
Pope Francis Prayer Intentions for May 2016
Universal:
Respect for Women: That in every country of the world, women may be honored and respected and that their essential contribution to society may be highly esteemed.
Evangelization:
Holy Rosary: That families, communities, and groups may pray the Holy Rosary for evangelization and peace.
---
---
---

By Kenya Sinclair (CALIFORNIA NETWORK)
The Alabama Supreme Court has made a decision many same-sex couples have been hoping for: The state of Alabama now recognizes same-sex adoptions. LOS ANGELES, CA (Catholic Online) - It all began when a lesbian woman demanded visitation rights for the three children she ... continue reading
---

By Kenya Sinclair (CALIFORNIA NETWORK)
Hillary Clinton continues to dodge questions concerning the family's relationship with Goldman Sachs. LOS ANGELES, CA (Catholic Online) - According to <a ... continue reading
---

By Kenya Sinclair (CALIFORNIA NETWORK)
Personal privacy is one of the greatest rights any citizen of the free world enjoys but soon the Federal Bureau of Investigation may have legal access to everything from passwords and personal emails to banking information and search history - all without your ... continue reading
---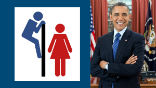 By David Drudge (CALIFORNIA NETWORK)
Eleven states are challenging the Obama edict that schools should allow kids to use whatever bathroom they choose, regardless of their gender. Obama issued the edict last week as a means of joining the "transgender" bandwagon that is sweeping the nation. Unfortunately, ... continue reading
---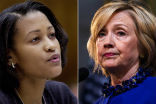 By David Drudge (CALIFORNIA NETWORK)
Hillary Clinton's former chief of staff from the State Department, Cheryl Mills, has asked a court to shield her from conservatives who are seeking the transcripts and recordings of her deposition scheduled for Friday. Mills is worried she will be taken out of context ... continue reading
---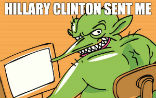 By Marshall Connolly (CALIFORNIA NETWORK)
The next time you encounter an internet troll, be warned, he could be getting paid to fan the flames, or to douse your conversation. A new study our of Harvard reveals that China is using an army of 448 million fake troll accounts to influence public opinion. And China ... continue reading
---

By David Drudge (CALIFORNIA NETWORK)
The State Department Inspector General has ruled that Hillary Clinton broke department rules for using a private email server and for deleting emails she sent and received during her tenure. The report was released on Capitol Hill today. LOS ANGELES, CA (California ... continue reading
---

By Kenya Sinclair (CALIFORNIA NETWORK)
The United States provides 33 percent of the world's arms such as fighter jet aircraft, tanks and more - so which countries are buying? LOS ANGELES, CA (Catholic Online) - According to the Defense Security Cooperation Agency, the number one country purchasing ... continue reading
---

By Kenya Sinclair (CALIFORNIA NETWORK)
With many Senate Democrats calling for a faster processing, the Obama Administration and U.S. Citizenship and Immigration Services (CIS) have drastically increased the number of Syrian refugees admitted into the United States. LOS ANGELES, CA (Catholic Online) - ... continue reading
---

By David Drudge (CALIFORNIA NETWORK)
The FBI is investigating Virginia Gov. Terry McAuliffe on the grounds that he accepted illegal campaign contributions. There is overlap between his donors and donors to the Clinton campaign. Investigators have discovered that a Chinese politician made a particularly ... continue reading
---
All Politics & Policy News