U.S. government releases first large-scale report on gay, bisexual population from Centers for Disease Control
It flies in face of the gay pride parades conducted in major cities where crowds swell to thousands - but according to a new report, less than 3 percent of the U.S. population identify themselves as gay, lesbian or bisexual. It's the first large-scale report on those who self identify as gay, lesbian or bisexual conducted by the Centers for Disease Control.
It was the first time a question regarding self identified sexual-orientation was posed in an influential survey used to guide government funding and research decisions.
LOS ANGELES, CA (Catholic Online) - The National Health Interview Survey, which is the government's main tool for annually assessing Americans' health and behaviors, found that only 1.6 percent of adults self-identify as gay or lesbian, and 0.7 percent consider themselves bisexual.

The vast majority of adults polled, 96.6 percent, labeled themselves as heterosexual in the 2013 survey. An additional 1.1 percent declined to answer, responded "I don't know the answer" or said they were "something else."

Let's pray that more will be able to see the light --


Previous surveys listing the gay, lesbian and bisexual population have pegged the overall proportion at closer to 3.5 or four percent. In particular, the estimate for bisexuals was lower than in some other surveys.
It was the first time a question regarding self identified sexual-orientation was posed in an influential survey used to guide government funding and research decisions. Some within the self identifying homosexual and lesbian community in the United States have claimed there is a dearth of data about its special health needs.
"This is a major step forward in trying to remedy some of these gaps in our understanding of the role sexual orientation and gender identity play in people's health and in their lives," Gary J. Gates, a demographer at the Williams Institute says. The institute is a research center at the University of California at Los Angeles that studies the lesbian, gay, bisexual and transgender (LGBT) population.
The federal health interview survey which first began in 1957, comprises a wide range of questions, on topics including medical care. The data is collected for the center by the Census Bureau, which conducts interviews with thousands of Americans across the country. Data is collected by face-to-face interviews and some follow-up telephone queries.
A few other federal surveys ask about sexual orientation but are not large enough to provide data that can be generalized to the country as a whole, government health officials have said.
According to the findings, one group was less healthy overall than any other group. Compared with heterosexuals, gays were more likely to smoke and to have consumed five or more drinks in one day at least once in the past year. Heterosexual women were more likely to consider themselves in excellent or very good health than women who self identified as lesbian.
Gays were more likely to have received a flu shot than heterosexual people, and homosexual men were less likely to be overweight than straight men.
People who identify as being attracted to both sexes, and bisexuals, those who actually engage in sexual acts with either men or women,  are more likely to have experienced psychological distress in the past 30 days than straight people, the survey showed.
Of course, nothing in the survey considered the fact the entire social order is being readjusted in many ways to accommodate an even smaller segment of cultural activists - those who self identify as homosexual, lesbian or bi-sexual and want the entire culture to accommodate and legitimize their lifestyle. For example, the definition of the institution of marriage is  being dismantled with little concern for the long term effects on children and the common good.
---
Copyright 2016 - Distributed by THE CALIFORNIA NETWORK
Pope Francis Prayer Intentions for SEPTEMBER 2016
Universal:
Centrality of the Human Person: That each may contribute to the common good and to the building of a society that places the human person at the center.
Evangelization:
Mission to Evangelize: That by participating in the Sacraments and meditating on Scripture, Christians may become more aware of their mission to evangelize.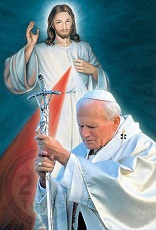 By Deacon Keith Fournier
The Second Sunday of Easter is Divine Mercy Sunday in the Roman Catholic Liturgical Calendar. In 2013, it was also the day when St. John XXIII and St. John Paul II, were canonized. St. John Paul II was deeply devoted to the Divine Mercy. He said it was the key to ... continue reading
---
By Deacon Keith A Fournier
In an address given during that 1976 Eucharistic Congress in Philadelphia for the bicentennial celebration of the signing of the Declaration of Independence, Cardinal Karol Wojtyla spoke some words which I believe were prophetic. - We are now standing in the face ... continue reading
---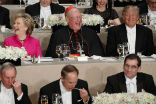 By Marshall Connolly (CALIFORNIA NETWORK)
Cardinal Dolan had "the iciest place on the planet" during last night's "Alfred E. Smith's Memorial Foundation Dinner." The Cardinal was seated between Trump and Clinton who riffed on each other during the event. Some of Trump's jokes provoked boos instead of laughter. ... continue reading
---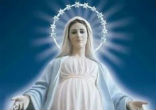 By (CNA/EWTN News)
With the Nov. 8 election approaching, the Knights of Columbus have released a novena addressed to Mary, the Immaculate Conception, who is the patroness of the United States. Washington D.C. (CNA/EWTN News) - The novena consists of nine days of prayer, starting Oct. 30 ... continue reading
---
By Terry Beatley
Mr. Kaine, for the sake of Christ's sorrowful passion, have you no mercy for God's precious children and the young mothers who are sold lies? In case your bishop and priest have failed to tell you, you are in mortal sin. I did not return "home" to the Catholic ... continue reading
---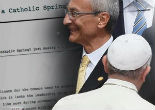 By (CNA/EWTN News)
Following a leaked email from prominent political actors about a possible "Catholic Spring" movement to plant "seeds of the revolution" within the Church, the U.S. bishops' conference has rebuked interference in the Church and a political discourse that marginalizes ... continue reading
---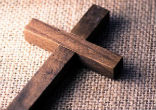 By (CNA/EWTN News)
Four churches and their pastors are challenging a Massachusetts law which they say could regulate their speech regarding gender identity. Boston, MA (CNA/EWTN News) - "This case is about who controls Massachusetts churches," said the churches' legal motion to halt ... continue reading
---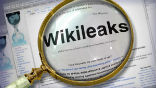 By David Drudge (CALIFORNIA NETWORK)
More emails from Hillary Clinton's campaign chairman, John Podesta reveals a growing mountain of evidence that Hillary Clinton and her campaign are corrupt and have been engaged in systematic corruption for a long time. Americans must soon decide if they are ... continue reading
---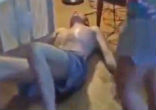 By Kenya Sinclair (CALIFORNIA NETWORK)
The United States' war on drugs is failing and kids are the greatest victims. LOS ANGELES, CA (Catholic Online) - Horror stories have been cropping up left and right as people across the U.S. have been overdosing on opioids, such as heroin and painkillers laced with ... continue reading
---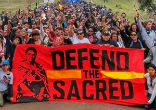 By Marshall Connolly (CALIFORNIA NETWORK)
The Dakota Access Pipeline is being laid across Native American land in North Dakota. Native Americans have turned out by the thousands since May to oppose its construction on what they say is sacred land. For this reason and others, Christians should consider joining ... continue reading
---
All U.S. News