As heavy as 14 African elephants, titanosaur currently holds world record for largest dinosaur
The Tyrannosaurus Rex must now relinquish its crown as the largest and most intimidating dinosaur to walk the Earth: Scientists now believe that the species of the titanosaur weighed in at 170,000 pounds, as heavy as 14 African elephants. The intimidating lizard was seven stories tall as well.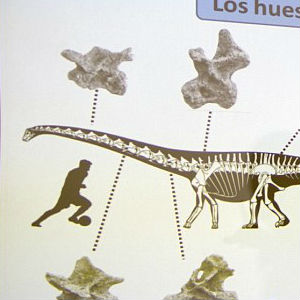 According to the measurements of its gigantic thigh bones, the herbivore would have been 130 feet long and 65 feet tall.
LOS ANGELES, CA (Catholic Online) - The argentinosaurus currently holds the record for being both the heaviest land animal ever, and the longest. That's now being challenged by the latest find in Argentina.


The more recent fossils were then excavated by a team of paleontologists from the Museum of Paleontology Egidio Feruglio, led by Dr. Jose Luis Carballido and Dr. Diego Pol. Unearthing the partial skeletons of seven individuals, about 150 bones in total, the finds were described as being in "remarkable condition."

Starvation never takes a vacation --
According to the measurements of its gigantic thigh bones, the herbivore would have been 130 feet long and 65 feet tall.
Paleontologists think it is a new species of titanosaur, which is part of a diverse group of sauropod dinosaurs that were characterized by their long necks and tails and small heads. These dinosaurs enjoyed their heyday during the Cretaceous period.
The "mega-dino" would have weighed in at 77 tons, making it seven tons heavier than the previous record holder Argentinosaurus.
Living in the forests of Patagonia between 95 and 100 million years ago, the new species has yet to be named.
"It will be named describing its magnificence and in honor to both the region and the farm owners who alerted us about the discovery," the researchers said.
The discovery came hot on the heels in the very same week scientists confirmed the Argentinosaurus to be the biggest of them all.
That plant-eating dinosaur weighed an earth-shaking 90 tons when it lived about 90 million years ago in Argentina. That record has been broken by this exciting new find.
Oxford University paleontologist Dr. Roger Benson, who led the study, says the scale used to designate this new species included those ranging from small bird-like dinosaurs to well-known carnivores such as the Tyrannosaurus Rex.
Weighing in at seven tons, the Tyrannosaurus Rex was the largest meat-eating dinosaur in the study. It's dwarfed in comparison to the Argentinosaurus.
On the other side of the spectrum, the sparrow-sized bird Qiliania, which lived about 120 million years ago in China, earned the distinction of being the smallest dinosaur, weighing a mere 15 grams.
---
Copyright 2015 - Distributed by THE CALIFORNIA NETWORK
Pope Francis Prayer Intentions for February 2016
Universal:
That prisoners, especially the young, may be able to rebuild lives of dignity.
Evangelization:
That married people who are separated may find welcome and support in the Christian community.

By Kenya Sinclair (CALIFORNIA NETWORK)
Nevada rancher Cliven Bundy stepped off a plane at the Portland International Airport Wednesday evening and was taken to Multnomah County jail, where his sons Ammon and Ryan Bundy were already being held. LOS ANGELES, CA (Catholic Online) - On Thursday morning the ... continue reading
---

By Marshall Connolly, Catholic Online (THE CALIFORNIA NETWORK)
A former priest has been indicted for a 1960 cold case murder of a woman. According to Texas authorities, then 27-year-old priest, John Feit, heard the confession of Irene Garza, then asphyxiated her afterwards. Her body was found in a canal days later. Feit will now ... continue reading
---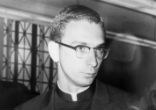 By Catholic Online (CALIFORNIA NETWORK)
Many thought, but few actually believed that a small town Catholic priest would be capable of such a savage crime. Fifty-six long years later, former priest John Feit, now a married grandfather living in Arizona has been arrested in connection with the 1960 ... continue reading
---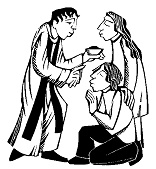 By Deacon Keith Fournier
If we enter into the observance of Lent with our entire person, it can draw us, at its' closure, into a deeper embrace and experience of the power of the Resurrection, beginning right now and stretching into eternity. Our frequent liturgical celebrations present ... continue reading
---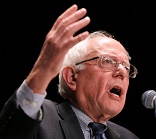 By Deacon Keith Fournier
Legalized abortion on demand is an open rejection of the entire ethic of being our brothers (and sisters) keeper. There can be no enduring lasting solidarity upon which to build a secure future in a culture that kills its own children and calls it a right. No ... continue reading
---

By Kenya Sinclair (CALIFORNIA NETWORK)
People around the world celebrate Fat Tuesday each year with regional traditions - but did you know it is a celebration with roots in Christianity? LOS ANGELES, CA (Catholic Online) - "Fat Tuesday" is English for the French "Mardi Gras," and is traditionally ... continue reading
---

By Abigail James (CALIFORNIA NETWORK)
Mardi Gras is French for Fat Tuesday; it comes directly before Ash Wednesday. "Mardi Gras is a raucous celebratory affair that serves as a final shebang before the 40-day abstinence of Lent," explains The Huffington Post. LOS ANGELES, CA (Catholic Online) - Amidst all ... continue reading
---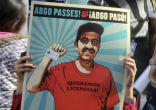 By Catholic Online (CALIFORNIA NETWORK)
Thanks to a new California law known as AB60, which took effect on January 2, 2015, the Department of Motor Vehicles, or DMV has handed out 605,000 driver's licenses to undocumented workers. It is estimated that 1.4 million migrants will receive licenses under ... continue reading
---

By Kenya Sinclair (CALIFORNIA NETWORK)
After ousting illegal actions performed by Planned Parenthood clinics, the Center for Medical Progress (CMP), and its founder Daniel Daleiden, have been ordered to cease further distribution of illegally-obtained Planned Parenthood footage. Unfortunately for the ... continue reading
---
By David Drudge (CALIFORNIA NETWORK)
Liberal mouthpiece, The Huffington Post (not to be confused with an actual news organization) is pandering to liberal readers by posting an addendum at the end of every story about Donald Trump. The addendum labels Trump a "racist" and a "serial liar." LOS ANGELES, CA ... continue reading
---
All U.S. News