I was not surprised when Rick accepted an invitation to become the President of Echolight Studios. It was consistent with his life mission. Rick Santorum is a morally coherent Catholic Christian who understands and lives a unity of life
I guarantee you that your friends and their families will not be disappointed with the entertainment value of this film.  It is a mix between It's a Wonderful Life and Dickens Christmas Carol.  Set in a beautiful Victorian England village, shot by the same team that did the Harry Potter movies, it is a top quality inspiring Christmas story for the whole family.  This is the first film that is about the real meaning of Christmas in 50 years with a great cast of British actors from Braveheart, The Hobbit, Les Miserables and The Mummy.(Rick Santorum)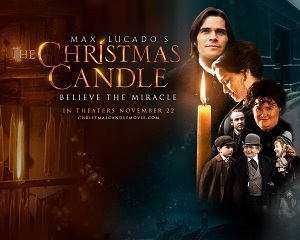 CHESAPEAKE,VA (Catholic Online) - Those who have read my articles over the past few years know of my friendship with - and admiration for - former Senator Rick Santorum. I begin by laying all of my cards on the table. If Rick Santorum decides to run for President again, I will do everything I can to assist him. I have no inside knowledge that he intends to do so; merely a hope. This man is, as the saying goes, the Real Deal.
I was not surprised when Rick accepted an invitation to become the President of Echolight Studios. It was consistent with his life mission. Rick Santorum is a morally coherent Catholic Christian who understands and lives a unity of life. In his political and policy work he properly refused to separate social, economic, and international concerns. Instead, he rightly affirmed that there is a moral basis for a truly free society. So it is that he also understands Art and its primary role in humanizing and elevating human culture.
He knows that those who bear the name Christian have an obligation to be yeast in the loaf of human culture. His efforts in politics were a part of that broader understanding of the Christian mission. This is a man who is called into the culture. I know that he will not only do well in his new pursuit, he will continue his life mission and vocation through it.
This is no time to retreat from culture. Rather, we must work for the conversion of hearts and the transformation of the structures which promote the true common good.  Politics is only a part of the call into human culture. Rick Santorum gets it. He is now engaged on another front, and the nation will be enriched by his work.
In 1999 the Pontifical Council for Culture of the Vatican released Towards a Pastoral Approach to Culture. Here is an excerpt: From the time the Gospel was first preached, the Church has known the process of encounter and engagement with cultures" (Fides et Ratio, 70), for "it is one of the properties of the human person that he can achieve true and full humanity only by means of culture(Gaudium et Spes, 53).
Rick Santorum knows that the Arts reach the hearts.  That is because he understands the Catholic Christian vision of life and the cultural mission.

In a General Audience held on Wednesday, August 31, 2011 Pope Emeritus Benedict XVI spoke of a theme which is a major part of his theological vision, beauty as a path to God. He spoke of the universal human response to beauty as reflected in a sculpture, a painting, a poem, theatre, or a beautiful piece of music. The Pope said it is something bigger, something that speaks, capable touching the heart, of communicating a message, of elevating the soul. How many times, then, can artistic expressions be occasions to remind us of God, to help our prayer or the conversion of the heart?
The Pope Emeritus said that works of art open the door to the infinite, to a beauty and a truth that goes beyond the ordinary. A work of art can open the eyes of the mind and heart. Perhaps sometimes, before a sculpture, a painting, a few verses of a poem or a song, you have experienced deep within an intimate emotion, a sense of joy, that is to have clearly perceived that in front of you there was not only matter, a piece of marble or bronze, a painted canvas, a series of letters or a combination of sounds, but something bigger, something that speaks, capable of touching the heart, of communicating a message; elevating the soul.
The work of art is the fruit of human creativity, which questions the visible reality, trying to discover its deep meaning and to communicate it through the language of shapes, colors, sounds. (It) is an open door on the infinite (which) opens the eyes of the mind, of the heart. One example of this is when we visit a Gothic cathedral; we are enraptured by the vertical lines that shoot up towards the sky and draw our eyes and our spirits upwards, while at the same time, we feel small, and yet eager for fullness.
Or when we enter a Romanesque church: we are spontaneously invited to recollection and prayer. We feel as if the faith of generations were enclosed in these splendid buildings. Or, when we hear a piece of sacred music that vibrates the strings of our heart, our soul expands and helped to turn to God. A concert of music by Johann Sebastian Bach, in Munich, directed by Leonard Bernstein, again comes to my mind. After the last piece of music, one of the Cantate, I felt, not by reasoning, but in my heart, that what I heard had conveyed something of the faith of the great composer to me and pressed me to praise and thank the Lord .
He asked, how many times  have paintings or frescoes, the fruit of the faith of the artist, in their forms, their colors, in their light, encouraged us to direct our thoughts to God and nourish in us the desire to draw from the source of all beauty. What a great artist, Marc Chagall, wrote remains true, that for centuries painters have dipped their paintbrush in that colored alphabet that is the Bible.
How many times then can artistic expressions be occasions to remind us of God, to help our prayer or for the conversion of the heart! Paul Claudel, a poet, playwright, and French diplomat, in the Basilica of Notre Dame in Paris, in 1886, while he was listening to the singing of the Magnificat at Christmas Mass, felt God's presence. He had not entered the church for reasons of faith, but to in search of arguments against Christians, and instead the grace of God worked in his heart.
Benedict invited those present to rediscover the importance of this path for prayer, for our living relationship with God. The cities and towns all over the world preserve works of art that express the faith and remind us of our relationship with God. Visiting places of art, it is not only an occasion for cultural enrichment, but above all it can be a moment of grace, an encouragement to strengthen our relationship and our dialogue with the Lord, to stop and contemplate, in the transition from simple external reality to a deeper reality, the ray of beauty that strikes us, that almost wounds us in our inner selves and invites us to rise towards God. "
The focus on beauty is part of the Catholic vision of life and reality. Beauty is a path to the God who is the source of all beauty. On November 21, 2009 Benedict XVI met with 250 Artists in the Sistine Chapel. He told them they were all custodians of beauty, and asked them to be heralds and witnesses of hope for humanity. He continued in the trajectory of his predecessor, Blessed John Paul II, in reawakening within the Church a love for the Arts and a rediscovery of Beauty as a path to God. In Blessed John Paul's 1999, Letter to Artists he called for the creation of what he called epiphanies of beauty and encouraged the flourishing of all the arts in a great renewal of humanity for our age.
Creation and Redemption are part of a grand masterpiece by the Divine Artist. He created the world out of love and for all who dwell upon it can become a manifestation of His Beauty. There is a connection between beauty and the Christian vocation to manifest the presence of the living God in this world which He still loves. To be fully Christian is to be fully human. Blessed John Paul II and Pope Emeritus Benedict XVI encouraged the flourishing of all the arts in a great renewal of humanity for this age. Rather than withdraw from the arts they called Catholic artists to lead the way to their renewal and recovery.  A separation between the arts and a living faith has no place in a mature Christian worldview.
It proceeds from a poor anthropology - a misunderstanding of the nature of man/woman. It represents an inadequate understanding of the scope and implications of the Incarnation of Jesus Christ. Finally, it promotes a theology of the Church and her mission that views the world as a hostile environment from which the Christian and the Church must recoil rather than a palate worthy of loving transformation by those who carry on the redemptive mission of Christ the Divine Artist.
We need Catholics, other Christians, other people of faith and good will to respond to the call of Christ the Divine Artist and take their place in creating new epiphanies' of beauty. Christians should lead a resurgence of the arts and create new epiphanies of beauty which draw all men and women to the source of all that is beautiful, the living God. Rick Santorum has heard the call and is once again offering leadership on a vital front. This morning I received an E-Mail from my friend which I am happy to share with you below.
*****
Hi Deacon Keith,
Hope you and the family are well. 
Just in case you have been wondering what I have been up to since the campaign, five months ago I became the CEO of Echolight Studios, a film production and distribution company.  Well, our first movie comes out this weekend in a limited nationwide release.
I would really appreciate your support of this beautiful Advent film by buying tickets for you, your church or school and spreading the word about The Christmas Candle on social media. Cardinal Wuerl, Archbishop Chaput and dozens of other bishops are supporting this amazing film.  The reviews have been off the charts like this one from Catholic Online that you may have seen. 

This opening weekend is key for this, or any movie, so your support now is critical for this inspiring movie of faith to move the needle in this country.   It opens tomorrow in VA Beach, Norfolk and Newport News. Here is the link to the trailer, please take a look if you have any doubt about the quality of this film.  There is also a link to a list of the almost 400 theaters where it will be opening.  

I guarantee you that your friends and their families will not be disappointed with the entertainment value of this film.  It is a mix between It's a Wonderful Life and Dickens Christmas Carol.  Set in a beautiful Victorian England village, shot by the same team that did the Harry Potter movies, it is a top quality inspiring Christmas story for the whole family. 
This is the first film that is about the real meaning of Christmas in 50 years with a great cast of British actors from Braveheart, The Hobbit, Les Miserables and The Mummy.
Finally, the score is fabulous!  It includes an original song written for the movie, Miracle Hymn, performed by Susan Boyle in her movie debut.  The song is which is on her recently released Christmas CD, hit number one on iTunes this weekend.
Thank you in advance for anything you do to support this film and God Bless,

Rick
*****
I will definitely see what I know will be a truly beautiful film. I invite you and your family to do the same. It will help all of us to prepare for the Holidays which lie ahead and support the mission we all have to be leaven in the loaf of human culture.

---
Copyright 2016 - Distributed by THE CALIFORNIA NETWORK
Pope Francis Prayer Intentions for May 2016
Universal:
Respect for Women: That in every country of the world, women may be honored and respected and that their essential contribution to society may be highly esteemed.
Evangelization:
Holy Rosary: That families, communities, and groups may pray the Holy Rosary for evangelization and peace.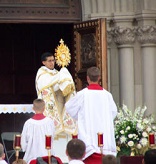 By Deacon Keith Fournier
We have received the Bread of Heaven. Let us choose to become what we consume. These Feasts are not just rituals on a Church calendar. They are invitations to encounter the Lord Jesus Christ, and then offer Him to a world waiting to be born anew. On this Feast of ... continue reading
---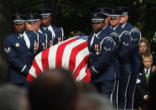 By Deacon Keith Fournier
I live in Chesapeake, a wonderful city in Southeastern Virginia where there are many members of the military. The parish I serve is an example of this. Every day, I witness the many sacrifices which military families make for our Nation. On this Memorial Day, I ... continue reading
---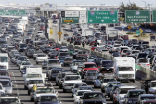 By Marshall Connolly (CALIFORNIA NETWORK)
We have money for perpetual war and can afford generous foreign aid, tax subsidies and cuts for the wealthy, but we cannot find the money to fix a pothole or repair a collapsing bridge. This is the sorry state of affairs U.S. infrastructure is in as we let the nation ... continue reading
---

By Kenya Sinclair (CALIFORNIA NETWORK)
Protesters at Republican presidential candidate Donald Trump's New Mexico rally erupted in violent acts including the attempted stoning of police, glass bottles thrown at mounted units and their horses, burning shirts and more. LOS ANGELES, CA (Catholic Online) - ... continue reading
---

By Kenya Sinclair (CALIFORNIA NETWORK)
Illegal aliens continue to surge into the United States from the Southwest U.S. border, leading the U.S. Customs and Border Protection (CBP) units to announce record-breaking apprehensions in April, 2016. LOS ANGELES, CA (Catholic Online) - According to the U.S. ... continue reading
---

By Marshall Connolly (CALIFORNIA NETWORK)
The arresting officer in the Freddie Gray case, Edward Nero, has been declared "not guilty" by the judge in his criminal trial. Now, the community waits to see if violence will erupt or if the streets will remain quiet. LOS ANGELES, CA (California Network) - Officer ... continue reading
---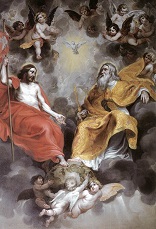 By Deacon Keith Fournier
'The mystery of the Most Holy Trinity is the central mystery of Christian faith and life. It is the mystery of God in himself. It is therefore the source of all the other mysteries of faith, the light that enlightens them. It is the most fundamental and essential ... continue reading
---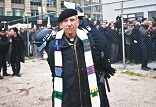 By Fr Frank Pavone
Father Berrigan was a radical figure who sent a total of almost seven years in prison. What many don't realize though is that his activism extended beyond the anti-war movement and into the anti-abortion movement. Believing in what he called a consistent ... continue reading
---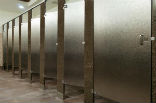 By David Drudge (CALIFORNIA NETWORK)
Under a new law, businesses in New York will be fined if they don't use a person's preferred pronoun when referring to them. This especially becomes a problem when it is understood there are at least 58 possible pronouns with at least five grammatical variations ... continue reading
---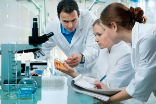 By Marshall Connolly (CALIFORNIA NETWORK)
The Federal Government has discovered the grocery list technology. This unlock apparently occurred recently as the Department of Agriculture sent encouraging, rapid-fire tweets to the public about how to use this remarkable new advancement. LOS ANGELES, CA (California ... continue reading
---
All U.S. News