President Obama's Address to Planned Parenthood Requires a New Human Rights Movement
---
We need to build such a movement - dedicated to the true common good - now.
We need to build a true human rights movement of faithful Christians who are unapologetically dedicated to life, family, freedom and solidarity and willing to work together. We will have to use every legal means at our disposal to oppose this administration when it violates fundamental human rights such as the Rights to Life and Religious Freedom or when fails to protect marriage and the family and society built upon them.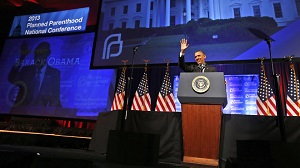 Obama giving the keynote address at the annual conference of Planned Parenthood
Highlights
By Keith A. Fournier
Catholic Online (www.catholic.org)
4/28/2013 (4 years ago)

Published in U.S.
Keywords: Planned Parenthood, Barack Obama, Cecille Richards, Evangelicals, Catholics, Evangelicals and catholics, Right to Life, Abortion, gay mariage, Pro-Life, movement, human rights, deacon Keith Fournier
---
P>WASHINGTON,DC (Catholic Online) -  I write as a private citizen who is deeply worried about the future of a Nation I love and want to hand on to our five children and grandchildren. I do not write in formal association with any organization, at least not yet.
I write only after following my own advice, do not write when you are still in the throes of outrage. I have had an entire evening to reflect.
I have served for decades in the fundamental human rights movement of our age, the effort to restore to the civil and criminal law of our Nation recognition of the Natural Law Right to Life for our youngest neighbors in the womb.
 
We have not made much progress. We have a lot of work ahead.
First of all, we need to be clear in our language; our youngest neighbors in the womb ALREADY HAVE THAT RIGHT. The American founders simply recognized objective truth; there is a Right to Life. It is endowed upon all of us by the Creator and cannot be taken away by any civil government.
This fundamental Human Right to Life is now unjustly denied by the civil government. Our opponents are not "pro" anything. They oppose the fundamental Human Right to life.
In fact, the Right to Life they oppose is the foundation of all other human rights. Its denial by the current positive or civil/criminal law of the United States threatens the entire infrastructure of human rights.
Rights are good of human persons. Every procured abortion kills a human person and takes away that Right to Life. No-one has a right to do what is always wrong.  Taking innocent human life is always wrong.
At the Marriott Wardman Park Hotel in Washington, DC on Friday morning, April 26, 2013, President Barack Obama gave the keynote address to Planned Parenthood. He was the first US President to do so.
His speech was a ringing affirmation of the organization, its mission and its plans for the future. It was complete with his rhetorical sophistry. It ended with a profane 'blessing' of their work at the end.
The government propaganda press machine played certain news sources which support the Right to life for fools. By changing the time of the keynote address, they duped some otherwise sincere sources into reporting that it was the pressure put upon the office of the President to not give the keynote address which got him to change his plans. 
Reports multiplied on many of our alternative news sources that he had backed down from giving the keynote address as if it was some kind of success. How sad it was to watch good people be duped by a President who opposes the Right to Life in a propaganda ploy.
Clearly, whether a speech is given at eleven in the morning or eight in the evening, when it is given by the President of the United States, it is the keynote address. The propagandists succeeded in calling even more attention to it.
For any of my readers who want to read what the President said, the White House was happy to provide the full transcript. You can read it here on one of its many collaborator news sources. I will not participate in spreading the message by even quoting a portion of it.
I was not surprised by its content. I was most disturbed by his closing, profane effort to extend some kind of blessing on the evil activities of this organization. My colleague, Andrew Greenwell, recently addressed the nature of the "god" to whom the President appealed here. 
I was reminded of this passage in Luke's gospel:
"Which of you wishing to construct a tower does not first sit down and calculate the cost to see if there is enough for its completion? Otherwise, after laying the foundation and finding himself unable to finish the work the onlookers should laugh at him and say, 'This one began to build but did not have the resources to finish" (Lk. 14).
We have a tower to build. We have historically consequential work to do. We must calculate the cost and we must build this tower together.
Make no mistake. Politics alone is not going to turn this Nation around. It will take a deep conversion of heart. However, it is a subset of culture and we must not retreat from working at every intersection of faith and culture.
In his introduction to The Screwtape Letters, a brilliant work exposing the unseen spiritual warfare taking place around us through a series of letters between two demons - the older Screwtape, an instructor and the younger student Wormwood - CS Lewis wrote: 
"There are two equal and opposite errors into which our race can fall about the devils. One is to disbelieve in their existence. The other is to believe, and to feel an excessive and unhealthy interest in them. They themselves are equally pleased by both errors and hail a materialist or a magician with the same delight."
In a sense, the same is true of politics. Like many of you, I am still in recovery after the last Presidential election, trying to make sense out of what is happening to this nation which we love. The temptation, so clearly present in our circles, is to fall into two separate approaches, both of which can lead to error.
One is to completely retreat from that area of culture and social responsibility referred to as politics. The other, is to pursue the path of the modern zealot or utopian and believe that politics alone can actually effect enduring change in the hearts of people and thus in the broader culture.
To paraphrase Lewis, The devils, so clearly active in the current political climate, "hail a materialist or a magician with the same delight."
In 1947, C.S. Lewis addressed the decline of his beloved Britain in an insightful book entitled "The Abolition of man: How Education Develops Man's Sense of Morality." He warned of the subjective and relativistic trends in the British educational system of the time. He reasserted the timeless moral truths of Christianity as the solution. 
Lewis called for a return to the Christian vision of the human person and the cultivation of virtues as the path to true human flourishing and freedom.  He defined what he called "the chest" in this work as the "higher emotions organized by trained habit into stable sentiments or character."
He wrote that without this "chest", men and women devolve into self-idolatry, losing their human dignity and true freedom. They become slaves to disordered appetites.
Sound familiar?
There are serious problems which are clearly revealed by this brazen Presidential endorsement of Planned Parenthood.  It requires a serious, sustained and consequential response. 
The Obama administration is hostile to our first neighbor, the child in the womb. They fail to hear the cry of those whom Blessed Teresa rightly called the "poorest of the poor" - while purporting to be a friend to the poor.
The fundamental Human Right to Life is revealed by the Natural Law, confirmed by medical science, and affirmed in the Birth Certificate of the Nation, the Declaration of Independence. It is denied by this President and his administration.
Instead he stands with an organization which supports an evil counterfeit; what they call a "right" to take the life of children in the womb based on little but convenience. They can attempt to make it sound noble but the recent news out of Philadelphia in the trial of the abortionist Kermit Gosnell has removed the veneer of civility off of their evil actions. 
President Obama's administration also refuses to defend true marriage - and the family and society founded upon it. It is now doing the bidding of the social and cultural engineers who seek to write into the positive law of the Nation a legal equivalency between homosexual partnerships and marriages.
The administration seems to be standing at the ready, willing to place the police power of the State behind enforcing a dangerous social experiment. The entire social order will be placed in jeopardy if that occurs.
The administration has also revealed its disrespect for the robust vision of religious liberty enshrined in the First Amendment to the United States Constitution. This was made crystal clear in the HHS Mandate. The Free Exercise of Religion, so integral to the American experiment in ordered liberty, is now in jeopardy.
In place of what the American Founders called the First freedom, religious freedom, this administration wants to substitute a notion of a freedom to worship which confines our mission as a Christian Church to the four corners of our Church buildings.
The religious exceptions to the implementation offered thus far will not allow us to fulfill the mandate of the 25th chapter of Matthews Gospel and reach out into the culture with the love of Jesus - as he reveals himself in the poor and the needy.
The HHS mandate, through which the Affordable Care Act will be enforced, unless it is altered through a amendment or revision, would place us in the position of having to disobey Caesar or violate our deeply held religious beliefs.
We will not comply. We will not fund sterilizations and abortion inducing contraceptives. We will engage, if necessary, in civil disobedience. We will not stop our missionary efforts because our obligations in solidarity demand that we continue.
The social outreaches of the Church which place children without mothers and fathers in homes for adoption, her hospitals, soup kitchens, and other vital outreaches to the poor are now at risk of being shut down.
We are called to love the world as God so loved the world. As the Body of Christ, we continue the redemptive mission of Jesus our Head. This administration purports to be an advocate of the "least of these", but needs to be exposed as acting in a manner which is more akin to a hostile Caesar using the poor for its inhuman agenda.
What the President's address at Planned Parenthood requires is a new human rights movement. It must not reject the language of authentic social justice, but recover it and take it back from those who have stolen it to cover evil designs.
We need to build a true human rights movement of faithful Christians who are unapologetically dedicated to life, family, freedom and solidarity and willing to work together.
We will have to use every legal means at our disposal to oppose this administration when it violates fundamental human rights such as the Rights to Life and Religious Freedom or when fails to protect marriage and the family and society built upon them.
We will also have to raise the means to assist the Church as she pursues her mission of caring for the poor and the needy in all of their manifestations without government aid - if receiving such aid requires that she compromise what cannot be compromised.
We must be willing to commit acts of civil disobedience when defending authentic social justice and human rights requires such action. Our task will require heroic men and women willing to face those consequences - and lots of good lawyers ready to defend them.
We need to build such a movement - dedicated to the true common good - now.  We must lay out the parts. We must build the tower together.
We need such a tower, from which we can shout out with united voice he liberating truth to an age which has succumbed to too many lies.  A tower from which we can see the field of struggle which lies before us and chart the course truly forward - to a future of authentic human freedom and flourishing.
At the end of the Declaration of Independence, the birth certificate of this noble experiment in ordered liberty which is called the United States of America, we read this pledge of heroism:
"With a firm reliance on the protection of Divine Providence, we mutually pledge to each other our Lives, our Fortunes, and our sacred Honor."
We need to make that pledge our own. President Obama's address at Planned Parenthood requires building a new human rights movement together.
---
Copyright 2017 - Distributed by THE CALIFORNIA NETWORK
Pope Francis Prayer Intentions for MAY 2017
Christians in Africa.
That Christians in Africa, in imitation of the Merciful Jesus, may give prophetic witness to reconciliation, justice, and peace.
---
---
As a church we know the dignity of our humanity belongs on Gods throne with him and not in a medical waste dumpster. The conviction, ... continue reading
---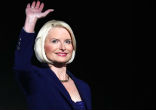 Just before President Donald Trump set off to meet Pope Francis for the first time, he made his formal nomination for the new U.S. ... continue reading
---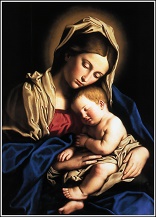 On this Mother's Day I still mourn the loss of my earthly mother Ellen and draw strength and hope in reflecting on Mary, the Mother of ... continue reading
---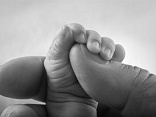 Mother's Day is around the corner and once again, America is missing her children. Only this time, it is much worse. Nothing has changed ... continue reading
---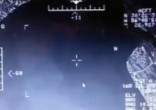 The Daily Beast blogger Kenneth Lipp was randomly searching Shodan, a search engine users can use to locate specific computers connected to ... continue reading
---

Copyright 2017 Catholic Online. All materials contained on this site, whether written, audible or visual are the exclusive property of Catholic Online and are protected under U.S. and International copyright laws, © Copyright 2017 Catholic Online. Any unauthorized use, without prior written consent of Catholic Online is strictly forbidden and prohibited.