The Easter Vigil this year will mark my first anniversary as a Catholic
Deacon Keith, what I have found in my Catholic faith - what we have found - is the very real presence of Christ!  And that, my friend, was what I had spent a lifetime searching for. I have come to believe with all of my heart that His good purpose is to see His one holy, catholic, and apostolic church reunited somehow, some day.  I believe that He has called you to that effort, and that He is using you even now to touch hearts around the globe.  I thank Him for calling you, and I humbly thank you for your obedience to that calling.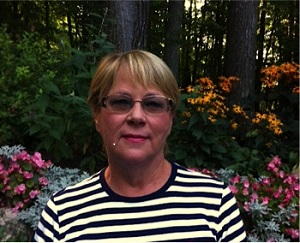 Nancy Damoose, Catholic Christian
Harbor Springs, Michigan (Catholic Online) - (Note from the Editor in Chief - I count among the greatest joys hearing of sincere Christians who are drawn by the Splendor of Truth and the work of the Holy Spirit into the full communion of the Catholic Church. Nancy and John DaMoose are old friends. She recently wrote to me and shared her beautiful story of coming into the full communion of the Catholic Church during the 2012 Easter Vigil. As I considered editing this story for length, I found myself unable to do so. It is simply too wonderful just the way it is. As we approach that great Easter Vigil when so many will receive the Sacraments of initiation, we should pray for all of them and thank the Lord for the treasure of the ancient yet ever new Catholic Christian faith.) 

*****
Hello Deacon Keith,
Greetings in the name of our Risen Lord!  I am delighted to have reconnected with you, and am anxious to share with you how that happened!  In order to do so, I'm afraid I must infringe on some of your valuable time, so I must beg your patience here. If you are able to bear with me, I am quite certain you will be blessed by what I have to tell you.
A few weeks ago I was researching Catholic doctrine online (I can't remember now what the particular issue was) when I happened onto Catholic Online. I read a few of the daily entries and was, quite frankly, moved by the wisdom in what I was reading. Finally, I stopped to check out who had written the entries, and lo and behold, I saw that it was you! I was amazed - no so much by your wisdom, but rather by the fact that the Lord had clearly led me to your site.
I must admit that at first I was tempted to think that it was all a coincidence; but in the days that ensued, I came to understand that it was indeed the Lord who led me to the site in the first place; and He did so in order that I might share some news with you.
The long and short of it is that John and I have converted to Catholicism; we were confirmed during the Easter Vigil last April. It was the end of a very long journey, particularly for me; and I must tell you that this has probably been the most life-changing, life-affirming thing I've ever done!  I am speaking more of myself here, as for John our conversion seemed to be a very natural process. 
He was baptized in the Catholic Church - his mother and sisters were Catholic.  His father was Episcopalian, and John spent his youth attending church with him. But because of his baptism, and the influence of his mother and sisters, he always considered himself a Catholic of sorts.  For me, however, 'Catholic' was just never even on my radar screen.  It's not that I was ever anti-Catholic, as I certainly was not. To be perfectly honest, I just never really even gave Catholicism a thought.
My mother was raised a Catholic, but left the Church when she married my father in 1941.  Her mother was very devout, so much so that she refused to attend my mother's wedding in the Congregational Church.  After that, the two barely spoke; and for my mother, the door to the Catholic Church was closed forever.  She wasn't particularly bitter, but rather, she simply decided that if a church would prevent her own mother from attending her wedding, then she wanted nothing to do with it. 
I grew up in that same Congregational Church.  I was baptized there at the age of five, and from that day on never doubted the Lord's love for me.  After John and I were married in 1968 (we recently celebrated our 44th anniversary), we chose the Episcopal Church for our family. We remained there for over 20 years, but finally left in 1990 when we began to understand that humanism had made its way into the pulpit. 
We spent the next 20+ years 'church hopping,' always in search of the truth. During that time we attended mainstream Presbyterian, Willow Creek, Baptist, Congregationalist, Reformed, Non-Denominational, and Evangelical Presbyterian Churches - joining each one along the way in the hope that we had finally found our church home.
During those years, we grew more and more disenchanted with 'the church' - not with the Lord, mind you, as we grew to love Him more and more as we continued to seek His presence in our lives.  For me, 'disenchanted' doesn't really begin to explain how I felt during our quest. Truly, I began to be depressed just thinking about having to go to church on Sunday morning; and I began to think of excuses not to go on those Sundays once a month when Communion was being served. I also grew discouraged by the church's apparent disregard for the trials my family faced.
Yes, my two young children were being guided along the right path by their youth pastors, but when it came to John and me, it seemed that the leadership in particular, and the church in general, were simply not interested in our testimonies, our gifts, or our very lives beyond the essential fact of our salvation.
I'm not sure if you remember this, but during the time we were living in Virginia Beach I started work on a Master's Degree in Theology at Regent. I felt that it was a gift from God for me to be able to study there, and I seized the opportunity. At that time, as I'm sure you will remember, Regent was very Pentecostal (Vinson Synan was then Dean of the Divinity School). While John and I were decidedly not Pentecostal, I embraced my studies, knowing they were opening a whole new world to me.
When we moved back to Michigan in 1997, I put my studies on hold.  At that time, our adopted son, Noah, was just entering kindergarten and had already been diagnosed with severe ADHD and some other learning disabilities.  So I felt that it was important for me to put my own studies on hold for a while in order to guide him through the educational maze and advocate for him. (By the way, Noah is turning 21 this weekend, and is presently in his 3rd year at Calvin College. God is good!).
When our adopted daughter, Naomi, entered school three years later, she was also diagnosed with some fairly significant learning disabilities (she is now 18, graduating from high school in June, and planning to study Criminal Justice at Ferris State University in the fall). So I knew that my only priority for the foreseeable future was going to be helping my two younger children through school.
Five years ago, the Lord allowed me to resume my studies at Regent. I found that something very interesting had occurred during my 10-year absence: a Catholic influence had begun to develop within the Divinity School. The school now had a Catholic as its Dean, and I encountered a number of Catholics within the student body.  I would say that the Catholic influence was subtle - still nobody 'talked Catholic.' But it was there nonetheless, and it encouraged me to begin to look at the things of faith differently than I ever had in the past.
When I first returned to Regent I took a couple of classes with professors who were Pentecostal, and not particularly   interested in helping me to form sound doctrine. So within a short period of time, I changed my major from Practical Theology to Church History and Doctrine.  From that point on, the rest, as they say, was 'history.'
As I studied history and doctrine, I began to discover Truth to which I had never been exposed before. I read the Early Church Fathers and met the likes of Gregory of Nyssa, Basil the Great, etc. I studied the Church councils, and was moved by the Church's willingness to address its own issues. I studied the Desert Fathers, and the later contemplatives. 
All the while, I kept asking myself, "Why haven't I heard these things before.  Why haven't I read them? And why haven't I met these people before?" I must tell you, Deacon Keith,  that I began to feel as if I had been deprived of my own spiritual heritage; among other things, I had been deprived of knowing those courageous men who had contended for the faith - for my faith.
I began to seek (or perhaps 'demand' is a better explanation) more answers from myself and my church, which by this time was Evangelical Presbyterian.  I did not so much challenge the leadership as I did simply ask questions. But it seemed that the more questions I asked, the fewer answers they had. 
I began to understand that the reasons they had no real answers for me was because they had no real authority on which to base their answers.  And I also began to see the leadership structure as something of a house of cards - again, there was no real authority upholding the structure. 
Several times I tried to leave this particular church, but because our kids were deeply involved in the youth group, I felt that I/we needed to stay. I believe now that the Lord used that time to create an uneasiness in me and a real hunger for Truth.  While my family certainly knew I was dissatisfied with our church, they never really understood the depth of that dissatisfaction or the cause. That is because I felt that until I found the answers I needed, I could not really explain myself to them - not even to John.
In June, 2011 we moved permanently from Ann Arbor (where we had lived for 9 years) to Harbor Springs (where we have owned a cottage for 30 years). There is a beautiful Catholic church in Harbor Springs, located right in the center of town. It is the first thing you see when you head down the hill into town; and because of its beauty, John and I had often taken the family to Christmas Eve services at the Church.
During the first two months after our move, I sensed somehow that the Church was 'wooing me,' and I had a desire to get to 'know her' better. Finally, I admitted to John something that I had felt, but never even admitted to myself, for five years or more. I realized that I was actually considering becoming a Catholic! 
I have to tell you that at first, the idea terrified me.  I didn't even know if I, as a baptized Congregationalist-turned-spiritual 'mutt,' would be allowed to join. That tells you something about how few answers I really had!  John encouraged me to meet with the priest to discuss the matters that concerned me most.
When I finally did speak with the Priest, I told him my story, and almost challenged him to tell me to "Go Away!" Crazy, I know.  But again, I wasn't sure I would even be allowed to become Catholic.  So imagine how I felt when his answer to my challenge was, "Your testimony has moved me to tears. God has surely brought you on a journey, and I hope you will continue on that journey until you find the answers you've been looking for." 
I won't bore you with anymore of the details of that journey, as I have already told you the outcome.  John and I are now both Catholics. Immediately after talking with our Priest, I enrolled us both in RCIA. Even then I never really expected to become Catholic; but I knew I needed to find answers. Within two months, I knew I had finally arrived at my lifelong destination.  I was finally home!
I began to find answers to questions I never even knew I had; I began now to meet not just Gregory of Nyssa, St. Gregory, St. Basil, etc.  The first thing I did after enrolling in RCIA was to buy the Catechism - I mean, every Catholic has to memorize the Catechism, right?  I wasn't sure how I could possibly memorize all 2865 paragraphs, but I was at least going to know what was in it.  So I started to devour it, and what I discovered astounded me:  I discovered Truth, wrapped in the Word of God, transmitted through Tradition and the Magisterium, and lovingly preserved throughout the ages for my family and me.
It was like a balm to me, and I began to feel almost as if I could breathe for the first time in my life!  Before then, I had begun to feel as if I was beginning to suffocate under all of the opinion out there, presented as Protestant doctrine of one sort of another, but about which 'the church' could never seem to agree. Now I had finally been given the Truth!
During those first couple of months of RCIA, I also began to experience something else I had never experienced before - that is, Grace.  Pure Grace!  I got a taste of that Grace during my first conversation with our parish Priest. When I was first exposed to Christ in repose in the Tabernacle, the Grace was so profound that my knees buckled. I found Grace in the Confessional, as my Confessor did not condemn me for my sins; rather, he absolved me of them - he set me free for the very first time in my life.  And he was able to do so because he had the authority to do so in Persona Christi!
Finally, I found Grace in the Eucharist!  What more can I say about that? Jesus Christ has deemed it appropriate to impart Himself in Body, Blood, Soul and Divinity to Nancy Damoose!  It simply takes my breath away to even think about it. And isn't it amazing that I received the Eucharist for the very first time 60 years to-the-day after I was baptized. Even more amazing, I have now been commissioned as an Extraordinary Minister of the Eucharist!
Deacon Keith, what I have found in my Catholic faith - what we have found - is the very real presence of Christ!  And that, my friend, was what I had spent a lifetime searching for.  I have now come to see that the Protestant church has all but removed Christ from its presence.  Indeed, there seems to be no place for Him to dwell. It promises Christ in our future, but seems to deny Him in our present. It seems that His presence has all but been eliminated from its midst, even in Communion. Or should I say, especially in Communion.  I understand now why I had come to resent our monthly celebrations of the Communion, because there was no real communion taking place.  Today it almost seems to me as a mockery, but I must guard myself from becoming angry and bitter over it.
Before closing, I must share one last thing with you. I am sorry to have taken so much of your time here, but I think you will be particularly interested in this last thing.  I'm not sure if you will remember a conversation we had when you had come to visit our ministry in Traverse City.  At the time, we were having a weekend retreat with our Board, and planned to end the weekend with the celebration of Communion.  You told me that you would not be able to join us in that, and I asked why.  You told me that as a Deacon of the Catholic Church, you could not take Communion with us because we were not in perfect communion with each other. 
Frankly, Deacon Keith, your response hit a nerve, and I was unable to shake it for a very long time.  I remembered thinking at the time that you might be able to serve Communion to a fellow parishioner who didn't really even love the Lord, but that you were unable to share Communion with someone like me who loved the Lord as you did.  I am quite certain now that the Lord used that encounter with you to create questions in me - questions that I could not answer on my own, and that would one day demand an answer.
So now we are entering the Lenten season, and the Easter Vigil this year will mark my first anniversary as a Catholic.  As I said earlier, this journey has been both life-affirming and life-changing.  And that is not just for me, it is for our entire family.  I am sure you will be blessed to learn that this year at the Easter Vigil, six more members of our family are being confirmed into the Catholic Church:  our oldest son, Ance; his wife and their three children (15, 13, 11); and our youngest daughter, Naomi! I had once worried that my family might think I was crazy if I told them I was even considering Catholicism, and now, in a few weeks, eight of us will have been confirmed.  I have to believe that the remaining few will follow suit, in due time - in God's time.
Deacon Keith, it gives me great joy to share our story with you. I have learned since our confirmation that my story is not all that different from others who have gone before me and converted - people like Scott Hahn, Jeff Cavins, Ken Hensley. Truly, I had never even heard those names before I started the confirmation process. But it is a blessing to me to be reminded that God is at work even now, to will and to do according to His good purpose in Christ Jesus. 
I have come to believe with all of my heart that His good purpose is to see His one holy, catholic, and apostolic church reunited somehow, some day.  I believe that He has called you to that effort, and that He is using you even now to touch hearts around the globe.  I thank Him for calling you, and I humbly thank you for your obedience to that calling.
May He bless you particularly in the knowledge that you are being used to build His kingdom here on earth, and to reunite His Church one day.
In His Name,
Nancy Damoose
---
Copyright 2016 - Distributed by THE CALIFORNIA NETWORK
Pope Francis Prayer Intentions for May 2016
Universal:
Respect for Women: That in every country of the world, women may be honored and respected and that their essential contribution to society may be highly esteemed.
Evangelization:
Holy Rosary: That families, communities, and groups may pray the Holy Rosary for evangelization and peace.