The prayer of the Son of God will be answered; the only question is how soon it will happen. We hasten that day when we choose to pray together and work with one another in this great human rights struggle
Throughout the West, Christians, Orthodox, Protestant and Catholic, are now enrolled in a school of ecumenism as we make common cause to end the killing of our youngest neighbors. We have been thrown together in a common defense of life in a western culture which has lost its moral compass. Our Marching together for Life is becoming a road to our unity and a sign of our growing communion.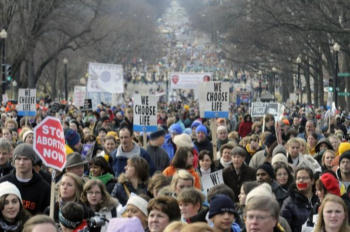 The March for Life
Highlights
Catholic Online (www.catholic.org)
1/17/2013 (3 years ago)
Published in U.S.
Keywords: Pro-Life, 40 years, Roe v Wade, Doe v Bolton, March, March for Life, Pope Benedict XVI, Blessed john Paul II, Ut Unum Sint, unity, week of Christian unity, Deacon Keith Fournier
---
CHESAPEAKE, Va. (Catholic Online) - After his Wednesday catechesis Pope Benedict XVI noted that Friday, the 18th of January begins the Week of Prayer for Christian Unity. This year, the theme of the week is "What does God require of us?" inspired by a passage from the prophet Micah.
The Pope invited all "to pray, asking insistently of God, for the great gift of unity between all of the Lord's disciples. May the Holy Spirit's limitless strength arouse us to the sincere commitment to seek unity, so that we might all profess together that Jesus is the savior of the world."
On January 25, 2013, hundreds of thousands will gather in Washington, D.C. to give their voice to our neighbors in the first home of the whole human race. These are the children who await their welcome among us upon birth. These littlest neighbors need our voice because theirs is being muffled behind the wall of their mother's womb, once considered the first refuge of safety.
There, in their first experience of the interdependency which reveals the truth about our humanity, where they are supposed to be embraced by the warmth of love, they are vulnerable to the worst kind of domestic violence. At any moment the weapons of the first pre-emptive war, voluntary abortion, may be wielded against them for any reason.
Make no mistake; these are weapons of death and destruction - chemical, surgical or suction - being used to kill these children deliberately for any or no reason. The cold, hard truth about every procured abortion is that it takes an innocent human life.
No one with integrity any longer argues that the little girl or little boy killed through procured abortion is not a human being. When the abortion occurs through miscarriage we properly enter into the mourning of the mother over the loss of the one we call "her baby". However, when the mother is deceived into a voluntary abortion, we use a different vocabulary.
Most people now acknowledge that these children killed by abortion are human persons. A few hold on to the dangerous notion that dependency upon others makes someone less of a person. However, medical science has confirmed what our consciences and the Natural Law told us all along, these victims of the first preemptive war called intentional abortion are human beings just like us.
We frame "baby's first pictures" in their 3D or 4D image through sonogram technology. We use intrauterine surgery to intervene to save them or correct anything which they may need before they are born. We prosecute an offender who, in the evil act of harming their mother, causes their death as well. It is all so very clear what we are really doing in every procured abortion.
The argument now used in a futile attempt to somehow justify this preemptive war on little girls and boys is that the choice to kill them should be left to the mother in consultation with her own Doctor and/or other counselors. This profane argument is couched in a language of freedom and clothed with a counterfeit compassion. What other group of human persons can be killed because someone else determines they do not want them to live?
There is no moral difference between the killing of a child after birth and the killing of a child before birth.
We now legally excuse fetal homicide when it is committed by a misguided mother through the agency of a deceived or corrupted Doctor who once pledged to "do no harm" in his or her professional oath. We now routinely refer to this intentional taking of innocent human life as healthcare. We try to claim that the decision to take their life is somehow a "reproductive" choice.
Procured abortion is not health care, it is an execution. And, there is absolutely NOTHING reproductive about taking the life of that little boy or girl.
There is a horrid irony in the fact that this 40th Anniversary March for Life will take place only days after President Barack Obama is sworn in for his second term. He will take the oath of office placing his hand on two bibles, one owned by Abraham Lincoln, the other owned by Martin Luther King Jr.
Both of those American heroes stood against the evil idea that some human persons are less worthy of being welcomed within our National family than others. With President Obama's election, our Nation celebrated a great advance against another intrinsic evil, racism, and the horrid memory of its once institutionalized expression, slavery.
Yet, sadly, President Obama has been blinded by the culture of death. He is advancing another form of slavery with his refusal to defend the Right to life of our youngest neighbors in the womb.The Right to life Movement is a solidarity movement. These little children our brothers and sisters and we are indeed their keepers.
Evil ideas have a horrid way of repackaging themselves. This President is the most anti-Life President in our modern history. He regularly claims to hear the cry of the poor, yet he fails to hear the cries of those whom Blessed Teresa of Calcutta properly called the "poorest of the poor", our first neighbors in the womb.
It is noteworthy that in the 40 years since the evil Supreme Court decisions in Roe and Doe were issued some unexpected good has come to Christians involved in this great human rights struggle. In our insistence that the positive law recognize what the Natural Law demands, that these children have a right to life, Christians separated from one another by divisions in the Body of Christ have now found one another. I have long referred to this fact as the silver lining in the dark cloud of the culture of death.
That is why I believe it is no accident that the March for Life always falls within the National Week of Prayer for Christian Unity. Our human rights struggle has been the most fruitful and authentic form of ecumenism the world has ever witnessed; what I call trench ecumenism. We found one another in our common concern for the poorest of the poor.
The Prayer of Jesus echoes in a new missionary age: "I pray not only for them, but also for those who will believe in me through their word, so that they may all be one, as you, Father, are in me and I in you, that they also may be in us, that the world may believe that you sent me. And I have given them the glory you gave me, so that they may be one, as we are one, I in them and you in me, that they may be brought to perfection as one, that the world may know that you sent me, and that you loved them even as you loved me." (John 17:20-23)
There is a reciprocal relationship revealed in those words of the Savior. The world will believe our gospel when we demonstrate our own unity of love with one another. The prayer of the Son of God will be answered; the only question is how soon it will happen. We hasten that day when we choose to pray together and work with one another in this great human rights struggle.
That is the message that the great apostle Paul proclaimed to the Ephesians: "Brothers and sisters: I, a prisoner for the Lord, urge you to live in a manner worthy of the call you have received, with all humility and gentleness, with patience, bearing with one another through love, striving to preserve the unity of the spirit through the bond of peace; one Body and one Spirit, as you were also called to the one hope of your call; one Lord, one faith, one baptism; one God and Father of all, who is over all and through all, and in all." Ephesians 4: 1-6
Paul was the apostle of unity between the early Jewish and Gentile believers who were deeply divided. He knew the corrosive effect of divisions within the Body of Christ. We will march on the day when the Catholic Church, in her liturgy, commemorates his conversion to Jesus Christ.
The God who is One, Father, Son and Holy Spirit, places the impulse toward Christian unity in our hearts. In his Encyclical letter on Christian unity (May They Be One, 1995), Blessed John Paul II underscored the language of communion as the preferred vocabulary between Christians not yet one:
"It happens for example that, in the spirit of the Sermon on the Mount, Christians of one confession no longer consider other Christians as enemies or strangers but see them as brothers and sisters. Again, the very expression 'separated brethren' tends to be replaced today by expressions which more readily evoke the deep communion linked to the baptismal character which the Spirit fosters in spite of historical and canonical divisions. Today we speak of "other Christians", "others who have received Baptism", and "Christians of other Communities"(Par. 42)
The authentic ecumenical mission was at the heart of John Paul's pontificate and is at the heart of Pope Benedict's. I remember that day, April 20, 2005, when the newly elected Pope Benedict XVI gave his first message at the end of a Mass he had concelebrated with the members of the College of Cardinals in the Sistine Chapel. He signaled his mission with these words:
"Nourished and sustained by the Eucharist, Catholics cannot but feel encouraged to strive for the full unity for which Christ expressed so ardent a hope in the Upper Room. The Successor of Peter knows that he must make himself especially responsible for his Divine Master's supreme aspiration. Indeed, he is entrusted with the task of strengthening his brethren (cf. Luke 22: 32).
"With full awareness, therefore, at the beginning of his ministry in the Church of Rome which Peter bathed in his blood, Peter's current Successor takes on as his primary task the duty to work tirelessly to rebuild the full and visible unity of all Christ's followers. This is his ambition, his impelling duty."
The authentic ecumenical mission of restoring the full and visible unity of the Church has been the beating heart of Pope Benedict's years of service in the Chair of St Peter. That is because it reflects Heart of the Lord. To be a faithful Christian should mean to long for our full communion. Blessed John Paul called all of the faithful to carry forward the task of ecumenism with a practical and spiritual urgency in that letter on Christian Unity:
"Relations between Christians are not aimed merely at mutual knowledge, common prayer and dialogue. They presuppose and from now on call for every possible form of practical cooperation at all levels: pastoral, cultural and social, as well as that of witnessing to the Gospel message. Cooperation among all Christians vividly expresses that bond which already unites them, and it sets in clearer relief the features of Christ the Servant."
"This cooperation based on our common faith is not only filled with fraternal communion, but is a manifestation of Christ himself. Moreover, ecumenical cooperation is a true school of ecumenism, a dynamic road to unity. Unity of action leads to the full unity of faith."
"Through such cooperation, all believers in Christ are able to learn easily how they can understand each other better and esteem each other more, and how the road to the unity of Christians may be made smooth. In the eyes of the world, cooperation among Christians becomes a form of common Christian witness and a means of evangelization which benefits all involved."
Throughout the West, Christians, Orthodox, Protestant and Catholic, are now enrolled in a school of ecumenism as we make common cause to end the killing of our youngest neighbors. We have been thrown together in a common defense of life in a western culture which has lost its moral compass. Our Marching together for Life is becoming a road to our unity and a sign of our growing communion.
Come, let us lock arms together again and offer our voice for those who have none. Marching to Restore the Right to Life to Our Youngest Neighbors during the Week of Christian Unity is Prophetic. The Killing will end. The divisions among Christians will be healed.

---
Copyright 2016 - Distributed by THE CALIFORNIA NETWORK
Pope Francis Prayer Intentions for May 2016
Universal:
Respect for Women: That in every country of the world, women may be honored and respected and that their essential contribution to society may be highly esteemed.
Evangelization:
Holy Rosary: That families, communities, and groups may pray the Holy Rosary for evangelization and peace.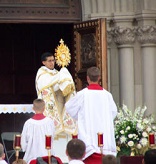 By Deacon Keith Fournier
We have received the Bread of Heaven. Let us choose to become what we consume. These Feasts are not just rituals on a Church calendar. They are invitations to encounter the Lord Jesus Christ, and then offer Him to a world waiting to be born anew. On this Feast of ... continue reading
---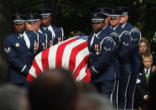 By Deacon Keith Fournier
I live in Chesapeake, a wonderful city in Southeastern Virginia where there are many members of the military. The parish I serve is an example of this. Every day, I witness the many sacrifices which military families make for our Nation. On this Memorial Day, I ... continue reading
---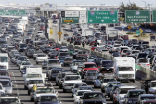 By Marshall Connolly (CALIFORNIA NETWORK)
We have money for perpetual war and can afford generous foreign aid, tax subsidies and cuts for the wealthy, but we cannot find the money to fix a pothole or repair a collapsing bridge. This is the sorry state of affairs U.S. infrastructure is in as we let the nation ... continue reading
---

By Kenya Sinclair (CALIFORNIA NETWORK)
Protesters at Republican presidential candidate Donald Trump's New Mexico rally erupted in violent acts including the attempted stoning of police, glass bottles thrown at mounted units and their horses, burning shirts and more. LOS ANGELES, CA (Catholic Online) - ... continue reading
---

By Kenya Sinclair (CALIFORNIA NETWORK)
Illegal aliens continue to surge into the United States from the Southwest U.S. border, leading the U.S. Customs and Border Protection (CBP) units to announce record-breaking apprehensions in April, 2016. LOS ANGELES, CA (Catholic Online) - According to the U.S. ... continue reading
---

By Marshall Connolly (CALIFORNIA NETWORK)
The arresting officer in the Freddie Gray case, Edward Nero, has been declared "not guilty" by the judge in his criminal trial. Now, the community waits to see if violence will erupt or if the streets will remain quiet. LOS ANGELES, CA (California Network) - Officer ... continue reading
---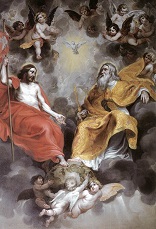 By Deacon Keith Fournier
'The mystery of the Most Holy Trinity is the central mystery of Christian faith and life. It is the mystery of God in himself. It is therefore the source of all the other mysteries of faith, the light that enlightens them. It is the most fundamental and essential ... continue reading
---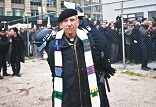 By Fr Frank Pavone
Father Berrigan was a radical figure who sent a total of almost seven years in prison. What many don't realize though is that his activism extended beyond the anti-war movement and into the anti-abortion movement. Believing in what he called a consistent ... continue reading
---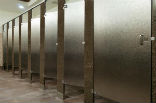 By David Drudge (CALIFORNIA NETWORK)
Under a new law, businesses in New York will be fined if they don't use a person's preferred pronoun when referring to them. This especially becomes a problem when it is understood there are at least 58 possible pronouns with at least five grammatical variations ... continue reading
---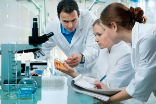 By Marshall Connolly (CALIFORNIA NETWORK)
The Federal Government has discovered the grocery list technology. This unlock apparently occurred recently as the Department of Agriculture sent encouraging, rapid-fire tweets to the public about how to use this remarkable new advancement. LOS ANGELES, CA (California ... continue reading
---
All U.S. News