In the video, each of the celebrities stands motionless before a drab gray background, and, using all the acting skills they can muster, they read their lines from the teleprompter.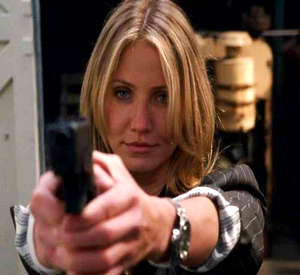 Cameron Diaz with her pistol
KNOXVILLE, TN (Catholic Online) - I bet you thought New York City Mayor Michael Bloomberg did nothing but sit in his office all day thinking about new ways to keep New Yorkers healthy and raise their taxes. But that is not the case. In 2006 he also co-founded a campaign for gun control with Boston Mayor Thomas Menino. They call it Demand a Plan, and they bill it as the largest gun violence-prevention-advocacy organization in America.

After the shooting at Sandy Hook Elementary in Newtown, Connecticut, they produced a video using celebrities from the entertainment industry. The video was posted to You Tube on December 21, 2012, and it has received over two million views.

In the video, each of the celebrities stands motionless before a drab gray background, and, using all the acting skills they can muster, they read their lines from the teleprompter. The end result is a somber plea calling for people to demand a gun-control plan from the government.

However, the anticipated effect apparently backfired on some people. Rather than inspire them to get on the bandwagon for more gun regulation, the video incited them because they perceived it as a blatant hypocrisy. Most of the celebrities in the video who are preaching about preventing gun violence have been in movies that portray gun violence. At least some of them are still making a lucrative living peddling such violence.

Consequently, some of the people incited by these celebrities went to a lot of trouble to create their own videos which point out this hypocrisy. They too can be found on You Tube. I saw a few of them. These homemade videos add movie clips or still photos of the celebrities in rolls depicting gun violence to the original video demanding a gun-control plan.

I do not know these private filmmakers, so I am not endorsing them in any way; but they make a good point, and their videos are worth watching. However, some of them are extremely violent and contain vulgar language. The link I provided is for one of the most benign. It uses still photos without commentary or excessive violence, yet it makes the point quite well.

It appears that these particular celebrities were caught red handed. Celebrities have been using their status to influence public policy for years, but they seem to be getting more arrogant and ridiculous as time goes on. We need to remember that they are entertainers: They act, sing, read what others write, and express emotions on cue. 

The successful ones get paid extremely well. Some live in decadent opulence, yet not all is well in their private little world. Some are hooked on alcohol and drugs and die young. While this certainly does not describe all celebrities, it should be a clue that we will not find many experts on the social, political and economic issues of our day from within their ranks.

This brings me to another point. Making violent movies and then preaching about gun control certainly seems hypocritical, but I believe a greater hypocrisy is that they are part of an industry that has been selling mindless violence and vulgar filth to the public for decades. They call their product entertainment, and they tell us that it is harmless; but that is not true.

All too often, their idea of entertainment is to make violence look exciting, psychopaths look cool, perversion look normal, the ugly look attractive, and evil look good. On the flip side, they portray Catholic priests, devout Christians, and traditional moral values as some sort of social disease. Our culture is saturated with this kind of garbage today, and it has an insidious influence on us. It literally poisons the minds and hearts of our children.

Then when someone commits a horrible act of violence--like when 24-year-old, PhD student James Holmes went on a shooting spree in an Aurora, Colorado movie theater dressed up as Batman's nemesis, the Joker--they quickly shift all of the blame away from themselves. They blame the consumers or parents or guns or gun manufacturers or the National Rifle Association, and they call for more regulations on the public.

Of course, there is no one reason or solution for gun violence, but the hypocrisy exposed as a result of this video demanding a plan, reminds us that it is time for the entertainment industry, and all media, to clean up their act. But not just them, us consumers too.

Just think how much good TV shows and movies could offer if they presented their stories of human drama in light of the truth about our nature and with sensitivity to our true dignity and worth. In the long-term, this could easily do more to stem violence in our society than additional gun regulations ever could.

We consumers can also help. So many TV shows are politicized these days that I hardly ever turn on the TV anymore. I also avoid movies that I think are without merit or if the celebrities in the movie support causes and issues that I believe are immoral. I figure, why should I support them? I would rather support movies and celebrities that offer something worthwhile and decent.

As an expert on human nature and relationships, the Church has profound knowledge in this matter. I found two paragraphs in the Catechism of the Catholic Church that I think apply to the issues I have raised in this article. They are as follows:

Media plays an important role in the dissemination of information, the promotion of culture and the formation of people, that is, future citizens. And its role in society is growing, in part, due to modern technology. Consequently, "The information provided by the media is at the service of the common good," and "Society has a right to information based on truth, freedom, justice, and solidarity" (2494 ).

But the Church also has something to say to consumers. "The means of social communication (especially the mass media) can give rise to a certain passivity among users, making them less than vigilant consumers of what is said or shown. Users should practice moderation and discipline in their approach to the mass media. They will want to form enlightened and correct consciences [ ] to resist unwholesome influences" (2496).

We are all deeply saddened by the awful tragedy at Sandy Hook Elementary. We hope and pray that the suffering parents who lost their children can find some consolation in the hope that the beautiful little souls they helped bring into this world in cooperation with God are now back in His arms and will enjoy absolute bliss for eternity. 

 
-----

Michael Terheyden was born into a Catholic family, but that is not why he is a Catholic. He is a Catholic because he believes that truth is real, that it is beautiful and good, and that the fullness of truth is in the Catholic Church. However, he knows that God's grace operating throughout his life is the main reason he is a Catholic. He is greatly blessed to share his faith and his life with his beautiful wife, Dorothy. They have four grown children and three grandchildren.

-----
---
Copyright 2016 - Distributed by THE CALIFORNIA NETWORK
Pope Francis Prayer Intentions for May 2016
Universal:
Respect for Women: That in every country of the world, women may be honored and respected and that their essential contribution to society may be highly esteemed.
Evangelization:
Holy Rosary: That families, communities, and groups may pray the Holy Rosary for evangelization and peace.

By Kenya Sinclair (CALIFORNIA NETWORK)
Native Americans say a French auction house should return their sacred objects set to go on sale, and they have an ally in Bishop James S. Wall of Gallup, N.M. Gallup, N.M. (CNA/EWTN News) - "My first reaction to this story was one of great sadness. It's tragic that ... continue reading
---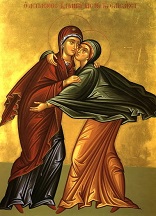 By Deacon Keith Fournier
In the Biblical account, this encounter immediately follows the visit of the Angel Gabriel to Mary and is a fruit of her humble obedient response to the word of God - which she was most certainly attuned to hearing. That response was not a onetime reaction. It ... continue reading
---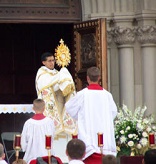 By Deacon Keith Fournier
We have received the Bread of Heaven. Let us choose to become what we consume. These Feasts are not just rituals on a Church calendar. They are invitations to encounter the Lord Jesus Christ, and then offer Him to a world waiting to be born anew. On this Feast of ... continue reading
---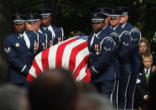 By Deacon Keith Fournier
I live in Chesapeake, a wonderful city in Southeastern Virginia where there are many members of the military. The parish I serve is an example of this. Every day, I witness the many sacrifices which military families make for our Nation. On this Memorial Day, I ... continue reading
---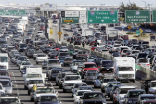 By Marshall Connolly (CALIFORNIA NETWORK)
We have money for perpetual war and can afford generous foreign aid, tax subsidies and cuts for the wealthy, but we cannot find the money to fix a pothole or repair a collapsing bridge. This is the sorry state of affairs U.S. infrastructure is in as we let the nation ... continue reading
---

By Kenya Sinclair (CALIFORNIA NETWORK)
Protesters at Republican presidential candidate Donald Trump's New Mexico rally erupted in violent acts including the attempted stoning of police, glass bottles thrown at mounted units and their horses, burning shirts and more. LOS ANGELES, CA (Catholic Online) - ... continue reading
---

By Kenya Sinclair (CALIFORNIA NETWORK)
Illegal aliens continue to surge into the United States from the Southwest U.S. border, leading the U.S. Customs and Border Protection (CBP) units to announce record-breaking apprehensions in April, 2016. LOS ANGELES, CA (Catholic Online) - According to the U.S. ... continue reading
---

By Marshall Connolly (CALIFORNIA NETWORK)
The arresting officer in the Freddie Gray case, Edward Nero, has been declared "not guilty" by the judge in his criminal trial. Now, the community waits to see if violence will erupt or if the streets will remain quiet. LOS ANGELES, CA (California Network) - Officer ... continue reading
---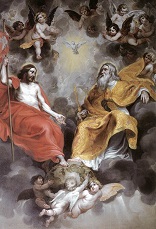 By Deacon Keith Fournier
'The mystery of the Most Holy Trinity is the central mystery of Christian faith and life. It is the mystery of God in himself. It is therefore the source of all the other mysteries of faith, the light that enlightens them. It is the most fundamental and essential ... continue reading
---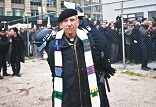 By Fr Frank Pavone
Father Berrigan was a radical figure who sent a total of almost seven years in prison. What many don't realize though is that his activism extended beyond the anti-war movement and into the anti-abortion movement. Believing in what he called a consistent ... continue reading
---
All U.S. News