Lord, when did we see you hungry and feed you, or thirsty and give you drink
Dorothy Day saw the face of Jesus in the face of the poor. She heard the word of Jesus spoken through the poor. She points us to  the deeper meaning behind the sobering scene recounting the last judgment which is recorded by the Evangelist Matthew in the 25th Chapter of his Gospel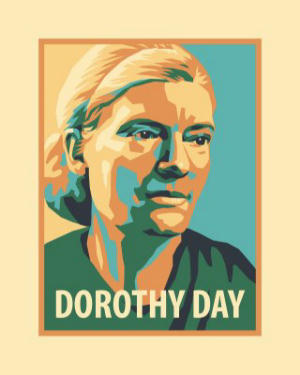 Dorothy Day rendering by an artist
BALTIMORE, MD (Catholic Online) - Cardinal Timothy Dolan led the Bishops in Baltimore, Maryland  this week with the confidence, conviction, concern and charisma which make him a treasure for the Church in this challenging time. This man is a true leader.
Among the topics of discussion was the canonization cause of the Servant of God Dorothy Day. Though considered by many to be a controversial topic, the discussion led to a unanimous voice vote on Tuesday affirming the continuation of the process.
Cardinal Dolan had to leave the Dias because he was to present the motion. Dorothy Day was from New York and, as the Cardinal Archbishop of New York noted, he had a "very enjoyable conflict of interests".

Dorothy Day, along with Peter Maurin, founded the Catholic Worker Movement.  Her cause was initiated by the late John Cardinal O'Connor, certainly not a political leftist by any stretch of the imagination.
The late Cardinal was able to see someone whose love for the Lord - and for the poor in whom she saw His Face - transformed her.  He wrote a letter to Rome on February 7, 2000 initiating her cause. Here are some excerpts:
"It has long been my contention that Dorothy Day is a saint - not a "gingerbread" saint or a "holy card" saint, but a modern day devoted daughter of the Church, a daughter who shunned personal aggrandizement and wished that her work, and the work of those who labored at her side on behalf of the poor, might be the hallmark of her life rather than her own self.
"To be sure, her life is a model for all in the third millennium, but especially for women who have had or are considering abortions. It is a well-known fact that Dorothy Day procured an abortion before her conversion to the Faith. She regretted it every day of her life.
"After her conversion from a life akin to that of the pre-converted Augustine of Hippo, she proved a stout defender of human life. The conversion of mind and heart that she exemplified speaks volumes to all women today on two fronts. "
"First, it demonstrates the mercy of God, mercy in that a woman who sinned so gravely could find such unity with God upon conversion. Second, it demonstrates that one may turn from the ultimate act of violence against innocent life in the womb to a position of total holiness and pacifism. In short, I contend that her abortion should not preclude her cause, but intensifies it."
"It has also been noted that Dorothy Day often seemed friendly to political groups hostile to the Church, for example, communists, socialists, and anarchists. It is necessary to divide her political stances in two spheres: pre-and post- conversion. After her conversion, she was neither a member of such political groupings nor did she approve of their tactics or any denial of private property. Yet, it must be said; she often held opinions in common with them. What they held in common was a common respect for the poor and a desire for economic equity."
"In no sense did she approve of any form of atheism, agnosticism, or religious indifference. Moreover, her complete commitment to pacifism in imitation of Christ often separated her from these political ideologies. She rejected all military force; she rejected aid to force in any way in a most idealistic manner. So much were her "politics" based on an ideology of nonviolence that they may be said to be apolitical. Like so many saints of days gone by, she was an idealist in a non-ideal world."
"It was her contention that men and women should begin to live on earth the life they would one day lead in heaven, a life of peace and harmony. Much of what she spoke of in terms of social justice anticipated the teachings of Pope John Paul II and lends support to her cause. I have subjected Dorothy Day's post-conversion writings to the careful examination of a dogmatist, moralist, and canonist. All assure me that her writings are in complete fidelity to the Church."
The comments from the Bishops on the floor prior to the vote were moving. Cardinal George of Chicago warned "we should be clear who we are endorsing here" and then whole heartedly endorsed her.  Cardinal Dolan called her conversion "Augustinian" ntoing"she was the first to admit it: sexual immorality, there was a religious search, there was a pregnancy out of wedlock, and an abortion. Like Saul on the way to Damascus, she was radically changed". He called her "a saint for our time." Cardinal O'Malley of Boston echoed the sentiment calling her a "magnificent model for our time."
Retired Washington Cardinal Theodore E. McCarrick said, "Of all the people we need to reach out to, all the people that are hard to get at, the street people, the ones who are on drugs, the ones who have had abortions, she was one of them.  What a tremendous opportunity to say to them you can not only be brought back into society, you can not only be brought back into the church - you can be a saint!"
I was struck by the prophetic nature of the action taken by the Bishops given the our current charged political atmosphere. I thought of two scripture passages, "The poor you will always have with you; but you will not always have me" (Jesus, Matthew 26:11) and this scripture "And behold, I am with you always, until the end of the age." (Jesus, Matthew 28:20) Have we considered the significance of the fact that the same Jesus who promised to be with us always also told us that the poor would be with us always? Perhaps it is because they are connected.
Dorothy Day saw the face of Jesus in the face of the poor. She heard the word of Jesus spoken through the poor. She points us to  the deeper meaning behind the sobering scene recounting the last judgment which is recorded by the Evangelist Matthew in the 25th Chapter of his Gospel:
"Then the king will say to those on his right, 'Come, you who are blessed by my Father. Inherit the kingdom prepared for you from the foundation of the world. For I was hungry and you gave me food, I was thirsty and you gave me drink, a stranger and you welcomed me, naked and you clothed me, ill and you cared for me, in prison and you visited me.' Then the righteous will answer him and say, 'Lord, when did we see you hungry and feed you, or thirsty and give you drink? When did we see you a stranger and welcome you, or naked and clothe you? When did we see you ill or in prison, and visit you?'And the king will say to them in reply, 'Amen, I say to you, whatever you did for one of these least brothers of mine, you did for me.' "
This scene follows the "Parable of the Talents" (Matthew 25: 1- 28) wherein another kind of judgment is rendered. This one is a judgment on the contrasting way of life lived between two groups of people, those who believe that what they have is their own and those who understand that all that they "have" has been given - as a gift. These two groups approach their relationship with the goods of this earth (which are all good because the Lord has made them) quite differently. The ones who were praised by the Master know the relationship they have with the Giver. They also know their obligations to bear fruit by living the call to solidarity and stewardship that are inherent in receiving those gifts.
These folks live their lives in gratitude. They look for ways to participate in the ongoing mission of the Lord. They know that He works now, through them. They understand what they truly have and they "invest" it by giving it away to others. Sadly, those who grasp on to the goods of the earth, thinking that they are "their own" and bury them, experience the barrenness of self centeredness and the hollowness of the empty pursuit of "stuff".
The point of this passage is as profound, in some respects, as the Last Judgment scene. It participates in the same mystery. They both address matters of the heart and reveal what can be called the economy of heavenly scale. ""To anyone who has, more will be given, and he will grow rich; from anyone who has not, even what he has will be taken away." (Matthew 25:29)
In my life I have met few folks who have grasped this mystery, or better yet, were grasped by it. I have a long way to go in entering into the implications of it myself. Those who truly love the poor - like Jesus loved the poor- are a gift for the rest of us. They are a sign of the kingdom, making it present in their wake. They are men and women of action. Dorothy Day was a heroic witness and prophetic voice of the 20th century. She grasped this mystery so well. She still calls from the grave with this challenging message. 
She gave herself away, living with the poor, because she embraced her own poverty with honesty. Her brother in that work of solidarity, Peter Maurin, once wrote with such utter simplicity and searing honesty: "We cannot imitate the sacrifice of Christ on Calvary by trying to get all we can. We can only imitate the sacrifice of Christ on Calvary by trying to give all we can".
Another great Christian woman of our age, Chiara Lubich, the foundress of the flourishing ecclesial movement called "Focolare" expressed the heart of this call, "Yes, love makes us be. We exist because we love. If we don't love, and every time we don't love, we are not, we do not exist ("Even what he has will be taken away"). There's nothing left to do but to love, without holding back. Only in this way will God give himself to us and with him will come the fullness of his gifts.
"Let us give concretely to those around us, knowing that by giving to them we are giving to God. Let's give always; let's give a smile, let's offer understanding, and forgiveness. Let's listen, let's share our knowledge, our availability; let's give our time, our talents, our ideas, our work; let's give our experience, our skills; let's share our goods with others so that we don't accumulate things and everything circulates. Our giving opens the hands of God and He, in his providence, fills us with such an abundance that we can give again, and give more, and then receive again, and in this way we can meet the immense needs of many."
I knew a woman who challenged me to the core concerning this truth. She was not an easy person to be around. Prophets rarely are. She went home to the Lord several years ago. She once wrote to me: "In the end, there are two kinds of poor people: those who already know they are poor and those who don't know yet. Here is the crisis: If the latter don't discover this before they leave this planet, they are doomed to be poor forever. What can those of us who already know we are poor do for those who don't know yet? Love them."
The West, with all of its promise of economic freedom, flirts with "economism." This is a phrase used in the social teaching of the Catholic Church to refer to an instrumentalist materialism devoid of any understanding that the market was made for man not man for the market. In this kind of economic order the accumulation of capital can triumph over the flourishing of the person, the family and the common good - and the poor can be forgotten. Perhaps the challenging witness of Dorothy Day will help us to remember.  
---
Copyright 2016 - Distributed by THE CALIFORNIA NETWORK
Pope Francis Prayer Intentions for May 2016
Universal:
Respect for Women: That in every country of the world, women may be honored and respected and that their essential contribution to society may be highly esteemed.
Evangelization:
Holy Rosary: That families, communities, and groups may pray the Holy Rosary for evangelization and peace.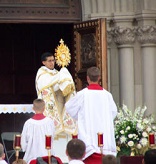 By Deacon Keith Fournier
We have received the Bread of Heaven. Let us choose to become what we consume. These Feasts are not just rituals on a Church calendar. They are invitations to encounter the Lord Jesus Christ, and then offer Him to a world waiting to be born anew. On this Feast of ... continue reading
---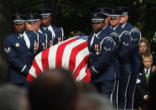 By Deacon Keith Fournier
I live in Chesapeake, a wonderful city in Southeastern Virginia where there are many members of the military. The parish I serve is an example of this. Every day, I witness the many sacrifices which military families make for our Nation. On this Memorial Day, I ... continue reading
---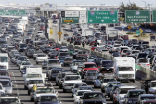 By Marshall Connolly (CALIFORNIA NETWORK)
We have money for perpetual war and can afford generous foreign aid, tax subsidies and cuts for the wealthy, but we cannot find the money to fix a pothole or repair a collapsing bridge. This is the sorry state of affairs U.S. infrastructure is in as we let the nation ... continue reading
---

By Kenya Sinclair (CALIFORNIA NETWORK)
Protesters at Republican presidential candidate Donald Trump's New Mexico rally erupted in violent acts including the attempted stoning of police, glass bottles thrown at mounted units and their horses, burning shirts and more. LOS ANGELES, CA (Catholic Online) - ... continue reading
---

By Kenya Sinclair (CALIFORNIA NETWORK)
Illegal aliens continue to surge into the United States from the Southwest U.S. border, leading the U.S. Customs and Border Protection (CBP) units to announce record-breaking apprehensions in April, 2016. LOS ANGELES, CA (Catholic Online) - According to the U.S. ... continue reading
---

By Marshall Connolly (CALIFORNIA NETWORK)
The arresting officer in the Freddie Gray case, Edward Nero, has been declared "not guilty" by the judge in his criminal trial. Now, the community waits to see if violence will erupt or if the streets will remain quiet. LOS ANGELES, CA (California Network) - Officer ... continue reading
---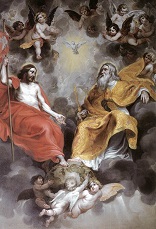 By Deacon Keith Fournier
'The mystery of the Most Holy Trinity is the central mystery of Christian faith and life. It is the mystery of God in himself. It is therefore the source of all the other mysteries of faith, the light that enlightens them. It is the most fundamental and essential ... continue reading
---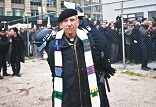 By Fr Frank Pavone
Father Berrigan was a radical figure who sent a total of almost seven years in prison. What many don't realize though is that his activism extended beyond the anti-war movement and into the anti-abortion movement. Believing in what he called a consistent ... continue reading
---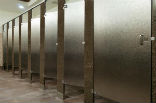 By David Drudge (CALIFORNIA NETWORK)
Under a new law, businesses in New York will be fined if they don't use a person's preferred pronoun when referring to them. This especially becomes a problem when it is understood there are at least 58 possible pronouns with at least five grammatical variations ... continue reading
---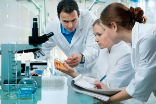 By Marshall Connolly (CALIFORNIA NETWORK)
The Federal Government has discovered the grocery list technology. This unlock apparently occurred recently as the Department of Agriculture sent encouraging, rapid-fire tweets to the public about how to use this remarkable new advancement. LOS ANGELES, CA (California ... continue reading
---
All U.S. News