Medical science has confirmed what our conscience already knew and the Natural Law has long confirmed; the child in the womb is our neighbor
These children are our first neighbors in the first home of the whole human race, their mothers' womb. It is always wrong to kill our neighbors.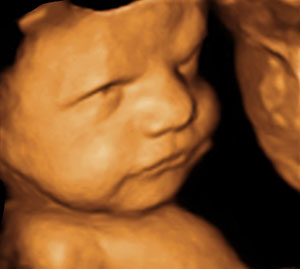 3D/4D Ultrasound
Highlights
Catholic Online (www.catholic.org)
11/10/2012 (3 years ago)
Published in U.S.
Keywords: abolition, slavery, Right to Life, pro-Life, Anti-abortion, abortion rights, 3D Ultrasound, 4D ultrasound, Roe v Wade, Doe v Bolton, Right to Life, slavery, Deacon Keith Fournier
---
WASHINGTON, DC (Catholic Online) - In an article entitled "Symbols Matter! A Campaign That Forever Changed the World"  Eric Teetsel, the Executive Director of the Manhattan Declaration, wrote:

"Josiah Wedgwood was an English potter and entrepreneur who applied his gifts to the promotion of the abolitionist movement. His medallion depicting a slave kneeling in chains asking, "Am I not a man and a brother?" would become the defining image of a campaign that forever changed the world. Benjamin Franklin summed up the significance of the logo in suggesting it was "equal to that of the best written pamphlet."
That symbol spoke more loudly than words and advanced that abolition movement to its desired result, the end of that form of slavery as an institution.
Remember, that form of slavery was legal - and even protected by the United States Supreme Court. Human Persons whose skin pigmentation was darker than those who held the reins of power were treated as property and allowed to be owned, used and discarded.
The proponents of that form of slavery called it a "slavery right" and the Supreme Court of that day said it was legal in their 1857 opinion of Dred Scott v. Stanford. We look back on that opinion in horror, as we should. We insist that the Supreme Court could not make what is always a wrong a right with the stroke of a judicial quill!

Yet, that is precisley what happened in Roe and Doe, in the new slavery of abortion on demand.
Ironically, the Justices in Dred Scott applied a "strict constructionist" approach. They did not approach the evil of slavery as a matter of Natural Law - that it is always and everywhere wrong to enslave human persons.

They did not use Natural Law jurisprudence and recognize the equality of all human persons and their fundamental human rights as an endowment from a Creator which cannot be taken away by any governmental branch. 
We need to wake up! The overturning of the opinions in Roe and Doe, as important as that is - will not end abortion, our current form of slavery. We will simply have another version of "slave states" and "free states" to contend with.

Our struggle on behalf of children in the womb is a new abolition movement and we need to learn from our history.
A similar jurisprudence was at work in Roe v Wade, Doe v Bolton and their progeny as that which undergirded the Dred Scott decision. An entire class of persons, children in the womb, have been relegated to the status of "chattel", personal property, who can now be disposed of by those more powerful.
Since 1973 over 55 million lives, in the United States of America alone, have been taken in procured abortions. The number throughout the world is staggering and can be viewed here.

The shorthand phrase "abortion rights" is the linguistic tool of a media class which is the tool of the proponents of this new form of slavery, abortion on demand. There is no "abortion right".   The true Right is the one denied in every procured abortion, the Right to Life.
These children have no voice except our own. They are killed by chemicals and surgical strikes - all protected by the police power of the State. They have no power to resist this new form of slavery without our help.
Medical science has confirmed what our conscience already knew and the Natural Law has long confirmed; the child in the womb is our neighbor. These children are our first neighbors in the first home of the whole human race, their mothers' womb. It is always wrong to kill our neighbors.
Our 3D and 4D sonogram technology has made it possible to take baby´s first picture and send it as a birth announcement or place it on a Face Book or My Space page or send it through our Social Networks.
We marvel at the image of those little babies at the early stages of what is a lifetime of development for every human being. However, we then use that same technology to direct the weapons of warfare which will dismember them in the womb and kill them. We do not want to see those pictures.
With the introduction of "baby's first picture" we watch these children smile, play, feel pain and grow. These 3 and 4d images are becoming more and more prevalent throughout the social media. They are regularly showing up on television commercials.
We surgically operate on these first neighbors in the womb. We then put them back in their home and allow them to continue to grow so they can be healthier upon their birth. We know they are members of our human family.
It becomes harder to deny that the child in the womb is our neighbor. The Orwellian Newspeak of "Choice" is growing stale and tired. The wind is out of its sails. Some choices are always and everywhere wrong, and the taking of innocent human life in at the top of the list.
All of these advances have "humanized" the child to an increasing number of people who once bought the lie of those who promoted abortion as "choice". Whether a child is "wanted" has become the sole criterion for whether he or she has a right to life.
Decent people are beginning to recognize this and indecent people are having a hard time defending their choice to kill our youngest neighbor.
As I use this expression "first neighbors" in my pro-life work people inevitably ask the questions that open the door to my being able to explain this truth. However, I have concluded, after studying the profound effect of Josiah Wedgwood's medallion,that  we need our own symbol in our new abolition movement.
I have asked a friend to design such a new symbol, using the beautiful 4D image of one of our neighbors in the womb surrounded with these words "Am I Not Your Neighbor". I will keep you all up to date on the progress. I will use a non-profit organization I began years ago to facilitate the distribution of this new symbol and medallion.
Symbols speak more loudly than words. We are part of a new abolition movement and this "Am I Not Your Neighbor" effort may help us our struggle to prevail in ending the new slavery of abortion on demand. 

---
Copyright 2016 - Distributed by THE CALIFORNIA NETWORK
Pope Francis Prayer Intentions for May 2016
Universal:
Respect for Women: That in every country of the world, women may be honored and respected and that their essential contribution to society may be highly esteemed.
Evangelization:
Holy Rosary: That families, communities, and groups may pray the Holy Rosary for evangelization and peace.

By Kenya Sinclair (CALIFORNIA NETWORK)
Illegal aliens continue to surge into the United States from the Southwest U.S. border, leading the U.S. Customs and Border Protection (CBP) units to announce record-breaking apprehensions in April, 2016. LOS ANGELES, CA (Catholic Online) - According to the U.S. ... continue reading
---

By Marshall Connolly (CALIFORNIA NETWORK)
The arresting officer in the Freddie Gray case, Edward Nero, has been declared "not guilty" by the judge in his criminal trial. Now, the community waits to see if violence will erupt or if the streets will remain quiet. LOS ANGELES, CA (California Network) - Officer ... continue reading
---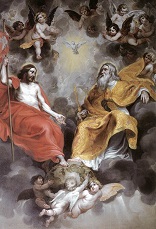 By Deacon Keith Fournier
'The mystery of the Most Holy Trinity is the central mystery of Christian faith and life. It is the mystery of God in himself. It is therefore the source of all the other mysteries of faith, the light that enlightens them. It is the most fundamental and essential ... continue reading
---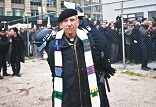 By Fr Frank Pavone
Father Berrigan was a radical figure who sent a total of almost seven years in prison. What many don't realize though is that his activism extended beyond the anti-war movement and into the anti-abortion movement. Believing in what he called a consistent ... continue reading
---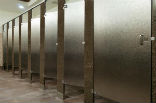 By David Drudge (CALIFORNIA NETWORK)
Under a new law, businesses in New York will be fined if they don't use a person's preferred pronoun when referring to them. This especially becomes a problem when it is understood there are at least 58 possible pronouns with at least five grammatical variations ... continue reading
---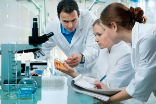 By Marshall Connolly (CALIFORNIA NETWORK)
The Federal Government has discovered the grocery list technology. This unlock apparently occurred recently as the Department of Agriculture sent encouraging, rapid-fire tweets to the public about how to use this remarkable new advancement. LOS ANGELES, CA (California ... continue reading
---

By David Drudge (CALIFORNIA NETWORK)
Texas is taking another step to becoming an independent Republic by recalling its gold and other precious metals home. A private company is planning to construct a bullion depository south of Houston, creating a virtual Ft. Knox for the state. LOS ANGELES, CA ... continue reading
---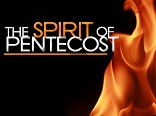 By Deacon Keith Fournier
I am one of countless thousands upon thousands whose life was profoundly changed by an experience, an encounter, with the Holy Spirit decades ago. I am old enough to remember when we who had this encounter were sometimes called Pentecostal Catholics. That ... continue reading
---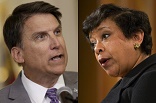 By Deacon Keith Fournier
If you rely on the main stream media for your news reports, you will not hear the truth of what is really happening in North Carolina. Much of the media uses Orwellian newspeak in its reports and has degenerated into a propaganda wing of the current ... continue reading
---

By Kenya Sinclair (CALIFORNIA NETWORK)
Texas has been thinking about seceding from the United States for quite a while. Now, after a Wednesday meeting of the Platform Committee of the Texas Republican Party, a Texas independence resolution will be up for vote during this week's GOP convention. LOS ANGELES, ... continue reading
---
All U.S. News