On this Fourth of July I reaffirm that we still hold those truths as Americans - because they hold us and will secure our future! Will you join me?
The Declaration was the birth certificate of the United States of America. The principles have informed our history and inspired our neighbors in other parts of the world to stand up against all forms of tyranny. We should remember that our forebears were not declaring their independence from Divine Providence. Rather, they were trusting in the Governance of God.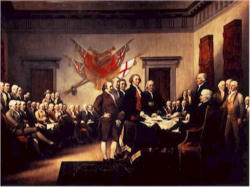 Highlights
Catholic Online (www.catholic.org)
7/5/2012 (3 years ago)
Published in U.S.
Keywords: Fourth of July, Independence Day, Declaration of Independence, Freedom, right to life, liberty, pursuit of happiness, pope benedict XVI, Founders, relativism, Deacon Keith Fournier
---
WASHINGTON, DC (Catholic Online) - On the 4th of July people will gather all over the United States of America to celebrate Independence Day. Fireworks will light up the sky in celebration of our liberty. Families and friends will remember those who gave their lives so that the promises set forth in that Declaration of Independence could inform our life together as a free people. The words of that Declaration proclaimed:

"We hold these truths to be self-evident, that all men are created equal, that they are endowed by their Creator with certain unalienable Rights - that among these are Life, Liberty and the pursuit of Happiness. That to secure these rights, Governments are instituted among Men." The Declaration was the birth certificate of the United States of America. The words are still memorized by at least some of our schoolchildren. They can bring a tear to the oldest American eye with little effort.
The principles of that Declaration have informed our history and inspired our neighbors in other parts of the world to stand up against all forms of tyranny. As we reflect upon the text we should remember that our forebears were not declaring their independence from Divine Providence. Rather, they were trusting in the Governance of God over their noble undertaking in forging a new Nation which Lincoln would proclaim years later was "conceived in liberty".
They sought independence from a monarchy which had become tyrannical precisely because it had forgotten the implications of the primacy of Divine Providence. The principles set forth in that Declaration were a rallying cry which called forth extraordinary sacrifice. They were rooted in something greater than political expediency. Those heroic men, women and children who sacrificed to birth this nation believed there were truths - objective truths- to be held. Those truths are self evident. They include the existence of unalienable rights given to all men and women by a Creator. Those truths and rights can be discerned by all men and women because they are revealed by the Natural Law written on all human hearts. It is a participation in God's law.
Of the 56 men who signed the Declaration, Charles Carroll of Carrolton, cousin of the Archbishop John Carroll of Baltimore, was the only Catholic signer. At the time of his signing it was illegal for Catholics to hold public office or to vote in Maryland. Yet, he still pledged with all of the signatories: "And for the support of this Declaration, with a firm reliance on the protection of Divine Providence, we mutually pledge to each other our Lives, our Fortunes, and our sacred Honor." He knew the importance of the vision of freedom, rights and liberty which that Declaration proclaimed in those three profoundly simple but supremely powerful words: "We Hold These Truths."
What is clear is that competing visions of the human person, human dignity, human rights, marriage, family and human freedom are threatening our National future. Some counterfeits of liberty are now being imposed upon us; through the very institutions formed to protect the American experiment. The preeminent Right to Life affirmed in that Declaration is undermined by the positive/civil law of the Nation which the Declaration helped to birth. How can a Nation which has enshrined the killing of innocent children in the womb in its law claim that that it still recognizes the unalienable right to life?
The child in the womb is our first neighbor. Certainly all of the American founders would have agreed it is wrong to kill an innocent neighbor. How can we read Jefferson's words, "God who gave us life gave us liberty" and not see the evil of a jurisprudence which puts the police power of the Federal Government behind the intentional taking of her/his life? What makes it even more profane is that the ground for such a violation of fundamental human rights comes from a Supreme Court opinion which manufactured out of whole cloth an alleged "right" to commit such a heinous crime within a so called "liberty interest" of the U.S. Constitution. The entire infrastructure of human rights and freedoms is at risk. Life is the first right and first human good. Without Life there can be no other rights because only human persons can receive them.
At the root of the American founder's vision of a "good" society was the affirmation of a common morality upon which this virtuous and free society could be built. It alone could help to secure a truly free society which allowed all to pursue happiness. The classical vision of happiness included within it an obligation to live a moral life. It was understood that human persons flourish when they live virtuously. While the American founders embraced a properly understood freedom of religion, they did not ascribe to an enforced secularism, a freedom FROM religion, where the influence of religious principles and the leavening role of religious institutions were viewed as some kind of threat to liberty.
Yet, look at the challenge we face today with a growing hostility toward faith and faith based institutions. The HHS mandate attached to the implementation of the Affordable Care Act seeks to compel believers to violate their conscience. It will sanction the Church for being faithful to her deeply held religious convictions. It threatens to exclude our very participation in society. No matter how diverse the American founders were in their religious convictions they all affirmed the truths that Declaration proclaimed and recognized that the unalienable rights which flowed from them were given not by civil government but endowed by the Creator. The implication is obvious; they could not be taken away by civil government either.
If we had the ear of the founders today, would anyone argue they would have viewed marriage and the family founded upon it as expendable, capable of being redefined by judicial fiat or a feat of legislative alchemy? The two parent, man/woman, marriage bound family was viewed as the first government, first school, first economy, first church, and first mediating institution. Yet, we currently face the ominous cloud of a libertine counterfeit of marriage and family being forced upon us by Cultural Revolutionaries. If it becomes a part of the positive law, it will be backed up by the police power of the State.   
On April 18, 2005, Joseph Cardinal Ratzinger presided over Mass in St. Peter's square. The entire world was mourning the death of Blessed John Paul II and the conclave was gathering to discern who would succeed him in the Chair of Peter. In a stirring homily he asked a probing question and shared a prophetic insight: "How many winds of doctrine have we known in recent decades, how many ideological currents, how many ways of thinking? The small boat of the thought of many Christians has often been tossed about by these waves - flung from one extreme to another: from Marxism to liberalism, even to libertinism; from collectivism to radical individualism; from atheism to a vague religious mysticism; from agnosticism to syncretism and so forth. Every day new sects spring up, and what St Paul says about human deception and the trickery that strives to entice people into error (cf. Eph 4:14) comes true.
"Today, having a clear faith based on the Creed of the Church is often labeled as fundamentalism. Whereas relativism, that is, letting oneself be "tossed here and there, carried about by every wind of doctrine", seems the only attitude that can cope with modern times. We are building a dictatorship of relativism that does not recognize anything as definitive and whose ultimate goal consists solely of one's own ego and desires.
"We, however, have a different goal: the Son of God, the true man. He is the measure of true humanism. An "adult" faith is not a faith that follows the trends of fashion and the latest novelty; a mature adult faith is deeply rooted in friendship with Christ. It is this friendship that opens us up to all that is good and gives us a criterion by which to distinguish the true from the false, and deceit from truth. We must develop this adult faith; we must guide the flock of Christ to this faith. And it is this faith - only faith - that creates unity and is fulfilled in love." The next day, Joseph Cardinal Ratzinger took the name Pope Benedict XVI. 
As American Catholics we are experiencing the effects of the "dictatorship of relativism" which Cardinal Ratzinger (now Pope Benedict XVI) spoke of. We must now live the kind of adult faith of which he also spoke. Not only for ourselves but for this Nation we love.  Blessed John Paul II wrote in his letter the "Gospel of Life" in 1995 of a "remarkable contradiction" unleashed in our age, precisely at the "level of politics and government". He warned of the emergence of a "tyrant State" and the "death of true freedom":
"The process which once led to discovering the idea of "human rights"- rights inherent in every person and prior to any Constitution and State legislation - is today marked by a surprising contradiction. Precisely in an age when the inviolable rights of the person are solemnly proclaimed and the value of life is publicly affirmed, the very right to life is being denied or trampled upon, especially at the more significant moments of existence: the moment of birth and the moment of death. The original and inalienable right to life is questioned or denied on the basis of a parliamentary vote or the will of one part of the people-even if it is the majority."
"This is the sinister result of a relativism which reigns unopposed: the "right" ceases to be such, because it is no longer firmly founded on the inviolable dignity of the person, but is made subject to the will of the stronger part. In this way democracy, contradicting its own principles, effectively moves towards a form of totalitarianism. The State is no longer the "common home" where all can live together on the basis of principles of fundamental equality, but is transformed into a tyrant State, which arrogates to itself the right to dispose of the life of the weakest and most defenseless members, from the unborn child to the elderly, in the name of a public interest which is really nothing but the interest of one part".
"The appearance of the strictest respect for legality is maintained, at least when the laws permitting abortion and euthanasia are the result of a ballot in accordance with what are generally seen as the rules of democracy. Really, what we have here is only the tragic caricature of legality; the democratic ideal, which is only truly such when it acknowledges and safeguards the dignity of every human person, is betrayed in its very foundations: How is it still possible to speak of the dignity of every human person when the killing of the weakest and most innocent is permitted?
"In the name of what justice is the most unjust of discriminations practiced: some individuals are held to be deserving of defense and others are denied that dignity? When this happens, the process leading to the breakdown of a genuinely human co-existence and the disintegration of the State itself has already begun. To claim the right to abortion, infanticide and euthanasia, and to recognize that right in law, means to attribute to human freedom a perverse and evil significance: that of an absolute power over others and against others. This is the death of true freedom: "Truly, truly, I say to you, everyone who commits sin is a slave to sin" (Jn 8:34)."
On this Fourth of July I reaffirm that we still hold those truths as Americans - because they hold us and will secure our future! Will you join me?
---
Copyright 2016 - Distributed by THE CALIFORNIA NETWORK
Pope Francis Prayer Intentions for May 2016
Universal:
Respect for Women: That in every country of the world, women may be honored and respected and that their essential contribution to society may be highly esteemed.
Evangelization:
Holy Rosary: That families, communities, and groups may pray the Holy Rosary for evangelization and peace.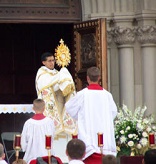 By Deacon Keith Fournier
We have received the Bread of Heaven. Let us choose to become what we consume. These Feasts are not just rituals on a Church calendar. They are invitations to encounter the Lord Jesus Christ, and then offer Him to a world waiting to be born anew. On this Feast of ... continue reading
---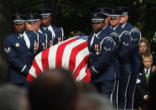 By Deacon Keith Fournier
I live in Chesapeake, a wonderful city in Southeastern Virginia where there are many members of the military. The parish I serve is an example of this. Every day, I witness the many sacrifices which military families make for our Nation. On this Memorial Day, I ... continue reading
---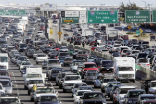 By Marshall Connolly (CALIFORNIA NETWORK)
We have money for perpetual war and can afford generous foreign aid, tax subsidies and cuts for the wealthy, but we cannot find the money to fix a pothole or repair a collapsing bridge. This is the sorry state of affairs U.S. infrastructure is in as we let the nation ... continue reading
---

By Kenya Sinclair (CALIFORNIA NETWORK)
Protesters at Republican presidential candidate Donald Trump's New Mexico rally erupted in violent acts including the attempted stoning of police, glass bottles thrown at mounted units and their horses, burning shirts and more. LOS ANGELES, CA (Catholic Online) - ... continue reading
---

By Kenya Sinclair (CALIFORNIA NETWORK)
Illegal aliens continue to surge into the United States from the Southwest U.S. border, leading the U.S. Customs and Border Protection (CBP) units to announce record-breaking apprehensions in April, 2016. LOS ANGELES, CA (Catholic Online) - According to the U.S. ... continue reading
---

By Marshall Connolly (CALIFORNIA NETWORK)
The arresting officer in the Freddie Gray case, Edward Nero, has been declared "not guilty" by the judge in his criminal trial. Now, the community waits to see if violence will erupt or if the streets will remain quiet. LOS ANGELES, CA (California Network) - Officer ... continue reading
---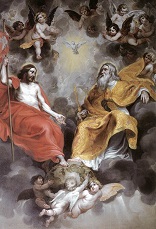 By Deacon Keith Fournier
'The mystery of the Most Holy Trinity is the central mystery of Christian faith and life. It is the mystery of God in himself. It is therefore the source of all the other mysteries of faith, the light that enlightens them. It is the most fundamental and essential ... continue reading
---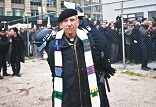 By Fr Frank Pavone
Father Berrigan was a radical figure who sent a total of almost seven years in prison. What many don't realize though is that his activism extended beyond the anti-war movement and into the anti-abortion movement. Believing in what he called a consistent ... continue reading
---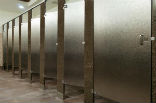 By David Drudge (CALIFORNIA NETWORK)
Under a new law, businesses in New York will be fined if they don't use a person's preferred pronoun when referring to them. This especially becomes a problem when it is understood there are at least 58 possible pronouns with at least five grammatical variations ... continue reading
---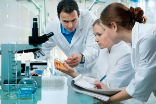 By Marshall Connolly (CALIFORNIA NETWORK)
The Federal Government has discovered the grocery list technology. This unlock apparently occurred recently as the Department of Agriculture sent encouraging, rapid-fire tweets to the public about how to use this remarkable new advancement. LOS ANGELES, CA (California ... continue reading
---
All U.S. News