Max Mclean's commitment to excellence as an actor inspired me
Max McLean told me he was convinced that this CS Lewis masterpiece was "so brilliant and so consistent" in presenting a "morally inverted universe"  that he knew it had to performed onstage. He was also convinced that the character Lewis created, Screwtape, was one of the great literary creations of the twentieth century. He knew that if they "could find this character theatrically it would be something wonderful." The play comes to the Wells Theatre in Norfolk, Virginia on May 1, 2012.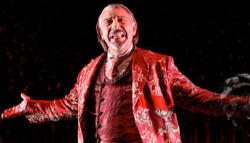 Max McLean as Screwtape
NORFOLK,VA. (Catholic Online) - I was  a teenager when I first read "The Screwtape Letters" by C.S. Lewis. Lost in the fog of "hippiedom" and searching for deeper meaning in my life, I decided to hitchhike across the country in an ongoing quest for truth. 
The summer before I embarked on that life changing pilgrimage, I moved into a rental house on Newburyport, Plum Island, Massachusetts. The house was owned by a friend's father who was a College Professor. When he decided to take a summer sabbatical in Europe, he allowed his son to rent the home for the summer and choose two friends to occupy it with him. I was one of those friends.
We drew straws to determine who got which of the three bedrooms. I ended up with the College professor's room, complete with a library filled with books by C.S. Lewis, G.K. Chesterton and George McDonald. Decades later, I look back and believe that those straws were not accidentally arranged. That became my summer of C.S. Lewis. It also laid the groundwork for my later return home to the faith and the Church of my childhood.
First, I read his novel, "Till We Have Faces". Then I read, "The Chronicles of Narnia" followed by the "science fiction" trilogy - "Out of the Silent Planet", "Peralandra" and "That Hideous Strength". Next, I read his classic apologetic books, "Mere Christianity" and "The Great Divorce". Finally, I read "The Screwtape Letters". I found that last little book of letters between a demon/instructor and his nephew/student both amusing and challenging. Its depiction of evil as personal, strategic and adversarial had been my own experience, even in my youth.
The book was first published in 1942. I remember being drawn to it because it was dedicated to J.R.R. Tolkien, whose works of fantasy had already captured my fertile imagination. I was intrigued by Lewis' insight in the Preface, "There are two equal and opposite errors into which our race can fall about devils. One is to disbelieve in their existence. The other is to believe and to feel an excessive and unhealthy interest in them. They themselves are equally pleased by both errors and hail a materialist or a magician with the same delight".
Four decades later, I am once again captured by the brilliance of this series of letters between two demons. Only the "me" reading the book is closing in on 60 years old. The letters have been revealed as a masterful work on the moral life. As a PhD student in Moral theology currently writing my dissertation, I now see this treasure with older eyes, deeply set in the wrinkles earned by the vicissitudes of life. I have also acquired reading lenses which help me see more clearly in so many ways. Age is the best tutor. 
The book peels back the layers of life, revealing the reality of the unseen or spiritual world. It exposes a morally upside down universe where the Evil One, the "Father Below",  and his minions, strategically seek out the fissures in our fractured freedom in order to lead us into the slavery of Hell. That Hell, which is separation from the God who is Love, is aptly called in the book, the "kingdom of noise". It is devoid of all that is beautiful and good and true.
The road to separation from Love follows along the path of our wrongful exercise of human freedom. The correspondence between these two demons exposes both the meaning and the means of the Moral life. Our choices not only change the world around us, they change us. We become what we choose. Because our capacity to choose the good has been fractured by sin, our choices have become a field of battle.
On that field, temptations raise their weapons against us, seeking out our most vulnerable areas. It is there where demons find their open door, piggybacking on our pride and self love in its myriad of disguises, riding high on our disordered appetites. It is also there where lies lure us into the darkness where the "father below" works his evil and corrupting ways. 
The letters between Screwtape, the older demon, contain allegedly "affectionate" instructions to his nephew/student "Wormwood". They are intended, or so it seems, to assist the student in tempting an unnamed man, a sort of "everyperson", who is  called the "patient", away from the path of faith, love and virtue. However, there is no true affection in these letters, in spite of their ending salutations. That is because there is no love in Hell.
The letters reveal the nature of all counterfeit "affection" as the relationship between student and teacher devolves into denigration, manipulation and abuse. The affection of Screwtape is in reality the cover for a relationship of use with the ultimate aim of consuming Wormwood in its hungry malice.  
The book can be read on many levels, unfolding its teaching like layers of an onion. Forty years after I first read it in Newburyport, Massachusetts, it is opening up my universe once again. It has made me revisit the admonition from the Apostle Paul to the Christians in Ephesus,
"For we are not contending against flesh and blood, but against the principalities, against the powers, against the world rulers of this present darkness, against the spiritual hosts of wickedness in the heavenly places." (Eph 6:12). Evil is not only real, it is deceptive and opportunistic. It does not retreat unless it is exposed and opposed.
I returned to this C.S. Lewis masterpiece during the forty days of Lent this year. One of my daughters, Maryellen, works for the Virginia Arts festival, a non-profit in Norfolk, Virginia. Their mission "is to bring world-class performing arts to our citizens and visitors, impact the lives of students through outstanding educational programs, commission new works of national and international significance, and make a tangible difference in Hampton Roads through regional partnerships and positive economic impact through the generation of cultural tourism."
My daughter Maryellen knew of my love for CS Lewis and thought I would be interested to know that the Virginia Arts festival was co-sponsoring the critically acclaimed stage adaptation of the Screwtape Letters between May 1 and May 6, 2012. She was correct. My wife and I will attend on opening night. I will  bring our readers a review. She also thought I would be interested in interviewing the Award winning Actor Max McLean who plays Screwtape in the theatrical production.  She was correct again.
Along with Jeff Fiske, Max McLean is responsible for adapting this book for the Stage. The two work together in the "Fellowship for the Performing Arts". Max plays Screwtape. Max told me that a Theatre professor from Drew University once told him in a letter that he would "make a good Screwtape."

Max had read Lewis' book when he was in his twenties and it had a profound effect on him. He was intrigued by the Professors comment, wondering what he saw in him which made him make that assessment. It also helped lead him to a decision, to recast the book for the theatre. However, he had a hard time seeing how it could be translated from the page to the stage. 
In 2006, Max obtained the rights from the Lewis estate to do a developmental production. He acknowledges that his first effort had problems "both theatrically and dramaturgically". However, that attempt, and the interest it generated, sent these artists back to the writing table.
Max told me he was convinced that this CS Lewis masterpiece was "so brilliant and so consistent" in presenting a "morally inverted universe"  that he knew it had to performed onstage.  He was also convinced that the character Lewis created, Screwtape, was one of the great literary creations of the twentieth century. He knew that if they "could find this character theatrically it would be something wonderful."
Max McLean and I had a delightful discussion. It is clear in speaking with him that he is a true artist. He is an evangelical Christian. However, he knows the absolute necessity of pursuing excellence in all things. He told me that the play is an "entertaining, provocative and stimulating experience" intended not just for Christians, but for all men and women. Clearly his art is intended to cast a wide net, and properly so.
Max wants the excellence of the production to be paramount because, in his words, "that's where the magic of theatre begins". He emphasized his conviction that Christians involved in the arts set the "entertainment bar high". As for this production he added "once we are there, we are able to just let Lewis speak his profound message."
His commitment to excellence as an actor inspired me. It also reminded me of Blessed John Paul II's wonderful 1999 "Letter to Artists".  John Paul II was an actor, a playwright, a poet and an artist. He understood and wrote of the connection between beauty and the Christian vocation to manifest the presence of the living God in the world which He still loves. I told Max that in that "Letter to Artists" John Paul II wrote of the invitation given by the Lord, the Divine Artist, to all artists to create "epiphanies of beauty." He had heard of the letter but had not yet read it.
John Paul II encouraged the flourishing of all the arts in a great renewal of humanity for our age. Rather than withdraw from the arts, he encouraged Christian artists to lead the way to their renewal and recovery. He addressed that letter "To all who are passionately dedicated to the search for new "epiphanies" of beauty so that through their creative work as artists they may offer these gifts to the world." After we ended our conversation, I sent Max a copy of the "Letter to Artists".
In a brief time on the phone I met a gifted man, a Christian, who is living the vocation of an artist. He seeks to live his faith in the midst of the world by honing his gifts to excellence in order to give them away to others. I will revisit our conversation in my next article, after viewing the play. I can't wait for the curtain to rise on the Wells Theatre stage in Norfolk, Virginia. I will be back to our readers with a review. Stay tuned.
---
Copyright 2016 - Distributed by THE CALIFORNIA NETWORK
Pope Francis Prayer Intentions for May 2016
Universal:
Respect for Women: That in every country of the world, women may be honored and respected and that their essential contribution to society may be highly esteemed.
Evangelization:
Holy Rosary: That families, communities, and groups may pray the Holy Rosary for evangelization and peace.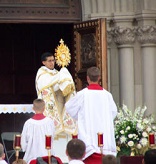 By Deacon Keith Fournier
We have received the Bread of Heaven. Let us choose to become what we consume. These Feasts are not just rituals on a Church calendar. They are invitations to encounter the Lord Jesus Christ, and then offer Him to a world waiting to be born anew. On this Feast of ... continue reading
---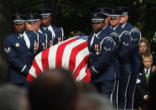 By Deacon Keith Fournier
I live in Chesapeake, a wonderful city in Southeastern Virginia where there are many members of the military. The parish I serve is an example of this. Every day, I witness the many sacrifices which military families make for our Nation. On this Memorial Day, I ... continue reading
---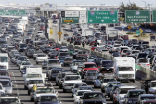 By Marshall Connolly (CALIFORNIA NETWORK)
We have money for perpetual war and can afford generous foreign aid, tax subsidies and cuts for the wealthy, but we cannot find the money to fix a pothole or repair a collapsing bridge. This is the sorry state of affairs U.S. infrastructure is in as we let the nation ... continue reading
---

By Kenya Sinclair (CALIFORNIA NETWORK)
Protesters at Republican presidential candidate Donald Trump's New Mexico rally erupted in violent acts including the attempted stoning of police, glass bottles thrown at mounted units and their horses, burning shirts and more. LOS ANGELES, CA (Catholic Online) - ... continue reading
---

By Kenya Sinclair (CALIFORNIA NETWORK)
Illegal aliens continue to surge into the United States from the Southwest U.S. border, leading the U.S. Customs and Border Protection (CBP) units to announce record-breaking apprehensions in April, 2016. LOS ANGELES, CA (Catholic Online) - According to the U.S. ... continue reading
---

By Marshall Connolly (CALIFORNIA NETWORK)
The arresting officer in the Freddie Gray case, Edward Nero, has been declared "not guilty" by the judge in his criminal trial. Now, the community waits to see if violence will erupt or if the streets will remain quiet. LOS ANGELES, CA (California Network) - Officer ... continue reading
---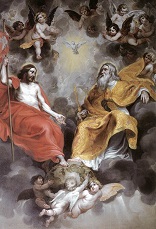 By Deacon Keith Fournier
'The mystery of the Most Holy Trinity is the central mystery of Christian faith and life. It is the mystery of God in himself. It is therefore the source of all the other mysteries of faith, the light that enlightens them. It is the most fundamental and essential ... continue reading
---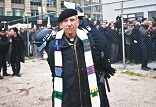 By Fr Frank Pavone
Father Berrigan was a radical figure who sent a total of almost seven years in prison. What many don't realize though is that his activism extended beyond the anti-war movement and into the anti-abortion movement. Believing in what he called a consistent ... continue reading
---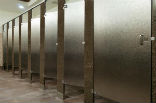 By David Drudge (CALIFORNIA NETWORK)
Under a new law, businesses in New York will be fined if they don't use a person's preferred pronoun when referring to them. This especially becomes a problem when it is understood there are at least 58 possible pronouns with at least five grammatical variations ... continue reading
---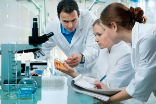 By Marshall Connolly (CALIFORNIA NETWORK)
The Federal Government has discovered the grocery list technology. This unlock apparently occurred recently as the Department of Agriculture sent encouraging, rapid-fire tweets to the public about how to use this remarkable new advancement. LOS ANGELES, CA (California ... continue reading
---
All U.S. News