Here is a tremendous resource for addressing our Religious Liberty at risk
"I read this book from cover to cover, in one sitting, in awe of what God was up to in these pages. INDIVISIBLE builds a sure bridge of faith and reason over which our country can walk, from our present state of confusion and peril into a new era of peace and prosperity. My friends James Robison and Jay Richards have given the Christian community--indeed, all of us--an invaluable tool for hope." (Father Jonathan Morris, Fox News Analyst and Author of God Wants You Happy)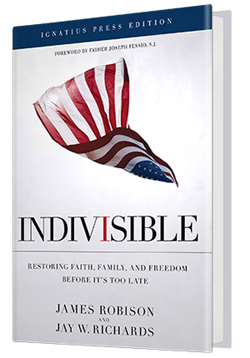 WASHINGTON, DC (Catholic Online) - A Catholic theologian and an Evangelical Protestant evangelist have teamed up to write one of the most compelling books in recent years, Indivisible: Restoring Faith, Family and Freedom Before It's Too Late.  If you want a primer that explains the significant issues we face at this moment in time from a Christian perspective in a clear and concise manner, here it is!

Dr. Jay Richards of the Discovery Institute and James Robison, founder and president of LIFE Outreach International, have done a powerful job putting the plight of religious liberty in the spotlight and then dissecting the various areas where religion, in general, and Christians, in particular, are under attack. They also take many of the issues we face and unpack them in a way that makes the information, evidence and examples understandable to the average person on the street.

The book is divided into three sections. The first is a basic primer on social issues, religious freedom and natural law. In this section, Robison also explains the roots of what was later termed "the religious right" in the early 70's.

The section really calls Christians to become involved in the contemporary initiative of unified action, what evangelical theologian Timothy George calls "ecumenism in the trenches." While there are differences, as they authors say, "we share core beliefs and moral principles and we worship one God."

The second part of the book deals with the key issues facing American Christians today, including: Separation of Church and State, war, big government, life, marriage, family, culture, global warming, foreign policy, etc. The authors offer straightforward explanations of these topics that are well documented along with analyses of trends and forecasts on where these things are taking us.

For me, the most important chapter in the section was Culture Matters. The chapter talks about the importance of culture but also discusses how culture is influenced. For anyone involved as a Christian voice in today's world, this chapter has some important observations to consider.

The final section - the Conclusion - introduces 10 "First Principles" of Faith, Family and Freedom that need to be embraced and included in any discussion of culture. The hope at the end of the thirds section is that, by embracing these principles as we move forward, we will be able to restore our culture rather than have to rebuild it.

In order to bring this volume to the public, two versions were published: a Catholic version by Ignatius Press and a Protestant version by FaithWords.

I had a chance to speak with Dr. Richards during their recent bus tour for the book while they were in Amarillo, Texas. He is a Senior Fellow at the Discovery Institute in Seattle, WA, which describes itself as "a inter-disciplinary community of scholars and policy advocates dedicated to the re-invigoration of traditional Western principles and institutions and the worldview from which they issued."

His academic work in theology and philosophy culminated in a Ph.D. (with honors) from Princeton Theological Seminary. His books include the God & Evolution: Protestants, Catholics and Jews Explore Darwin's Challenge to Faith. He also wrote Money, Greed, and God: Why Capitalism Is the Solution and Not the Problem.

His work has been covered in publications such as The New York Times, The Washington Post (news and editorial), and the Wall Street Journal. He has appeared on many national radio and TV programs, including Larry King Live; and has lectured worldwide including to members of the US Congress

The seeds of Indivisible began a few years ago when James Robison startd feeling that he needed to work on a book that would speak to the country and was praying about someone with whom he could collaborate. A friend of his, Pastor Jim Garlow of Skyline Wesleyan Church in San Diego, CA had sent the book, Money, Greed and God to Robison and recommended that he contact Dr. Jay Richards.

When the two met, they realized that both had a similar burden to write something that would call Christians to unified action.

"The more we talked," Richards said, "the more we realized we had a similar vision and it didn't occur to us until later that we were exemplifying in writing this book together what we were calling on Christians to do which is to learn to work together around this fundamental set of principles that we feel have important public consequences, all of which thoughtful Evangelicals and Orthodox Catholics hold in common. We're convinced that if we're to restore the culture it's going to require a lot of folks learning to work together."

They met in the summer of 2010 and decided to set up meetings on the potential project, which included leaders from the Evangelical, Charismatic and Catholic worlds.

"We were really trying to discern if this was a good idea and if other people were getting a similar feeling that we were entering a very dangerous moment in our culture."

One of the best qualities of the book is its readability. The authors have worked hard to keep their content both clear and concise with a goal to give the average Christian a good introduction to the issues we currently face.

"We didn't want to be so slap-dash that an academic would be put off, but that is the person we had in mind," Richards offered. " The person that is concerned, that is willing to read a book on the subject, and that does not have nearly enough time to really get the specialized knowledge of these things. And we wanted to have a kind of 'one stop shopping'."

In citing religious leaders in the book, the authors do a great job integrating voices, both Protestant and Catholic. According to Richards, "I'm hoping that one of the functions of the book will be to break down false stereotypes and perceptions."
 
The book was written over an eight month period with one author living in the Dallas-Fort Worth area and the other in Seattle. The date of publication was set by the publishers to coincide with the election year but no one had any idea that the book would come out just as the key issues of religious liberty came under such a fierce attack.

My only disappointment with the book, which was actually quite minor, was the lack of an action plan at the end for those who, after reading the book, are ready to do something. I asked Dr. Richards about this.

"We sort of struggled with how much practical guidance do we give," he replied. "Honestly, the main thrust of the book is to help people first think through these things and then to articulate them in the public square. At the very least, he ought to start articulating these things to the people he is with. I mean, it shouldn't matter if some can only influence three people, some can influence three thousand.

"But what we're hoping is going to happen. there are several things in the works now around the book, including some day-long conferences in several cities to bring people together - to bring pastors and priests and business leaders together around this common set of themes."

So, it looks like this book may become one force joining with others to bring about a groundswell of "ecumenism in the trenches" so badly needed for this moment in history.

I encourage every concerned Christian, Catholic and Protestant, to buy this book and then buy copies for your friends. Here is a tool for such a time as this.

-----

Here are just a few endorsements of this book by a number of religious and civic leaders.

"INDIVISIBLE can change forever how you see the world. Grasp the wisdom shared in this book, and the scripture 'My people perish for lack of knowledge' will no longer apply. This can prove to be the much-needed game changer for America." (Gov. Mike Huckabee)

"INDIVISIBLE can be a turning point in the moral, cultural, and economic decline of the United States-if its readers make it so. The authors-a leading Evangelical and a prominent Catholic-fairly and thoroughly lay out the fundamental principles without which family, freedom, and prosperity will virtually disappear in this country. If men and women of good will, aware of the historic challenges we face, cannot unite behind these principles-indivisibly social, moral, and economic-and elect leaders who will implement them, future generations will only know of the greatness of this nation as the fading story of a lost treasure." (Father Joseph Fessio, S.J., Founder and Editor, Ignatius Press)

"I read this book from cover to cover, in one sitting, in awe of what God was up to in these pages. INDIVISIBLE builds a sure bridge of faith and reason over which our country can walk, from our present state of confusion and peril into a new era of peace and prosperity. My friends James Robison and Jay Richards have given the Christian community--indeed, all of us--an invaluable tool for hope." (Father Jonathan Morris, Fox News Analyst and Author of God Wants You Happy)

"Finally, someone has provided the road map for how America gets through the difficulties we are currently experiencing. With their book INDIVISIBLE, James Robison and Jay Richards review American history in great depth, as a prelude to outlining the process for recapturing American Exceptionalism. This book is a critical read for every concerned American and a blueprint for the Christian church. I am encouraged by the unity of effort between these two men of different theologies who put aside their differences in order to help save the nation. Great job, guys!" (LTG(R) Jerry Boykin, Former Deputy Undersecretary of Defense for Intelligence and founding member of the US Army's Delta Force)

"We cannot have a strong national defense without a strong economy. We cannot have a strong economy without a healthy culture and vibrant, in-tact families. These assertions are demonstrable; a blizzard of research proves them. In their moving new book, INDIVISIBLE, James Robison and Jay Richards make a compelling case that Christians must continue working - with grace, humility, diligence and determination - to advance the sanctity of life, the dignity of marriage and the traditional family and the centrality of religious liberty to our nation." (Tony Perkins, President, Family Research Council)

-----
 
Randy Sly is the Associate Editor of Catholic Online and the CEO/Associate Publisher for the Northern Virginia Local Edition of Catholic Online (http://virginia.catholic.org). He is a former Archbishop of the Charismatic Episcopal Church who laid aside that ministry to enter into the full communion of the Catholic Church.
---
Copyright 2016 - Distributed by THE CALIFORNIA NETWORK
Pope Francis Prayer Intentions for May 2016
Universal:
Respect for Women: That in every country of the world, women may be honored and respected and that their essential contribution to society may be highly esteemed.
Evangelization:
Holy Rosary: That families, communities, and groups may pray the Holy Rosary for evangelization and peace.

By Kenya Sinclair (CALIFORNIA NETWORK)
Native Americans say a French auction house should return their sacred objects set to go on sale, and they have an ally in Bishop James S. Wall of Gallup, N.M. Gallup, N.M. (CNA/EWTN News) - "My first reaction to this story was one of great sadness. It's tragic that ... continue reading
---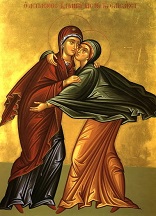 By Deacon Keith Fournier
In the Biblical account, this encounter immediately follows the visit of the Angel Gabriel to Mary and is a fruit of her humble obedient response to the word of God - which she was most certainly attuned to hearing. That response was not a onetime reaction. It ... continue reading
---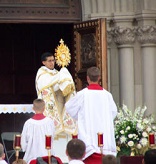 By Deacon Keith Fournier
We have received the Bread of Heaven. Let us choose to become what we consume. These Feasts are not just rituals on a Church calendar. They are invitations to encounter the Lord Jesus Christ, and then offer Him to a world waiting to be born anew. On this Feast of ... continue reading
---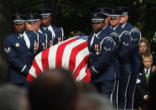 By Deacon Keith Fournier
I live in Chesapeake, a wonderful city in Southeastern Virginia where there are many members of the military. The parish I serve is an example of this. Every day, I witness the many sacrifices which military families make for our Nation. On this Memorial Day, I ... continue reading
---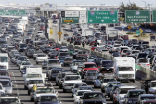 By Marshall Connolly (CALIFORNIA NETWORK)
We have money for perpetual war and can afford generous foreign aid, tax subsidies and cuts for the wealthy, but we cannot find the money to fix a pothole or repair a collapsing bridge. This is the sorry state of affairs U.S. infrastructure is in as we let the nation ... continue reading
---

By Kenya Sinclair (CALIFORNIA NETWORK)
Protesters at Republican presidential candidate Donald Trump's New Mexico rally erupted in violent acts including the attempted stoning of police, glass bottles thrown at mounted units and their horses, burning shirts and more. LOS ANGELES, CA (Catholic Online) - ... continue reading
---

By Kenya Sinclair (CALIFORNIA NETWORK)
Illegal aliens continue to surge into the United States from the Southwest U.S. border, leading the U.S. Customs and Border Protection (CBP) units to announce record-breaking apprehensions in April, 2016. LOS ANGELES, CA (Catholic Online) - According to the U.S. ... continue reading
---

By Marshall Connolly (CALIFORNIA NETWORK)
The arresting officer in the Freddie Gray case, Edward Nero, has been declared "not guilty" by the judge in his criminal trial. Now, the community waits to see if violence will erupt or if the streets will remain quiet. LOS ANGELES, CA (California Network) - Officer ... continue reading
---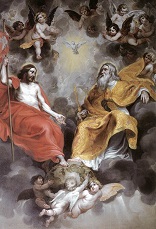 By Deacon Keith Fournier
'The mystery of the Most Holy Trinity is the central mystery of Christian faith and life. It is the mystery of God in himself. It is therefore the source of all the other mysteries of faith, the light that enlightens them. It is the most fundamental and essential ... continue reading
---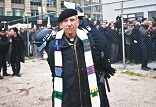 By Fr Frank Pavone
Father Berrigan was a radical figure who sent a total of almost seven years in prison. What many don't realize though is that his activism extended beyond the anti-war movement and into the anti-abortion movement. Believing in what he called a consistent ... continue reading
---
All U.S. News