'Ten Universal Principles' Focuses on Reason in the Battle for the Unborn
America has stopped reasoning and principled thinking. That is my conviction after reading "Ten Universal Principles" by Fr. Robert Spitzer. Fancy word crafting, personal attacks and other techniques can't hide the shallowness of the culture of death - particularly with regard to life.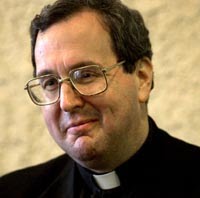 Fr. Robert Spitzer
WASHINGTON, DC (Catholic Online) - "Ten Universal Principles" is a small book with a huge wallop! This is a must-read for serious Catholics, especially those involved in the pro-life movement.

The 10 Universal Principles he outlines form the bedrock of natural law, reminding humanity of our inalienable rights and moderating essential behavior in society - how we approach life, how we treat others, how we should expect to be treated and how we should frame the laws that govern us.

Fr. Robert J. Spitzer, S.J., Ph.D. wrote this book to strengthen the reason side of the Catholic argument for life, but the implications of his work extend much further. As a philosopher, educator, author and former President of Gonzaga University, Father Spitzer has dedicated his life to helping people attain an approach to life built upon faith and reason.

I recently talked with Fr. Spitzer about his book and what he sees for the future of the pro-life movement, particularly here in America. His most recent work provides new ammunition to the pro-life movement in the war of words where the battle for life is currently being waged.

"Ten Universal Principles," which was written in a very easy-to-read manner, was published for two main reasons. "We have to use a vocabulary," he states, "that will be accepted in secular society. Our opposition is in a dogmatic slump. Their principles are not the great principles of civilization. Once you throw out justice or other principles then anything is possible."

For this reason he begins with the basic philosophical principles that everyone can agree upon - the 10 universal principles of civilization. This provides a common ground for discussion.

Secondly, he sees that the current generation of young people is truly scared of being accused of naivety or stupidity. People have pretty made up their mind that there is no rational justification for our Catholic position and this mindset needs to be challenged.

"Our young kids are not accustomed to doing this kind of rational discourse; we have to give them ammunition that is sophisticated. We have to help them formulate some arguments; we have to take the high road back from secular culture. When our kids start presenting these extremely nuanced and sophisticated arguments, that's going to give them a ton of ammo, particularly in college."

Spitzer begins with a detailed presentation on the three principles of reason.
1.    The Principle of Complete Explanation, which states that the best theory is the one that explains the most data.
2.    The Principle of Noncontradiction, that valid theories cannot contradict themselves.
3.    The Principle of Objective Evidence, which says that non-arbitrary theories are based on publicly verifiable evidence.

"You can't assume anymore that people have a notion of objective truth," Fr. Spitzer explains. "And, furthermore, you can't assume anymore that people are willing to say that one opinion is better than another opinion. So you have to start at the very basic level of non-contradiction, complete explanation and objective evidence."

"You can't assume anymore that people have a notion of objective goodness, that some things are good and some things are evil."

He also outlines the Principles of Ethics, Principles of Justice and Nature Rights, followed by the Fundamental Principle of Identity and Culture.

For example, Principle 4 is the Principle of Nonmaleficence, which states that we are to avoid all unnecessary harm and, if harm is unavoidable, it should be minimized.

Spitzer says, "If you can't agree with that principle, truly you are sociopathic. Everyone in the philosophical world agrees that's ethical minimalism. It's the whole idea of when in doubt you can't cause unnecessary harm to somebody if you're in doubt. As the Supreme Court admitted, 'Gee, we're confused when personhood begins,' as if it were a biological state.

"It's like hunting with your buddy. He goes in one direction and you go in another. You hear rustling in the bushes and you say, 'Well, gosh, it could be my friend or it could be the dear. I may as well shoot. You know, maybe I should have taken enough time to find out if it was my buddy.' When in doubt, don't shoot!

When it comes to the issues of life and personhood, the burden of proof has been shifted 180 degrees. "Now you have to prove that you are a person to be defended rather than the burden of proof being: prove that he or she is not a person."

This shift is dangerous when dealing with the values of intrinsic human rights. From the moment of conception these right should have been in place "when they are a full human being with a full human genome," as Fr. Spitzer describes it, "as a unique human being and nothing other than a human being like a chimp.

"We know scientifically that's this is what exists at the single cell zygote stage. If that's the case, it ought to be up to you to prove that being is not a person and not to say it's up to the appellant to prove that human being is a person."

Rich with historical citations and practical applications, the author weaves together a comprehensive defense of life and our other inalienable rights supported by the very principles that every society is built upon. These rights are assumed not assigned. They are the intrinsic rights of the human person prior to the introduction of any government's involvement.

"You have to ask yourself 'why did our founding fathers leave them out of the Constitution if they believed they needed to be extrinsically defined?' They are inalienable, that's why Jefferson and Franklin chose to use the word 'self-evident' in the Declaration."

The book, which is a short read, significantly underscores the reality that our country has ceased principled thinking - and the most glaring contemporary error of this cessation can be seen in the passage and strong support for Roe vs Wade.

Father Spitzer sees two converging issues that brought about this ruling. The first has to do with the rampant hedonistic culture.

"People did enjoy a sexual liberty or license with birth control pill, part of the mentality that I can do what I want to gratify my libido" he explains. "It became a right and 'no one can take this away from me.'"

The second was an aspect of the women's movement, where a woman's autonomy became more important than the life of the child. It became an "absolutization" of license over life.

"When there is another human life in the picture, its no longer just protecting autonomy in the bedroom, you are sanctioning the killing of a human being under your control."

These two movements merged beautifully to form a huge propaganda machine.

I asked Fr. Spitzer what he would want to say to the Supreme Court Justices, if he had their undivided attention for a few minutes.

"First, I would go to Principle 4 (Ed - Nonmeleficence, see above), 6 (Ed - The end does not justify the means), and 7 (Ed - Inalienable rights) and try to give them a sense: you have such vast powers. You can make the principle of non-maleficence come alive or you can just shut it down in the culture because of the vast power you have.

"And you can make the whole notion of personhood and the respect for all persons - the universality of personhood - either come alive and shut it down because of the vast powers that you have.

"Finally, you can make justice and natural rights. you can make it come alive or you can shut it down because of the vast powers that you have.

"Just remember this: first and foremost, all laws are based on justice and all justice is based on the universality of personhood and the principle of non-maleficence.

"And if people do not remember that; if they want to say that somehow that laws don't have to be beholding to justice and natural rights; and justice and natural rights are not grounded in not doing unnecessary harm and the universality of personhood; if that's the case, then, I think, we will have laws detached from justice and natural rights; we will have a tyranny of the majority.

"The second thing I would tell them is - Look, what becomes legal becomes normal. If you give legal sanction to something, people start doing it, it becomes quite normal. And what becomes normal becomes moral.

"So its not just that you just have some kind of legal authority, you wind up having a kind of moral authority in our culture. What are doing? What are you saying? How are you giving a kind of description to morality - to a collective morality - with decisions that violate all of these principles of civilization? What are you saying, what are you justifying for the whole culture?

"You have vast powers and you should take responsibility for everything that you have done including the negative because, at the end of the day, you will see your legacy and all the destruction which you have wrought through this terrible process of succumbing to a social agenda of the majority instead of trying to uphold the principles you were sworn to defend."

While much of the book focuses on the 10 Universal Principles for Civilization as they relate to pro-life, Fr. Spitzer also emphasizes the need for all of us to live lives based on these principles. By doing so we are taking our lives to a higher, more principled level of existence.

Born in Honolulu, Hawaii, Fr. Spitzer has published five books. He is currently the President of the Magis Center of Reason and Faith (www.magisreasonfaith.org) and the Spitzer Center for Catholic Organizations (www.spitzercenter.org). He is also the Chief Educational Officer for the Ethics and Performance Institute (www.learnepi.com).

The Magis Center produces documentaries, books, high school curricula, college courses, adult-education curricula, and new media materials to show the close connection between faith and reason in contemporary astrophysics, philosophy, and historical study of the New Testament. The Spitzer Center produces facilitated curricula to strengthen culture, faith, and spirit in Catholic organizations for the new evangelization. EPI (Ethics and Performance Institute) produces web-based education to corporations on personal efficacy, organizational culture, leadership, and ethics.

Published by Ingatius Press, "Ten Universal Principles" is definitely THE book to read at the beginning of 2012. It will not only strengthen you argument for life but also arm you will information that will strip the spin and façade off a lot of the political rhetoric you are going to receive this year.

-----
 
Randy Sly is the Associate Editor of Catholic Online and the CEO/Associate Publisher for the Northern Virginia Local Edition of Catholic Online (http://virginia.catholic.org). He is a former Archbishop of the Charismatic Episcopal Church who laid aside that ministry to enter into the full communion of the Catholic Church.
---
Copyright 2016 - Distributed by THE CALIFORNIA NETWORK
Pope Francis Prayer Intentions for May 2016
Universal:
Respect for Women: That in every country of the world, women may be honored and respected and that their essential contribution to society may be highly esteemed.
Evangelization:
Holy Rosary: That families, communities, and groups may pray the Holy Rosary for evangelization and peace.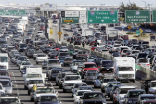 By Marshall Connolly (CALIFORNIA NETWORK)
We have money for perpetual war and can afford generous foreign aid, tax subsidies and cuts for the wealthy, but we cannot find the money to fix a pothole or repair a collapsing bridge. This is the sorry state of affairs U.S. infrastructure is in as we let the nation ... continue reading
---

By Kenya Sinclair (CALIFORNIA NETWORK)
Protesters at Republican presidential candidate Donald Trump's New Mexico rally erupted in violent acts including the attempted stoning of police, glass bottles thrown at mounted units and their horses, burning shirts and more. LOS ANGELES, CA (Catholic Online) - ... continue reading
---

By Kenya Sinclair (CALIFORNIA NETWORK)
Illegal aliens continue to surge into the United States from the Southwest U.S. border, leading the U.S. Customs and Border Protection (CBP) units to announce record-breaking apprehensions in April, 2016. LOS ANGELES, CA (Catholic Online) - According to the U.S. ... continue reading
---

By Marshall Connolly (CALIFORNIA NETWORK)
The arresting officer in the Freddie Gray case, Edward Nero, has been declared "not guilty" by the judge in his criminal trial. Now, the community waits to see if violence will erupt or if the streets will remain quiet. LOS ANGELES, CA (California Network) - Officer ... continue reading
---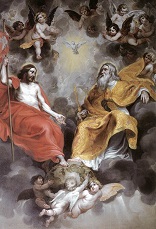 By Deacon Keith Fournier
'The mystery of the Most Holy Trinity is the central mystery of Christian faith and life. It is the mystery of God in himself. It is therefore the source of all the other mysteries of faith, the light that enlightens them. It is the most fundamental and essential ... continue reading
---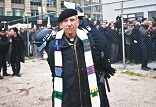 By Fr Frank Pavone
Father Berrigan was a radical figure who sent a total of almost seven years in prison. What many don't realize though is that his activism extended beyond the anti-war movement and into the anti-abortion movement. Believing in what he called a consistent ... continue reading
---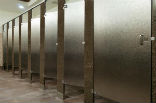 By David Drudge (CALIFORNIA NETWORK)
Under a new law, businesses in New York will be fined if they don't use a person's preferred pronoun when referring to them. This especially becomes a problem when it is understood there are at least 58 possible pronouns with at least five grammatical variations ... continue reading
---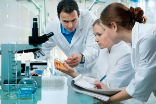 By Marshall Connolly (CALIFORNIA NETWORK)
The Federal Government has discovered the grocery list technology. This unlock apparently occurred recently as the Department of Agriculture sent encouraging, rapid-fire tweets to the public about how to use this remarkable new advancement. LOS ANGELES, CA (California ... continue reading
---

By David Drudge (CALIFORNIA NETWORK)
Texas is taking another step to becoming an independent Republic by recalling its gold and other precious metals home. A private company is planning to construct a bullion depository south of Houston, creating a virtual Ft. Knox for the state. LOS ANGELES, CA ... continue reading
---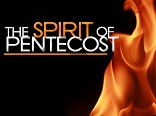 By Deacon Keith Fournier
I am one of countless thousands upon thousands whose life was profoundly changed by an experience, an encounter, with the Holy Spirit decades ago. I am old enough to remember when we who had this encounter were sometimes called Pentecostal Catholics. That ... continue reading
---
All U.S. News