To this day, I am of the opinion that Doug was used by the Obama campaign.
To this day, I am flabbergasted by Doug's position during the last presidential campaign and his decision to support Barack Obama. However, I still consider Doug to be a friend. Friends can make wrong decisions. If we care about them at all, we pray for their conversion. If being deceived by a Presidential candidate is Doug's major fault, we have all made the same mistake. Welcome home Doug, give me a call.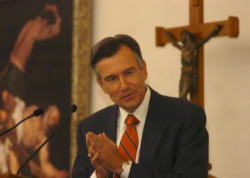 Doug Kmiec
WASHINGTON, DC (Catholic Online) - Readers of Catholic Online recall the series of back and forth disagreements which flowed between now Ambassador Doug Kmiec and I during the last Presidential campaign.  Doug is a friend, albeit one with whom I held a very serious disagreement. His quickly written book released during the last Presidential campaign was entitled "Can a Catholic Support Him?" and subtitled "Asking the Big Question about Barrack Obama". It made a serious impact on the last Presidential election. In the forward to the book he was kind enough to acknowledge me with these words "Deacon Keith Fournier's writing and editing of Catholic Online is courageous and wise."  However, when I reviewed the book, I made my absolute disagreement with his position unequivocally clear. He asked the wrong question. The proper question was not "can" but "should."  The word "can" addresses the issue of capacity and ability. Any Catholic can exercise their right to vote in any manner in which they choose. The question is should they vote for someone whose position will not promote the fundamental truth that every human person has a fundamental right to life? The Church to which Doug and I both belong does not tell people how to vote, in the sense of which candidate to choose in an election. "Should" on the other hand examines the morality of that choice given our obligation to exercise our freedom with reference to the truth. In short, what is our duty? Sadly, in his argumentation in this book, Doug confused and conflated the two. It is on that fundamental point that I completely disagreed with Doug Kmiec, and I made my disagreement widely known. I stand by that decision and that disagreement. Doug Kmiec was wrong. Sadly, he also led many astray.

To this day, I am of the opinion that Doug was used by the Obama campaign. Why, I will not speculate because I would be led into sin. However, as a result of Doug's support, President Obama received votes which put him into the White House. In light of the effects this election had on the fundamental human rights issue of our age, the Right to Life, the result was absolutely horrendous. Thousands have died because of this and the world is worse off for their loss. The You Tube lead in to this article is an example of the sophistry which Doug Kmiec not only promoted but advanced. 

Doug and I share a Catholic Christian faith which proclaims the existence of a profound body of Moral teaching, a subset of which is called "Catholic Social Doctrine." At its foundation is the insistence that every human life has an inviolable dignity and must be protected against unjust aggression from conception, through every age and stage of life, up to and including natural death. This position respecting all human life at every age and stage is not a single "issue" but a framework through which all moral considerations and the positive law must be viewed. Human rights are goods of the human person, not free floating concepts. They require human persons to both receive them and to exercise them. Catholic Moral teaching is rooted in an affirmation of the existence of a Natural Law which is knowable by all men and women because it is written on the human heart. This is the basis of the very hierarchy of rights which Doug Kmiec had spent his career attempting to espouse and train others to serve. To the Christian believer this Natural law is understood to be a participation in the Divine Law and is further expounded upon by Revelation. However, the existence of this truth is an objective reality and does not require one to have any religious belief. It is also binding on all men and women. This is where Doug lost his way. For example, it is always and everywhere wrong to take innocent human life and it is always and everywhere wrong to kill our neighbor (outside of a legitimate exercise of self defense). Ascribing to these truths does not require one to be a religious believer. In fact these truths form the very core of Western positive law and the Jurisprudence which it birthed. Voting, like any human action, involves an ordering toward an end. Doug attempts in this little book to explain the morality of human action but does so incorrectly and inadequately. I asked my readers during the last election to examine the section entitled the "Morality of Human Acts" in the Catechism of the Catholic Church (Par. 1749 -1761) and compare it with Doug Kmiec's short treatment on page 135 of his little book which is abysmally deficient. Further, it is essential to read Blessed John Paul II's Encyclicals entitled "The Gospel of Life" and "the Splendor of Truth" and then consider Doug Kmiec's approach to analyzing the morality of a human act. It is immoral to vote in a manner which fails to protect innocent human persons from being unjustly killed. This is what occurs in every procured abortion, human persons are killed. It is clear, Doug was wrong in his analysis and his error was a tragedy. It is immoral to vote in a manner that fails to include all of the poor, including children in the first home of the whole human race (their mother's womb) within the obligation we owe to one another in solidarity. Doug and his candidate, now President Obama,  were right during the campaign to emphasize that we are our brother's (and sister's) keeper, but wrong to then exclude an entire class of brothers and sisters, the unborn, from the protections of the positive law. Doug contended that the choice he promoted in that little book, to support the candidacy of Barack Obama, was morally acceptable. I insisted then that he was absolutely wrong and time has borne out the consequences of his wrong choice. I understood his frustration with the same old/same old offering of the other Party, the Republicans. In fact, I shared it. However, I knew that the man whose soaring rhetoric seduced Doug was going to let him down. I was right. Doug and I share a deep admiration of Blessed Mother Teresa. She said it all so clearly in 1994 in words which Doug and I discussed on several occasions:  "America needs no words from me to see how your decision in Roe v. Wade has deformed a great nation. The so-called right to abortion has pitted mothers against their children and women against men. It has sown violence and discord at the heart of the most intimate human relationships. It has aggravated the derogation of the father's role in an increasingly fatherless society. It has portrayed the greatest of gifts - a child - as a competitor, an intrusion, and an inconvenience. "It has nominally accorded mothers unfettered dominion over the independent lives of their physically dependent sons and daughters. And, in granting this unconscionable power, it has exposed many women to unjust and selfish demands from their husbands or other sexual partners. Human rights are not a privilege conferred by government. They are every human being's entitlement by virtue of his humanity. The right to life does not depend, and must not be declared to be contingent, on the pleasure of anyone else, not even a parent or a sovereign." To this day, I am flabbergasted by Doug's position during the last presidential campaign and his decision to support now President Barack Obama. However, I still consider Doug to be a friend. Friends can make wrong decisions. If we care about them at all, we pray for their conversion. So, I have followed with great interest Doug's service to the Obama administration on the beautiful Catholic island nation of Malta. I have regularly heard reports of his dedicated public service, the affection of the Maltese people toward him and his writing and defense of religious freedom. I was not surprised. He is a good man. I have also prayed for him continually. When I read of his awful traffic accident last year, I prayed intensely. I was deeply saddened to hear of the death of Sister Mary Campbell and subsequent death of, Monsignor John Sheridan later that same year. I am sure it was devastating for Doug. I tried to contact him, but to no avail.  Recently, I followed with great interest the brouhaha over Doug emanating from some circles of this administration. It all seemed to center on his continued writings in defense of religious liberty, the arena to which Doug had dedicated his commendable legal career. I have, as they say, "been around" politics long enough to see that the writing was on the wall. When a State Department report criticized Ambassador Kmiec for the very writings which I was happy he was continuing to devote himself to, I sensed something was afoot and that Doug's service to this administration was to come to an end.  In fact, it appears to this observer that there was an effort to force Doug Kmiec from his post by underlings unhappy with his dedication to furthering religious freedom. Frankly, the administration in office had derived all they could from him and it was time to let him go. Through two letters, the first addressed to President Obama on April 13, 2011 which can be read here: and the second to Secretary of State Hillary Clinton, on Saturday April 16, 2011 which can be read here , Ambassador Doug Kmiec submitted his resignation from his position as Ambassador to Malta this weekend.  The date of his departure from his ambassadorship is August 15, 2011. He made a point in his letter to President Obama of noting that the date is the Feast of the Assumption.  He told CNN news, "With my reputation impugned by the recent ... report, I can no longer be certain that I am in a position with my government to have your needs and perspectives heard in the best possible light." Doug Kmiec will be coming home this summer. I welcome his return. I miss him as a friend. He is a great legal scholar. He is the former dean of the Catholic University of America's Law School. He has been on leave as the Professor of Constitutional Law and Caruso Family Chair in Constitutional Law. He will certainly have no difficulty securing a position and continuing his career. However, I hope that, upon reflection, this relatively young man will reconsider some of the positions he took in that little book he wrote and rededicate himself to the fundamental human rights movement, the effort to secure the Right to Life taken from an entire class of persons, our youngest neighbors. After all, mistakes are meant to become tutors for men and women of faith. I believe that Doug Kmiec is a man of faith. I know that many of my other friends will object to my characterization of him. However, when all is said and done, I know that Doug Kmiec loves the Lord and the Catholic Church. In the spirit of this Holy Week, I invite our readers to pray for Doug and his family. These are historic times for the Church and the world into which she is sent to carry on the redemptive mission of Jesus. Pray for Doug Kmiec to acknowledge his mistake in the last Presidential campaign. More importantly, pray for him to become a part of our vital work to elect a truly Pro-Life President in the coming election cycle.  After all, if being deceived by a Presidential candidate is Doug's major fault, we have all made the same mistake. I sure know I have, too many times! It is time to reject sophistry and to nominate someone who truly understands that the Pro-Life position is not about a single issue but about the very future of western civilization. Welcome home Doug, give me a call.
---
Copyright 2016 - Distributed by THE CALIFORNIA NETWORK
Pope Francis Prayer Intentions for May 2016
Universal:
Respect for Women: That in every country of the world, women may be honored and respected and that their essential contribution to society may be highly esteemed.
Evangelization:
Holy Rosary: That families, communities, and groups may pray the Holy Rosary for evangelization and peace.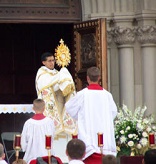 By Deacon Keith Fournier
We have received the Bread of Heaven. Let us choose to become what we consume. These Feasts are not just rituals on a Church calendar. They are invitations to encounter the Lord Jesus Christ, and then offer Him to a world waiting to be born anew. On this Feast of ... continue reading
---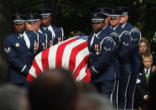 By Deacon Keith Fournier
I live in Chesapeake, a wonderful city in Southeastern Virginia where there are many members of the military. The parish I serve is an example of this. Every day, I witness the many sacrifices which military families make for our Nation. On this Memorial Day, I ... continue reading
---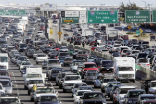 By Marshall Connolly (CALIFORNIA NETWORK)
We have money for perpetual war and can afford generous foreign aid, tax subsidies and cuts for the wealthy, but we cannot find the money to fix a pothole or repair a collapsing bridge. This is the sorry state of affairs U.S. infrastructure is in as we let the nation ... continue reading
---

By Kenya Sinclair (CALIFORNIA NETWORK)
Protesters at Republican presidential candidate Donald Trump's New Mexico rally erupted in violent acts including the attempted stoning of police, glass bottles thrown at mounted units and their horses, burning shirts and more. LOS ANGELES, CA (Catholic Online) - ... continue reading
---

By Kenya Sinclair (CALIFORNIA NETWORK)
Illegal aliens continue to surge into the United States from the Southwest U.S. border, leading the U.S. Customs and Border Protection (CBP) units to announce record-breaking apprehensions in April, 2016. LOS ANGELES, CA (Catholic Online) - According to the U.S. ... continue reading
---

By Marshall Connolly (CALIFORNIA NETWORK)
The arresting officer in the Freddie Gray case, Edward Nero, has been declared "not guilty" by the judge in his criminal trial. Now, the community waits to see if violence will erupt or if the streets will remain quiet. LOS ANGELES, CA (California Network) - Officer ... continue reading
---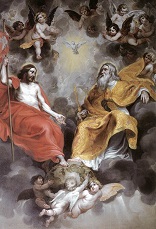 By Deacon Keith Fournier
'The mystery of the Most Holy Trinity is the central mystery of Christian faith and life. It is the mystery of God in himself. It is therefore the source of all the other mysteries of faith, the light that enlightens them. It is the most fundamental and essential ... continue reading
---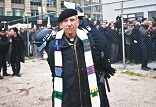 By Fr Frank Pavone
Father Berrigan was a radical figure who sent a total of almost seven years in prison. What many don't realize though is that his activism extended beyond the anti-war movement and into the anti-abortion movement. Believing in what he called a consistent ... continue reading
---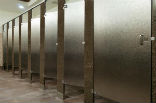 By David Drudge (CALIFORNIA NETWORK)
Under a new law, businesses in New York will be fined if they don't use a person's preferred pronoun when referring to them. This especially becomes a problem when it is understood there are at least 58 possible pronouns with at least five grammatical variations ... continue reading
---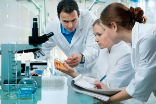 By Marshall Connolly (CALIFORNIA NETWORK)
The Federal Government has discovered the grocery list technology. This unlock apparently occurred recently as the Department of Agriculture sent encouraging, rapid-fire tweets to the public about how to use this remarkable new advancement. LOS ANGELES, CA (California ... continue reading
---
All U.S. News