Our focus on the Church of Scientology did not come by pulling an arbitrary name out of a hat; they are, frankly, in the news.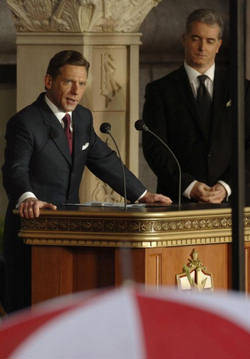 So, in addition to belief, our concerns about Scientology involve behavior. Some have stated in the comments section that, as Catholics, we should address our own bad behavior. At Catholic Online, we have. Furthermore, that does not preclude us from looking at others. (Above photo - Scientology's leader David Miscavige)
WASHINGTON, D.C. (Catholic Online) - Regular readers of Catholic Online will have noticed that the Church of Scientology has been in our cross-hairs several times this past year. Personally, I have written a dozen articles on the subject.

Our focus on Scientology did not come by pulling an arbitrary name out of a hat at an editorial meeting, nor did it come because any of us are ex-Scientologists.

They are, frankly, in the news. Whether it´s the renunciation of affiliation by a celebrity member, conviction of fraud by the French courts, harassment of defectors or depositions regarding forced abortions that have shown up on the web, the spotlight has been turned on.

These are not isolated occurrences. The activities of this group, founded by Science Fiction writer L. Ron Hubbard, have increasingly been in the headlines in recent years regarding a variety of issues.

Scientology is not new news. Major newspapers and news networks have, from time to time, covered stories regarding problems with organization. Books have been written both for and against dianetics and Scientology. Most of the world had heard about it but few really understood it.

In June 2009, however, the St. Petersburg Times wrote an extensive three-part series on Scientology that brought a number of issues concerning beliefs, practices and the actions of the group with respect to its members or former members.

The spotlight, at that point, grew brighter. The world of Scientology, which before had been primarily the focus of expatriates and groups like Anonymous, were now being brought into the mainstream of attention.

While Catholic Online was one of the few Catholic voices to cover Scientology, a hard-hitting article appeared this week in America Magazine´s online edition, entitled "Scientology at the Dock."

In this piece, Father John Coleman, S.J., who served as a Professor of Social Values at Loyola Marymount University, Los Angeles until last year, took a careful look at the organization and its recent track record. Fr. Coleman´s concerns mirrored those of Catholic Online, when he stated, "Recent allegations about Scientology rely less on the organization´s belief system... The recent attacks on Scientology focus mainly on its behaviors."

"I suspect with so much smoke," Coleman writes, "somewhere there must be a real fire. While the organization hates the term, it is a totalitarian ´cult.´ It just may also be criminal."

As Catholics, there is no doubt that we take issue with the system of belief embraced by the Church of Scientology. No amount of good works can offset the fact that the group proposes doctrines that are irreconcilable with Christianity. From a Catholic perspective, they are not a legitimate religion.

Catholics certainly must respect individuals who are involved with scientology because we respect the dignity of every human person. However, the teaching of the Organization is a different matter. In addition, allegations concerning their practices and treatment of members are certainly appropriate to examine if human dignity is allegedly disregarded and human freedom is not respected.

I was recently offered an invitation to visit a Scientology Church in Washington, D.C.. Whatever I might find during such a visit could never alter the fact that the truth claims found within the teaching of Christianity and the claims of Scientology cannot be somehow glossed over. We can never simply "agree to disagree" concerning the claims of our Christian faith and the claims of Scientology.

However, Scientology does now claim to be a religion. They are most certainly not a Christian religion or community so the use of the word ecumenism in reference to any relationship between us is inappropriate. Perhaps, such a dialogue might be viewed as "interreligious dialogue"?

As Pope Benedict XVI, then Cardinal Ratzinger, wrote in "Dominus Iesus" concerning "interreligious dialogue."

Inter-religious dialogue, therefore, as part of her evangelizing mission, is just one of the actions of the Church in her mission ad gentes. ("to the nations") Equality, which is a presupposition of inter-religious dialogue, refers to the equal personal dignity of the parties in dialogue, not to doctrinal content, nor even less to the position of Jesus Christ — who is God himself made man — in relation to the founders of the other religions.

Catholic Online is, by intention, a Catholic news organization. We are compelled to explore and explain the belief systems of such groups as well as underscore the areas where they depart from orthodox Christian faith as revealed in Sacred Scripture and Tradition and taught by the Magisterium of the Catholic Church.

While Scientology states that there is room for Christianity in its world, as faithful followers of our Lord Jesus Christ, there is no room for Scientology in ours. Should you read the materials on the Scientology website and learn more about their world, it becomes quite clear that each adherent will come to a point where they must answer the question, "Choose this day whom you will serve."

According to one source, 28 percent of Scientologists, including Tom Cruise, were former Catholics. Somewhere, those who left to become a part of Hubbard´s new reality had lost sight of the grace and power of the Gospel in transforming and rebuilding lives. We don´t want this to continue to happen.

We are called to inform our readers about the actual beliefs of incompatible religions, inspire them to maintain faithfulness to the Truth found in Jesus Christ and His Church, and ignite them to fulfill her mission of evangelization and transformation. Inform, inspire, ignite is more than just a tagline for Catholic Online.

Again, quoting from "Dominus Iesus,"

It must therefore be firmly believed as a truth of Catholic faith that the universal salvific will of the One and Triune God is offered and accomplished once for all in the mystery of the incarnation, death, and resurrection of the Son of God.

Above all else, it must be firmly believed that "the Church, a pilgrim now on earth, is necessary for salvation: the one Christ is the mediator and the way of salvation; he is present to us in his body which is the Church.

One person who left Scientology and returned to her Catholic roots is Maria Pia Gardini, who wrote a book about her journey. Alledgedly, threats of a lawsuit were made by the Church of Scientology in Italy against the author and the book´s publisher, the Daughters of St. Paul.

The story was covered by a large number of news organizations, Catholic Online included. When asked about the lawsuit this week, Tommy Davis, spokesman for the Church of Scientology, told us that such a lawsuit never existed.

So, in addition to belief, our concerns about Scientology involve behavior. Some have stated in the comments section that, as Catholics, we should address our own bad behavior as Catholic Christians. We have and we will. Furthermore, that does not preclude us from looking at others.

Scientology´s actions have not been the focus of only one news organization. They have been questioned by many. Again, it isn´t even one issue that has been called into question; there seems to be a growing number of issues on many fronts that keep making the headlines.

We don´t see this stopping. Books are being written by ex-Scientologists describing their experiences during and after, private albeit revealing communications from within Scientology are being published on the net along with YouTube videos that continue to cast a shadow on Scientology´s mettle.

In November 2009, Senator Nick Xenophon, a member of the Australian Parliament, entered a motion calling for a criminal investigation of Scientology in Australia. In December 2009, a young man is murdered and Scientology is a part of the story.

Haiti is just the latest. The Georgia Senate passed a resolution on February 8 singling out the work of Volunteer Ministers in Haiti. Yet others, some of whom were on the ground in Haiti, are painting a very different picture.

Our Haiti story yielded a response from the Church of Scientology. From the comments on the response story as well as postings on other websites, concerns about the work of the Volunteer Ministers continue to exist. They are not disputing that some good hard labor was contributed, but continuing to bring up questions of medical personnel left behind, contributions actually being made, etc.

Each day Google, Bing, or any other search engine you want to use, will dish out new stories, accusations and accounts concerning the actions of Scientology. Some may be untrue or exaggerated. Given the nature of the web, this is almost a given. As Fr. Coleman stated in his piece, however, "I suspect with so much smoke somewhere there must be a real fire."

We will continue to report on behavior as well as belief. There are legitimate concerns. We will also give opportunity for Scientology to respond, should they so desire. We also know there will be cross-examination, either by us or others.

The final disposition regarding the issue of belief is firm and fixed. The final disposition on behavior matters ultimately rests in the courts and governments of the world. Our call, at Catholic Online, is to remain in the world of inform, inspire, ignite.

-----

Randy Sly is the Associate Editor of Catholic Online. He is a former Archbishop of the Charismatic Episcopal Church who laid aside that ministry to enter into the full communion of the Catholic Church in 2006. His reporting on the Church of Scientology has received global attention as the group´s activities come under increasing scrutiny.
---
Copyright 2016 - Distributed by THE CALIFORNIA NETWORK
Pope Francis Prayer Intentions for May 2016
Universal:
Respect for Women: That in every country of the world, women may be honored and respected and that their essential contribution to society may be highly esteemed.
Evangelization:
Holy Rosary: That families, communities, and groups may pray the Holy Rosary for evangelization and peace.

By Kenya Sinclair (CALIFORNIA NETWORK)
Illegal aliens continue to surge into the United States from the Southwest U.S. border, leading the U.S. Customs and Border Protection (CBP) units to announce record-breaking apprehensions in April, 2016. LOS ANGELES, CA (Catholic Online) - According to the U.S. ... continue reading
---

By Marshall Connolly (CALIFORNIA NETWORK)
The arresting officer in the Freddie Gray case, Edward Nero, has been declared "not guilty" by the judge in his criminal trial. Now, the community waits to see if violence will erupt or if the streets will remain quiet. LOS ANGELES, CA (California Network) - Officer ... continue reading
---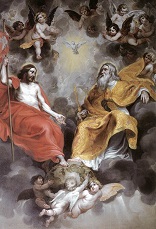 By Deacon Keith Fournier
'The mystery of the Most Holy Trinity is the central mystery of Christian faith and life. It is the mystery of God in himself. It is therefore the source of all the other mysteries of faith, the light that enlightens them. It is the most fundamental and essential ... continue reading
---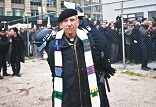 By Fr Frank Pavone
Father Berrigan was a radical figure who sent a total of almost seven years in prison. What many don't realize though is that his activism extended beyond the anti-war movement and into the anti-abortion movement. Believing in what he called a consistent ... continue reading
---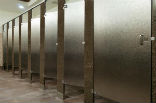 By David Drudge (CALIFORNIA NETWORK)
Under a new law, businesses in New York will be fined if they don't use a person's preferred pronoun when referring to them. This especially becomes a problem when it is understood there are at least 58 possible pronouns with at least five grammatical variations ... continue reading
---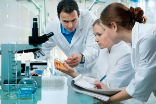 By Marshall Connolly (CALIFORNIA NETWORK)
The Federal Government has discovered the grocery list technology. This unlock apparently occurred recently as the Department of Agriculture sent encouraging, rapid-fire tweets to the public about how to use this remarkable new advancement. LOS ANGELES, CA (California ... continue reading
---

By David Drudge (CALIFORNIA NETWORK)
Texas is taking another step to becoming an independent Republic by recalling its gold and other precious metals home. A private company is planning to construct a bullion depository south of Houston, creating a virtual Ft. Knox for the state. LOS ANGELES, CA ... continue reading
---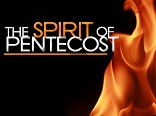 By Deacon Keith Fournier
I am one of countless thousands upon thousands whose life was profoundly changed by an experience, an encounter, with the Holy Spirit decades ago. I am old enough to remember when we who had this encounter were sometimes called Pentecostal Catholics. That ... continue reading
---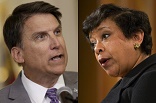 By Deacon Keith Fournier
If you rely on the main stream media for your news reports, you will not hear the truth of what is really happening in North Carolina. Much of the media uses Orwellian newspeak in its reports and has degenerated into a propaganda wing of the current ... continue reading
---

By Kenya Sinclair (CALIFORNIA NETWORK)
Texas has been thinking about seceding from the United States for quite a while. Now, after a Wednesday meeting of the Platform Committee of the Texas Republican Party, a Texas independence resolution will be up for vote during this week's GOP convention. LOS ANGELES, ... continue reading
---
All U.S. News