Ave Maria University Receives Four Million Dollar Gift and Uncharitable Criticism
---
Charity calls us to be charitable, beginning with one another. It calls us to love all men and women as the Lord does.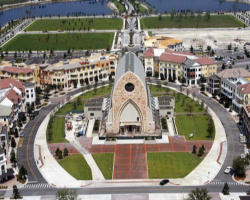 Ave Maria is one of several dynamically faithful Catholic Colleges preparing future Catholic leaders. I have great respect for the courage shown by the University founder, the leadership of its President and the scholarship and dedication of those who are gathering together to build this new University dedicated to Our Lady.
CHESAPEAKE, Va. (Catholic Online) - I was recently delighted to learn that Ave Maria University was the recipient of a Four Million dollar ($4,000,000.) gift from a man named Tom Golisano. The first words which came into my heart upon reading the news were from St. Paul, "Rejoice with those who rejoice..." (Romans 12:15)
I am convinced that the most important work being done in this new missionary age is the preparation of the next generation of faithful, well educated young Catholic men and women, prepared to respond to the call to every Christian vocation and to participate in the mission of the Church. It is these men and women, now being prepared at places like Ave Maria, who will carry on the work of the Church well into the Third Millennium making it into a new missionary age of the Church.
Our work as Catholics called to rebuild the Church and transform the culture will take a long time given the devastation of the last one hundred years. We need "living stones", young women and men in love with the Lord and the Church and truly educated in the Truth which alone sets us free to take up the charge. They will carry on the New Evangelization through their work and their witness of life. Ave Maria is one of several dynamically faithful Catholic Colleges preparing future Catholic leaders. I have great respect for the courage shown by the University founder, the leadership of its President and the scholarship and dedication of those who are gathering together to build this new University dedicated to Our Lady.
My next response was to find out more about the donor and how this gift would be used. I discovered that B. Thomas Golisano is the founder and Chairman of Paychex, Inc. I used Paychex in my work in starting organizations in the past but never knew who founded it. I also discovered that he owns the Buffalo Sabres of the National Hockey League, so I was not surprised to read that the funds will be used to build an athletic facility. Mr. Golisano told the Press, "I am pleased to contribute to this exciting new endeavor at Ave Maria University....The new field house will be an integral part of the University's future growth and vitality. Athletic programs, sport teams, wellness activities and clubs help to round out the college experience for students and their families and more importantly, keep young minds engaged and healthy."
I have spent the last few months getting back into shape and rediscovering the essential importance of living an integrated and healthy lifestyle. This was necessary after years of pursuing a graduate degree during which I simply fell apart physically. One of the things I admire most about Ave Maria is their commitment to helping those who study there and live in the community of faith on campus to develop good habits of both body and soul. Their focus on virtue and holiness is as inspiring as it is practical. Finally, I discovered the impressive philanthropy of Mr. Golisano, much of which is done through the "Golisano Foundation" which assists people with learning disabilities. Clearly this is a man who through his giving, his charity, has helped many of the "poor" and is to be commended for that work.
However, it was what I discovered next online which prompted this article. I found petty, vicious attacks against Ave Maria for accepting the gift published in certain segments of the Catholic blogosphere. It appears that Mr. Golisano, like most of us reading this article, is a work in progress. His long life reveals that he held some positions in the past which do not comport with those which he holds today. Some within certain segments of the Catholic blogging community were only too eager to point out those positions of the past. However, they took another step; they attacked the man's motives and attacked Ave Maria for accepting his charity so as to help fund their work of forming young men and women in Charity. First, I became angry, and then I grew sad.
I immediately wrote to their President, Nick Healy, to congratulate him and to encourage him. I was sure he had seen these negative attacks. I share an excerpt from my E-Mail in order to then express some thoughts for us to consider together:
******
"...You have heard the expression about water rolling off the backs of ducks...that is how you and the founder of the University, Tom Monaghan, should approach the ever annoying peanut gallery of whining negative critics in some of our own circles. Let it roll off your back and rejoice in the Lord who has blessed you with so many gifts. CONGRATULATIONS!
Securing this gift from Tom Golisano is wonderful news for the thousands of faithful young Catholics and others who will grow in their ability to serve the Church - called into the world - while living and studying there through his generosity! It is also a great example of a Catholic vision of evangelization and mission. What are we supposed to do - not allow people whom we are seeking to bring to the fullness of the truth to be generous and assist the Lord's work with their goods?
I remember when I was Dean of Students (centuries ago it seems) at the beginning of the miracle turn around at Steubenville. I was one of the first Catholics invited to attend the Coalition of Christian Colleges. The then Dean of an Evangelical Protestant School who invited me surprised me when he called me up to the dais to tell the Steubenville story during what was to be his plenary address. I simply shared what the Lord had done through the courage and fidelity to the vision of Fr. Michael Scanlan and the role of real, persevering prayer. Of course, many present at that meeting were amazed, some because they did not even believe that Catholics were Christians (those were very different days you recall), others by the story itself. I explained that like the Psalmist said, the Lord did indeed build that house!
The Dean asked if I would take questions and I assented. One of the questions was "Do you allow non-Christians to attend the College?" "Of course we do" I answered, "if they respect our way of life and commitments and agree to live by them." "Well, what do you do with them once they get there?"- came the response. I responded---"We love them in the Lord and hope they come to find Him as we have and become Christians with us."
We are called to Evangelize, to give away this treasure we have received, our Catholic faith, to all whom we encounter as we live our lives redemptively in this world. That means reaching out to all and allowing people to be generous with us - and through their acts of charity find the very Source of all Charity, Jesus Christ!
What is wrong with these folks who are attacking this gift, the giver of this and the recipient? Are they so caught in their own negative world view that they are always suspect of their fellow Catholics? That is the attitude which seems to be behind this controversy. What do they think? Do they presume that Ave Maria will compromise the truth in order to obtain a monetary gift? Of course not, she is a servant of that Truth, named after the woman whose "yes" opened the door for Truth to be enfleshed!
Mr. Golisano will now be associated even more with that Truth who is SOMEONE, Jesus Christ, who will also change his life. This gift of his to that University was a part of a loving Plan in his own life and you were all were a part of it! His act of charity will lead him to the source of CHARITY, the God who is Love and who has a human face, the face of Jesus the Lord.
I HAD to congratulate you and the founder of that University. I am inspired by your prayer, your persistence and your understanding of what it means to be Catholic - and your willingness to act upon it. You show all of us how we are all called to continue to "love the world" as the Lord does.
St. John wrote "God so loved the world that He gave His only Son" (John 3:16) God still loves the world, and He still sends His Son, through you and me. We are called into the world to transform it from within without fear and to invite all men and women to find the source of all Charity, the One who fully reveals the Father and, in the words of the Council, "fully reveals man to himself in his most high calling." You have my full support and solidarity."
******
Some of the negative response came from Mr. Golisano's changing and growing understanding of the truth concerning the dignity of every human life, including the lives of our youngest neighbors in the womb. From what the President of Ave Maria has told me, Mr. Golisano is now truly Pro-Life. I am not surprised at this change. The reality of the Truth about the dignity of every human life is often progressive in its impact as people begin to understand it. It also leads the one who begins to perceive it to a genuine and lifechanging conversion. Years ago, I had the privilege of getting to know Steve Forbes and to later assist him in his campaign for the Presidency. He had come to understand the truth about the dignity of human life and his position evolved. I knew he had become genuinely Pro-Life. However, I remember the cynicism that came from some within the Catholic political activist community concerning his change on that vital issue. I knew Steve's change was sincere and I was very glad to help him along the way.
Maybe I have missed something but are we only supposed to associate with one another? Much like my story of accepting students at Steubenville who did not yet embrace the faith, isn't it our mission to invite - and then to help - all men and women come to find the Truth within the fullness of Christianity that is the Catholic Church? Should we not allow them, along the way, to give to furthering the work of that Church? The very act of charity is itself an occasion of grace for them and for the work of the Church.
We need to examine ourselves as a virtual global Catholic community. We are joined together in the Body of Christ through our Baptism. All of us are called to continually grow in Charity, particularly in our behavior toward one another. We should support one another as Catholics online in the manner in which we report good news such as this gift to Ave Maria University. I suggest that a good place to start is by always presuming the best about one another. St. Paul reminded the Galatian Christians, "So then, while we have the opportunity, let us do good to all, but especially to those who belong to the family of the faith." (Gal. 6:10) We need to heed this advice in the way that we treat other Catholics.
Charity calls us to be charitable, beginning with one another. It also calls us to love all men and women as the Lord does and to remember who we are, who we were, and who we are becoming. This virtual community we now share together online is a resource and an invitation. It brings with it an obligation to practice what we preach with one another and with others who are on the road.
I invite all of our readers to join me in praying for Ave Maria University, honoring Tom Golasano for his act of Charity and thanking the Lord for this wonderful news.

---
Copyright 2017 - Distributed by THE CALIFORNIA NETWORK
Pope Francis Prayer Intentions for SEPTEMBER 2017
Parishes.
That our parishes, animated by a missionary spirit, may be places where faith is communicated and charity is seen.
---
---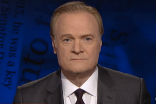 We have unmasked Lawrence O'Donnell for the lying, foul mouthed, hypocrite that he is. The fake-news reporting hypocrite has gone viral in ... continue reading
---
"Evacuate or die," is the warning to residents of Puerto Rico as category 5 hurricane Maria churns towards the island territory. Maria has ... continue reading
---

A rap artist has published a video that shows him lynching a child. The production is intended to support the Black Lives Matter movement, ... continue reading
---
A viral video of a nun going to work on a fallen tree with a chainsaw is raising brows online. But why should it? Nuns are among the ... continue reading
---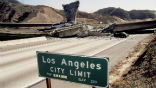 This year, California went from due to overdue for the Big One. That's the name residents have for a massive quake that scientists predict ... continue reading
---