Her statements are the genocide of the vulnerable and murder say orthodox Episcopal Bishops.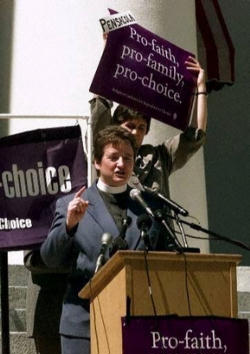 Other thoughtful Episcopal leaders did weigh in saying that Ragsdale's appointment as President and Dean of Episcopal Divinity School (EDS), which still styles itself as an Episcopal Seminary, is little more than an ode to Molech worship.
NEW YORK, N.Y. (Virtue On Line) - The announcement that the Episcopal Divinity School in Cambridge, MA, has chosen a lesbian, pro-abortion president to lead the seminary has sent shock waves around the Anglican Communion. The appointment of Katherine Hancock Ragsdale highlights a week that also saw TEC bishop-elect Kevin Thew Forrester replace a reading from the New Testament with a reading from the Quran at St. Paul's Marquette, Michigan.

One wonders what Episcopal boundaries and barriers have yet to be crossed that the dying embers of historic Christianity could possibly fan into life. That the Diocese of Massachusetts has a functioning transgendered priest complete with a sex change operation (he appeared at Lambeth 2008) mocks not only marriage, but any notion of what normalcy in sexual matters might mean in The Episcopal Church. Consider, too, that 19 of the 41 resolutions to be presented at GC2009 have to do with normalizing same-sex unions, proposing same sex rites and deep-sixing a resolution - B033 - that restrains further homosexual ordinations into the priesthood. They mock The Episcopal Church as a Christian denomination.

It is abortion, however, that hits the nerve endings of orthodox Episcopalians as it touches on the very issue of life and death itself. The shrill cry of Ms. Ragsdale that "abortion is a blessing" sends true believers into shock and is viewed as particularly heinous, not only for the church, but for the future of the human race. It is hard to imagine even the most hard-boiled pro-choice person advocating the tearing of life from a human body for no other reason than unmitigated selfishness. For them, endangerment of the mother's life, the fetus malformed, and extreme poverty et al might be reasons to abort. For Ragsdale there was no reason, just the unalloyed notion that abortion is not only a right, but a BLESSING. Here is what she said in a sermon recently:

"Let me hear you say it:

Abortion is a blessing and our work is not done.
Abortion is a blessing and our work is not done.
Abortion is a blessing and our work is not done."

Her outrageous statements hit a nerve with a number of Anglican leaders.

Abortion, except in the case where it is indirect and unintended, due to an operation seeking to save the life of the mother, is the unjust taking of an innocent life, The Rt. Rev. Dr. John Rodgers, former Dean of Trinity School for Ministry, told VOL. "It is therefore murder, which is forbidden to Christians by the will and express law of the Lord." Then he tore into Ragsdale: "Feminists such as Dean Ragsdale seem to believe, should the mother for some reason not be pleased with this human life growing in her body, that she has the right to kill the child. However the value of that human life is not grounded in the estimation of the mother but in the purpose and will of God, who called the child into being. Made in His image, the child is precious and is to be protected, nurtured, and raised in the nurture and fear of the Lord. We are to love our neighbors and even our enemies and with the exception of police protection and just warfare we are to seek to do them good and not kill them, much less murder the innocent in the womb.

"The same divine guidance and logic applies to euthanasia. It too is forbidden. The two are linked together in practice as the old saying goes, "The society that gives the mother the right to kill her children will one day give the child the right to kill her mother." Some states in the USA have already brought that to pass. I understand that Holland is far advanced in that practice. One can't help but ask how Jesus maxim, "Do unto others as you would have them do unto you" fits if one puts oneself in the place of the "other" i.e. the innocent baby waiting to be born. Surely there are other ways to cope with an unwanted pregnancy, given the shortage of children being offered for adoption. God will surely provide a way."

The President and CEO of The American Anglican Council, CANA bishop David C. Anderson told VOL that the leadership of the Episcopal Church (TEC) continues their culture of death by the appointment of The Rev. Dr. Katherine Ragsdale as the sixth and newest president of the Episcopal Divinity School in Cambridge, Massachusetts."Her public statements that 'abortion is a blessing' are the full equivalent of saying that genocide is a good thing, for her stand supports the genocide of the most vulnerable. Her statements and her life witness in this regard stand in opposition to the American Anglican Counciląs statement of faith, which says, 'All human life is a sacred gift from God and is to be protected and defended from conception to natural death.'

"Ragsdale and those who appointed her want to spread their false gospel and pro-abortion agenda to the future priests and bishops of the Episcopal Church. Although her selection seems to be yet another segment in TEC's juggernaut toward self destruction, the AAC is gratified to see that some Episcopal dioceses have rejected TEC's affiliation with the Religious Coalition for Reproductive Choice (RCRC) and our prayer is that more TEC dioceses will live into their baptismal covenant to 'respect the dignity of every human being,' including the pre-born. We hope that those dioceses which oppose the genocide of the pre-born would de-list the Episcopal Divinity School from their qualified list, if they havenąt already done so for other doctrinal reasons."

Several Episcopal seminary presidents, approached by VOL, either refused to return e-mail requests for their stand or said flatly that they would "pass" on saying anything about a fellow seminary president. Other thoughtful Episcopal leaders did weigh in saying that Ragsdale's appointment as President and Dean of Episcopal Divinity School (EDS), which still styles itself as an Episcopal Seminary, is little more than an ode to Molech worship. "I haven't the words to respond to this vile, odious (appointment)...well, it speaks for itself. It is quite true that EDS has long been a bastion of leftism rather than a school for training recognizably Christian clerics and this is likely an indication of its undoubted decline into official fever-swamp status. Yet, there are still Episcopalian bishops who send would-be ordinands there and churches who hire those trained by the people who hired this woman and now accept her intellectual, moral, and spiritual leadership."

In a sermon titled "Our Work is Not Done", Ragsdale even went as far as to rip the consciences of doctors and pharmacists who try to opt out of providing medical care, stating "our work is not done. And when a woman becomes pregnant within a loving, supportive, respectful relationship; has every option open to her; decides she does not wish to bear a child; and has access to a safe, affordable abortion - there is not a tragedy in sight -- only blessing. The ability to enjoy God's good gift of sexuality without compromising one's education, life's work, or ability to put to use God's gifts and call is simply blessing."

Ragsdale is living testimony to the late Pope John Paul II and Pope Benedict XVI's statements that we live in a culture of death in our contemporary political discourse in many countries, including the United States. Ragsdale even went as far to say that doctors who are not prepared to provide the full range of reproductive health care (or prescriptions) to any woman who needs them shouldn't go into obstetrics and gynecology, or internal or emergency medicine, or pharmacology. Choose another field. She cried.

Ragsdale let her lesbian tendencies shine through when she said that any argument that puts men alone at the center - for good or for bad --- on any discussion of women's reproductive health ends up being all about men. This is not feminism. Nor, for that matter, is it Christian, or reflective of any God I recognize.Clearly her "god" is more akin to the god of John Shelby Spong and V. Gene Robinson, both of whom support pro-choice positions.

The Episcopal Church, as a collective body, has also taken a decidedly pro-abortion stand, refusing to allow any opposition, at the personal or diocesan level, against its collective will. Recently, the Bishop of Central Florida, The Rt. Rev. John W. Howe got a not so polite letter from a member of the national Executive Council urging the diocesan council of Central Florida to nullify a resolution disassociating from the abortion rights organization known as the Religious Coalition for Reproductive Choice (RCRC).

The Central Florida board had written a letter opposing the church's official pro-abortion stand, which offended the national church's political sensitivities on the subject. John Vanderstar, of Washington, D.C., got into a huff and said that while he understood that Episcopalians hold varying political positions on the morality, legality and necessity of abortion, and that "this is a sensitive subject for many people, the [Central Florida] board's harsh language with regard to RCRC is neither fair nor accurate. Moreover, the action of the council was squarely supported by positions adopted by General Convention that date back some 40 years."

Bishop Howe wrote back to Vanderstar, saying he fully supported his diocese's resolution to disassociate from the RCRC. "I am, frankly, deeply embarrassed that the Executive Council adopted this affiliation in the first place," said Howe. Howe is a past president and chairman of the board of the organization now known as Anglicans for Life.

Georgette Forney, President of Anglicans for Life and Co-founder of Silent No More Awareness Campaign, a global ministry affirming the sanctity of life, said she was "shocked" when she learned that Rev. Ragsdale actually said 'Abortion is a blessing.' "Based on my personal experience as well as having heard and read thousands of testimonies of women from the Silent No More Awareness Campaign, who had abortions, blessing is never a word used to describe either the procedure or the aftereffects. Regret, nightmare, painful, and numbing are more applicable words to be associated with abortion. Frankly, Ms. Ragsdale's comment reveals a deep level of cold-heartedness."

"Ms. Ragsdale's enthusiasm for abortion is completely out of line from a pastoral and biblical perspective and makes me question whether there will be a litmus test for students seeking to enter EDS. Support the killing of unborn babies if you want to attend our seminary may become the new admissions slogan. Even most liberal politicians have adopted a more middle of the road approach to abortion by focusing on reducing the number of abortions performed each year (approximately 1.2 in 2007 in the US)." www.AnglicansforLife.org

The best-known Christian martyr of the Nazi era was Pastor Dietrich Bonhoeffer. Before he was hanged, he wrote in his prison cell: "The great masquerade of evil has played havoc with all our ethical concepts. For evil to disguise as light, charity, historical necessity or social justice is quite bewildering to anyone brought up on our traditional ethics, while for the Christian who bases his life on the Bible it merely confirms the fundamental wickedness of evil."

---
Virtue Online, edited by David W. Virtue, is the Voice for global orthodox Anglicanism.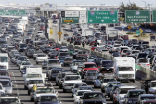 By Marshall Connolly (CALIFORNIA NETWORK)
We have money for perpetual war and can afford generous foreign aid, tax subsidies and cuts for the wealthy, but we cannot find the money to fix a pothole or repair a collapsing bridge. This is the sorry state of affairs U.S. infrastructure is in as we let the nation ... continue reading
---

By Kenya Sinclair (CALIFORNIA NETWORK)
Protesters at Republican presidential candidate Donald Trump's New Mexico rally erupted in violent acts including the attempted stoning of police, glass bottles thrown at mounted units and their horses, burning shirts and more. LOS ANGELES, CA (Catholic Online) - ... continue reading
---

By Kenya Sinclair (CALIFORNIA NETWORK)
Illegal aliens continue to surge into the United States from the Southwest U.S. border, leading the U.S. Customs and Border Protection (CBP) units to announce record-breaking apprehensions in April, 2016. LOS ANGELES, CA (Catholic Online) - According to the U.S. ... continue reading
---

By Marshall Connolly (CALIFORNIA NETWORK)
The arresting officer in the Freddie Gray case, Edward Nero, has been declared "not guilty" by the judge in his criminal trial. Now, the community waits to see if violence will erupt or if the streets will remain quiet. LOS ANGELES, CA (California Network) - Officer ... continue reading
---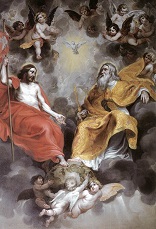 By Deacon Keith Fournier
'The mystery of the Most Holy Trinity is the central mystery of Christian faith and life. It is the mystery of God in himself. It is therefore the source of all the other mysteries of faith, the light that enlightens them. It is the most fundamental and essential ... continue reading
---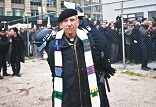 By Fr Frank Pavone
Father Berrigan was a radical figure who sent a total of almost seven years in prison. What many don't realize though is that his activism extended beyond the anti-war movement and into the anti-abortion movement. Believing in what he called a consistent ... continue reading
---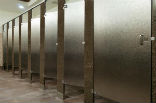 By David Drudge (CALIFORNIA NETWORK)
Under a new law, businesses in New York will be fined if they don't use a person's preferred pronoun when referring to them. This especially becomes a problem when it is understood there are at least 58 possible pronouns with at least five grammatical variations ... continue reading
---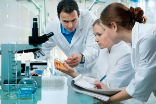 By Marshall Connolly (CALIFORNIA NETWORK)
The Federal Government has discovered the grocery list technology. This unlock apparently occurred recently as the Department of Agriculture sent encouraging, rapid-fire tweets to the public about how to use this remarkable new advancement. LOS ANGELES, CA (California ... continue reading
---

By David Drudge (CALIFORNIA NETWORK)
Texas is taking another step to becoming an independent Republic by recalling its gold and other precious metals home. A private company is planning to construct a bullion depository south of Houston, creating a virtual Ft. Knox for the state. LOS ANGELES, CA ... continue reading
---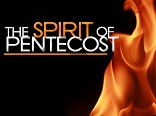 By Deacon Keith Fournier
I am one of countless thousands upon thousands whose life was profoundly changed by an experience, an encounter, with the Holy Spirit decades ago. I am old enough to remember when we who had this encounter were sometimes called Pentecostal Catholics. That ... continue reading
---
All U.S. News