---
(Catholic Digest) -- After writing hits for Lorrie Morgan, Waylon Jennings, and Trisha Yearwood, Beth Nielsen Chapman goes back to her Catholic roots in this article, which originally appeared in the September 2005 issue of Catholic Digest.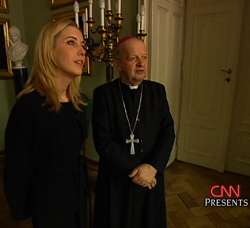 Beth Nielsen Chapman. (Catholic Digest photo)
Chapman had a song heard around the world when Elton John chose the title song of her album, Sand & Water, to sing at his concerts in memory of the late Princess Diana and the designer Gianni Versace. Her collection, Hymns, was released in 2004. * * * I was born in 1956, the middle child in a big Catholic family of four girls and a boy. Because my Dad was in the military, we moved around a lot, living on Air Force bases from California to New England, to Germany and back, until my family settled in Alabama around the time I entered middle school. Thanks to my portable childhood, life was a wonderful sort of chaos, geography ever changing, with a new front yard, a new school, and a new set of friends every few years. Home is where my stuff is pretty much described my attitude toward the shifting foundations of my world. In spite of my adaptability from starting over so many times, sometimes I felt like an invisible undertow was pulling me back through scattered memories, leaving me searching for indefinable things lost or left behind. One constant I could always count on was that my family would go to Mass every Sunday and holy day. The parish changed with every move, but because of the vestments, the prayers, and the incense, the feeling of being at Mass was always the same. I have a memory from long ago of standing between my parents, wiggling in my scratchy Sunday dress and tight shoes, back when the Mass was in Latin. I remember gauging how much longer I would have to behave based on the familiar melodic rise and fall of the prayers that were repeated in the same order every week. Luckily, the singing of the beautiful Latin hymns would punctuate the long service. Just knowing the next one was coming up kept me out of a lot of trouble. My father's deep bass on one side and my mom's soft alto on the other stirred within me an insatiable love for harmony. Whatever the words might have meant, I was captivated by the sound. Although it would be many years before I realized it, there was something magnetic and deep in those tones with the power to comfort and heal and reach into the heart in a way that goes beyond the capacity of words. Somewhere in those fleeting seasons of my childhood years, the language of the Mass shifted from Latin to English and there began to be a shift in the music as well. The era of the folk Mass was underway when I was 11 or 12. I discovered the guitar, which opened up a lot of worlds for me. Almost overnight I couldn't get enough of music. The folk Mass gave me my first experience singing in front of people, in fact a captive audience, which was a merciful start for a young singer whose confidence was still developing. Around that time I started to write songs with fervor, learning to pick things out on the clunky upright Kimball piano my parents rented. The Vietnam War was still raging and in between writing protest songs you could find me at church every Sunday singing "Kumbaya" and "Hear Oh Lord." Still, the tones of the ancient hymns resonated within me. By the time I was a teenager I was trying to talk the church folk group into performing "Ave Maria" and "O Sanctissima" and more of the old Latin gems. They tolerated me even though the trend of the day was more toward songs like "Blowin' in the Wind." Life and time flew quickly by and before I knew it I was in my 20s, married, and living in Mobile, Ala. The year my son was born, my husband, Ernest bought me a four-track recorder for my birthday. This fabulous invention allowed me to record up to four parts of harmony. The first thing I did was record a few of those Latin hymns, adding the alto and tenor parts from memory, my heart drawn completely back into the rich melodies and harmonies once again. That homespun tape was copied and re-copied and passed along to friends over the next few years. Eventually our family moved to Nashville in pursuit of my songwriting career. Finally, after the usual endless struggles of an aspiring songwriter, I started having some success and began making records. Just before the release of my second album with Warner Brothers in 1993, my husband was diagnosed with a very rare form of lymphoma. Thus began 18 months and many courses of treatment, which included a bone marrow transplant at the University of Colorado Medical Center in Denver. We were there for six weeks and the most difficult part of the transplant occurred over the Easter weekend. In the wee hours of the morning on Good Friday, I returned exhausted and drained to the tiny efficiency apartment just around the corner from the hospital. I picked up my guitar and recorded "Ave Maria." It brought such comfort to me in that moment, just to reconnect to the tones, the sound of the song threading through my voice, drawing my heart away from fear and bringing me into a sense of peace. Ernest died in August of 1994 and through the course of the next few years there were many difficulties as well as blessings. I recorded and released a collection of songs that chronicled my journey through grief with an album called Sand & Water. Though often overwhelmed during that time, I found unending love and support from my family and friends. Incredibly, in August of 2000,while working on a new record titled Deeper Still, I was diagnosed with stage-two breast cancer. That fall, I went through chemotherapy. I found my way out of my fear by connecting to Mary. Every few weeks when receiving my chemotherapy treatments I would close my eyes and imagine the liquid flowing into me as Blessed Mother light, cleansing every cell in my body. No matter how ill I felt, I had promised myself I'd try to sit at the piano every day even if only for a few minutes. One morning a hymn-like melody filtered through the gauze of all the medicine I was taking. I couldn't finish the lyric to what would become "Hymn To Mary" until my health returned. But writing that melody in the midst of my treatments reassured me that music comes from a place that is special and not dependent on the intellect for expression. Spring has come and gone five times since that winter. I began recording a project, a collection of sacred songs in many languages called Hymns. While looking for the perfect Latin hymn, I was surprised to learn that recordings of them were few. I felt compelled to stop everything and focus on compiling and recording the most beautiful Latin hymns I could remember. Like a gift that can be opened twice, making music has not only healed me but in turn has helped heal others. I believe there is a quality expressed through sound itself, in the tones of vowels and in the placement of harmony and melody. Like the wisdom inherent in a word before it is fully formed, something beyond language rises up from a very deep place in the sacred expression of music. There is none more beautiful than the traditional Catholic hymns. - - - For more information about Beth Nielsen Chapman and/or her albums, visit her Web site (http://bethnielsenchapman.com). Republished with permission by Catholic Online from the September 2005 issue of Catholic Digest. Catholic Digest (http://www.catholicdigest.org). is a Catholic Online Preferred Publishing Partner.
---
Republished by Catholic Online with permission of Catholic Digest (www.catholicdigest.org), a Catholic Online Preferred Publishing Partner.
---
---
---

By (CNA/EWTN News)
There's a demon that specializes in attacking the family, said exorcist César Truqui, a priest who participated in a course on exorcism held in Rome last year. Rome, Italy (CNA/EWTN News) - Fr. Truqui warned that everything that is harming the family, including ... continue reading
---

By Kenya Sinclair (CALIFORNIA NETWORK)
During an interview, Cardinal Robert Sarah explained the importance of priests facing east during Mass. LOS ANGELES, CA (Catholic Online) - In an interview with French Catholic magazine Famille Chrétienne, Cardinal Sarah, who is the prefect of the Congregation for ... continue reading
---

By Kenya Sinclair (CALIFORNIA NETWORK)
Rev. V. A. Anthony, of Brethren Assembly Church in Satna, his wife Prabha and one unnamed woman have been arrested in Aber, India after being accused of "forced conversions" and blaspheming against Hinduism. LOS ANGELES, CA (Catholic Online) - According to Christian ... continue reading
---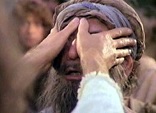 By Deacon Keith Fournier
The same Jesus who passed by Bartimaeus is alive today. The Good News is that no matter what has happened in our past, Jesus walks into the dusty streets of our lives this day. We simply need the eyes of living faith to see Him and the renewed heart to follow Him ... continue reading
---

By Kenya Sinclair (CALIFORNIA NETWORK)
In an attempt to make the Bible more interactive and entertaining to millennials, the King James Version (KJV) of the Bible has been translated with help from popular emoticons. LOS ANGELES, CA (Catholic Online) - According to The Memo, the new Bible, marked as ... continue reading
---

By Kenya Sinclair (CALIFORNIA NETWORK)
A new study revealed Welsh and English Catholics hold the highest retention rate of any denomination but maintain the lowest conversion rates. LOS ANGELES, CA (Catholic Online) - The report, titled the "Contemporary Catholicism in England and Wales," was issued by the ... continue reading
---

By Elise Harris (CNA/EWTN News)
For Pope Francis, prayer is neither a "magic wand" used to get what we want nor something casual we do only when we feel like it, but is rather the strength that sustains our faith in difficult moments. Vatican City, Rome (CNA/EWTN News) - "Jesus says that we need 'to ... continue reading
---

By Andrea Gagliarducci (CNA/EWTN News)
Former Pope Benedict XVI could appear in public once again on June 29, the 65th anniversary of his priestly ordination. Vatican City, Rome (CNA/EWTN News) - Speaking after the May 20 presentation of a book dedicated to Benedict XVI's pontificate, Archbishop Georg ... continue reading
---

By Tony Magliano
The best way to remember those who have been killed in battle is to work for the day when others will no longer be sent to take their place. Prayerfully reflecting on how to move away from war and war preparation should be central to every Memorial Day.Why do ... continue reading
---

By Ann Scneible (CNA/EWTN News)
The feast of the Holy Trinity is an invitation for us to commit to enriching our everyday relationships by promoting communion, consolation, and mercy, Pope Francis said during his weekly Sunday Angelus address. Vatican City, Rome (CNA/EWTN News) - "Our being created ... continue reading
---
All Living Faith News