The Obama Administration is afraid to admit al Qaeda is running rampant throughout the region
I feared that Islamists were gaining a foothold in the Middle-East and that the Arab Spring was turning into a bleak winter, at least for Arab Christians; but if "Revolt of the Spooks" is correct, then the Middle East may becoming completely unglued right before our eyes.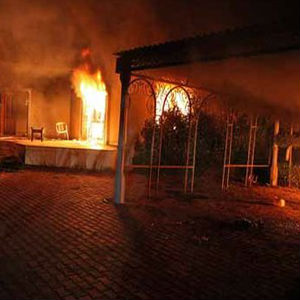 Embassy in Benghazi, Libya
KNOXVILLE, TN (Catholic Online) - According to Bill Gertz, what is happening in the Middle East is more ominous than anything I had feared up till now. I had feared that Islamists were gaining a foothold in the Middle East since President Obama took office and that the Arab Spring was turning into a bleak winter, at least for Arab Christians; but if the information in his article, "Revolt of the Spooks," is correct, then the Middle East may becoming completely unglued right before our eyes.

Bill Gertz is no novice. He is the author of several books and a veteran reporter. He has also lectured at various universities, the Defense Department, the FBI, and the CIA. His specialty includes intelligence, national security, defense, and government secrets. In 2004, Gertz reported that Syria, possibly with Russian assistance, transferred Iraqi dictator Saddam Hussein's weapons of mass destruction to Syria, a question which still remains open for some people.

Now, Gertz is reporting that officers at U.S. intelligence agencies believe important intelligence concerning terrorism is being covered up in what they describe as "a Middle East policy failure by Obama." The cover up includes "numerous classified reports" detailing Iranian support of terrorism in the region, the penetration of al Qaeda into Egypt and Libya in recent months, and that the attack on the American embassy in Benghazi in September was part of a "string of terror attacks and not a spontaneous uprising against an anti-Muslim video produced in the U.S."

Gertz writes, "Officials said that the administration appeared to engage in a disinformation campaign aimed at distancing the president personally during the peak of the presidential election campaign from the disaster in Benghazi, where numerous warning[s] of an attack were ignored, resulting in the deaths of U.S. Ambassador to Libya Christopher Stevens and three other officials."

According to these intelligence officers, Susan Rice, the ambassador to the United Nations, and White House Press Secretary, Jay Carney, were given false information by the Office of the Director of National Intelligence ". . . in order to promote the excuse that the obscure video was the cause of the attack, and not the Islamic concept of jihad."

You might recall that the Obama administration injected neutral language into our official defense strategy. For instance, the "Quadrennial Homeland Security Review" and the "Quadrennial Defense Review," both congressionally mandated documents, apparently no longer use the words "Islam," "Islamic" or "Islamist." And Janet Napolitano, the Secretary of Homeland Security, prefers to use the term "man-caused disasters" instead of terrorism.

During his nomination acceptance speech at the Democratic National Convention, President Obama said that "al Qaeda is on the path to defeat." But the intelligence officers say, "The Obama Administration is afraid to admit al Qaeda is running rampant throughout the region because it would expose the truth instead of what President Obama so pompously spouted during the Democratic Convention."

To make matters worse, Gertz writes, "The administration, in particular, wants to keep hidden solid intelligence showing that the terrorist group behind the Sept. 11, 2001, attacks that killed nearly 3,000 Americans is now flourishing under the Muslim Brotherhood regime of Egyptian President Mohamed Morsi."

According to Gertz, President Mursi released Muhammad al-Zawahiri, the brother of the present head of al Qaeda, from jail even though he had been sentenced to death under President Mubarak for terrorism in Egypt. Gertz also says intelligence reports indicate that the prestigious Al-Azhar University in Cairo ". . . is emerging as a covert base for al Qaeda organizational and training activities for a jihadi network consisting of many nationalities."

Gertz also informs us that al Qaeda terrorists based in Egypt were recently dispatched to Libya and Syria in order to infiltrate Libyan militia groups and Syrian opposition forces opposing the Bashar al Assad regime. In addition, Gertz says Egypt and Iran are working together to support terrorism throughout the region. He writes, "operatives from Iran's Ministry of Intelligence and Security, the main spy service, and from Iran's Quds Force paramilitary group and the Islamic Revolutionary Guards Corps are also facilitating al Qaeda terrorists based in Egypt."

None of this should surprise us. The Muslim Brotherhood has been a radical organization since its inception. It was founded by Hasan al-Banna in1928 as an Islamist religious, political, and social movement. In his book, Faith, Reason, and the War against Jihadism, George Weigel writes that al-Banna believed "After cleansing the House of Islam, true Muslims would cleanse their territories of infidels and unbelievers. . . ." For al-Banna, "Islam was 'both a religion and a state,' such that the Qur'an and the sword were 'inseparable.'"

Al-Banna's vision did not change through the years. During the Second World War, the Muslim Brotherhood sided with the Nazis, and they supported terrorist activities in Palestine. They also assimilated the Nazi's views against the Jews and Western societies into their reform movement. The Muslim Brotherhood were also implicated in a failed plot to assassinate Gamal Abdel Nasser, Egypt's leader in 1965, and in the successful assassination of Nasser's successor, Anwar Sadat, in 1980.

Consequently, it appears that President Obama's support of the Muslim Brotherhood and his intervention in Egypt and in Libya reflect poor judgment. Peace in the region seems a distant memory. Hope for an Arab Spring looks more like a child's fantasy at each passing day. Israel, our best ally in the Middle East and the only real democracy in the region, has not been threatened to this extent since Egypt and Syria crossed the cease-fire lines in the Sinai and Golan Heights and attacked Israel during Yom Kippur in 1973. And America has been forced to close her embassies in some Muslim nations.

Congressional hearings are scheduled for Wednesday, October 10 to investigate the factors which led up to the attack on our embassies in Egypt and Libya and to determine if there is a cover up. If Gertz is correct, the President of the United States is lying, and he must be held accountable; for people have died as a result of all the turmoil over the video, and many of us could suffer a similar fate in the near future if al Qaeda is not stopped before they attack us again.

For Catholic Americans, this is about more than a cover up and the Middle East becoming unglued. The safety of Arab Christians has also been placed in jeopardy as a result of President Obama's actions. Thus, it is also a time for us to pray for the safety of our Christian brethren living in the Middle East (and throughout the Muslim world) and for peace in the entire region, for all things are possible with God. 

 -----

Michael Terheyden was born into a Catholic family, but that is not why he is a Catholic. He is a Catholic because he believes that truth is real, that it is beautiful and good, and that the fullness of truth is in the Catholic Church. However, he knows that God's grace operating throughout his life is the main reason he is a Catholic. He is greatly blessed to share his faith and his life with his beautiful wife, Dorothy. They have four grown children and three grandchildren.
---
Copyright 2016 - Distributed by THE CALIFORNIA NETWORK
Pope Francis Prayer Intentions for May 2016
Universal:
Respect for Women: That in every country of the world, women may be honored and respected and that their essential contribution to society may be highly esteemed.
Evangelization:
Holy Rosary: That families, communities, and groups may pray the Holy Rosary for evangelization and peace.

By Kenya Sinclair (CALIFORNIA NETWORK)
It's a bad time to be an ISIS commander. In response to the continual failures on the battlefield, ISIS commanders are now being executed by being fed to aggressive dogs. LOS ANGELES, CA (Catholic Online) - A Kurdish commander spoke to the Iranian media outlet ... continue reading
---

By Kenya Sinclair (CALIFORNIA NETWORK)
ISIS followers have been urged to strike at Europe and the United States by a 31-minute speech Abu Mohamed al-Adnani posted online. LOS ANGELES, CA (Catholic Online) - In his speech, al-Adnani told his followers: "The tiniest action you do in the heart of their land is ... continue reading
---

By David Drudge (CALIFORNIA NETWORK)
A senior Iranian military adviser has said that Israel can be destroyed within eight minutes, if the order is given. The estimate is based on the amount of time it will take for a missile to reach Israel. LOS ANGELES, CA (California Network) - Ahmad Karimpour, an ... continue reading
---

By Kenya Sinclair (CALIFORNIA NETWORK)
An ISIS militant confined to a wheelchair has made headlines once again for executing an innocent. LOS ANGELES, CA (Catholic Online) - According to <a ... continue reading
---

By Kenya Sinclair (CALIFORNIA NETWORK)
In a newly released video, an ISIS militant, supporting himself on crutches, stood beside the remains of a destroyed Christian headstone. LOS ANGELES, CA (Catholic Online) - The video, shown on <a ... continue reading
---

By Kenya Sinclair (CALIFORNIA NETWORK)
The latest issue of Al-Qaeda's propaganda magazine 'Inspire' claims the assassination of several American business leaders can be of use in the Prophet's holy war. LOS ANGELES, CA (Catholic Online) - According to Daily Mail, a hit list was released for lone wolf jihads ... continue reading
---

By Kenya Sinclair (CALIFORNIA NETWORK)
Barbed wire, 5,000 landmines and danger signs written in Arabic, English and Hebrew surround the site believed to be the area Jesus was baptized in the Jordan River. LOS ANGELES, CA (Catholic Online) - Though the Israeli and Jordanian armies concluded their war in ... continue reading
---

By Kenya Sinclair (CALIFORNIA NETWORK)
A young man has been accused of blasphemy after allegedly searching for and watching anti-Muslim content on YouTube with his phone, leading to a $10,000 bounty. LOS ANGELES, CA (Catholic Online) - According to the Centre for Legal Aid, Assistance and Settlement ... continue reading
---

By Kenya Sinclair (CALIFORNIA NETWORK)
Iraqi refugees currently residing in Jordan face unemployment and, ultimately, starvation. LOS ANGELES, CA (Catholic Online) - Jordan is currently playing host for nearly 1.5 million refugees and has begun to sway beneath the weight of responsibility.There are not ... continue reading
---

By Kenya Sinclair (CALIFORNIA NETWORK)
Everyone loves teaching their children the letters of the alphabet. The traditional "A is for apple" and "B is for ball" have covered the pages of alphabet books for decades.Now, terrorist organization ISIS has a version of the Arabic alphabet that will give you ... continue reading
---
All Middle East News