By Catholic Online (NEWS CONSORTIUM)
10/4/2012 (3 years ago)
Catholic Online (www.catholic.org)
Situation in Syria is worse than most imagine.
A series of suicide bomb attacks have put a form, if not a face, on the violence in Syria. The body of a lifeless girl, left on the sidewalk where she died in the heart of Aleppo, is being widely circulated today.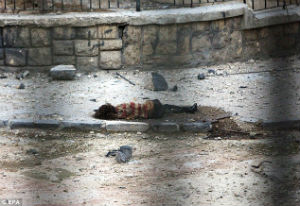 The lifeless body of a girl remains on the street where nobody comes to retrieve her.
ALEPPO, SYRIA (Catholic Online) - Just hours after a series of suicide bombings, all the bodies of the dead have been cleared away, except for some unknown reason, the body of a girl killed in a blast. Lying in a near-fetal position as though asleep, the child is deceased and left on the sidewalk, her body not even picked up for a dignified burial. 

The girl was one of 40 victims. 

The civil war which has wracked Syria has taken its toll on civilians with somewhere between 30,000 and 40,000 casualties. Observers believe a solid double-digit percentage of those are children, who have been deliberately targeted by government forces in many instances. 

The body of the girl, left behind after the removal of the others, is a stark message telling the world just how hellish the conflict has become for the civilian population. The conflict has become so vicious that even simple gestures of humanity, such as the compassionate removal of a deceased child, have faded away in the struggle for survival.

The people of Aleppo and several other locations throughout the country are facing a desperate situation. Clean water and electricity have become a distant memory. Disease and hunger are becoming standard fare. The lack of medicine and doctors, not to mention food, has driven the population to apathetic survival. In such cases, people lose their humanity and behave as animals. 

In the midst of this, the world continues to dither, unsure of how to approach the situation. Fears of provoking Russia and China have kept major international intervention at bay, intervention that includes aid and a no-fly zone for Syrian aircraft, which are the regime's chief weapon of terror. 

International observers report that the situation has reached a stalemate. Others are concerned about escalation. Yesterday, Turkish artillery performed a counter-battery fire mission into Syria in response to border shelling that killed at least five in that country. 

The situation in Syria is so dire that many reporters have been removed from the country. 

Help the child victims of this conflict. Click there to see what you can do. 

Meanwhile, the lifeless body of a girl now serves as a silent ambassador, hopefully shaming the world into action as the crisis in Syria becomes ever worse.



---
Copyright 2015 - Distributed by THE CALIFORNIA NETWORK
Pope Francis Prayer Intentions for April 2016
Universal:
Small Farmers: That small farmers may receive a just reward for their precious labor.
Evangelization:
African Christians: That Christians in Africa may give witness to love and faith in Jesus Christ amid political-religious conflicts.
---
---
---

By Kenya Sinclair (CALIFORNIA NETWORK)
Footage captured Kurdish fighters destroying a Mad Max-like scrapyard ISIS suicide bomber truck in Syria in an amazing missile explosion. LOS ANGELES, CA (Catholic Online) - The footage caught an ISIS suicide bomber truck driving along a dirt road when suddenly a ... continue reading
---

By Kenya Sinclair (CALIFORNIA NETWORK)
Fighting in Iraq leads to 12 dead - but ISIS had nothing to do with the gunfire. LOS ANGELES, CA (Catholic Online) - News of ISIS-related acts of terror including bombings, rape and even threatening social media have splashed headlines for quite a while, but what else ... continue reading
---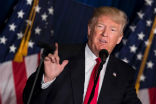 By David Drudge (CALIFORNIA NETWORK)
The Wall Street Journal has published their report on documents released by the U.S. government detailing the raid that killed ISIS's top money man. Abu Sayyaf was the official oil man for ISIS, generating over a million dollars a day for the terror organization, even ... continue reading
---

By David Drudge (CALIFORNIA NETWORK)
Saudi Arabia is taking out a $10 billion loan to offset losses caused by collapsed oil prices, a condition the conservative Islamic monarchy has created for itself. Saudi Arabia is beginning to consider changes to its economy that will shift the nation away from oil. ... continue reading
---

By Matt Hadro (CNA/EWTN News)
Now that the U.S. has declared that the Islamic State is waging genocide against religious minorities in Iraq and Syria, what will be done to help the victims move forward? LOS ANGELES, CA (Catholic Online) - That was the question at an April 19 congressionalWill the ... continue reading
---

By Abigail James (CALIFORNIA NETWORK)
Two-hundred and fifty women have been brutally slaughtered by the Islamic State for refusing to become sex slaves to the terrorists. LOS ANGELES, CA (Catholic Online) - After refusing to accept the "temporary marriages" and the "sexual jihad" being forced on them the ... continue reading
---

By Kenya Sinclair (CALIFORNIA NETWORK)
Air strikes in Syria continue to eat away at the ISIS population - but they have been destroying civilian lives as well. LOS ANGELES, CA (Catholic Online) - A mother recently lost her daughter in a missile strike of Aleppo, Syria.The woman was recorded crying and ... continue reading
---

By Kenya Sinclair (CALIFORNIA NETWORK)
Historians often argue about the age of the Bible. For all they've learned from the text, several questions remain. Was it written as events were happening or were stories passed down and eventually recorded? When, exactly, were the books of the Bible ... continue reading
---

By Kenya Sinclair (CALIFORNIA NETWORK)
ISIS is reported to have kidnapped 300 cement workers outside Damascus, Syria. Of the 300 workers, new reports indicate 175 have been killed. LOS ANGELES, CA (Catholic Online) - According to Daily Mail, an unknown source told state-run news agency SANA, "employees and ... continue reading
---

By Abigail James (CALIFORNIA NETWORK)
As the entire world anxiously awaits a safe return of the ISIS kidnapped priest, Fr Thomas Uzhunnalil, his older brother continues to worry about the safety of Fr Tom. LOS ANGELES, CA (Catholic Online) - Living alone with no access to media, Mathew Uzhunnalil, 73, ... continue reading
---
All Middle East News