The Blasphemy Law is an instrument of oppression with which Christians and other religious believers are persecuted by Islamic supremacists
When news of Asia Bibi's plight spread throughout the international media, it brought almost universal condemnation. Sadly, it did not last. Her courage and suffering for the cause of Christ was soon forgotten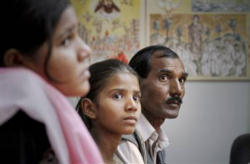 Asia Bibi with her husband and daughters before wrongful arrest
LAHORE, Pakistan (Catholic Online) - Zenit news Agency in a story entitled "Pakistani Christian Condemned for Blasphemy Tells Her Story"  reports that Asia Bibi, the Pakistani Christian woman wrongfully sentenced to death for an alleged blasphemy, has collaborated with French journalist Anne Isabelle Tollet, Bibi to write a book entitled "Blasphčme" (Blasphemy). It was released on Sept. 7, 2011 in Lisbon, Portugal:  
"The Catholic charity Aid to the Church in Need, which collaborated in the publication, described the book as "an impressive account of this Pakistani who for two years has awaited the order to be hanged, simply for having dared to share a glass of water with other women."
Asia Bibi, a Christian woman, was sentenced to death by hanging simply because she is a Christian. Her lawyer filed an appeal of her unjust sentence and requested a pardon from the Office of the President. President Asif Ali Zardari had asked for a review of the facts of the case.It was widely reported that she would receive a  presidential pardon or commutation of her sentence.
However, on Monday, November 29, 2010 Khawaja Sharif, the chief justice of the Lahore High Court, issued an interim order ruling that while the matter is pending before it the President of the Nation may not issue a pardon for Asia Bibi.
Pope Benedict XVI and leaders from around the world have urged that this devout Christian wife and mother be freed. On November 17, 2010, at his general audience in St. Peters square, the Holy Father called the world's attention to the plight of this contemporary Christian disciple with these words:
"Over these days the international community is, with great concern, following the situation of Christians in Pakistan, who are often victims of violence or discrimination. In particular, I today express my spiritual closeness to Ms Asia Bibi and her family while asking that, as soon as possible, she may be restored to complete freedom. I also pray for people who find themselves in similar situations, that their human dignity and fundamental rights may be fully respected. "
As the initial news of Asia Bibi's plight spread throughout the international media, it brought almost universal condemnation. Sadly, it did not last and her plight and her heroic suffering for the cause of Christ was soon forgotten. This 45 year old wife and mother was sentenced to hanging by the neck until dead on November 8, 2010 for what amounts to simply being a Christian. The unjust sentence was rendered under Pakistan's horrendous "Blasphemy Law".
One portion of the Penal Code under which she was sentenced reads as follows: "Use of derogatory remarks, etc; in respect of the Holy Prophet. Whoever by words, either spoken or written or by visible representation, or by any imputation, innuendo, or insinuation, directly or indirectly, defiles the sacred name of the Holy Prophet Mohammed (PBUH) shall be punished with death, or imprisonment for life, and shall also be liable to fine."
NBC news reported in 2010 that Asia Bibi's husband, Ashiq Masih, along with the couple's children,went into hiding in an undisclosed Christian enclave. He is convinced that the whole family has been targeted for death at the hands of radical Islamic groups.  Asked about the events which gave rise to his wife's  death sentence he told NBC news, "She was picking berries with other women, when she was sent to get water. One of the women refused to drink the water after my wife dipped her cup into the bucket. This woman said it was contaminated because it was touched by a Christian."
According to Masih, all the women then started taunting his wife, and shouting insults against her mother and their children. Bibi just repeated the same insults back at them. "The name of the holy prophet never came up.Five days later, the local cleric came to our house, followed by an angry mob, and dragged my wife away," he said, recalling the incident that took place in June 2009. They beat her, ripped off her clothes and accused her of insulting the prophet. Then they locked her up in a house until the police came to take her away."
Catholic Online has covered the story from the beginning. The "Blasphemy Law" is an instrument of oppression with which Christians and other religious believers are persecuted by Islamic supremacists. The use of such "Blasphemy" or "Religious Defamation" laws to persecute is not confined to Pakistan. It is an affront to the fundamental human rights recognized by freedom loving people around the world and revealed in the Natural Law.
The Catechism of the Catholic Church puts it clearly, "Every human person, created in the image of God, has the natural right to be recognized as a free and responsible being. All owe to each other this duty of respect. The right to the exercise of freedom, especially in moral and religious matters, is an inalienable requirement of the dignity of the human person. This right must be recognized and protected by civil authority within the limits of the common good and public order." (CCC #1738)
Asia Bibi must be freed and the so called "Blasphemy Laws" used to suppress the free expression of religious faith in Muslim Nations must be rejected. In the face of such an obvious attack on a Christian, all those who bear the name must speak out! We joined with Pope Benedict XVI and people of good will throughout the world and call for complete freedom for Asia Bibi. We will obtain a copy of the book and report on it as soon as we do. Hopefully it will rekindle a public, international outcry, to free Asia Bibi.
All reliable reports indicate that she is still in prison. A recent update on "Christians in Pakistan" reported that "A local Muslim leader has offered a $6,000 reward to anyone who murders Asia Bibi. The family of Asia Bibi is also getting death threats. Due to these threats Asia remains in her prison cell for 24 hours a day and she neither meet(s) anyone nor eat(s) food from the prison. She only eats the food which she made herself from the groceries provided by her husband."
---
Copyright 2016 - Distributed by THE CALIFORNIA NETWORK
Pope Francis Prayer Intentions for May 2016
Universal:
Respect for Women: That in every country of the world, women may be honored and respected and that their essential contribution to society may be highly esteemed.
Evangelization:
Holy Rosary: That families, communities, and groups may pray the Holy Rosary for evangelization and peace.

By Kenya Sinclair (CALIFORNIA NETWORK)
Egyptian authorities have arrested six men suspected to have participated in the mob and are currently looking for 12 more. LOS ANGELES, CA (Catholic Online) - President Abdel-Fattach el-sissi demands the culprits be held accountable and issued his military one month ... continue reading
---

By Kenya Sinclair (CALIFORNIA NETWORK)
Pakistan's Ministry of Foreign Affairs confirmed the death of Afghan Taliban leader Mullah Akhtar Mohammed Mansour by U.S. drone strike - but another leader has risen. LOS ANGELES, CA (Catholic Online) - Days after burying Mansour in an undisclosed location in ... continue reading
---

By Kenya Sinclair (CALIFORNIA NETWORK)
After a Tuesday vote, Iran's Assembly of Experts elected 89-year-old Ahmed Jannati as its next supreme leader.Jannati is famous for his extremely conservative views of Islam and is now in a position to choose Iran's next Supreme Leader. LOS ANGELES, CA (Catholic ... continue reading
---

By Kenya Sinclair (CALIFORNIA NETWORK)
It's a bad time to be an ISIS commander. In response to the continual failures on the battlefield, ISIS commanders are now being executed by being fed to aggressive dogs. LOS ANGELES, CA (Catholic Online) - A Kurdish commander spoke to the Iranian media outlet ... continue reading
---

By Kenya Sinclair (CALIFORNIA NETWORK)
ISIS followers have been urged to strike at Europe and the United States by a 31-minute speech Abu Mohamed al-Adnani posted online. LOS ANGELES, CA (Catholic Online) - In his speech, al-Adnani told his followers: "The tiniest action you do in the heart of their land is ... continue reading
---

By David Drudge (CALIFORNIA NETWORK)
A senior Iranian military adviser has said that Israel can be destroyed within eight minutes, if the order is given. The estimate is based on the amount of time it will take for a missile to reach Israel. LOS ANGELES, CA (California Network) - Ahmad Karimpour, an ... continue reading
---

By Kenya Sinclair (CALIFORNIA NETWORK)
An ISIS militant confined to a wheelchair has made headlines once again for executing an innocent. LOS ANGELES, CA (Catholic Online) - According to <a ... continue reading
---

By Kenya Sinclair (CALIFORNIA NETWORK)
In a newly released video, an ISIS militant, supporting himself on crutches, stood beside the remains of a destroyed Christian headstone. LOS ANGELES, CA (Catholic Online) - The video, shown on <a ... continue reading
---

By Kenya Sinclair (CALIFORNIA NETWORK)
The latest issue of Al-Qaeda's propaganda magazine 'Inspire' claims the assassination of several American business leaders can be of use in the Prophet's holy war. LOS ANGELES, CA (Catholic Online) - According to Daily Mail, a hit list was released for lone wolf jihads ... continue reading
---

By Kenya Sinclair (CALIFORNIA NETWORK)
Barbed wire, 5,000 landmines and danger signs written in Arabic, English and Hebrew surround the site believed to be the area Jesus was baptized in the Jordan River. LOS ANGELES, CA (Catholic Online) - Though the Israeli and Jordanian armies concluded their war in ... continue reading
---
All Middle East News