Pope Francis responds with good humor.
Pope Francis retained his customary good humor in the face of a potentially embarrassing event when a gust of wind blew off his zucchetto during the Pontiff's weekly general audience in Saint Peter's square.
LOS ANGELS, CA (Catholic Online) - Back in December of 2013, the Pope's skullcap was taken by a young boy. Hopefully this is not a sign of things to come, lest the reign of Pope Francis be hatless.

Join the fight against world hunger.
---
Copywriter 2015 - Distributed by THE NEWS CONSORTIUM
Pope Francis Prayer Intentions for March 2015
Universal:
Scientists: That those involved in scientific research may serve the well-being of the whole human person.
Evangelization:
Contribution of women: That the unique contribution of women to the life of the Church may be recognized always.

By Abigail James (NEWS CONSORTIUM)
An al-Qaeda-linked terror cell, who once had direct contact with Osama bin Laden and planned an attack on the Vatican, has been uncovered and broken up during raids by the Italian police this week. LOS ANGELES, CA (Catholic Online) - The group in question is believed ... continue reading
---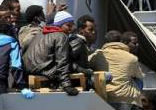 By Catholic Online (NEWS CONSORTIUM)
Italy has become a gateway for many African and Middle Easterners fleeing their war-torn lands for peace and prosperity. It is estimated that as many as 5,000 migrants a week arrive in Italy by sea from North African ports. This is leading to a crisis, with ... continue reading
---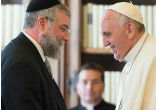 By Catholic Online (NEWS CONSORTIUM)
Meeting with a 30-member delegation of the Conference of European Rabbis, Pope Francis said that European Christians and Jews must stand together to defend one another from discrimination and persecution around the world. LOS ANGELES, CA (Catholic Online) - The ... continue reading
---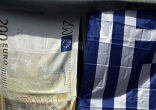 By Catholic Online (NEWS CONSORTIUM)
The Greek government has ordered a mandatory transfer of cash reserves from state-owned enterprises to the central bank. The action is a frantic bid to gather enough cash to remain solvent. LOS ANGELES, CA (Catholic Online) - Citing "extremely urgent and ... continue reading
---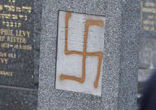 By Catholic Online (NEWS CONSORTIUM)
Pope Francis met in the Vatican with a delegation from the Conference of European Rabbis, the first time a pope has ever met with the Conference. Foremost in the meeting were the troubling "anti-Semitic trends in Europe." The Pope called it a cause for worry, ... continue reading
---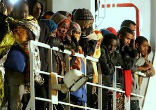 By Catholic Online (NEWS CONSORTIUM)
Muslims among migrants trying to get from Libya to Italy in a boat killed 12 fellow passengers by throwing them overboard because they were Christians, Italian police say. LOS ANGELES, CA (Catholic Online) - At least 15 people have been arrested on suspicion of ... continue reading
---

By Atarah Haely (NEWS CONSORTIUM)
Thousands of earthworms were observed falling from the sky across the southern part of Norway, which still baffles the scientists. The rare phenomenon was sighted by a Biology teacher Karstein Erstad, as he was skiing in the mountains near Bergen last weekend. ... continue reading
---
By Catholic Online (NEWS CONSORTIUM)
Turkish Prime Minister Ahmet Davutoglu has accused Pope Francis of being part of an "evil front" plotting against his country. The Pope used the term "genocide" in describing the massacre of one million Armenians during the Ottoman Empire in 1915. LOS ANGELES, CA ... continue reading
---

By Abigail James (NEWS CONSORTIUM)
"Beautiful young vampires," in vitro fertilization and gay rights were among the warnings for possession presented during a Vatican-backed exorcism course. LOS ANGELES, CA (Catholic Online) - Vampires from pop culture Hollywood films, like Twilight and True Blood, were ... continue reading
---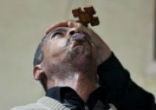 By Catholic Online (NEWS CONSORTIUM)
The world is now in the throes of an increased awareness of Satan and the "dark arts" of exorcism. Pope Francis' fire-and-brimstone language, coupled with his frequent references to the Devil has raised awareness of the Evil One once again into the mainstream of ... continue reading
---
All Europe News