El Papa Francisco explicó en una entrevista con el director del diario italiano La Repubblica, Eugenio Scalfari, lo que sintió y pensó luego de que fuera elegido como sucesor de San Pedro en el Cónclave de marzo de este ańo.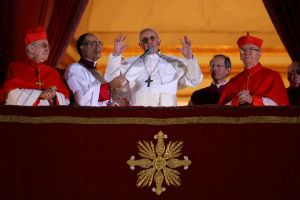 Habeas Papem!
ROMA (ACI/EWTN Noticias) - El Santo Padre recuerda que luego de ser elegido y antes de aceptar la elección, "pedí poder retirarme por unos minutos en la habitación contigua a la del balcón que da a la plaza. Mi cabeza estaba completamente vacía y una gran ansiedad me invadió".

"Para relajarme cerré los ojos y todos mis pensamientos desaparecieron, también el de negarme a aceptar el cargo, tal y como consiente el procedimiento litúrgico. Cerré los ojos y no vi más ansiedad o emotividad".

El Papa dijo luego que "llegado a cierto punto, una gran luz me invadió, duró un momento pero a mí me pareció larguísimo. Después la luz se disipó, me alcé de una y me dirigí a la habitación donde me esperaban todos los cardenales y la mesa sobre la que se encontraba el acta de aceptación. La firmé, el Cardenal Camarlengo lo firmó y después, sobre el balcón anunciaron el 'ˇHabemus Papam!'", relató.

Los diarios del mundo entero se hicieron eco de las palabras del Papa Francisco al saludar por primera a los fieles desde el balcón del Vaticano, pero no se conocía hasta ahora los pensamientos del Papa antes de aceptar su elección.

"Hermanos y hermanas, buenas tardes, como saben el deber del cónclave era dar un obispo a Roma, y mis hermanos cardenales se han ido a buscarlo casi al fin del mundo. Y aquí estoy", dijo el Papa Francisco en sus primeras palabras.
---
Copyright 2015 - Distributed by THE CALIFORNIA NETWORK
Pope Francis Prayer Intentions for April 2016
Universal:
Small Farmers: That small farmers may receive a just reward for their precious labor.
Evangelization:
African Christians: That Christians in Africa may give witness to love and faith in Jesus Christ amid political-religious conflicts.

By Kenya Sinclair (CALIFORNIA NETWORK)
Vatican auditors closed nearly 5,000 suspected Vatican bank accounts on suspicion of tax evasion. LOS ANGELES, CA (Catholic Online) - The scandal includes a three-year investigation of 544 suspected transactions mainly involving tax evasion.To meet international ... continue reading
---

By David Drudge (CALIFORNIA NETWORK)
Hackers have just released thousands of documents in a new document dump to the media, this time, they contain the secrets of the Masons. The data dump is known as "Masonleaks" and journalists say it will take several months to complete their review of the documents. ... continue reading
---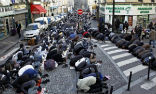 By David Drudge (CALIFORNIA NETWORK)
A Belgian minister has a telling warning for his country as hearings begin into the Brussels attack that killed 32 people at an airport in March. The reason for the warning is quite compelling. LOS ANGELES, CA (California Network) - A Belgian minister is warning ... continue reading
---

By Marshall Connolly (CALIFORNIA NETWORK)
A woman in Northern Ireland has been convicted of aborting her child, and sentenced to a three-month, suspended jail sentence. The woman left her baby in a trash bag for eight days until police were contacted. The case has sparked renewed debate over abortion in ... continue reading
---

By Kenya Sinclair (CALIFORNIA NETWORK)
Thirty years after the greatest nuclear disaster the world has ever seen, Ukrainians solemnly commemorate the 1986 Chernobyl nuclear power plant accident. LOS ANGELES, CA (Catholic Online) - The meltdown at the Russian plant began when an uncontrolled reaction ... continue reading
---

By Kenya Sinclair (CALIFORNIA NETWORK)
A Cambridge researcher and world-class medieval music performer combined their talents to perform an ancient song for the first time in over 1,000 years. LOS ANGELES, CA (Catholic Online) - The music, titled "Songs of Consolation," was performed for the first time on ... continue reading
---

By Kenya Sinclair (CALIFORNIA NETWORK)
Students from the French university Sciences Po Paris held a Hijab Day to raise awareness of the discrimination and verbal abuse Muslim women face every day - and it went exactly how you might expect. LOS ANGELES, CA (Catholic Online) - With the influx of Muslim ... continue reading
---

By Kenya Sinclair (CALIFORNIA NETWORK)
German and Italian intelligence agencies discovered ISIS' plan to pose as refugees to detonate bombs and suicide vests buried beneath lounge chairs across Spanish, French and Italian beaches this summer. LOS ANGELES, CA (Catholic Online) - According to the Mirror, ... continue reading
---

By David Drudge (CALIFORNIA NETWORK)
The conditions that Norwegian mass murderer Anders Behring Breivik have been subjected to are inhumane, according to a Norwegian court. Breivik was convicted of killing 77, and injured 319. Many of his victims were children. LOS ANGELES, CA (California Network) - Life ... continue reading
---

By CNA/EWTN News
On April 29, the Trevi Fountain, one of the most popular and emblematic tourist spots in Rome, will be dyed red in recognition of all Christians who even today give their life for the faith. Rome, Italy (CNA/EWTN News) - The event is being organized by Aid to the ... continue reading
---
All Europe News