In Guinea, a country that is still pagan, Satan's presence does not surprise anyone. People truly believe that he exists and they see him wherever there is evil, hatred, violence, division, and mafias
Father Gheddo talks about the experience of Fr Dionisio Ferraro, a native of Vicenza (Italy) and a missionary in Guinea Bissau. As the latter worked on a book dealing with faith, he was whipped by the devil one night to the point of drawing blood, causing deep wounds to the body. In Africa, the presence of Satan "is no surprise to anyone"; he is also present in Italy, but very "little is said about him."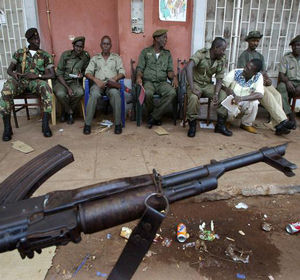 Guinea-Bissau soldiers
Highlights
Asia News (www.asianews.it/)
5/24/2013 (3 years ago)
Published in Europe
Keywords: PIME, P.I.M.E., Missionas, devil, satan, evangleical, power, Holy Spirit, Asia news, missionary, Fr. Piero Gheddo
---
MILAN, Italy (AsiaNews) - Fr Dionisio Ferraro, a missionary with the Pontifical Institute for Foreign Missions (PIME), was born in Casoni (Vicenza, Italy) in 1944. A priest since 1970, he moved to Guinea-Bissau in 1972 and has lived in the country ever since. He served as PIME regional superior in Guinea from 1981 to 1985 and is currently a parish priest in Bambadinca, a pagan town in the Diocese of Bafatá, the country's second diocese, established in 2001. I interviewed him in Milan on 21 May 2013 and he approved this interview. Although some may not believe in the devil's existence, Pope Francis has often spoken about him. I asked Father Dionisio to tell me about his ordeal. ***** In 2011, I came to Italy, and I was struck by the lack of faith in many people. That year, Benedict XVI had announced the Year of Faith (11 October 2011-24 November 2012). Upon returning to Guinea in March, I set out to write a booklet in kriol (the national language along with the Portuguese) titled 'Lord, make us stronger in faith'. It was needed to prepare adults for baptism, but it was also good for others, until the last chapter on Our Lady, Our Mother in faith: about 50 pages in all. After it was done and ready, I thought of taking it to Bissau for printing, but I could not find a day off. Given the state of the roads, it takes three hours and more to cover 120 km one way (and the same the other way). In Bambadinca, I normally go to bed early. We have no electricity, nor television. Outside, there are mosquitoes. So I go to bed at 21:00 hours. I tend to fall asleep right away and sleep well. At 1 am, I wake up, turn on the lamp and get up. I pray and write until about 3 am. Then, I am sleepy again and go back to sleep again until 5.30 or 6. I don't have to set the alarm clock. At 1 am on 23 March 2011, I got up, I re-read the booklet. I liked it what I read and decided that the next day I would go to Bissau to the printer. I went back to bed, laid down on my left side. When I felt sleep come over me, I turned to the right and fell asleep. In Guinea, rooms are closed and without lights, so we sleep without clothes on or cover because of the heat. As I was falling asleep, I felt something lashing at my left shoulder and arm-on the left side of my body, and leg. Flabbergasted, I screamed from the pain. As someone kept on whipping me in the dark, I tried to protect my head with my hands. Then, it dawned on me that I was in bed inside a room in a brick house, behind a locked door and grated windows. Nobody could have come into the room.The devil came to mind and I shouted: 'Vade retro, Satana, in the Name of the Father, the Son and the Holy Spirit! And, miraculaously, the whipping stopped. I continued to scream in vain since no one else was in the house. There was blood on my left shoulder and knee, and so I prayed to Jesus and Mary. I turned on the lamp and I looked in the mirror: I saw the blood. After washing it out and drying the wound, I put some penicillin and an antibiotic ointment-the treatment eventually lasted a fortnight. I felt a lot of pain, but that did not prevent me from thinking. I checked the door and it was locked from the inside. The security bars on the window were solid and untouched. I looked under the bed, in the wardrobe, in the bathroom: no one. At that point, I shouted to myself and to the Lord: 'It's the devil who does not want me to publish this book.' After that, I knelt and prayed again. When I went back to bed, the Lord sent me back to sleep. When the alarm clock rang, I got up. At that point, I thought I had to show my wounds and blood to the bishop. So I went to Bafatá to see Mgr Pedro Zilli, an Italian-Brazilian member of PIME. He saw my wounds and heard my story. He told me to pray and bless the room before going to bed. After that, I travelled to Bissau and showed my wounds to Fr Davide Sciocco, PIME regional superior for Guinea, who told me to pray. Later, I told Fr Luca Pedretti about it. He is the vicar general of the diocese of Bafatŕ and a diocesan 'fidei donum' priest from Verona. 'Always keep holy water in the room and bless it,' he told me. Next I thought: 'My book is incomplete.' Hence, after the last chapter on Our Lady, Our Mother in faith, I added another one on the devil, citing biblical texts from the Old Testament, Mark 1:13, in which Jesus goes into the desert for 40 days and is tempted by the devil, and Mark 4:15, in which Satan takes away the word of God, and other quotes with brief comments. I added: these are facts from the Bible that may seem far away and no longer relevant to us today. Yet, my own experience confirms them. I also wrote about what happened to me: on the night of 23 March 2011, Satan whipped me because he did not want me to publish this book.

*****
I told Father Dionisio that his story would cause astonishment in Italy; perhaps disbelief even. In answering, he said:

"I understand you because you in Italy do not have direct and personal experience with the devil. But on visiting my homeland for a month or two, I realize how the devil is present in Italian society, in families, but little is said about him. In Guinea, a country that is still pagan, Satan's presence does not surprise anyone. People truly believe that he exists and they see him wherever there is evil, hatred, violence, division, and mafias. They fear him a lot." "To speak about Satan to our people is useful; in fact, since my book came out, many have come up and asked me more about the devil and are increasingly drawn to an evangelical vision of life, i.e. they discover first hand that only Jesus Christ can deliver them from the devil, who is the only true enemy of God and man."

By Ann Schneible (CNA/EWTN News)
Pope Francis on Monday embraced the grand imam Sheik Ahmed Muhammad Al-Tayyib during a meeting at the Vatican, a move which is being seen as a step toward reopening dialogue between Christians and Sunni Muslims. Vatican City (CNA/EWTN News) - "Our meeting is the ... continue reading
---

By Kenya Sinclair (CALIFORNIA NETWORK)
Pope Francis has decided to meet with Sunni Islam's Sheikh Ahmed al-Tayeb on Monday. LOS ANGELES, CA (Catholic Online) - Vatican spokesman Federico Lombardi told AFP, "This audience is being prepared and has been scheduled for Monday. It will be a first."The pontiff's ... continue reading
---

By Kenya Sinclair (CALIFORNIA NETWORK)
In what most claim is a non-sexual "dog play," human pups have become the latest rage to spread across the UK - so much so that a new documentary will reveal the inner workings of the human pups' lives. LOS ANGELES, CA (Catholic Online) - According to Channel 4, the ... continue reading
---

By (CNA/EWTN News)
Leonardo da Vinci's masterpiece, Adoration of the Magi, will soon be undergoing testing that could help digitally reconstruct the artist's face and offer clues about his life and health. Florence, Italy (CNA/EWTN News) - According to the U.K. outlet Sky News, ... continue reading
---

By Kenya Sinclair (CALIFORNIA NETWORK)
Islamophobia spreads as ISIS continues its terror attacks - but one city has taken a step toward accepting the fact that not all Muslims are terrorists. LOS ANGELES, CA (Catholic Online) - London has elected its first Muslim Mayor. Sadiq Khan won with 56.8 percent of ... continue reading
---

By Kenya Sinclair (CALIFORNIA NETWORK)
Anyone who has ever been in college knows there is a list of required classes to take before you are eligible for graduation. Some classes seem unnecessary, such as a Chemistry major forced to take art classes, but what if universities and colleges required exorcism ... continue reading
---

By Kenya Sinclair (CALIFORNIA NETWORK)
Humanitarian group reported airstrikes targeting a refugee camp full of innocent men, women and children during a cease-fire. LOS ANGELES, CA (Catholic Online) - According to the Syrian Observatory for Human Rights (SOHR), a Syrian refugee camp erected near the Turkish ... continue reading
---

By Kenya Sinclair (CALIFORNIA NETWORK)
Vatican auditors closed nearly 5,000 suspected Vatican bank accounts on suspicion of tax evasion. LOS ANGELES, CA (Catholic Online) - The scandal includes a three-year investigation of 544 suspected transactions mainly involving tax evasion.To meet international ... continue reading
---

By David Drudge (CALIFORNIA NETWORK)
Hackers have just released thousands of documents in a new document dump to the media, this time, they contain the secrets of the Masons. The data dump is known as "Masonleaks" and journalists say it will take several months to complete their review of the documents. ... continue reading
---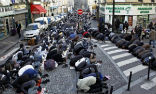 By David Drudge (CALIFORNIA NETWORK)
A Belgian minister has a telling warning for his country as hearings begin into the Brussels attack that killed 32 people at an airport in March. The reason for the warning is quite compelling. LOS ANGELES, CA (California Network) - A Belgian minister is warning ... continue reading
---
All Europe News