In some ways, Blessed John Paul was the evangelizer, His Holiness Benedict was the teacher and our Holy Father Francis is the Pastor
This simple man, His Holiness Benedict XVI, chose to celebrate his birthday with his brother - with no fanfare. Notice how he has just gotten out of the picture. I think it speaks volumes about his genuine humility. How refreshing the virtue of humility truly is in an age filled up with so much secualr leadership infected with narcissism.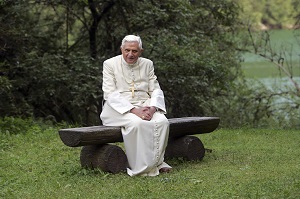 His Holiness Benedict XVI
CHESAPEAKE, VA (Catholic Online) - His Holiness Benedict XVI turned 86 years old on April 16, 2013. That morning the Holy Father Francis offered Mass in the chapel of the Domus Sanctae Marthae and told the faithful:

"Today is Benedict XVI's birthday. We offer the Mass for him, so that the Lord be with him, comfort him, and give him much consolation."
This simple man, His Holiness Benedict XVI, chose to celebrate his birthday with his brother - with no fanfare. Notice how he has just gotten out of the picture. I think it speaks volumes about his genuine humility. How refreshing the virtue of humility truly is in an age filled up with so much secualr leadership infected with narcissism.
Last year, when celebrating Mass on the day of his 85th birthday, Pope Emeritus Benedict opened his heart up in a homily. It offers us insights into who he is. It reveals his personal, living faith, the beauty of his spirit, and his capacity for profound theological reflection. So I offer a few excerpts:
'On the same day I was born, thanks to my parent's concern, I was also reborn through water and the Holy Spirit. First, there is the gift of life that my parents gave me in very difficult times, and for which I thank them.'
'But it cannot be taken for granted that human life in itself is a gift. Can it really be a beautiful gift? Do we know what will befall man in the dark days ahead - or in the brighter days that could come? Can we foresee to what troubles, what terrible events he might be exposed? Is it right to simply give life like this? Is it responsible or too uncertain? It is a problematic gift, if it is left to itself.'
'Biological life is in itself a gift, but it is surrounded by a great question. It becomes a true gift only if, along with it, we are given a promise that is stronger than any evil that could threaten us, if it is immersed in a power that ensures that it is good to be human, that there will be good for this person no matter what the future brings.'
'Thus, with birth is associated rebirth, the certitude that, truly, it is good to be alive, because the promise is stronger than evil. This is the meaning of rebirth by water and the Holy Spirit: to be immersed in the promise that only God can make - it is good that you exist, and you can be certain of that whatever comes. With this assurance I was able to live, reborn by water and the Holy Spirit.'
'Nicodemus asks the Lord: 'How can an old man possibly be reborn?'. Now, rebirth is given to us in Baptism, but we must continually grow in it, we must always let ourselves be immersed by God in his promise, in order to be truly reborn in the great, new family of God which is stronger than every weakness and than any negative power that threatens us. Therefore, this is a day of great thanksgiving.'
'The day I was baptized, as I said, was Holy Saturday. Then it was still customary to anticipate the Easter Vigil in the morning, which would still be followed by the darkness of Holy Saturday, without the Alleluia. It seems to me that this singular paradox, this singular anticipation of light in a day of darkness, could almost be an image of the history of our times.'
'On the one hand, there is still the silence of God and his absence, but in the Resurrection of Christ there is already the anticipation of the "yes" of God, and on the basis of this anticipation we live and, through the silence of God, we hear him speak, and through the darkness of his absence we glimpse his light. The anticipation of the Resurrection in the middle of an evolving history is the power that points out the way to us and helps us to go forward.'
'Let us thank the good Lord for he has given us this light and let us pray to him so that it might endure forever. And on this day I have special cause to thank him and all those who have ever anew made me perceive the presence of the Lord, who have accompanied me so that I might never lose the light.'
'I am now facing the last chapter of my life and I do not know what awaits me. I know, however, that the light of God exists, that he is Risen, that his light is stronger than any darkness, that the goodness of God is stronger than any evil in this world. And this helps me to go forward with certainty. May this help us to go forward, and at this moment I wholeheartedly thank all those who have continually helped me to perceive the "yes" of God through their faith.'
I believe that His Holiness Benedict XVI will go down in history as one of the great Popes of Church history. When he was elected, some observers indicated his age would make him some sort of caretaker Pope. His pontificate demonstrated they were absolutely wrong.
In 2005 he stepped onto the balcony overlooking St. Peters Square calling himself 'a simple, humble worker in the vineyard of the Lord.' That is what he proved himself to be in his years of service to the Lord and His Church. Christian History will record his pontificate with admiration and esteem.
He continued, 'That the Lord can work and act even with insufficient means consoles me, and above all I entrust myself to your prayers. In the joy of the risen Lord, trusting in his permanent help, we go forward."  And we did go forward with him at the helm of the Church.
Benedict XVI knew the great need the Church has for the New Evangelization. He not only proclaimed it he established it formally with its own dicastery within the structure of the Vatican. He also knew the need we had for solid catechetical teaching, so he left a legacy in his magisterial teaching. It will be unpacked for years to come.
He actively participated in the Second Vatican Council and understood the authentic teaching of that Council. Thus, he also understood the way that the Council was hijacked in some circles, disregarded in others and misinterpreted in still others. He worked tirelessly to secure its true interpretation.
He was a voice for orthodox and faithful Catholic Christian faith, practice, worship and life. In his homily prior to the convening of the conclave where he was chosen to fill the Chair of Peter, then Joseph Cardinal Ratzinger gave this prophetic insight:
'How many winds of doctrine we have known in recent decades, how many ideological currents, how many ways of thinking... The small boat of thought of many Christians has often been tossed about by these waves - thrown from one extreme to the other: from Marxism to liberalism, even to libertinism; from collectivism to radical individualism; from atheism to a vague religious mysticism; from agnosticism to syncretism, and so forth.'
'Every day new sects are created and what Saint Paul says about human trickery comes true, with cunning which tries to draw those into error (cf Eph 4, 14). Having a clear faith, based on the Creed of the Church, is often labeled today as a fundamentalism.
'Whereas, relativism, which is letting oneself be tossed and swept along by every wind of teaching, looks like the only attitude (acceptable) to today's standards. We are moving towards a dictatorship of relativism which does not recognize anything as for certain and which has as its highest goal one's own ego and one's own desires.'
Some tried to misuse this insight to paint him as a man who rejected the modern world. That was nonsense. What he rejected was what he accurately referred to as the dictatorship of relativism. What he proposed was a path - not to the past - but to a future of hope and authentic freedom. He made it crystal clear that the path passed through an encounter with the Risen Jesus Christ as he can be found in the heart of the Church. 
He reminded all of the members of that Church that we all must proclaim that Jesus Christ is still the Way, the Truth and the Life, with both our words and our lifestyle. He insisted that all men and women have a right to 'know the truth' and that only the truth can them free. Then he challenged us to live and proclaim it, no matter what our state in life.
Pope Emeritus Benedict XVI was a rebuilder of the foundation stones of the deposit of faith handed down to us from the Apostles. He defended it well and presented it afresh. He knew that the Catholic faith is ever ancient and ever new. He laid a solid foundation for his dear successor named Francis to now build upon.
A theologian and scholar of the highest order, it was mostly because he was a man of deep, personal and intimate prayer. He always reminded me of my favorite definitions of a theologian offered by the early Christian monk, Evagrius of Pontus. Evagrius wrote that "a theologian is one who prays" and "a theologian is one who rests his head on the chest of Christ."  
Benedict's rich teachings to the faithful, as well as his books, will become the source of prayerful reflection and theological instruction for many years to come. They also included some of the finest hagiography, the stories of the saints, which we have had in centuries.
Benedict made Church history, when Motu Propio, he released of the Apostolic Constitution on Groups of Anglicans which has begun the healing of the divided Western Church. The fruits of these Ordinariates will be recounted by future historians as among the most important events in the Third Millennium of Christian history.
He earned the great respect of Patriarchs and leaders of the Orthodox Church and made real, substantive progress toward healing the wounds between Eastern and Western Christianity which will make the Third Millennium a millennium of communion.
He championed the re-christianizing of Europe and, even in the face of hostility, called her to return to her Christian roots in order to find again her greatness. He was an advocate for the New Ecclesial movements, helping with his pastoral oversight to ensure that they are rooted in the heart of the Church and received as a gift and resource for this new missionary age. 
He doggedly defended religious freedom as a fundamental human right. He engaged the Islamic world with great charity and courage on the ground of a dialogue in truth. He began the Courts of the Gentiles outreach engaging atheists and agnostics. 
The Church was truly blessed to have His Holiness XVI at the helm. On his 86th Birthday I ask all of our readers to join me in praying for this man who led the Church with such beauty, simplicity, depth, humility and grace.
In some ways, Blessed John Paul was the evangelizer, His Holiness Benedict was the teacher and our Holy Father Francis is the Pastor. Of course, each of them participated in all three tasks as they exercised their office. However, it was a matter of emphasis, or so it seems to me.
The Lord loves His Church, and the gates of hell will not prevail against her. (Matt. 16:18) He has given us such good gifts in the modern popes. Happy Birthday Benedict - and thank you.
---
Copyright 2016 - Distributed by THE CALIFORNIA NETWORK
Pope Francis Prayer Intentions for May 2016
Universal:
Respect for Women: That in every country of the world, women may be honored and respected and that their essential contribution to society may be highly esteemed.
Evangelization:
Holy Rosary: That families, communities, and groups may pray the Holy Rosary for evangelization and peace.

By Ann Schneible (CNA/EWTN News)
Pope Francis on Monday embraced the grand imam Sheik Ahmed Muhammad Al-Tayyib during a meeting at the Vatican, a move which is being seen as a step toward reopening dialogue between Christians and Sunni Muslims. Vatican City (CNA/EWTN News) - "Our meeting is the ... continue reading
---

By Kenya Sinclair (CALIFORNIA NETWORK)
Pope Francis has decided to meet with Sunni Islam's Sheikh Ahmed al-Tayeb on Monday. LOS ANGELES, CA (Catholic Online) - Vatican spokesman Federico Lombardi told AFP, "This audience is being prepared and has been scheduled for Monday. It will be a first."The pontiff's ... continue reading
---

By Kenya Sinclair (CALIFORNIA NETWORK)
In what most claim is a non-sexual "dog play," human pups have become the latest rage to spread across the UK - so much so that a new documentary will reveal the inner workings of the human pups' lives. LOS ANGELES, CA (Catholic Online) - According to Channel 4, the ... continue reading
---

By (CNA/EWTN News)
Leonardo da Vinci's masterpiece, Adoration of the Magi, will soon be undergoing testing that could help digitally reconstruct the artist's face and offer clues about his life and health. Florence, Italy (CNA/EWTN News) - According to the U.K. outlet Sky News, ... continue reading
---

By Kenya Sinclair (CALIFORNIA NETWORK)
Islamophobia spreads as ISIS continues its terror attacks - but one city has taken a step toward accepting the fact that not all Muslims are terrorists. LOS ANGELES, CA (Catholic Online) - London has elected its first Muslim Mayor. Sadiq Khan won with 56.8 percent of ... continue reading
---

By Kenya Sinclair (CALIFORNIA NETWORK)
Anyone who has ever been in college knows there is a list of required classes to take before you are eligible for graduation. Some classes seem unnecessary, such as a Chemistry major forced to take art classes, but what if universities and colleges required exorcism ... continue reading
---

By Kenya Sinclair (CALIFORNIA NETWORK)
Humanitarian group reported airstrikes targeting a refugee camp full of innocent men, women and children during a cease-fire. LOS ANGELES, CA (Catholic Online) - According to the Syrian Observatory for Human Rights (SOHR), a Syrian refugee camp erected near the Turkish ... continue reading
---

By Kenya Sinclair (CALIFORNIA NETWORK)
Vatican auditors closed nearly 5,000 suspected Vatican bank accounts on suspicion of tax evasion. LOS ANGELES, CA (Catholic Online) - The scandal includes a three-year investigation of 544 suspected transactions mainly involving tax evasion.To meet international ... continue reading
---

By David Drudge (CALIFORNIA NETWORK)
Hackers have just released thousands of documents in a new document dump to the media, this time, they contain the secrets of the Masons. The data dump is known as "Masonleaks" and journalists say it will take several months to complete their review of the documents. ... continue reading
---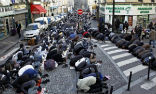 By David Drudge (CALIFORNIA NETWORK)
A Belgian minister has a telling warning for his country as hearings begin into the Brussels attack that killed 32 people at an airport in March. The reason for the warning is quite compelling. LOS ANGELES, CA (California Network) - A Belgian minister is warning ... continue reading
---
All Europe News