For me, John Paul II and Benedict XVI go hand in hand. They are a team. John Paul II is the architect, and Benedict is the engineer.
As of 8:00 p.m. Rome time on Thursday, February 28, 2013, Pope Benedict XVI's resignation became effective. I know there is a silver lining in all of this, but, just the same, I cannot ignore the sadness I feel.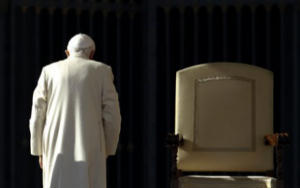 KNOXVILLE, TN (Catholic Online) - As of 8:00 p.m. Rome time on Thursday, February 28, 2013, Pope Benedict XVI's resignation became effective. I know there is a silver lining in all of this, but, just the same, I cannot ignore the sadness I feel. We all handle sadness in our own way. In my case, it has spurred me to reflection.

It was not so long ago that I was thinking about Pope Benedict XVI's advancing age, and how sad I would be to lose him. A few days later, we got the shocking news: He was going to resign at the end of the month and devote the remainder of his life to prayer and contemplation. My jaw dropped. But when I realized this might allow him to do more writing, the corners of my mouth slowly turned upward.

It is through Benedict XVI's writing that I have come to know, admire and love him. He has fed my mind and heart in a way that no other has, and I will never be able to thank him enough for this wonderful gift he has given me.

Before I can describe this gift more precisely, I need to step back in time when Blessed John Paul II was the Pope. During this time, I was still searching for answers to life's greatest questions, questions like: What is the meaning of life and suffering, where do I come from, does my life have a purpose?

Worldly knowledge could not provide adequate answers to these questions. It's attempts were either incomplete, vague or unrelated to my actual experience of life. Then John Paul II came along with his towering theology, The Theology of the Body. George Weigel described it as "one of the boldest reconfigurations of Catholic theology in centuries."

We are composed of body (matter, flesh) and spirit. This is what makes us human. The Catechism of the Catholic Church states that God is ". . . an eternal exchange of love, Father, Son, and Holy Spirit, and he has destined us to share in that exchange" (221).

According to John Paul II's theology, God inscribed this vocation of love in our bodies by creating us male and female and by calling us to become "one body" (Gn 2:24). This enables us to image God's love and participate in His work of creation. Love by its nature is not static or self-absorbed. It desires communion and therefore continually reaches out beyond itself.

This is what Jesus did for his bride the Church (Eph 5:25-32). So this imaging is communal, sacrificial and Eucharistic; and while this imaging is profoundly evident in marital love, it is also evident in the priesthood (and religious life in general). 

In his theology, John Paul II not only described my actual experiences, he showed me how they pointed to the answers I sought. In the process, he helped me see the great dignity of our humanity and its ultimate destiny. This experience gave me a beautiful vision for human life, and it inspired me.

John Paul II gave me an intellectually satisfying vision, but I was the product of a secular, postmodern world that vehemently renounced the Christian faith and just about anything seen as traditional. Although he gave me a destination, I did not know how to get there. I felt lost in modernism's maze. It was at this point that Benedict XVI helped me: He showed me how to get out of the maze.

For me, John Paul II and Benedict XVI go hand in hand. They are a team. John Paul II is the architect, and Benedict is the engineer. John Paul II showed me the world through a telescope; Benedict XVI showed it to me through a microscope. Of course, there is much overlap between the two men. These categories are not meant to pigeonhole them, or my personal experience of them.

It seems to me that Benedict XVI has never feared going against modern secular ideology and its minions. His fearlessness was evident when he spoke about the "many winds of doctrine" and the "dictatorship of relativism" before the conclave in 2005 where he was picked to fill the shoes of John Paul II. He did it again in his speech at the University of Regensburg in 2006, and throughout his pontificate. But this was nothing new for Benedict XVI.

I suppose I first began to appreciate his unique ability and courage when he was the Prefect of the Congregation for the Doctrine of the Faith and known as Joseph Cardinal Ratzinger. I recall a series of books, perhaps three in all, by Peter Seewald. They were interviews with the future pope. Seewald did not hold back. He asked Ratzinger many tough questions about our faith and the Church.

What most impressed me about these interviews was how Ratzinger did not flinch or back away from anything. He gave straight, clear, knowledgeable answers. And all the while, his tone was gentle and charitable. In a world filled with tortured reasoning, lies and manipulation, he was a breath of fresh air.

I also watched him tackle the most thorny criticisms of our faith and the most difficult doubts of our age in his writings. For instance, in his book, Introduction to Christianity, he asks, "What is the meaning and significance of the Christian profession 'I believe' today, in the context of our present existence and our present attitude to reality as a whole?" (47). Then he proceeds to answer the question with the skill and agility of an athlete. 

To really appreciate who Benedict XVI is and what he has to offer, you would have to spend some time reading his books. Nevertheless, perhaps you can get some sense for the kind of arguments he untangled if we take a quick look at what Benedict XVI has said about the crisis in modern scholarship and the interpretation of the Sacred Scriptures.

In his Apostolic Exhortation, The Word of the Lord, and in his trilogy, Jesus of Nazareth, Benedict XVI reminds us that the Scriptures were written by a faith-filled community under the inspiration of the Holy Spirit. Consequently, the Scriptures must be interpreted with this view in mind. Modern scholarship not only attempts to divorce the text from its proper context, but it approaches the Scriptures with certain preconceived notions that are inimical to the faith.

For instance, a fundamental premise underlying much modern scholarship of the Scriptures is that the "Divine does not intervene in human history." This premise completely negates the message and meaning of the Scriptures, and it largely explains many of the false and confusing statements we hear today. For instance, we often hear that the Eucharist is not the true Body and Blood of Jesus, or Jesus did not physically rise from the dead, but only in the hearts and minds of his disciples. Clearly, these statements are fundamentally flawed.

We may not all have the same needs, but this was precisely what I needed, and Benedict XVI gave it to me. Seeing how deftly and honestly he reasoned, helped strengthen my faith against the buffeting winds of doctrine, and it showed me that these winds were mostly hot air. He also gave me the confidence to navigate out of the maze created by the secular, postmodern world and to strive for the vision that John Paul II gave me. This was the gift Benedict XVI gave me.

I thank you for your gift, Benedict XVI. Please know that you will always be in my prayers and in my heart. Although I am sad you resigned, I know that your life of prayer and contemplation will be of great service to the Church, and I hope you will continue to write.

 
-----

Michael Terheyden was born into a Catholic family, but that is not why he is a Catholic. He is a Catholic because he believes that truth is real, that it is beautiful and good, and that the fullness of truth is in the Catholic Church. However, he knows that God's grace operating throughout his life is the main reason he is a Catholic. He is greatly blessed to share his faith and his life with his beautiful wife, Dorothy. They have four grown children and three grandchildren.

-----
---
Copyright 2016 - Distributed by THE CALIFORNIA NETWORK
Pope Francis Prayer Intentions for May 2016
Universal:
Respect for Women: That in every country of the world, women may be honored and respected and that their essential contribution to society may be highly esteemed.
Evangelization:
Holy Rosary: That families, communities, and groups may pray the Holy Rosary for evangelization and peace.

By Ann Schneible (CNA/EWTN News)
Pope Francis on Monday embraced the grand imam Sheik Ahmed Muhammad Al-Tayyib during a meeting at the Vatican, a move which is being seen as a step toward reopening dialogue between Christians and Sunni Muslims. Vatican City (CNA/EWTN News) - "Our meeting is the ... continue reading
---

By Kenya Sinclair (CALIFORNIA NETWORK)
Pope Francis has decided to meet with Sunni Islam's Sheikh Ahmed al-Tayeb on Monday. LOS ANGELES, CA (Catholic Online) - Vatican spokesman Federico Lombardi told AFP, "This audience is being prepared and has been scheduled for Monday. It will be a first."The pontiff's ... continue reading
---

By Kenya Sinclair (CALIFORNIA NETWORK)
In what most claim is a non-sexual "dog play," human pups have become the latest rage to spread across the UK - so much so that a new documentary will reveal the inner workings of the human pups' lives. LOS ANGELES, CA (Catholic Online) - According to Channel 4, the ... continue reading
---

By (CNA/EWTN News)
Leonardo da Vinci's masterpiece, Adoration of the Magi, will soon be undergoing testing that could help digitally reconstruct the artist's face and offer clues about his life and health. Florence, Italy (CNA/EWTN News) - According to the U.K. outlet Sky News, ... continue reading
---

By Kenya Sinclair (CALIFORNIA NETWORK)
Islamophobia spreads as ISIS continues its terror attacks - but one city has taken a step toward accepting the fact that not all Muslims are terrorists. LOS ANGELES, CA (Catholic Online) - London has elected its first Muslim Mayor. Sadiq Khan won with 56.8 percent of ... continue reading
---

By Kenya Sinclair (CALIFORNIA NETWORK)
Anyone who has ever been in college knows there is a list of required classes to take before you are eligible for graduation. Some classes seem unnecessary, such as a Chemistry major forced to take art classes, but what if universities and colleges required exorcism ... continue reading
---

By Kenya Sinclair (CALIFORNIA NETWORK)
Humanitarian group reported airstrikes targeting a refugee camp full of innocent men, women and children during a cease-fire. LOS ANGELES, CA (Catholic Online) - According to the Syrian Observatory for Human Rights (SOHR), a Syrian refugee camp erected near the Turkish ... continue reading
---

By Kenya Sinclair (CALIFORNIA NETWORK)
Vatican auditors closed nearly 5,000 suspected Vatican bank accounts on suspicion of tax evasion. LOS ANGELES, CA (Catholic Online) - The scandal includes a three-year investigation of 544 suspected transactions mainly involving tax evasion.To meet international ... continue reading
---

By David Drudge (CALIFORNIA NETWORK)
Hackers have just released thousands of documents in a new document dump to the media, this time, they contain the secrets of the Masons. The data dump is known as "Masonleaks" and journalists say it will take several months to complete their review of the documents. ... continue reading
---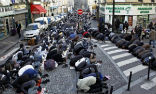 By David Drudge (CALIFORNIA NETWORK)
A Belgian minister has a telling warning for his country as hearings begin into the Brussels attack that killed 32 people at an airport in March. The reason for the warning is quite compelling. LOS ANGELES, CA (California Network) - A Belgian minister is warning ... continue reading
---
All Europe News