To live a faithful marriage is now countercultural
Our convictions and claims concerning life and marriage are not outdated notions of a past era but provide the path to the future. Nor is our position simply religious. We insist upon the existence of a Natural Moral Law which can be known by all men and women through the exercise of reason. This is not only a Christian position. It is the ground upon which every great civilization has been built.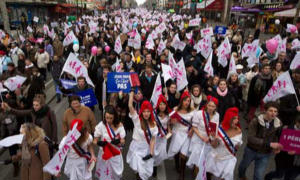 Defenders of Marriage March in France
Highlights
Catholic Online (www.catholic.org)
1/16/2013 (3 years ago)
Published in Europe
Keywords: Marriage, gay marriage, Defense of Marriage, Marriage equality, homosexual marriage, defend marriage, true marriage, French marriage, culture, social justice, deacon Keith Fournier
---
PARIS, France (Catholic Online) - In his Christmas address to the Roman Curia, Pope Benedict XVI pulled no punches. Many of the reports on the address in the main stream media were not only inaccurate, they were not journalism. Rather, they were propaganda. His entire address should be read by all Catholics, other Christians, other people of faith and all people of good will.

After recalling with fondness the gathering on the family held in Milan in 2011, the Pope asked some important  questions: "the question of the family is not just about a particular social construct, but about man himself - about what he is and what it takes to be authentically human. The challenges involved are manifold. First of all there is the question of the human capacity to make a commitment or to avoid commitment.
"Can one bind oneself for a lifetime? Does this correspond to man's nature? Does it not contradict his freedom and the scope of his self-realization? Does man become himself by living for himself alone and only entering into relationships with others when he can break them off again at any time? Is lifelong commitment antithetical to freedom? Is commitment also worth suffering for?"
"Man's refusal to make any commitment - which is becoming increasingly widespread as a result of a false understanding of freedom and self-realization as well as the desire to escape suffering - means that man remains closed in on himself and keeps his "I" ultimately for himself, without really rising above it."
" Yet only in self-giving does man find himself, and only by opening himself to the other, to others, to children, to the family, only by letting himself be changed through suffering, does he discover the breadth of his humanity. When such commitment is repudiated, the key figures of human existence likewise vanish: father, mother, child - essential elements of the experience of being human are lost."
The struggle we face in a declining western culture growing increasingly hostile toward the Church is about a clash of worldviews, personal and corporate, and competing definitions of human freedom, human dignity, and human flourishing. It is a contest over the very foundations of a truly human and just social order. We insist that true marriage and family have been inscribed by the Divine Architect into the order of the universe. That is because they have. Truth does not change, people and cultures do; sometimes for good and sometimes for evil.
Marriage is the first society into which children are to be born, learn to be fully human, grow in virtue, flourish and take their role in families and communities. We must not be afraid to make the claim that children have a right to a mother and a father. They do. Of course we care about the single parent family and the many broken homes. However, their existence does not change the norm necessary for a stable and healthy society. In tact marriages and families are the glue of a healthy and happy social order. We need to be a visible, palpable reflection of this truth about marriage and family in our own lives. To live a faithful marriage is now countercultural.
Our convictions and claims concerning life and marriage are not outdated notions of a past era but provide the path to the future. Nor is our position simply religious. We insist upon the existence of a Natural Moral Law which can be known by all men and women through the exercise of reason. This is not only a Christian position. It is the ground upon which every great civilization has been built. It is the source for every great and authentic human and civil rights movement. The Natural Law gives us the moral norms we need to build societies and govern ourselves. It should also inform our positive law or we will become lawless and devolve into anarchy.
There is a growing intolerance spreading across the Nations of the West against our rights to free expression, association and participation. This is reflected in a brazen effort to censor any speech which questions the cultural slide into the abyss of relativism. Efforts to prevent our vocal and public defense of the objective truth about marriage and the family are multiplying. However, they are not succeeding. That was evident this past weekend in the streets of Paris, France where hundreds of thousands gathered to defend marriage and the family and society founded upon them.
The Guardian reported on the march on Sunday, "Several hundred thousand people massed at the Eiffel Tower in Paris on Sunday to protest against President François Hollande's plan to legalise gay marriage and adoption by June. Three columns of protesters, waving pink and blue flags showing a father, mother and two children, converged on the landmark from different meeting points in Paris. Many came after long train and bus rides from the provinces.
"Hollande has pledged to push through the law with his Socialists' parliamentary majority but the opponents' campaign has dented public support and forced deputies to put off a plan to allow lesbian couples access to artificial insemination. Champ de Mars park at the Eiffel Tower was packed, but turnout estimates varied widely. Organisers claimed 800,000 had protested, while police put the number at 340,000."
"Nobody expected this two or three months ago," said Frigide Barjot, a flamboyant comedian leading the "demo for all". At the rally, she read out a letter to Hollande asking him to withdraw the draft bill and hold an extended public debate on the issue. Strongly backed by the Catholic church hierarchy, Barjot and groups working with her mobilised church-going families and political conservatives as well as some Muslims, evangelicals and even gay people opposed to same-sex marriage. Hollande's office said the turnout was substantial but would not change his determination to pass the reform.Slogans on the posters and banners approved by the organizers included "marriagophile, not homophobe," "all born of a father and mother" and "paternity, maternity, equality"."
Notice the Orwellian newspeak used in the camp of those who oppose true marriage. They are attempting to frame the public struggle by calling those of us who defend marriage as somehow "anti-marriage". We must resist this propaganda and stay clear in our message and cultural mission. Homosexual partnerships are incapable of being marriages.We are the ones defending marriage, and the family and society founded upon it. Marriage is what it is, to use a popular expression. 
To limit marriage to heterosexual couples is not discriminatory now, nor has it ever been. Homosexual couples cannot bring into existence what marriage intends by its very definition. To insist with the police power of the State that we pretend otherwise does not serve the common good. To confer by governmental fiat the benefits that have been conferred in the past only to stable married couples and families to homosexual paramours is bad public policy. To state this is not to be "anti-gay". It is to defend marriage and the family. It is to serve the common good.
As for the position of the catholic Church, it is crystal clear. The Congregation for the Doctrine of the Faith of the Catholic Church explained in 2003."The Church's teaching on marriage and on the complementarity of the sexes reiterates a truth that is evident to right reason and recognized as such by all the major cultures of the world. Marriage is not just any relationship between human beings. It was established by the Creator with its own nature, essential properties and purpose."
"No ideology can erase from the human spirit the certainty that marriage exists solely between a man and a woman, who by mutual personal gift, proper and exclusive to themselves, tend toward the communion of their persons. In this way, they mutually perfect each other, in order to cooperate with God in the procreation and upbringing of new human lives."

Civil institutions do not create marriage nor can they create a new "right" to marry for those who are incapable of marriage. Government has long regulated marriage for the common good. For example, the ban on polygamy and age requirements were enforced in order to ensure that there was a mature decision at the basis of the Marriage contract. Heterosexual marriage, procreation, and the nurturing of children form the foundation for the family, and the family forms the foundation of civil society.
What occurred in Paris this weekend is the beginning of a resistance movement which is spreading. We must all take our place within its ranks. 
---
Copyright 2016 - Distributed by THE CALIFORNIA NETWORK
Pope Francis Prayer Intentions for May 2016
Universal:
Respect for Women: That in every country of the world, women may be honored and respected and that their essential contribution to society may be highly esteemed.
Evangelization:
Holy Rosary: That families, communities, and groups may pray the Holy Rosary for evangelization and peace.

By Ann Schneible (CNA/EWTN News)
Pope Francis on Monday embraced the grand imam Sheik Ahmed Muhammad Al-Tayyib during a meeting at the Vatican, a move which is being seen as a step toward reopening dialogue between Christians and Sunni Muslims. Vatican City (CNA/EWTN News) - "Our meeting is the ... continue reading
---

By Kenya Sinclair (CALIFORNIA NETWORK)
Pope Francis has decided to meet with Sunni Islam's Sheikh Ahmed al-Tayeb on Monday. LOS ANGELES, CA (Catholic Online) - Vatican spokesman Federico Lombardi told AFP, "This audience is being prepared and has been scheduled for Monday. It will be a first."The pontiff's ... continue reading
---

By Kenya Sinclair (CALIFORNIA NETWORK)
In what most claim is a non-sexual "dog play," human pups have become the latest rage to spread across the UK - so much so that a new documentary will reveal the inner workings of the human pups' lives. LOS ANGELES, CA (Catholic Online) - According to Channel 4, the ... continue reading
---

By (CNA/EWTN News)
Leonardo da Vinci's masterpiece, Adoration of the Magi, will soon be undergoing testing that could help digitally reconstruct the artist's face and offer clues about his life and health. Florence, Italy (CNA/EWTN News) - According to the U.K. outlet Sky News, ... continue reading
---

By Kenya Sinclair (CALIFORNIA NETWORK)
Islamophobia spreads as ISIS continues its terror attacks - but one city has taken a step toward accepting the fact that not all Muslims are terrorists. LOS ANGELES, CA (Catholic Online) - London has elected its first Muslim Mayor. Sadiq Khan won with 56.8 percent of ... continue reading
---

By Kenya Sinclair (CALIFORNIA NETWORK)
Anyone who has ever been in college knows there is a list of required classes to take before you are eligible for graduation. Some classes seem unnecessary, such as a Chemistry major forced to take art classes, but what if universities and colleges required exorcism ... continue reading
---

By Kenya Sinclair (CALIFORNIA NETWORK)
Humanitarian group reported airstrikes targeting a refugee camp full of innocent men, women and children during a cease-fire. LOS ANGELES, CA (Catholic Online) - According to the Syrian Observatory for Human Rights (SOHR), a Syrian refugee camp erected near the Turkish ... continue reading
---

By Kenya Sinclair (CALIFORNIA NETWORK)
Vatican auditors closed nearly 5,000 suspected Vatican bank accounts on suspicion of tax evasion. LOS ANGELES, CA (Catholic Online) - The scandal includes a three-year investigation of 544 suspected transactions mainly involving tax evasion.To meet international ... continue reading
---

By David Drudge (CALIFORNIA NETWORK)
Hackers have just released thousands of documents in a new document dump to the media, this time, they contain the secrets of the Masons. The data dump is known as "Masonleaks" and journalists say it will take several months to complete their review of the documents. ... continue reading
---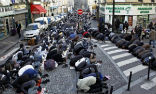 By David Drudge (CALIFORNIA NETWORK)
A Belgian minister has a telling warning for his country as hearings begin into the Brussels attack that killed 32 people at an airport in March. The reason for the warning is quite compelling. LOS ANGELES, CA (California Network) - A Belgian minister is warning ... continue reading
---
All Europe News