Clearly, this is a missionary Pope, leading a new missionary age
He is exactly what he told us all six years ago, a "simple, humble worker in the vineyard of the Lord." Notice how little fanfare accompanied his birthday as well as this six year anniversary of his election. Clearly, to this successor of Peter, it is not about him, but about the Lord whom he serves. His diminutive size and humble manner reveal the holy heart of this man totally given over to the Lord. Looks like he is just getting warmed up.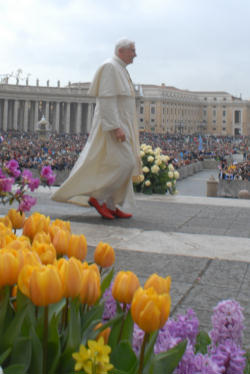 Pope Benedict XVI
VATICAN CITY (Catholic Online) - April 19, 2011 marked the sixth anniversary of the election of Joseph Cardinal Ratzinger to the Chair of Peter. He took the name Benedict XVI. In an interview with the Catholic News Agency Raymond Cardinal Burke spoke of the "profound goodness" of this Pope. He called this pontificate one of "great dynamism" and "intense evangelization".
The Cardinal continued, "I think the Holy Father has shown he has many outstanding qualities not least his ability to teach very profound things in a very accessible way. Whether that's through his visits, his Wednesday audiences or his many homilies, without exaggeration he manages to make the very profound very understandable. And I hear that from so many people I meet."
Shortly after Pope Benedict XVI's election I wrote an article quoting these words from Alisdair MacIntyre's book "After Virtue": "It is always dangerous to draw too precise parallels between one historical period and another; and among the most misleading of such parallels are those which have been drawn between our own age in Europe and North America and the Epoch in which the Roman Empire declined into the Dark Ages.
"Nonetheless, certain parallels there are. A crucial turning point in that earlier history occurred when men and women of good will turned aside from the task of shoring up the Roman Imperium and ceased to identify the continuation of civility and moral community with the maintenance of the Imperium.
"What they set themselves to achieve instead- often not recognizing fully what they were doing- was the construction of new forms of community within which the moral life could be sustained so that both morality and civility might survive the coming ages of barbarism and darkness. If my account of our moral condition is correct, we ought also to conclude that for some time now we too have reached that turning point...
"...This time however, the barbarians are not waiting beyond the frontiers; they have already been governing us for quite some time. And it is our lack of consciousness of this that constitutes part of our predicament. We are waiting not for a Godot, but for another-doubtless very different- St. Benedict."
My suggestion was that another Benedict was here. I am even more convinced of it six years into this papacy. I remember when Pope Benedict XVI appeared on the balcony opening up to St Peters Square in Rome which was filled to overflowing with pilgrims. We had all lived through the extraordinary transitus of soon to be Blessed John Paul II. "Habemus Papam" ("We Have a Pope!"), the Cardinal announced, and it seemed as though the world stand still.
Pope Benedict XVI stepped forward and said," Dear Brothers and Sisters, After the great Pope John Paul II, the cardinals have chosen me -- a simple and humble worker in the vineyard of the Lord. It consoles me that the Lord knows how to work and to act even with inadequate instruments, so above all, I entrust myself to your prayers. In the joy of the Risen Lord, trusting in his unfailing help, let us move forward, that the Lord will help us and Mary, his Most Holy Mother, might be by our side. Thank you."
I was visiting with a priest friend in Richmond, Virginia. We had been immersed in an intense conversation when another friend, then a Bishop of an ecclesial community not in full communion with the Roman Catholic Church, called me on my cell phone. "Have you heard?" he asked, "Habemus Papam, We have a Pope!" He was hardly able to contain his joy. A few years later this wonderful man laid aside his Episcopal ministry to enter the full communion of the Catholic Church.
During the passing of Pope John Paul II, then Joseph Cardinal Ratzinger spoke these words "None of us can ever forget how in that last Easter Sunday of his life, the Holy Father, marked by suffering, came once more to the window of the Apostolic Palace and one last time gave his blessing "urbi et orbi" (to the City and the world) We can be sure that our beloved pope is standing today at the window of the Father's house, that he sees us and blesses us." I believe that one of the fruits of that blessing was the selection of his friend, confidante, trusted theologian and beloved brother, Joseph Cardinal Ratzinger to occupy the Chair of Peter.
In a homily prior to the convening of the papal conclave then Cardinal Ratzinger gave us a prophetic insight into the age: "How many winds of doctrine we have known in recent decades, how many ideological currents, how many ways of thinking... The small boat of thought of many Christians has often been tossed about by these waves - thrown from one extreme to the other: from Marxism to liberalism, even to libertinism; from collectivism to radical individualism; from atheism to a vague religious mysticism; from agnosticism to syncretism, and so forth.
"Every day new sects are created and what Saint Paul says about human trickery comes true, with cunning which tries to draw those into error (cf Eph 4, 14).Having a clear faith, based on the Creed of the Church, is often labeled today as a fundamentalism. Whereas, relativism, which is letting oneself be tossed and "swept along by every wind of teaching," looks like the only attitude (acceptable) to today's standards. We are moving towards a dictatorship of relativism which does not recognize anything as for certain and which has as its highest goal one's own ego and one's own desires."
Some attempted to misuse this insight to paint him as rejecting the modern world. That has clearly proven to be nonsense. What he rejects is the emptiness that Alisdair MacIntyre referred to.  What Pope Benedict proposes in its place is a rebirth of a true Christian humanism and culture which proceeds along a different path, not to the past, but to a future of hope, authentic human freedom and true cultural conversion.
I suggested back then, "this will be a pontificate that emphasizes and vigorously contends for the truth; one that recognizes the loss of the soul of contemporary culture and proclaims the ever fresh yet ancient truths of classical Christianity to an emerging new paganism. This will be a prophetic as well as a pastoral Papacy. We will witness a resurgence of Christianity that is rightly "orthodox" in both faith and practice.
"Because of that, many will try to "claim" Benedict. Some, pining for the past, will watch for what they hope will be a return to some perceived pre-conciliar "purity." Others will try to squeeze the clarity of his commitment to the dignity and sanctity of every human life, his unwavering insistence on the unchangeable truth concerning marriage and family, and his love for human freedom into their particular political mold.
"However, he will not fit any political mold. He will not lead the Church backwards but rather forward to a future of hope and into a true and desperately needed reform. Under his leadership we will see new forms of Christian life and community emerging in an analogous way to what happened to the world at the time of St. Benedict."
"From those Benedictine monasteries, an entire monastic movement was birthed which led to the evangelization of Europe and the emergence of an authentically Christian culture. This led to the birth and flourishing of the academy, the arts and the emergence of what later became known as Christendom. One of the greatest hopes of Pope John Paul II, and of Joseph Cardinal Ratzinger- now Pope Benedict, was for Europe to rediscover her Christian roots as it did at the time of St Benedict. Now we have "another Benedict" to lead the recovery and reform.
I continued " Pope Benedict XVI will surprise many, particularly in the area of ecumenism, reaching to heal the divide between eastern and western Christianity so that the "two lungs" of the full Christian Church can breathe together again and animate the entire Church so that she can become again the soul of the world. ...
"We will witness the beginnings of the coming full communion of the Church during his pontificate. We will witness the recovery of the authentically Catholic academy through the rebuilding of some institutions almost lost to the Church and the building of new ones. We will see the flourishing of good, solid theological and philosophical work alongside of a flourishing of the arts and human culture, led by the Church, as it has been in ages past. He will be like his namesake and help to bring the Christian influence back to Europe and beyond."
Consider a few noteworthy points. Pope Benedict XVI turned 84 years old on April 16, 2011. Some early observers indicated his age would make him some sort of caretaker Pope. His pace has demonstrated the observers were wrong. He has proven to be indefatigable. He has continued the pastoral visits of his predecessor with amazingly fruitful travels around the world. The youth of the world still flock to World  Youth days and his genuine love for them - and they for him - is evident. He has pastorally and decisively dealt with serious matters concerning the need for a purification of the Church. 
He really is exactly what he told us all six years ago, a ". simple, humble worker in the vineyard of the Lord" Notice how little fanfare accompanied his birthday as well as this six year anniversary of his election. Clearly, to this successor of Peter, it is not about him, but about the Lord whom he serves. His diminutive size and humble manner reveal the holy heart of this man totally given over to the Lord.
He has written three encyclicals, a beautiful apostolic exhortation, and two scholarly books about Jesus of Nazareth. He is a scholar of the highest order, yet able to communicate with simplicity and beauty because he is a man of deep prayer. He has given continual teaching to the faithful - including some of the finest hagiography in centuries - during his Wednesday Catechesis.
He made Church history, when Motu Propio, on his own authority, he released of the Apostolic Constitution on Groups of Anglicans which has begun the healing of the divided Western Church. He has made great strides toward healing the divisions with the Society of St Pius X. His Summorum Pontificum, again released Motu Propio, making the "Traditional Roman Mass" more fully available as the "extraordinary form" will find its place in liturgical history.
He has earned the great respect of Patriarchs and leaders of the Orthodox Church and is making progress toward some form of communion between Eastern and Western Christianity which could make the Third Millennium a millennium of communion. He has championed the re-christianizing of Europe, passionately promoted the New Evangelization of the Church. He has been a champion of the New Ecclesial movements and helped to ensure that they are rooted in the heart of the Church.
He has doggedly defended the Christian roots of the West and defended religious freedom as a fundamental human right. He has engaged the Islamic world with great charity and courage on the ground of dialogue in truth. He recently began the "Courts of the Gentiles" outreach engaging atheists and agnostics. Clearly, this is a missionary Pope.
And, it looks like he is just getting warmed up.  We have had six years of Pope Benedict XVI and it appears to this Deacon that he is leading the Catholic Church into a New Missionary Age. Indeed, another Benedict is here, and the Church is truly blessed to have him at the helm of the Barque of Peter as she sails into the Third Christian Millennium.  
---
Copyright 2016 - Distributed by THE CALIFORNIA NETWORK
Pope Francis Prayer Intentions for May 2016
Universal:
Respect for Women: That in every country of the world, women may be honored and respected and that their essential contribution to society may be highly esteemed.
Evangelization:
Holy Rosary: That families, communities, and groups may pray the Holy Rosary for evangelization and peace.

By Ann Schneible (CNA/EWTN News)
Pope Francis on Monday embraced the grand imam Sheik Ahmed Muhammad Al-Tayyib during a meeting at the Vatican, a move which is being seen as a step toward reopening dialogue between Christians and Sunni Muslims. Vatican City (CNA/EWTN News) - "Our meeting is the ... continue reading
---

By Kenya Sinclair (CALIFORNIA NETWORK)
Pope Francis has decided to meet with Sunni Islam's Sheikh Ahmed al-Tayeb on Monday. LOS ANGELES, CA (Catholic Online) - Vatican spokesman Federico Lombardi told AFP, "This audience is being prepared and has been scheduled for Monday. It will be a first."The pontiff's ... continue reading
---

By Kenya Sinclair (CALIFORNIA NETWORK)
In what most claim is a non-sexual "dog play," human pups have become the latest rage to spread across the UK - so much so that a new documentary will reveal the inner workings of the human pups' lives. LOS ANGELES, CA (Catholic Online) - According to Channel 4, the ... continue reading
---

By (CNA/EWTN News)
Leonardo da Vinci's masterpiece, Adoration of the Magi, will soon be undergoing testing that could help digitally reconstruct the artist's face and offer clues about his life and health. Florence, Italy (CNA/EWTN News) - According to the U.K. outlet Sky News, ... continue reading
---

By Kenya Sinclair (CALIFORNIA NETWORK)
Islamophobia spreads as ISIS continues its terror attacks - but one city has taken a step toward accepting the fact that not all Muslims are terrorists. LOS ANGELES, CA (Catholic Online) - London has elected its first Muslim Mayor. Sadiq Khan won with 56.8 percent of ... continue reading
---

By Kenya Sinclair (CALIFORNIA NETWORK)
Anyone who has ever been in college knows there is a list of required classes to take before you are eligible for graduation. Some classes seem unnecessary, such as a Chemistry major forced to take art classes, but what if universities and colleges required exorcism ... continue reading
---

By Kenya Sinclair (CALIFORNIA NETWORK)
Humanitarian group reported airstrikes targeting a refugee camp full of innocent men, women and children during a cease-fire. LOS ANGELES, CA (Catholic Online) - According to the Syrian Observatory for Human Rights (SOHR), a Syrian refugee camp erected near the Turkish ... continue reading
---

By Kenya Sinclair (CALIFORNIA NETWORK)
Vatican auditors closed nearly 5,000 suspected Vatican bank accounts on suspicion of tax evasion. LOS ANGELES, CA (Catholic Online) - The scandal includes a three-year investigation of 544 suspected transactions mainly involving tax evasion.To meet international ... continue reading
---

By David Drudge (CALIFORNIA NETWORK)
Hackers have just released thousands of documents in a new document dump to the media, this time, they contain the secrets of the Masons. The data dump is known as "Masonleaks" and journalists say it will take several months to complete their review of the documents. ... continue reading
---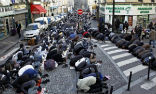 By David Drudge (CALIFORNIA NETWORK)
A Belgian minister has a telling warning for his country as hearings begin into the Brussels attack that killed 32 people at an airport in March. The reason for the warning is quite compelling. LOS ANGELES, CA (California Network) - A Belgian minister is warning ... continue reading
---
All Europe News