Mgr. Vincenzo Paglia, president of the Catholic Biblical Federation, presented all this at a press conference in Rome.
VATICAN CITY (AsiaNews) - The Bible is the most widely read book in the world. It has already been translated into 2,454 different languages (completely only into 438), but "much remains to be done." In fact there are still 4,500 languages waiting to face the Holy Scriptures, and, considering that Bible Societies gave out only 26 million Bibles in 2006, only 1-2 per cent of the two billion Christians have been reached.

Mgr Vincenzo Paglia, president of the Catholic Biblical Federation, presented all this at a press conference this morning in the Holy See Press Office where he illustrated the results of a survey on reading and understanding the 'Book of Books'.

The Catholic Biblical Federation and the United Bible Societies signed an agreement concerning co-operation in the translation and publication of the Bible in order to meet the need to increase circulation.

The survey results that Archbishop Paglia presented, especially from an ecumenical point of view, shows that the Bible remains the most effective "place"' where Christians can meet.

Conciliar Fathers intuitively knew this and the Instrumentum laboris of the Synod currently underway confirms it.

"In general, it is good to know that the Bible is the main meeting point for prayer and dialogue between Churches and ecclesial communities."

We must consider furthermore that "in ecumenical dialogue the biblical field is where greatest progress has been made. It is also an area that still offers considerable scope for collaboration. There are problems, including some delicate ones, but meeting over the Scriptures today can provide for a more robust encounter among Christians."

Listening together to the Scriptures can also "lead to announcing them together. The same origin of the ecumenical movement is proof of that."

"The Word of God warns all Christians against any form of close-mindedness and encourages them [instead] to walk the path of unity."

Lastly, "by listening together Christians not only find themselves on the path towards unity, but receive a new vigour" from it, Mgr Paglia said.



By Ann Schneible (CNA/EWTN News)
Pope Francis on Monday embraced the grand imam Sheik Ahmed Muhammad Al-Tayyib during a meeting at the Vatican, a move which is being seen as a step toward reopening dialogue between Christians and Sunni Muslims. Vatican City (CNA/EWTN News) - "Our meeting is the ... continue reading
---

By Kenya Sinclair (CALIFORNIA NETWORK)
Pope Francis has decided to meet with Sunni Islam's Sheikh Ahmed al-Tayeb on Monday. LOS ANGELES, CA (Catholic Online) - Vatican spokesman Federico Lombardi told AFP, "This audience is being prepared and has been scheduled for Monday. It will be a first."The pontiff's ... continue reading
---

By Kenya Sinclair (CALIFORNIA NETWORK)
In what most claim is a non-sexual "dog play," human pups have become the latest rage to spread across the UK - so much so that a new documentary will reveal the inner workings of the human pups' lives. LOS ANGELES, CA (Catholic Online) - According to Channel 4, the ... continue reading
---

By (CNA/EWTN News)
Leonardo da Vinci's masterpiece, Adoration of the Magi, will soon be undergoing testing that could help digitally reconstruct the artist's face and offer clues about his life and health. Florence, Italy (CNA/EWTN News) - According to the U.K. outlet Sky News, ... continue reading
---

By Kenya Sinclair (CALIFORNIA NETWORK)
Islamophobia spreads as ISIS continues its terror attacks - but one city has taken a step toward accepting the fact that not all Muslims are terrorists. LOS ANGELES, CA (Catholic Online) - London has elected its first Muslim Mayor. Sadiq Khan won with 56.8 percent of ... continue reading
---

By Kenya Sinclair (CALIFORNIA NETWORK)
Anyone who has ever been in college knows there is a list of required classes to take before you are eligible for graduation. Some classes seem unnecessary, such as a Chemistry major forced to take art classes, but what if universities and colleges required exorcism ... continue reading
---

By Kenya Sinclair (CALIFORNIA NETWORK)
Humanitarian group reported airstrikes targeting a refugee camp full of innocent men, women and children during a cease-fire. LOS ANGELES, CA (Catholic Online) - According to the Syrian Observatory for Human Rights (SOHR), a Syrian refugee camp erected near the Turkish ... continue reading
---

By Kenya Sinclair (CALIFORNIA NETWORK)
Vatican auditors closed nearly 5,000 suspected Vatican bank accounts on suspicion of tax evasion. LOS ANGELES, CA (Catholic Online) - The scandal includes a three-year investigation of 544 suspected transactions mainly involving tax evasion.To meet international ... continue reading
---

By David Drudge (CALIFORNIA NETWORK)
Hackers have just released thousands of documents in a new document dump to the media, this time, they contain the secrets of the Masons. The data dump is known as "Masonleaks" and journalists say it will take several months to complete their review of the documents. ... continue reading
---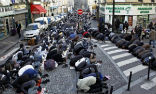 By David Drudge (CALIFORNIA NETWORK)
A Belgian minister has a telling warning for his country as hearings begin into the Brussels attack that killed 32 people at an airport in March. The reason for the warning is quite compelling. LOS ANGELES, CA (California Network) - A Belgian minister is warning ... continue reading
---
All Europe News