---
The Pope prayed for mothers who find themselves alone in the task of educating their children during his pastoral visit to Sardinia.
CAGLIARI, Sardinia (Zenit) - Benedict XVI is asking the Virgin Mary to give special protection to mothers, particularly those that find themselves alone in the task of educating their children.The Pope voiced this petition Sunday before praying the midday Angelus during his pastoral visit to Sardinia, a semi-autonomous Italian island located in the Mediterranean Sea.

The Holy Father first recalled the special attention Popes through the years have given to the island, and particularly to Our Lady of Bonaria, its patron. His visit marked the conclusion of the centenary of the proclamation of the Virgin of Bonaria as patroness of Sardinia.

"How many of my predecessors wished to honor [the Virgin] with particular affection," he said, "Blessed Pius IX decreed her crowning; Saint Pius X, some 100 years ago, proclaimed her patroness of the whole of Sardinia; Pius XI conferred on the new church the title of Minor Basilica; Pius XII, 50 years ago, rendered himself spiritually present here with a special message broadcast live by Vatican Radio, and, in 1960, Blessed John XXIII sent a letter for the reopening of the shrine for worship after its restoration.

"The first Pope to return to the Island after 1,650 years was the Servant of God Paul VI, who visited the shrine on April 24, 1970. And, on Oct. 20, 1985, our beloved John Paul II also paused for prayer before the sacred effigy of Our Lady. In the footsteps of the Popes who preceded me, I have also chosen the Shrine of Bonaria to carry out a pastoral visit that ideally intends to embrace the whole of Sardinia."

The Pontiff went on to note the feast of the birth of the Virgin, celebrated September 8.

"[Her birth] constitutes a fundamental stage for the Family of Nazareth, cradle of our redemption, an event that touches all of us, because every gift that God has given her, the Mother, he has given thinking also of each one of us, her children," he said. "Hence, with immense gratitude, we ask Mary, Mother of the incarnate Word and our Mother, to protect every earthly mother: those that, together with their husbands, educate their children in a harmonious family context, and those that, for so many reasons, find themselves alone in facing such an arduous task.

"May all be able to carry out with dedication and fidelity their daily service in the family, the Church, and society. May Our Lady be sustenance, comfort and hope for all."


---
---
---

By Ann Schneible (CNA/EWTN News)
Pope Francis on Monday embraced the grand imam Sheik Ahmed Muhammad Al-Tayyib during a meeting at the Vatican, a move which is being seen as a step toward reopening dialogue between Christians and Sunni Muslims. Vatican City (CNA/EWTN News) - "Our meeting is the ... continue reading
---

By Kenya Sinclair (CALIFORNIA NETWORK)
Pope Francis has decided to meet with Sunni Islam's Sheikh Ahmed al-Tayeb on Monday. LOS ANGELES, CA (Catholic Online) - Vatican spokesman Federico Lombardi told AFP, "This audience is being prepared and has been scheduled for Monday. It will be a first."The pontiff's ... continue reading
---

By Kenya Sinclair (CALIFORNIA NETWORK)
In what most claim is a non-sexual "dog play," human pups have become the latest rage to spread across the UK - so much so that a new documentary will reveal the inner workings of the human pups' lives. LOS ANGELES, CA (Catholic Online) - According to Channel 4, the ... continue reading
---

By (CNA/EWTN News)
Leonardo da Vinci's masterpiece, Adoration of the Magi, will soon be undergoing testing that could help digitally reconstruct the artist's face and offer clues about his life and health. Florence, Italy (CNA/EWTN News) - According to the U.K. outlet Sky News, ... continue reading
---

By Kenya Sinclair (CALIFORNIA NETWORK)
Islamophobia spreads as ISIS continues its terror attacks - but one city has taken a step toward accepting the fact that not all Muslims are terrorists. LOS ANGELES, CA (Catholic Online) - London has elected its first Muslim Mayor. Sadiq Khan won with 56.8 percent of ... continue reading
---

By Kenya Sinclair (CALIFORNIA NETWORK)
Anyone who has ever been in college knows there is a list of required classes to take before you are eligible for graduation. Some classes seem unnecessary, such as a Chemistry major forced to take art classes, but what if universities and colleges required exorcism ... continue reading
---

By Kenya Sinclair (CALIFORNIA NETWORK)
Humanitarian group reported airstrikes targeting a refugee camp full of innocent men, women and children during a cease-fire. LOS ANGELES, CA (Catholic Online) - According to the Syrian Observatory for Human Rights (SOHR), a Syrian refugee camp erected near the Turkish ... continue reading
---

By Kenya Sinclair (CALIFORNIA NETWORK)
Vatican auditors closed nearly 5,000 suspected Vatican bank accounts on suspicion of tax evasion. LOS ANGELES, CA (Catholic Online) - The scandal includes a three-year investigation of 544 suspected transactions mainly involving tax evasion.To meet international ... continue reading
---

By David Drudge (CALIFORNIA NETWORK)
Hackers have just released thousands of documents in a new document dump to the media, this time, they contain the secrets of the Masons. The data dump is known as "Masonleaks" and journalists say it will take several months to complete their review of the documents. ... continue reading
---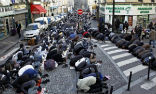 By David Drudge (CALIFORNIA NETWORK)
A Belgian minister has a telling warning for his country as hearings begin into the Brussels attack that killed 32 people at an airport in March. The reason for the warning is quite compelling. LOS ANGELES, CA (California Network) - A Belgian minister is warning ... continue reading
---
All Europe News