Flight 370 - What happens when conspiracy theories start making more sense?
Flight 370 - What happens when conspiracy theories start making more sense?
---
By Catholic Online (NEWS CONSORTIUM)
5/29/2014 (2 years ago)
Catholic Online (www.catholic.org)
Investegators admit they may have been wrong all along.
The search for flight MH370 is becoming increasingly frustrating as officials announce they no longer believe the black box pings which narrowed the search area for the aircraft, were actually emitted by the presumably submerged airliner.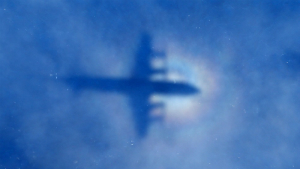 A P3 Orion search plane found no evidence of a crash, nor as any wreckage from the plane been recovered.
Highlights
By Catholic Online (NEWS CONSORTIUM)
Catholic Online (www.catholic.org)
5/29/2014 (2 years ago)

Published in Asia Pacific
Keywords: Flight 370, Malaysian Airlines, hijacked, black box, pinger, locator, beacon, oil, clues, tantalizing, Bay of Bengal, conspiracy theory, theories
---
LOS ANGELES, CA (Catholic Online) - Conspiracy theories stand out. Such notions that a few known facts and order them in such a way as to suggest something sinister and complex is at play. We know such theories can be discarded because they fail basic tests of logic, such as Occam's Razor, on face. But what happens when the conspiracy theories start to provide the only explanation for what could have happened?
It has now been nearly three months since the mysterious disappearance of MH370, and investigators are absolutely no closer to finding the plane, why it disappeared, or what motives or terrible circumstance could have led to such an event. A Boeing 777, one of the world's largest aircraft, has simply vanished without a trace with all souls on board.
Join prayers for the victims and families of flight MH370.
Not so much as an oil slick has been found and now searchers say they believe the acoustic pings which were thought to have come from submerged flight data recorders and were used to focus the search area, were man-made and not from the black boxes at all.
Michael Dean, the U.S. Navy's deputy director of ocean engineering has told CNN that both his office and investigators from other countries working on the case now believe that "Our best theory at this point is that (the pings were) likely some sound produced by the ship ... or within the electronics of the Towed Pinger Locator."
The statement is astounding. For three months, searchers have been scouring the entirely wrong part of the ocean floor because an unknown something produced signals on the exact same frequency as the black boxes. However, they are sure it wasn't the black boxes.
The announcement is both frustrating and infuriating, especially given the expense of the mission and the prolonged lack of closure for the victims.
Indeed, the lack of information, often a powerful fuel for conspiracy theories, has many critics upset because nobody involved in the search appears forthright with concrete information. The answers range from "we don't know" to "we can't say."
Investigators are now out of leads and the search will be suspended for at least two months as investigators regroup.
About $60 million has been spent on the search.
China however is undeterred and they have a ship that will map the ocean floor, despite the hiatus. That ship will be joined by an Australian ship in June and together they will continue their mapping mission in the hopes of finding something while investigators ponder what to do next.
China had over 100 passengers on board the flight and the inability of searchers to find the missing plane has been a source of embarrassment for the country, which is promoting the idea that it is a regional superpower capable of anything.
Now, the conspiracy theorists will have a field day. A leading conspiracy is that the plane was hijacked by the United States, flown to the remote island base of Diego Garcia and stored there for some future purpose, possibly in a staged terror attack designed to initiate a future conflict. The passengers would have been considered "collateral damage."
Such theories are pretty far-fetched and are probably beyond the competency and means of the U.S. government. We'd also like to believe that such actions are outside the morality of our governing officials however moral fiber hasn't been the hallmark of the current administration.
The most likely scenario certainly isn't a conspiracy theory although many of them will gain traction because of the most recent announcements. Instead, the most likely theory is that the plane went down in the Indian Ocean, possibly in a controlled manner, which would explain the lack of impact debris.
Most importantly, we have to remember that the ocean is an extraordinarily vast place. Had this aircraft disappeared on land, we would still face challenges in searching for it.
The search for MH370 will take a lot longer and the mystery will remain a lot more complex than we first imagined. Despite this, we need to persevere in patience and avoid the temptation of conspiracy theories.
In the meantime, the best we can do is offer to share prayers for the victims of this terrible tragedy and ask that their loved ones find the inner peace they so badly deserve.
---
Copyright 2017 - Distributed by THE CALIFORNIA NETWORK
Pope Francis Prayer Intentions for FEBRUARY 2017
Comfort for the Afflicted.
That all those who are afflicted, especially the poor, refugees, and marginalized, may find welcome and comfort in our communities.
---
---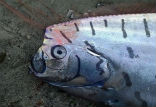 People in the Philippines are concerned after Oarfish began stranding themselves on beaches in February. Following the first stranding on ... continue reading
---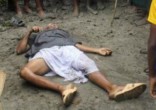 A Christian couple was punished for refusing to denounce their faith. The penalty for their faith is beyond cruel and resulted in one man ... continue reading
---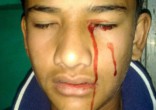 Akhilesh Raghuvanshi has been bleeding from his eyes and hairline since he was 10-years-old in what many believe is a rare stigmata ... continue reading
---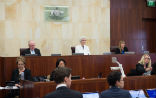 About seven percent of Church staff in Australia could be pedophiles, alleges a study performed by Australian authorities. The study ... continue reading
---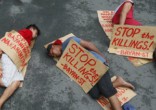 Since Philippine President Rodrigo Duterte's war on drugs began, at least 2,250 drug suspects have been killed by police and at least 3,700 ... continue reading
---

Copyright 2017 Catholic Online. All materials contained on this site, whether written, audible or visual are the exclusive property of Catholic Online and are protected under U.S. and International copyright laws, © Copyright 2017 Catholic Online. Any unauthorized use, without prior written consent of Catholic Online is strictly forbidden and prohibited.