The twin girls are currently breathing on their own
A mother in Sydney Australia has given birth to in infant that has two separate faces and two separate brains.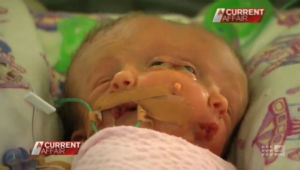 The conjoined twins, Faith and Hope, suffer from a rare condition where they have two separate brains and faces, but share a head and body.
LOS ANGELES, CA (Catholic Online) - Renee Young, mother of seven children, knew in advance about the condition of her child, but did not terminate the pregnancy as advised by doctors.

Pray for the infirm and the ill.

The babies, Faith and Hope were born with diprosopus, a rare condition, but are currently breathing fine on their own. Very few infants born with this condition survive.
---
Copyright 2016 - Distributed by THE CALIFORNIA NETWORK
Pope Francis Prayer Intentions for June 2016
Universal:
Human Solidarity: That the aged, marginalized, and those who have no one may find-even within the huge cities of the world-opportunities for encounter and solidarity.
Evangelization:
Seminarians and Novices: That seminarians and men and women entering religious life may have mentors who live the joy of the Gospel and prepare them wisely for their mission.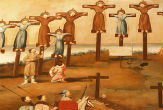 By Kenya Sinclair (CALIFORNIA NETWORK)
Thousands of Christians were executed in Japan during a time when Christianity was illegal - but 250 years later, hundreds of "secret believers" were discovered, still praying with the Rosaries of their slain ancestors. LOS ANGELES, CA (Catholic Online) - One of many ... continue reading
---
By Abigail James (CALIFORNIA NETWORK)
A video claiming to show a woman undergoing an exorcism after being possessed by "demon goblins" has made its way throughout social media. LOS ANGELES, CA (Catholic Online) - According to Mirror, the footage, filmed in the Philippines, shows seven minutes of a young ... continue reading
---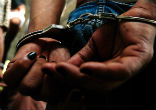 By Kenya Sinclair (CALIFORNIA NETWORK)
Controversial Filipino President Rodrigo Duterte is living up to his vow of seeing 100,000 criminals killed in the Philippines. LOS ANGELES, CA (Catholic Online) - Duterte was sworn into the presidency June 30th and already over 110 accused drug dealers were killed by ... continue reading
---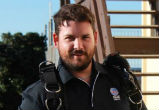 By Kenya Sinclair (CALIFORNIA NETWORK)
Jacob Childs, a "relatively experienced diver," became separated from his crew and was lost at sea for over six hours. LOS ANGELES, CA (Catholic Online) - According to <a ... continue reading
---

By Marshall Connolly (CALIFORNIA NETWORK)
Check out this video of firefighters saving a man from a flash flood. It serves as a reminder there is good in the world. LOS ANGELES, CA (California Network) - A Chinese man decided to fish on the Yangtze river. The decision turned out to be unlucky because a ... continue reading
---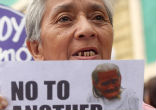 By Kenya Sinclair (CALIFORNIA NETWORK)
The rules are simple: If you wrong someone, you apologize; even a child can understand this concept. But what if hundreds of thousands of people were wronged? What if an entire nation has been called to apologize? LOS ANGELES, CA (Catholic Online) - The Japanese are a ... continue reading
---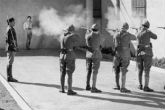 By Kenya Sinclair (CALIFORNIA NETWORK)
During a speech on Monday, soon-to-be Philippine President Rodrigo Duterte announced his support for capital punishment as a means of revenge, not a deterrent. He then called human rights activists "stupid" for letting rapists and murderers live. LOS ANGELES, CA ... continue reading
---

By Kenya Sinclair (CALIFORNIA NETWORK)
Christian persecution continues throughout Pakistan but what happened to the Christians who got away? LOS ANGELES, CA (Catholic Online) - Christians fleeing their Muslim neighbors in the Middle East have traveled as far as possible to escape persecution and the ... continue reading
---

By Kenya Sinclair (CALIFORNIA NETWORK)
Rodrigo Duterte, a Filipino lawyer and politician who recently won the President-elect for the Philippines, has thus far kept his campaign promises to fight illegal drugs and crime. LOS ANGELES, CA (Catholic Online) - Durerte struck the right cord in the Philippines ... continue reading
---
By Kenya Sinclair (CALIFORNIA NETWORK)
Over the course of a single week, a series of police raids resulted in the arrest of over 5,000 known and suspected Islamist militants. LOS ANGELES, CA (Catholic Online) - After a police superintendent lost his wife to a machete attack, the Bangladesh police have ... continue reading
---
All Asia Pacific News