By Catholic Online (NEWS CONSORTIUM)
10/30/2013 (1 year ago)
Catholic Online (www.catholic.org)
This is just one port, of the many in Shanghai...
Below are images of the Chinese port of Yangshan in Shanghai. The staggering quantity of containers shows just how much Chinese-manufactured merchandise the world consumes, with much of it headed to the United States.
LOS ANGELES, CA (Catholic Online) - Across the Pacific, the Port of Yangshan in Shanghai, China hums with activity. The relatively new port moves at least 32 million containers a year, which is an average of over 8,000 per day. It is the world's busiest port. And it's still growing.

The facility itself stretches about three square miles, and is always filled with containers as busy cranes unload empty containers from ships, then stacks them high on the decks of the world's largest container vessels.

Massive engineering projects such as these are making China an increasingly powerful trading nation, one whose hopes include displacing the dollar as the world's reserve currency.

Despite its massive size, the port of Yangshan is just one port in Shangai, and Shanghai is just one city in China. As impressive as this port appears, it should be understood that this just represents a fraction of China's overseas trade.

China also ships material overland and by air.

And the world keeps consuming.


A birth foretold: click here to learn more!
---
Copywriter 2015 - Distributed by THE NEWS CONSORTIUM
Pope Francis Prayer Intentions for July 2015
Universal:
That political responsibility may be lived at all levels as a high form of charity.
Evangelization:
That, amid social inequalities, Latin American Christians may bear witness to love for the poor and contribute to a more fraternal society.
---
---
---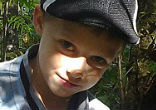 By Catholic Online (NEWS CONSORTIUM)
A 12-year-old Russian schoolchild found a massive footprint while on a camping trip in Siberia. He says its evidence of the mythical Yeti, often referred to as the abominable snowman. LOS ANGELES, CA (Catholic Online) - Denis Alexandrov discovered the paw print ... continue reading
---

By Linky C. (NEWS CONSORTIUM)
Animal rights advocate Ric O'Barry, known for training the five dolphins used in <i>Flipper</i>, has been arrested in Taiji after participating in a demonstration against the Japan's dolphin hunting season. MUNTINLUPA CITY, PHILIPPINES (Catholic Online) - ... continue reading
---

By Kenya Sinclair (NEWS CONSORTIUM)
There is an ongoing rape crisis in India and things are only getting worse. An unelected council of elders ordered the rape and public humiliation of Meenakshi Kumari, 23, and her 15-year-old sister because their brother dared to marry outside his status. LOS ANGELES, ... continue reading
---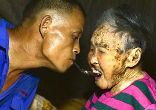 By Catholic Online (NEWS CONSORTIUM)
Forty-eight-year-old Chen Xinyin from Chongqing, southwest China lost both his arms at seven years of age. Putting in a full day's worth of work, he know tends to his paralyzed, elderly mother - by feeding her with a spoon clenched in his teeth. LOS ANGELES, CA ... continue reading
---

By Kenya Sinclair (NEWS CONSORTIUM)
Indian women suffer as rapists force families to accept money in exchange for silence. In many villages, women are blamed for being raped and men do not marry single mothers, as such women are seen as shameful. Without time to finish their educations, and beaten down ... continue reading
---

By Linky C. (NEWS CONSORTIUM)
A few days after Kim Jong Un ended a stand-off with South Korea, 50 North Korean submarines were reported to have vanished from radar. A possible surprise attack from the North is expected. MUNTINLUPA CITY, PHILIPPINES (Catholic Online) - The North Korean submarines ... continue reading
---

By Kenya Sinclair (NEWS CONSORTIUM)
A newborn died of rat bites in a government-ran hospital in the city of Vajayawada, located within the state of Andhra Pradesh, India. Los Angeles, California (Catholic Online) - The newborn boy was born in the government-ran hospital where he was sent to the pediatric ... continue reading
---

By Linky C. (NEWS CONSORTIUM)
The remains of a newborn that was accidentally mummified 1500 years ago has been discovered in an ancient grave in Siberia. This discovery could lead to the unraveling of several mysteries concerning ancient Siberians. MUNTINLUPA CITY, PHILIPPINES (Catholic Online) - ... continue reading
---

By Nikky Andres (NEWS CONSORTIUM)
Weddings are supposed to be one of the most memorable moments in a woman's lifetime. But for 15-year-old Nasoin Akhter it was nothing but loneliness. MUNTINLUPA, PHILIPPINES (Catholic Online) - Akhter was coerced into marriage with a 32-year-old man. In her wedding ... continue reading
---

By Talia Ramos (NEWS CONSORTIUM)
Although the peninsula is technically still engaged in war, alarm and concern was raised in the region and other parts of the world after a report that North Korea's supreme leader Kim Jong Un convened with the country's senior party and defense officials. MUNTINLUPA, ... continue reading
---
All Asia Pacific News